For six years, John Mark Dougan was an officer with the Palm Beach County Sheriff's Office.

Having witnessed widespread corruption, blackmail and nepotism,
he resigned and created a website where people could post evidence of police misconduct.

In 2016, he fled to Russia for fear of his life.

The ex-police officer sat down with Sputnik at the agency's Moscow's office for a revealing interview.
Dougan began his career with the Palm Beach County Sheriff's Office in 2002*. Six years later, in late 2008, after attempting to report a grisly internal scandal to internal affairs, he left, his search for justice unsatisfied.
"There was a group of [deputies] running around beating minorities – just brutally beating them, and posting their bloodied photos on Facebook," where officers would allude to beating them, but would not say so directly, Dougan says.
"It was just terrible," the former officer recalls. "I took their pages and anonymously sent them to Internal Affairs, or thought I had done so. They tracked it back to me and put what we call a 'big target' on my back; they were looking for reasons to fire me."
* Editor's note: when contacted by Sputnik, the Palm Beach County Sheriff's Office confirmed that John Mark Dougan had indeed been an employee of PBSO, but couldn't confirm the exact timeframe.
John Mark Dougan posing with cash seized from drug dealers
© Photo: provided by Mark Dougan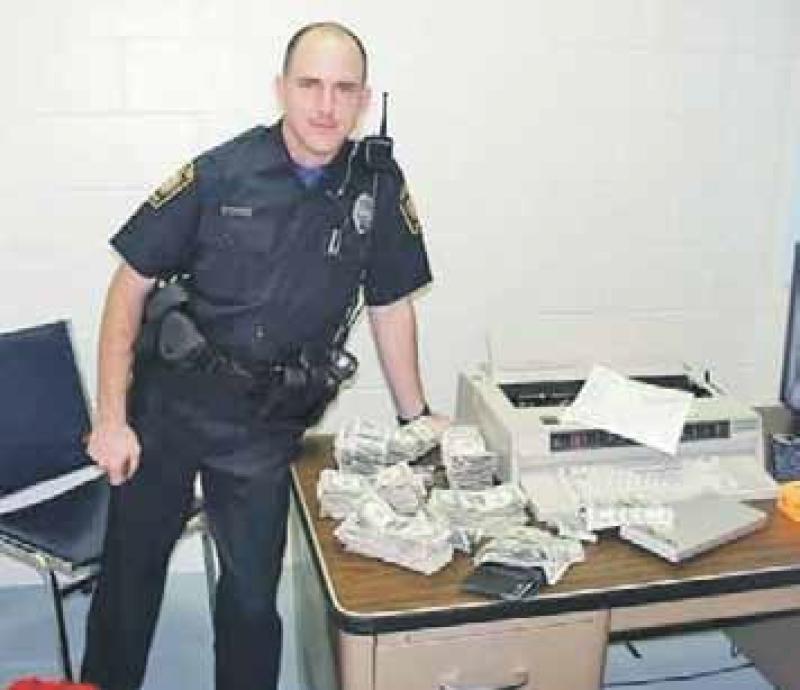 Disgusted by the fact the IA was going after him instead of chasing the crooks in his department, Dougan left the force. Soon after, he launched his website, PBSOTalk.com, a forum where individuals could leave anonymous tips on law enforcement corruption and misconduct in Florida.
The ex-cop admits that the issue of the excessive use of force against minorities is a common problem, and not just in Palm Beach County. "It happens quite a bit in police work in the United States," Dougan says. "I'm actually very surprised by how calm the police officers are here [in Russia]. In the US, it seems like once you give somebody some authority, it goes to their heads and they just act like complete fools, and that happens more often than not in the police force."
According to Dougan, he began running into these sorts of ethical issues shortly after joining the force. "The problem is an incredibly difficult one to fix. I first started realizing how bad it was shortly after becoming a cop. But the system is never going to be fixed, because anyone who speaks out is labeled a troublemaker, and they find a reason to fire them."
At the same time, the former police officer stresses that the collusion between police and the legal system in covering up misconduct and going after whistleblowers is especially bad in Palm Beach.
"
They call it 'Corruption County' because it is so corrupt in that place. Everyone's doing favors for everyone; everyone's committing crimes – I'm talking about the leadership – and everyone's hiding all the crimes for everyone else. It's just like nothing you've ever seen.
The Price of Whistleblowing
Soon after starting his website, Dougan was slapped with a criminal investigation by the Sheriff's Office.
"They wanted to find out who was leaking information to my website about some of the stuff we were exposing," the cop-turned-whistleblower recalls. The leaked information would end up exposing some major crimes by law enforcement. "We're talking sexual assaults being covered up, even murder, and it was all making its way to my website," Dougan says.
The corruption went up to the very top, he stresses. This included a tip on his website which led Dougan to unearth damaging information about Palm Beach County Sheriff Ric Bradshaw, who was implicated for using public money to wine and dine campaign contributors, some of whom had ties to organized crime, at lavish steakhouses.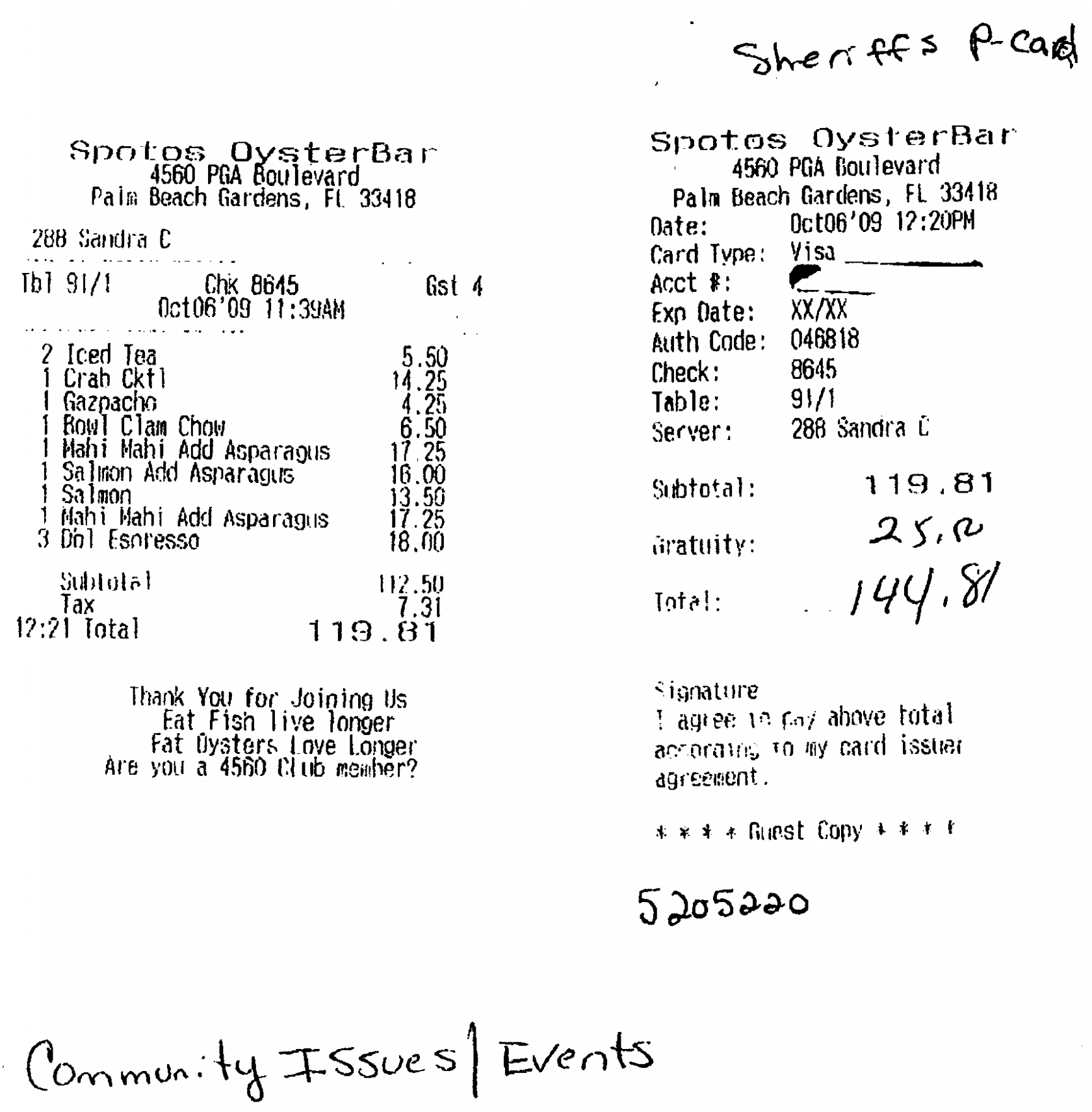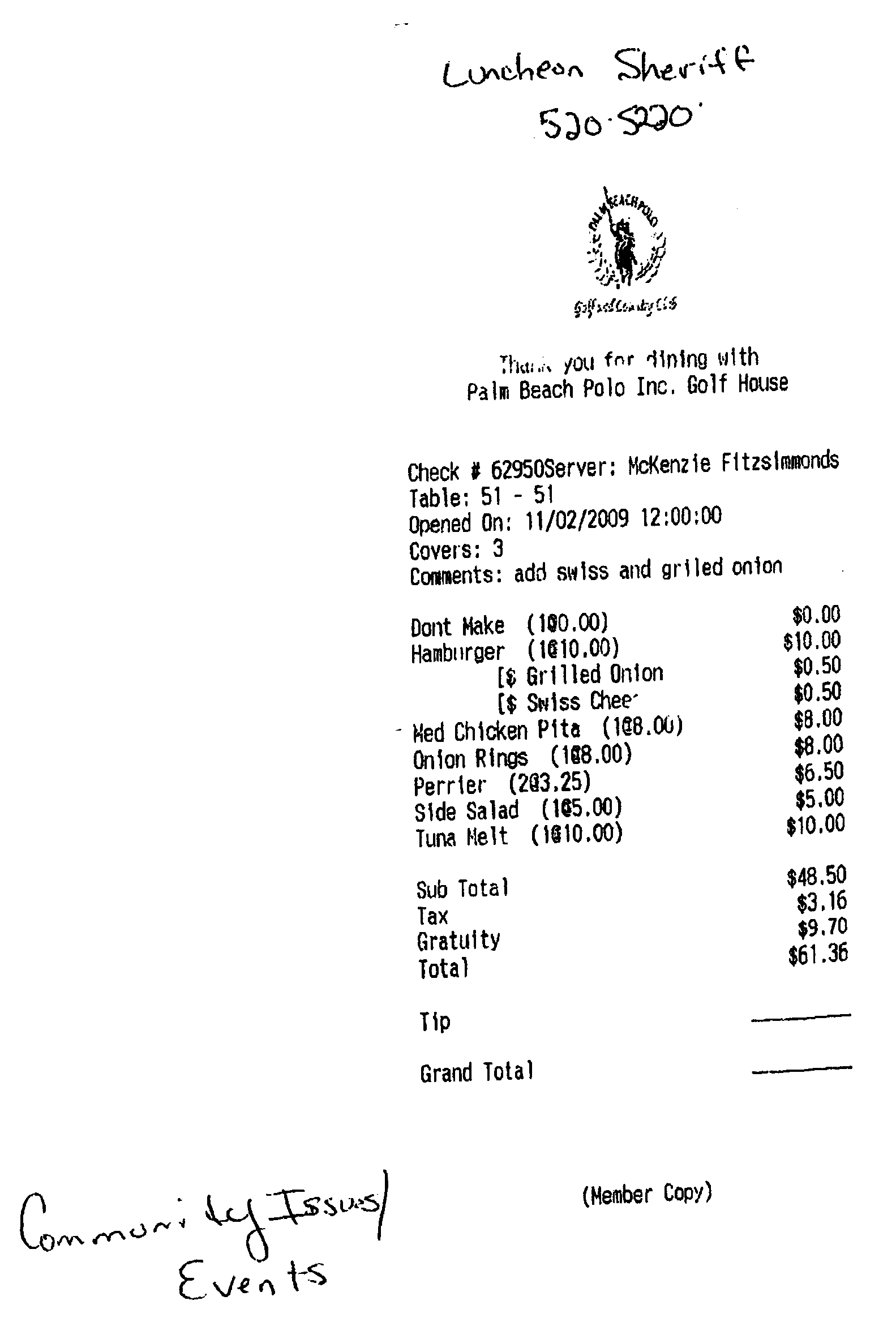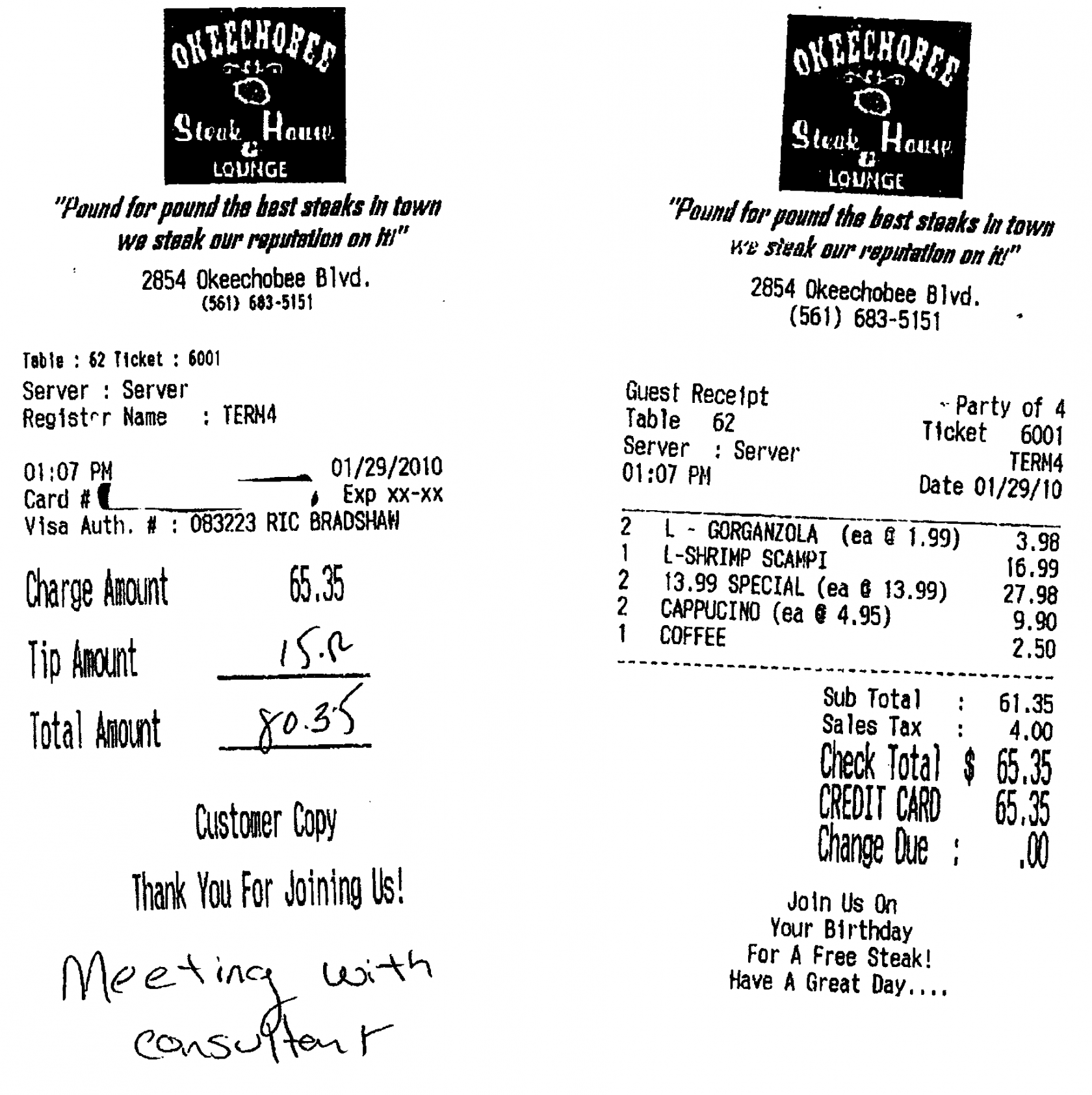 The scandal led the Florida Commission on Ethics
to investigate the matter. Although it would clear Bradshaw,
it did admit that his behavior was 'inconsistent with the proper performance of his public duties.'
Another user on Dougan's website posted a deposition on Bradshaw from before he became sheriff by the former chief of the West Palm Beach Police Department. The deposition revealed that Bradshaw had been caught stealing firearms from the evidence lockup, and ordering detectives to falsify reports to implicate minorities of committing crimes. "This was the guy that went on to be the elected sheriff of Palm Beach County," Dougan says.
The short version of the deposition on Ric Bradshaw's theft of firearms from the evidence room.
To read the deposition in full, please click here.
Eventually, the Sheriff's Office and its powerful allies grew tired of Dougan and his damaging leaks.
"In 2015, a detective in the Palm Beach County Sheriff's Office by the name of Mark Lewis was given permission by Sheriff Bradshaw and Chief Deputy Michael Gauger to hack into my email and my social media accounts," the whistleblower recalls. "I went to the FBI about it, and the FBI refused to do anything, because, well [the Sheriff's Office are] police officers, and police officers can just about do whatever they want in the United States and not be held accountable."
In anger, Dougan decided to strike back. "My philosophy was that if I'm not entitled to my privacy, they're not entitled to theirs, and I published a list of 14,000 FBI and CIA agents – their confidential records onto my website," he says.
Little of the information unearthed by the ex-cop personally and with the help of his website would lead to any legal action being taken against the officers and officials who had been implicated. The FBI, for example, took no action because Sheriff Bradshaw had hired the son of the resident agent in charge of the FBI's West Palm field office as a deputy, no questions asked, Dougan believes.
"And then, of course, I have audio records on my website of these people bragging, saying how they have the judges in their pockets, because they do political favors for them."
"
For instance, if somebody runs against a judge, [the Sheriff's Office] will start a criminal investigation against the person who is going to run against the judge, in order to find information to discredit them. This keeps the judges in their favor.
'Collusion With Russia' Allegations Let Fly
Dougan would take his first trip to Russia in 2012, to meet a girl. It was at that point that investigators back in Florida would come up with a scheme to smear him, inventing a story accusing him of colluding with members of the Russian mafia. "That was their excuse to start a real, heavy duty investigation," the ex-cop recalls. "Obviously, that stuff wasn't true."
On one recording, a PBSO lieutenant repeated to Dougan what Chief Deputy Michael Gauger had been saying about an illegal criminal investigation against a man who had embarrassed a judge.
"The person speaking to me on the tape is somebody inside the investigation with knowledge. He was telling me a first-hand account of what Chief Deputy Michael Gauger had told him," Dougan notes.
The man allegedly said in open court than the judge was retaliating against him because she was having an affair with his political rival. Chief Deputy Gauger launched a two-year investigation in order to find a reason to arrest the suspect, the lieutenant said.
In 2015, Dougan managed to get a recording with Lewis, the detective investigating him, where the latter admitted on tape that his job was to do a smear job against the whistleblower.
The story of how he got the recordings is interesting in its own right, Dougan jokes.
"I got that information in a very comical way. The detective had a side business in contracting, so I got another server here in Russia, and set up PBX software, so I could route my voice through a voice changing application through the Russian server into New York and then down into Florida. It sounded just like I was a woman. I called this [investigator], and said that I was going to be moving to Florida and needed my home renovated. I kind of led him on; he thought he was talking to some hot rich girl, and he just started spilling dirt on everything they were doing. It was unbelievable."
Murder Testimony,
Followed by Search and Seizure
According to Dougan, 2015 is when things really started to get scary.
He recalls one case, when a PBSO officer fatally shot a man called Seth Adams:
"In 2012, there was a man who was murdered in his property by Michael Custer, a guy I used to be a deputy with. In 2015, I became a witness for the plaintiff – for his family, stating that I knew Michael Custer, and that he was having an affair with [the murdered man's] wife, and that he was going to meet [her] at this guy's property. After this young man was shot, the police department covered it up and said that [Custer] was conducting surveillance on the property; it was just an outright lie."
Internal PBSO documents regarding the fatal shooting of Seth Adams
To read the depositions in full, please click here.
It was at that point that the police and the FBI began actively following him around, Dougan says.
"The sheriff's office hired investigators to follow my family around; they chased my ex-wife down with my children in the car. A year later, [on March 14, 2016] they raided my home and took all my property*. And then the FBI started following me around. I left my home, and went down to the Florida Keys; I was actually going to take a boat to sneak into Cuba, but caught the FBI following me, and caught them following me several other times."
* Editor's note: when contacted by Sputnik, the Palm Beach County Sheriff's Office did not confirm that the search took place.
The search and seizure warrant for Mr. Dougan's property.
The copies were provided by Mark Dougan
Daring Escape:
'I Knew I had to Get the Hell Out of There'
After his home was searched, Dougan knew that he had to get out of the country. He realized that his decision to post the information containing the personal details about the FBI and CIA officials meant that he would face 35 years in prison on espionage charges. "So the moment they came in and took my computer, I knew I had to get the hell out of there," he says.
Asking a friend to leave a car for him at a local mall, Dougan first went to his mother's house, donning a wig and sunglasses to help evade his pursuers. Leaving the mall in his getaway vehicle, he drove north, sneaking into Canada.
Mr. Dougan on his way to Canada. © Photo: provided by Mark Dougan
Dougan feared for his life, he says, based on his conversation with investigator Lewis. "During those recordings… he actually said that they were looking for a reason to put me in jail and that I 'wasn't going to make it out'. They were going to try to have me killed or something."
"So I snuck into Canada, I went to the Toronto airport, got on a flight and high-tailed it out of there. The reason I went to Canada was that I knew I wouldn't be on the [Transport Security Administration] watch list, because there is no TSA in Canada," the whistleblower recalls.
Explaining his decision to choose Russia as his final destination, Dougan says that he has grown to love the country over his trips there over the years.
"From the moment I first stepped off the plane, I loved it here. It's just such a fascinating place, very interesting to me, and I think it's very misunderstood by people in the West," he says.
Furthermore, Dougan recalls that "there are very few governments around the world that the US won't mess with, and that the US can't somehow strong-arm into returning a political dissident. Russia happens to be one of them. And I can't think of another government that's more powerful that would protect me."
Editor's note: Russia does not have an extradition treaty with the United States.
Reflecting on what it was that really prompted him to start his work as a whistleblower, Dougan says that it was a matter of personal principles. "When I first came forward, it was to protect people's rights. It doesn't matter if a person's a criminal or not. They're entitled to the same [due] process of law that everybody else is. That was blatantly violated by a number of people that I had worked with."
Dougan adds that he was simply disgusted by what he saw during his days on the force: "people lying to get people incarcerated, planting evidence. It was just unbelievable the stuff that was going on."
"
I tried to go about it anonymously, to get the information to the people that would hold these people accountable," he stressed. "The real shock to me was that they didn't want to know about it; they wanted to know who was making waves by sending the information, which is how they found me.
This is why I had to leave police work.
"I did everything in my power to give other good police officers (and there are many, many good police officers in the US) a voice [in a place where] they couldn't be retaliated against," Dougan says. "And that was the rationale for starting my website. I wanted to make sure that they could come forward with information about really bad stuff happening in the department without fearing for the welfare of their job or their family. That was the rationale behind it."
Even in Palm Beach County, there are many honest people struggling against corruption, Dougan recalls. "There was a guy who in 2012 spotted an $18 million gap in the technology budget in the Sheriff's Office. The sheriff wouldn't do anything about it, so this man filed a run for sheriff. They investigated him for two years, and right before he announced his candidacy, they arrested him on the stage in front of a bunch of police officers on charges that were basically frivolous and made up. Of course, they later dropped the charges, but the damage was done. That's just the way they play there."
Asked what, if anything, could actually be done at the local level to help do away with the kinds of corruption he helped to uncover, Dougan says that there could be only one solution: "The only way it's going to change in the United States is civilian oversight. They need to have civilian review boards to look at these crimes, and they can't be civilians paid by police departments or work for police departments. It has to be kind of like a jury. They need to empanel these civilian oversight boards to take a look at some of these serious crimes that are happening."
"Because right now everybody is in bed with everybody else, so to speak. The State Attorney can't really go against the sheriff's office because they're brother agencies. There's no other way to fix it," Dougan stresses.
To other law enforcement officers finding themselves in a similar situation, Dougan has a sobering piece of advice: "[Of course], I would like to say 'follow your conscience' and expose these people. The problem is, people with families, people that depend on paychecks, a lot of them don't have anything else they can do. People that are police officers might not be the best-educated; they don't have education in much else. They know how to be police officers. So as much as I'd like to say 'come forward and expose these people', it's hard to do because they're risking their jobs. Until a civil oversight panel is created on a state or county level, anything you tell them to do could be a bad recommendation."
In 2016, PBSOTalk.com was shut down by GoDaddy, a web hosting company, reportedly in response to a request from the US authorities. The company wasn't available when Sputnik reached out for a confirmation.
Dougan has since revived his project in Russia, setting up PBSOTalk.ru, hosted by a Russian website hosting company. Using multiple servers, he was able to save the information previously published on the US version of his website.
"The tips are still coming in strong," he says.
ATTENTION READERS
We See The World From All Sides and Want YOU To Be Fully Informed
In fact, intentional disinformation is a disgraceful scourge in media today. So to assuage any possible errant incorrect information posted herein, we strongly encourage you to seek corroboration from other non-VT sources before forming an educated opinion.
About VT
-
Policies & Disclosures
-
Comment Policy
Due to the nature of uncensored content posted by VT's fully independent international writers, VT cannot guarantee absolute validity. All content is owned by the author exclusively. Expressed opinions are NOT necessarily the views of VT, other authors, affiliates, advertisers, sponsors, partners, or technicians. Some content may be satirical in nature. All images are the full responsibility of the article author and NOT VT.