Editor's note:  The bombing attacks on Russian and Syrian troops fighting ISIS, the US led attack on the Russian embassy in Damascus and the dramatic, and "dramatic" is the word, increase in phony poison gas stories is problematic.  
Trump has been ordered by his handlers, who want to save their investment in the first fully mob owned US president, to start a broad war that will likely go nuclear and "ashify" 100 American cities.  This is exactly the risk they are taking.  Russia's nukes are new, attached to better missiles than we have and we are going to force them to kill us all…Gordon
*
[ Editor's Note Two: This is fake news on steroids. Chlorine gas can be made by a smart high school kids, and all college kids studying chemistry. It is just a process of mixes the right chemicals.
The New York Times has people smart enough to know this, but they used and old media trick, citing an "official" UN report, which we don't even know for sure is real itself. This is the same UN that cannot discover Israeli nuclear, chemical or biological weapons industry, and neither an the NY Times. Imagine that.
The good news is that when they are scraping the bottom for fake news stories like this to bang Syria over the head for having survived the US coalition-ISIS attack on Syria, they don't have anything real to use.
They love to knit bad guys together for guilt by association, but don't love doing it when Israel and the US are supporting terrorist proxies against the Syrian people, a war crime. One might say, as I would, the the NY Times is aiding and abetting in support of terrorism when they like the targeted victim.
And of course we never see it pose a motive for Assad to use chemical weapons when there is absolutely no need to, and where it would hand a propaganda victory to the US on a silver platter. No independent observer believes he would do that … Jim W. Dean]

Jim's Editor's Notes are solely crowdfunded via PayPal
Jim's work includes research, field trips, Heritage TV Legacy archiving & more. Thanks for helping. Click to donate >>
*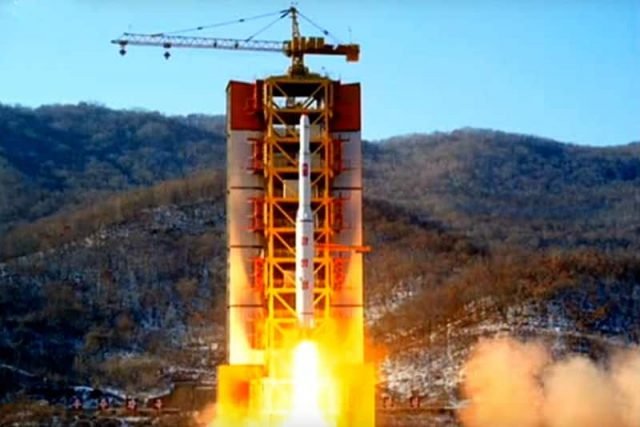 What could be better to beat the drum for regime change than tying North Korean missiles to Syria and chemical weapons? Apparently, the New York Times did just that when it wrote about a leaked UN report.
The article, run by the respectable US newspaper on Tuesday, is based on a 200-page report by a group of eight experts who were tasked by the UN Security Council to monitor how sanctions against North Korea are implemented.
The country was punished for developing nuclear weapons and rocket technology with serious restrictions on how it can trade with foreign nations and has been finding ways to circumvent those.
The NYT focused on two particular episodes mentioned in the report. One was the interception in January 2017 of two ships carrying acid-resistant tiles from North Korea to Syria, with three other such contracted shipments revealed via paper tracking, although whether or not they were actually made remains unclear. The UN experts said such tiles are "commonly used in the construction of chemical weapons factories."
Just how badly do they want a war? "United Nations security council diplomat" is almost certainly a Nikki Haley advisor. And "medical aid organizations" is SAMS, the pro-regime change group funded by USAID and active only in insurgent held areas. https://t.co/aE9CnODRFKpic.twitter.com/Wk1KneZrR6

— Max Blumenthal (@MaxBlumenthal) February 28, 2018
Another episode happened in August 2016, when a delegation of "North Korean missile technicians" visited Syria and brought with them "special resistance valves and thermometers known for use in chemical weapons," according to the report. Both episodes were reported to the UN panel by unidentified UN personnel.
Experts who reviewed the report on behalf of the newspaper said the evidence presented by the UN "did not prove definitively that there was current, continuing collaboration between North Korea and Syria on chemical weapons." The NYT did not say how or when it obtained the UN document, which is not available to the public.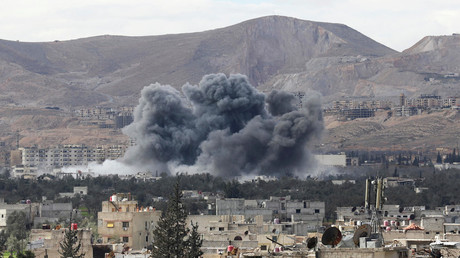 Pentagon admits zero evidence of E. Ghouta chem attack – but blames Russia all the same
The publication of the report comes as the Syrian government stands accused of repeatedly using chemical weapons against civilian targets in eastern Ghouta, a neighborhood of Damascus controlled by several jihadist groups.
The alleged attacks with chlorine gas – which make little sense from the military point of view – are reported by local sources with ties to the militants. They cannot be verified by independent observers, including those from the countries openly calling for the toppling of the Syrian President Bashar Assad, like the US.
This does not stop the Western mainstream media from bombarding their audiences with reports of intolerable civilian suffering inflicted by the Russia-backed "Assad regime" and "experts" calling for a US-led military intervention against Damascus. With Assad presented as a contender to the title of the world's top villain, adding Kim Jong-un of North Korea, another figure reviled in the West, would apparently bolster the bellicose narrative.
One may almost suspect that the US media have not learned their collective lesson from the run-up for the Iraqi invasion. Joseph Kahn, the managing editor of the New York Times, assured everyone last month  that the coverage of the Iraqi WMDs was "an example of seriously flawed policy for political goal," and that the paper has since made changes to editorial policy. We can now rest assured that the Syria coverage is a different story altogether.
ATTENTION READERS
We See The World From All Sides and Want YOU To Be Fully Informed
In fact, intentional disinformation is a disgraceful scourge in media today. So to assuage any possible errant incorrect information posted herein, we strongly encourage you to seek corroboration from other non-VT sources before forming an educated opinion.
About VT
-
Policies & Disclosures
-
Comment Policy
Due to the nature of uncensored content posted by VT's fully independent international writers, VT cannot guarantee absolute validity. All content is owned by the author exclusively. Expressed opinions are NOT necessarily the views of VT, other authors, affiliates, advertisers, sponsors, partners, or technicians. Some content may be satirical in nature. All images are the full responsibility of the article author and NOT VT.