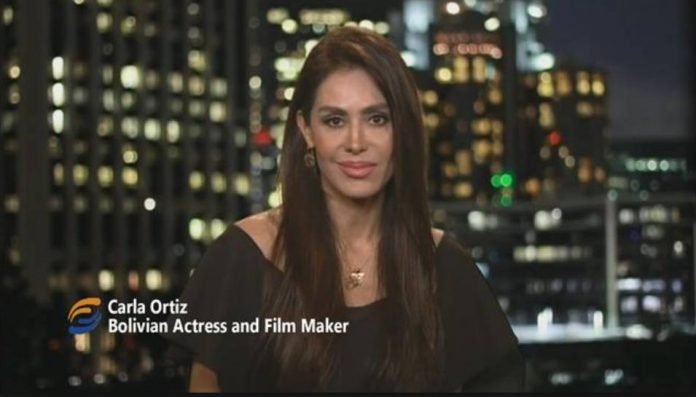 Bolivian filmmaker, actress and activist Carla Ortiz, who has traveled across most of Syria, told Sputnik Mundo how the White Helmets operate in the country and why the intervention by certain Western countries is preventing Syria from reaching peace.
Carla Ortiz has visited most parts of the Arab country for the making of her film "Voice of Syria" in order to show the conflict from the point of view of its key victims — ordinary people. She is confident that their experience and stories contradict the narrative given in mainstream media.
Carla Ortiz brought her work and testimonies from Syrian citizens to Washington to show American senators those who are actually suffering as a result of the Western sanctions imposed against Syria. She noted, for example, that children in Syrian hospitals are unable to receive cancer treatment, due to the ban on the basic chemicals needed for it.
"Is it logical to claim that the president of Syria finds chemicals not to save children, but to use them in places where the war has already been won with conventional weapons? There is no logic in that," she said.
READ MORE: London May Increase Support for White Helmets Operating in Syria — PM May
The streets of Aleppo shocked Carla Ortiz most of all. It turned out that many schools there had been occupied by al-Nusra* (al-Qaeda's* branch in Syria) and used as headquarters, together with the White Helmets — an NGO that claims to help and protect civilians in regions controlled by militants fighting the Syrian government.
"I saw how the White Helmets were sharing buildings with the al-Nusra extremist group, as if there was no problem with that. If you are an ordinary citizen, who has seen, what this group has done to your people, your family, raping your daughters and beheading people, you wouldn't share anything with them," she said.
Carla spoke to some volunteers with the White Helmets. According to them, at first they thought that they were going to save peoples' lives, but then realized that part of the White Helmets' assistance was directed at armed groups of opposition, which were not as moderate as they claimed.
READ MORE: Deeper Look at White Helmets: Syrian 'Civil Defense' NGO or Jihadists' PR Arm?
Ordinary people, interviewed by Carla, claimed that the White Helmets "don't save citizens" — on the contrary — they even refused to help children in the hospitals. They went on to note that the White Helmets and al-Nusra worked together during the siege of Aleppo.
"The states that purportedly see themselves as the world's policeman need to understand better who these people are that filmed the video about the alleged chemical attack. [They] cynically support disinformation in order to continue bombings that devastate the country, which is trying to fight terrorism. The terrorism which the West is responsible for, as weapons that it supplies to the moderate opposition invariably end up in the hands of extremists," Carla said.
READ MORE: Here's How White Helmets Used to Get Funding
She believes that the only way to end the Syrian war is to listen to Syrians and not to envoys of foreign countries that stand for more intervention. Carla notes that now, even supporters of Syrian opposition forces are urging for an end to the bloody war. She is confident that spreading alternative information is a good way to do so.
The views and opinions expressed are those of the speaker and do not necessarily reflect those of Sputnik.
*Jabhat al-Nusra (also known as Tahrir al-Sham.) and al-Qaeda are terrorist organizations banned in Russia
Headquartered in Moscow Russia, Sputnik is a news agency with offices around the world. Sputnik covers global political and economic news for an international audience. Launched in November 2014 by the Russian media group Rossiya Segodnya, Sputnik works in more than 30 languages including English, Spanish, French, German, Arabic, Chinese, and more.
*All posts on behalf of Sputnik News are made by Gordon Duff and Jim W. Dean
ATTENTION READERS
We See The World From All Sides and Want YOU To Be Fully Informed
In fact, intentional disinformation is a disgraceful scourge in media today. So to assuage any possible errant incorrect information posted herein, we strongly encourage you to seek corroboration from other non-VT sources before forming an educated opinion.
About VT
-
Policies & Disclosures
-
Comment Policy
Due to the nature of uncensored content posted by VT's fully independent international writers, VT cannot guarantee absolute validity. All content is owned by the author exclusively. Expressed opinions are NOT necessarily the views of VT, other authors, affiliates, advertisers, sponsors, partners, or technicians. Some content may be satirical in nature. All images are the full responsibility of the article author and NOT VT.