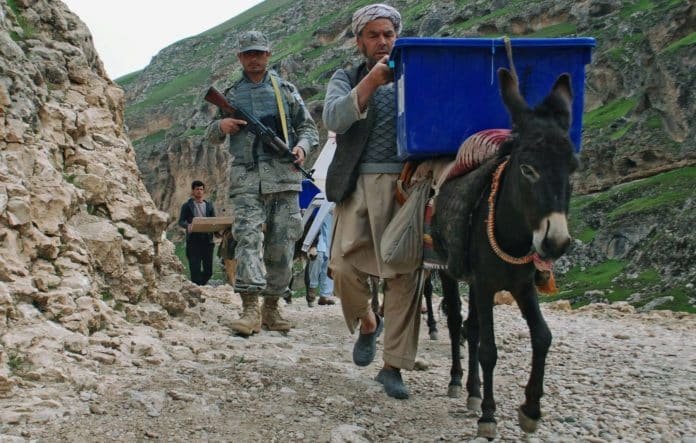 Nazar Mohammad Mutmaeen
Afghan writer and political Analyst based in Kabul
The 2004 Presidential Elections became held in a peaceful atmosphere and, unexpectedly, more people had participated in it. However, the 2009 Presidential Elections were so insecure and bloody incidents came to ground there. The rivalry between former President Hamid Karzai and Dr. Abdullah became intensified as some countries of the international community were trying to bring Dr. Abdullah to power.
The 2014 Presidential Elections were completely a mistake; we had experienced fraudulent Parliamentary Elections of 2010 and Presidential Elections of 2009; we also had learned the elections are not the solution to Afghan war; it was expect to be worked on an Afghan-inclusive government, instead of holding 2014 Presidential Elections, which would be able to bring peace to the country.
If elections are the solution for Afghan issues, then, it is good to participate in it broadly. If we reach peace through elections, so we should take part in it; however, the past experiences have shown that the election is not only the solutions and ways to reach peace but it is also full of frauds. Every candidate speak of peace; however, they sacrifice peace for politics.
Now, as registration for Parliamentary Elections continues, an insignificant numbers of people have registered themselves yet because Afghan nation has lost its confidence in elections.
During the 2014 Presidential Elections, people casted vote besides losing their loved ones, their fingers, their times and money, and even some other came from abroad to vote here; nevertheless, their votes had been wasted and did not respected. The votes of those who had voted for Dr. Ghani or Dr. Abdullah to be the president; became neglected at the end, John Kerry, US Secretary of State arrived in Kabul and decided to establish a joint government, and thus, the both of them did perfidy with the votes of their supporters.
As the elections are not the alternative of peace, and as the elections are intentionally taken toward crisis, there are some clues that reason that America and Afghan government have not got a regular plan for the upcoming elections and some circles intentionally tries to take elections to crisis without being interrupted by the Taliban. Broad campaign for taking elections toward crisis is going at home; but the Afghan government and international community will, again, blame the Taliban for taking the elections into crisis.
1-      Prior to the announcement of elections timetable for 2018 Parliamentary Elections by the Election Commissions (IEC), some pro-government addresses were making propaganda that the Taliban will boycott these elections and it is in their interest. Taliban were intentionally being provoked against the elections.
2-      Two months were given for voters' registration for the Parliamentary Elections, in case, the stickers were also need to be installed on Tazkira (National ID Card), that registration seems impossible in such a short period of time. Although, the duration extended for one more month and perhaps it will be further extended as well; but announcing two months at first means that there was not regular plan and intention existed for elections.
3-      Dr. Ghani and Dr. Abdullah remarks on reduced participation of people in the registration process negatively impacted the process; instead, they were supposed not to talk like that and they should have talked about the successfulness of this process.
4-      At first, they considered installing sticker on Tazkira in order for the voters to become registered, but later, Dr. Ghani inaugurated the distribution of Electronic Tazkira (E-IDs) which became opposed by Dr. Abdullah. If they really intended to distribute E-IDs, they should have started this process at the beginning of voters' registration and then, there would be no need to install sticker on Tazkira.
5-      Members of Independent Election Commission (IEC) and Electoral Complaints Commission opposed the Presidential decree on letting the voters to get registered and install sticker on comp of Tazkira.
6-      Attacks on voters' registration centers in Kabul and some other provinces by unknown gunmen which has had heavy casualties to victims.
Considering the abovementioned reasons and some other factors, it looks like the IEC has not got a clear strategy for elections; and I think the scenario is to take elections toward crisis, make them controversial and block to road for 2019 Presidential Elations in order for the international and Afghan politicians to think of extending the life of this administration. The officials of current administration will try to extend the life of its administration for 5 more years without holding elections.
On February 6, 2018, Maseer Daily newspaper reported that: "America wants to extend the term/time of the current administration for 5 more years. For this purpose, important American delegations have met some leaders and political elites of past Jihad.
Americans told them that they want to create "leadership council" which will support the aforementioned purpose. The newspapers wrote that Americans had met former President Hamid Karzai, Abdul Rab Raoul Sayyaf, Gulbuding Hekmatyar, Andwarulhaq Ahadi, Karim Khalili, Hamid Gailani and etc.
Americans have pledged them tremendous privileges for saying yes; however, a number of the mentioned personalities rejected this offer and some others have conditionally accepted it."
ATTENTION READERS
We See The World From All Sides and Want YOU To Be Fully Informed
In fact, intentional disinformation is a disgraceful scourge in media today. So to assuage any possible errant incorrect information posted herein, we strongly encourage you to seek corroboration from other non-VT sources before forming an educated opinion.
About VT
-
Policies & Disclosures
-
Comment Policy
Due to the nature of uncensored content posted by VT's fully independent international writers, VT cannot guarantee absolute validity. All content is owned by the author exclusively. Expressed opinions are NOT necessarily the views of VT, other authors, affiliates, advertisers, sponsors, partners, or technicians. Some content may be satirical in nature. All images are the full responsibility of the article author and NOT VT.