Not everybody has had a Happy New Year. On Friday January 4th 51 one Lee Pomeroy boarded the 1258 train from Guildford's London Road Station in Surrey with another man, who as it happens was black, or, if you prefer, Afro-Caribbean. It was Lee's last journey. He never made it beyond Horsley, where the black man left the train, in a hurry, possibly carrying a blood-drenched knife. The police arrested a black man, Darren Shane Pencille, on Saturday, although it's unclear whether he was arrested because he had something to do with the murder or just because he happened to be black. He's been charged with murder, at any rate.
The murder has deeply shocked Middle England. It's such a shocking event that the Guardian are downplaying it. The average Englishman or woman boarding a train at Guildford for Waterloo expects to arrive in the capital alive. The service on South Western Railways isn't particularly good, no offense intended, but the Guildford-Waterloo line isn't the Burma Railway. The death toll up till now has been low.
The murder rate in England has been climbing dramatically in recent years. Every week brings reports of a new murder, usually by stabbing, in London. For the year ending March 2017 709 homicides were recorded for England and Wales. Some of these are cases of manslaughter (second or third degree murder in the US, although homicide laws vary from state to state, of course), but most are what you would call murder one.
To put this into perspective, there were only 239 executions in London for murder from 1900 until March 1961, when Edwin Bush became the last murderer to be hanged at Pentonville. Since not many murderers had their sentences commuted you can see how much the murder rate has jumped.
It started to spike when capital punishment was watered down by the Homicide Act 1957. Up till then death by hanging was the sentence prescribed by law for murder. The 1957 Act, unwisely, introduced the concept of non-capital murder. Section 5 of the Act, which set out the categories of capital murder, paved the way for the brutal Moors Murders by not including the murder of children, unless of course you shot them or blew them up. Torturing and stabbing children to death only attracted life imprisonment.
Once the death penalty for murder was abolished altogether, in 1965, the murder rate really started to soar. Some years are better than others, but generally speaking the increase in the murder rate has been pretty much linear over the last 50 odd years.
Stabbings in London
The last two or three years have seen a lot of political posturing over a spate of gang-related stabbings and shootings in London. No remedy has been too useless to be tried or mentioned. New policing methods, community initiatives – you name it. You will not be surprised to learn that none of them have worked.
Mention of the one initiative which would work – the restoration of capital punishment – has been studiously avoided by politicians and the MSM. Middle England hasn't shown much interest up till now, as the violence has mostly been black on black, much of it in London.
I happen to believe that everyone, whatever their color, is entitled to live in peace under the law. I am not so naïve as to believe that none of the young, black victims in the capital was involved in drugs or gang violence, but in the eyes of the law the life of a young, black man in inner London is worth the same as that of a stockbroker in leafy Surrey.
Political weight is a different matter from legal weight. When murders start to happen in leafy Surrey liberals had better watch out. Inner city communities in Britain tend to have clout only with the Labour Party. The Labour Party, however, is dominated by left-wing liberals, to whom capital punishment is anathema. There is no way that either London's trendy-lefty Mayor, Sadiq Khan, or Labour Leader Jeremy Corybn, is going to push for stronger penalties for murder in order to help inner city communities.
Ironically the lives of the middle class, mostly white, trendy lefties who dominate Labour are so remote from those of the ethnic minorities in the inner cities that there is almost no contact between them. In London the income and social gap between communities as little as a mile apart can be unbridgeable.
Black community leaders (I feel silly referring to black Londoners as 'African-Americans') would be better off appealing to the Tory Party. I don't mean the government – as I keep saying, Prime Minister Theresa May isn't a Tory, indeed she hates Tories. I mean decent, proper Tories like Iain Duncan Smith (IDS) or Jacob Rees-Mogg, i.e. gentlemen.
I happen to know that IDS is deeply concerned about the inner cities. I'm sure that Jacob Rees-Mogg is too. We conservatives tend to be practical people. If a solution works we'll adopt it. Liberals tend to be ideological. Solutions which work are rejected if they are not compliant with left-liberal ideology.
There is no doubt that capital punishment works. Texas reduced her murder rate by about 50% after the reintroduction of capital punishment, and that's with huge delays caused by America's federalised legal system and decades of debate about mode of execution.
Capital punishment in Britain in the good old days was very quick, eye-wateringly so by modern American standards, although no doubt Judge Roy Bean was even quicker. On January 26th 1905 Edward Harrison decided to murder his adult daughter Elizabeth. His trial at the Old Bailey, before that sound tribunal with respect, Mr Justice Darling, started on February 10th. Found guilty, Edward Harrison was hanged at HMP Wandsworth on February 28th.
Just to be clear, that's 33 days between the murder and the execution, with no doubt about the justness of either verdict or sentence. (Edward Harrison's last words were "I did it".)
Slowed down as it is by computers, there is no way that Britain's 21st century justice system could begin to match the efficiency of that of the early 20th century. However there is no doubt that executions would be carried out much more quickly in Britain than in America, enhancing their deterrent effect.
The ECHR
One liberal objection is that capital punishment is prohibited under an optional protocol to the European Convention on Human Rights, designed to push up the murder rate in Europe. So it is. The point about optional protocols however is that they are optional. If need be we could simply withdraw from the ECHR altogether. It's not worth the human cost.
I hope that Theresa May's successor will push for a referendum on the restoration of capital punishment. After Lee Pomeroy's murder I wouldn't bet against the public voting Yes.
The Shutdown
Good to see President Trump standing his ground. Why shouldn't America have good border security? Walls and fences work. The Democrats are just playing politics. They know that President Trump was elected on a platform which included enhanced border security.
I am by no means convinced that Republicans will get the blame. The electorate aren't stupid, one reason why they voted for Donald Trump. All the President is asking for is a measly five billion dollars, which in the context of the federal budget is peanuts. Yes, I know you can get a lot of dry roasted for 5B, but it's still peanuts. If the Democrats don't agree they could always seek advice from President Carter, who was a peanut farmer.
Response to Comments
Responding to 'Worker Bee's' comment on my last column, Captain Rogers in the USS Vincennes was set up. The Iranians were happy to sacrifice an Airbus full of Haj pilgrims in order to score points. It's all in my book, as 'JS' rightly pointed out!
In response to other comments, MH370 was shot down by an Iranian made Fakour-2 missile (a modified AIM-54 Phoenix), fired from a Chinese Kilo class SSK, hull-down, in the South China Sea. The entire incident was caught on satellite and on the USS Pinckney's radar.
That much is clear. The motive is less clear, but I still incline to the view that the shoot-down was related to the bitter internal battle in 2014 for the control of China. The innocent people on the plane, once again, were viewed simply as pawns. There is no way that any government in the Asia-Pacific region is ever going to tell the grieving relatives the truth.
Planes, Trains and Automobiles (1987)
This wonderful old comedy (hard to believe that it's over 30 years old) was part of our Christmas viewing in Britain. Europeans tend to think of Americans as lacking in humor and incapable of irony. We Brits know better (we're not Europeans of course!).
They probably ought to show Planes, Trains and Automobiles more often on TV over in Europe. Warm-hearted and funny, it features stand-out performances from Steve Martin and the late, lamented Canadian comedy actor John Candy. It's actually one of the funniest movies ever made, on either side of the Atlantic. The scene at the 'Marathon Rent-a-Car' counter is a hoot.
I recalled Planes, Trains and Automobiles when I was trapped at DIA one Thanksgiving in the late 90s. The first and business class passengers on BA rallied around (I'm afraid we left the economy passengers behind). One organised a block-booking on 10 hour delayed Frontier 737 headed for La Guardia and I organised a block-booking on the morning Concorde for London. Sadly the Concorde option was not available to Steve Martin and John Candy.
Happy New Year again, everybody! I think it's going to be a good one. My next column will be in two weeks, as I have an appeal against disbarment to argue in the High Court next Monday.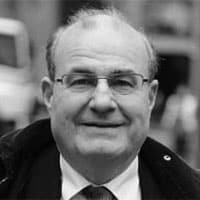 Michael Shrimpton was a barrister from his call to the Bar in London in 1983 until being disbarred in 2019 over a fraudulently obtained conviction. He is a specialist in National Security and Constitutional Law, Strategic Intelligence and Counter-terrorism. He is a former Adjunct Professor of Intelligence Studies at the American Military University.
Read Articles from Michael Shrimpton;
ATTENTION READERS
We See The World From All Sides and Want YOU To Be Fully Informed
In fact, intentional disinformation is a disgraceful scourge in media today. So to assuage any possible errant incorrect information posted herein, we strongly encourage you to seek corroboration from other non-VT sources before forming an educated opinion.
About VT
-
Policies & Disclosures
-
Comment Policy
Due to the nature of uncensored content posted by VT's fully independent international writers, VT cannot guarantee absolute validity. All content is owned by the author exclusively. Expressed opinions are NOT necessarily the views of VT, other authors, affiliates, advertisers, sponsors, partners, or technicians. Some content may be satirical in nature. All images are the full responsibility of the article author and NOT VT.