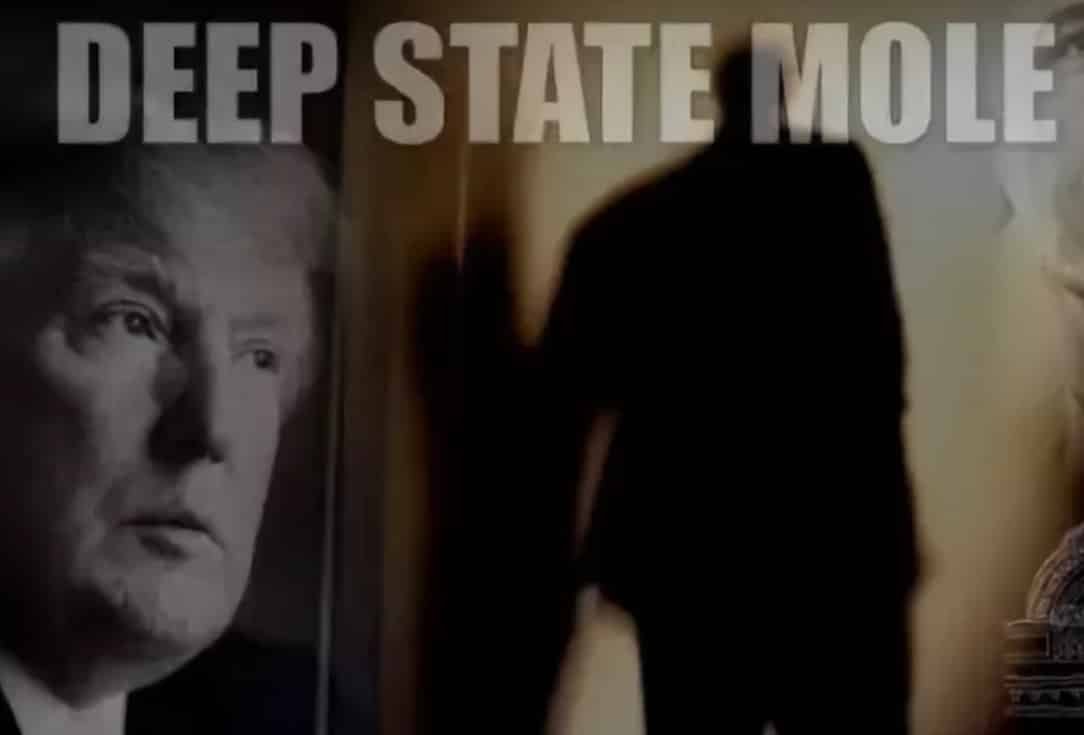 Editor's note:  Facebook and Google have long given a free pass to anti-vacc and other communities, including every hate group imaginable with the exception of those who attack Israel's war crimes…
There is a reason for this:  Gullible "influencers" are the heart of Trump's Deep State.
With respect to our "home grown" anti-vaxxer, Kevin, there is absolutely nothing but fake science supporting anti-vaxx.
Assuming that every pediatrician in the US is part of a criminal conspiracy is "over the top.
So is the kind of stories out there, that polio is no worse than the common cold and that tetanus or even rabies are normal childhood diseases, just like measles, which, next to malaria, was the biggest killer worldwide.
Some of us worked in vaccination programs and watched childhood mortality numbers plummet across the world.
As a parent, I ran into these issues in the 1970's, long before Wakefield's very very odd and fake report on autism.  The anti crowd still make up stories about mercury for instance, something, like all of the anti-vacc crap, that can be disproven in a second.
Simply put, an unvaccinated child is a ticking time bomb, a risk to new borns, a pariah in school, a potential killer.  Young children, too young for vaccinations, are being crippled and killed by parents of loving but gullible parents who believe wild crap on the internet before their own doctors. 
Just watch the comment board as the nutters come out, spewing hate and dangerous lies.  Facebook has loved the cash but also, anti-vacc types have been recognized "influencers," gullible, potentially violent, abusive, perfect Trump supporters and have been used as such.  Please comment, admit to being a dupe of the Deep State…G
*
Facebook is under pressure to stem the rise of anti-vaccination groups spreading false information about the dangers of life-saving vaccines while peddling unfounded alternative treatments such as high doses of vitamin C.
The groups are large and sophisticated. Stop Mandatory Vaccination has more than 150,000 approved members. Vitamin C Against Vaccine Damage claims that large doses of the vitamin can "heal" people from vaccine damage, even though vaccines are safe.
Health experts are calling on Facebook to do more to counter these echo chambers. Dr Wendy Sue Swanson, spokeswoman of the American Academy of Pediatrics, said: "Facebook should prioritise dealing with the threat to human health when falsehoods and misinformation are shared. This isn't just self-harm, it's community harm."
Swanson recently met with Facebook strategists and raised her concerns. "Parents deserve the truth. If they are being served up something that is not true it will likely increase their levels of anxiety and fear and potentially change their uptake of vaccines, which is dangerous," she said.
Fiona O'Leary, an autism activist and campaigner against pseudo-science, called on Facebook to block anti-vaccine groups. "If they won't shut down closed groups I'd like to see a Facebook watchdog that will remove misinformation causing harm to children," she said.
Read more on UK Guardian  and…
How Facebook and YouTube help spread anti-vaxxer propaganda
Companies have acknowledged the problem and are taking modest steps to discourage misinformation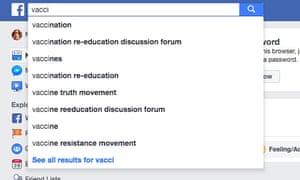 In 2015, Mark Zuckerberg weighed in on an unusually fraught issue with an uncommonly blunt statement: "Vaccination is an important and timely topic," he wrote in a Facebook post about the book On Immunity by Eula Biss. "The science is completely clear: vaccinations work and are important for the health of everyone in our community."
But when members of Facebook's "community" seek information about vaccines on Facebook itself, they may be steered toward unscientific, anti-vaccination propaganda. On YouTube, a rival social media platform owned by Google, users seeking information about vaccines are similarly nudged toward anti-vaccination misinformation, much of it designed to frighten parents, even as a measles outbreak rages in the Pacific north-west.
The Guardian found that Facebook search results for groups and pages with information about vaccines were dominated by anti-vaccination propaganda, and that YouTube's recommendation algorithm steers viewers from fact-based medical information toward anti-vaccine misinformation.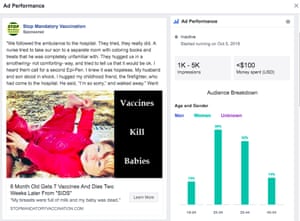 These findings come amid global concern over vaccine hesitancy, which the World Health Organization (WHO) named as one of its top 10 threats to global health in 2019. And they raise questions about the efficacy of Facebook and YouTube's efforts to clamp down on harmful misinformation.
read more on  UK Guardian and
Half of new parents shown anti-vaccine misinformation on social media – report
Charity calls for tech firms to address spread of misleading information pushed by anti-vaxxers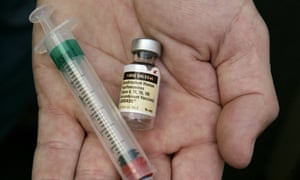 Half of all parents with small children have been exposed to misinformation about vaccines on social media, according to a new report that finds the most common reason not to vaccinate is the fear of side-effects.
"We need to counteract health misinformation online and via social media," said Shirley Cramer, the chief executive of the Royal Society for Public Health (RSPH), which published the report.
"We call on the social media giants and the platforms to look at what they could do around this because it is a breeding ground for misleading information and negative messaging. There could be some really negative and dangerous consequences. They need to take some responsibility."
"Anti-vaxx" groups target the parents of new babies via social media, posting stories claiming babies have died or been harmed by vaccination. A US group called Stop Mandatory Vaccination, run by Larry Cook, was censured by the UK's advertising watchdog in November over a paid-for Facebook post, after a complaint by the mother of a young baby in the UK.
read more at UK Guardian
ATTENTION READERS
We See The World From All Sides and Want YOU To Be Fully Informed
In fact, intentional disinformation is a disgraceful scourge in media today. So to assuage any possible errant incorrect information posted herein, we strongly encourage you to seek corroboration from other non-VT sources before forming an educated opinion.
About VT
-
Policies & Disclosures
-
Comment Policy
Due to the nature of uncensored content posted by VT's fully independent international writers, VT cannot guarantee absolute validity. All content is owned by the author exclusively. Expressed opinions are NOT necessarily the views of VT, other authors, affiliates, advertisers, sponsors, partners, or technicians. Some content may be satirical in nature. All images are the full responsibility of the article author and NOT VT.