It's not all over bar the shouting – there'll be plenty of that between now and March 29th, when, gloriously, Britain leaves the European Union, aka the 'Evil Empire'.  However, a clean break still looks the likeliest outcome.  Both major political parties in Britain have split this week, but not evenly: both sets of anti-Brexit rebels are no more than splinter groups.  Apologies for the placement of the main photo, it's an editing thing! VT is too valuable a website not to come under attack.  One photo couldn't be uploaded at all.         
In the case of Labour the split is complicated by the issue of anti-Semitism, which is rife within the Labour Party. Luciana Berger, the MP who leads the so-called "Independent Group', along with Chuka Umunna, has been subject to disgraceful racist abuse from local Labour activists. Much of this anti-Semitism has been coded as attacks on Zionism and Israel, but it is anti-Semitism nonetheless.
The Independent Group is not a party. It doesn't have a leader, or, to be more precise, it has two leaders. They dare not hold a leadership contest, for fear of splitting the splitters. They lack a platform, party name, logo, finance and membership base. None of them appears to have watched Life of Brian.
Their constituency associations are probably already moving to replace them. It's unlikely that any of the less than magnificent seven will survive the next general election. Wisely, none is willing to risk a by-election.
The Tory splinter group is even smaller –just three MPs, each of them a screaming Euronutter, no offense intended. These muppets have convinced themselves that leaving the EU without a deal would be disastrous. So it would, but for the EU, not the UK. As they are not slow to point out, all three of them, Anna Soubry, Heidi Allen and Dr Sarah Wollaston, are women. They seem to think that they are advancing the cause of women in politics, as opposed to leading some Tories to entertaining doubts about votes for women.
These three are even worried about the price of food going up, not something which troubled their side when we joined the EEC, with its mad Common Agricultural Policy. Leaving the CAP will see food prices coming down, not up. Andrew Marr was very exercised about food price increases on his eponymous show, the leading British Sunday morning talk show yesterday.
What Andrew Marr and various other anti-Brexiteers are not emphasising of course, is that the price increases, due to tariffs, will apply only to imported food. The price of squishy Spanish tomatoes will go up, but the price of juicy British tomatoes will go down if anything, as the bureaucratic burden on British farmers is eased. The consumer buying British will of course be purchasing a superior tomato!
That nice chap Iain Duncan Smith, former Tory leader, said today that he would like to see the three women rejoin the party. Why? They're not Tories, they're centrists. There surely cannot be any place in the Tory Party for anyone who wants Britain to be a German client state inside the EU and thinks that Britain was wrong to fight World War II.
The Attorney-General's Advice
Theresa May has swanned off to Egypt, not to get blown up by ISIS, but to have a chat with EU leaders. She might have found a chat with ISIS more agreeable. The plan is not to amend the hated Withdrawal Agreement but to cook up some sort of political agreement designed to fool Tory MPs into believing it has been amended, the Danish Gambit. The late Leo Price QC, Martin Howe QC and myself jointly exposed the agreement reached at Edinburgh in 1994 over Denmark's supposed opt-outs from the Maastricht Treaty as a con.
There were no opt-outs, and the agreement itself was so devoid of content it scarcely mattered whether it was legally binding or not. It wasn't a serious agreement, merely a device for fooling the Danish electorate into thinking that the Maastricht Treaty had been amended. The second Danish referendum was held on exactly the same text as the first.
Theresa May is hoping that the Attorney-General, Geoffrey Cox MP, will agree to con MPs into thinking that the Irish backstop is no longer permanent, even though that's what the draft agreement says. There are three problems with this:
(1)    Pro-Brexit, i.e. pro-British, Tory MPs have access to good legal advice from lawyers with serious expertise in public international law.
(2)    The reputation of the Law Officers of the Crown was trashed by the Dodgy Dossier scandal over Iraq. The Law Officers, sadly, are no longer seen as independent lawyers, let alone as lawyers with integrity. They are now viewed as political placemen or women, willing to do Number Ten's bidding, and
(3)     Astonishingly, for a modern Law Officer, Geoffrey Cox is not only a reasonable lawyer, with respect, but appears to have some integrity. How he survived the vetting process is something of a mystery!
Translating Media Comment on Brexit
American readers may be puzzled by what British papers are saying about Brexit, so I thought would be helpful to produce a little guide. I have taken the phrases from the Evening Standard for February 12th. The Standard, which used to be a reputable paper, is edited by a Euronutter called George Osborne, a failed Chancellor of the Exchequer.
"Commons Leader Andrea Leadsom told Brexiteers they should not be purist" means that Andrea has probably been bought off with the offer of a better job.
"Fears grew at Westminster … of a no-deal Brexit" means that hopes are growing at Westminster of a clean break from the EU.
"Business anger at the government's handling of Brexit grew" means that business is fed up with the delays in leaving the EU and would like to see some direction from the government.
"The Maltese finance minister Edward Scicluna accused the government of threatening to explode a political 'atomic bomb' across the EU with a no deal" means that the Maltese government are worried that the EU might break up, which will make it more difficult to get away with murdering investigate journalists reporting on corruption in Malta.
The Wall
The President, God Bless him, appears to have put more than one brick into his nice new wall with his emergency declaration. The US Constitution actually gives wide powers to the president, and I can't see the legal challenges from ACLU and others surviving the sensible new Supreme Court.
The Democrats, and Nancy Pelosi in particular, are upset, which is always a good sign. The reality is that the Democratic Party now needs the votes of illegals in order to win. Opposing the wall goes down well with existing illegals, who are a key part of their base.
Staying with US politics, I warmly recommend Lord Black's recent article for the Center for American Greatness. Conrad demolishes the absurd Trump-Russia collusion conspiracy theory, which as we all know rested on two false premises:
(1)  That the Russian lady lawyer at the Trump Tower meeting was working for the Kremlin, and
(2)  That Democratic Party servers were hacked from Russia.
Both assertions have now been fact-checked. The lawyer has no greater connection with the Kremlin than the US Attorney in Duluth has with the White House and the Democratic Party's emails were downloaded inside their offices by a party worker or IT consultant.
The Bangladeshi Terrorist Shamima Begum
Regular readers of this column will know that I have repeatedly emphasised the issue of dual nationality. As a former immigration judge I am well aware that there are three principal routes to nationality: grant (e.g. naturalisation), birth (the jus soli) and descent (the jus sanguine).
Shamima Begum, who was a UK/Bangladesh dual national born in Britain, left here in 2015 to join ISIS in Syria. She fled ISIS-controled territory (now reduced to about two blocks and a used car lot) and ended up in a refugee camp in Syria, although almost certainly she does not meet the accepted international definition of a refugee. (Her lawyers might want to note the exclusion clause in Article 1F in the 1951 Geneva Refugee Convention.)
She then indicated a desire to return to the UK, as she was heavily pregnant with a child by a Dutch terrorist, indeed she has since given birth to a son. The Home Secretary then very sensibly deprived her of her British Citizenship, using powers available to him under section 40 of the British Nationality Act 1981 as amended.
The power can only be exercised in respect of someone who has acquired British nationality by birth if they are dual nationals. Both of Ms Begum's parents are Bangladeshi and she is undoubtedly a citizen of the People's Republic of Bangladesh by descent.
The Bangladesh government is denying this, but with respect they don't appear to have consulted an immigration lawyer. What is surprising is that officials chose to suppress the fact of Ms Begum's second nationality when advising the Home Secretary about the case last year. He didn't find out about it from his officials, I fear! As to whether yours truly had a hand in ensuring that the truth reached the Home Secretary, I could not possibly comment.
The reaction from the left, Begum's family and her lawyers has been legally illiterate, frankly. It's been said that she never had a Bangladeshi passport, but no one has ever suggested that she had. You don't cease to be a US citizen because your passport has expired, indeed a large number of US citizens have never had a passport.
It's also being said that she has never visited Bangladesh, although she might be going there soon. This is irrelevant. Her son, who was born before her British nationality was taken away from her, is undoubtedly a British citizen by descent. It matters not one jot that he has yet to visit Britain.
Although Dacca are saying that they won't let her in, she is their national and their responsibility. They probably will let her in if the alternative is a fair trial in Syria, fair by the standards of Syria at any rate (where justice is sometimes denied but rarely delayed). Syria has the death penalty, so she might get more than a slap on the wrist.
If she is in fact executed, a matter entirely for the proper Syrian authorities, I hope that the sentence is carried out with greater humanity than that shown by ISIS. Ms Begum is on record as saying that she was not troubled by the sight of severed human heads in a bucket (I doubt that ISIS could afford baskets), so presumably she is a supporter of the death penalty.
The media have reported her comments as though it is quite normal to be so close to a beheading that you get to see the severed head in a bucket. I suspect that ISIS were not in fact selling tickets, i.e. I suspect that Ms Begum may actually have participated in one or more executions. If this young lady is not more careful she might end up participating in her own.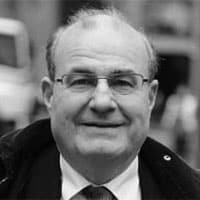 Michael Shrimpton was a barrister from his call to the Bar in London in 1983 until being disbarred in 2019 over a fraudulently obtained conviction. He is a specialist in National Security and Constitutional Law, Strategic Intelligence and Counter-terrorism. He is a former Adjunct Professor of Intelligence Studies at the American Military University.
Read Articles from Michael Shrimpton;
ATTENTION READERS
We See The World From All Sides and Want YOU To Be Fully Informed
In fact, intentional disinformation is a disgraceful scourge in media today. So to assuage any possible errant incorrect information posted herein, we strongly encourage you to seek corroboration from other non-VT sources before forming an educated opinion.
About VT
-
Policies & Disclosures
-
Comment Policy
Due to the nature of uncensored content posted by VT's fully independent international writers, VT cannot guarantee absolute validity. All content is owned by the author exclusively. Expressed opinions are NOT necessarily the views of VT, other authors, affiliates, advertisers, sponsors, partners, or technicians. Some content may be satirical in nature. All images are the full responsibility of the article author and NOT VT.