When David Irving wrote his classic work The Destruction of Dresden in 1963, many so-called experts doubted its accuracy. Richard J. Evans, the Cambridge professor who represented Deborah Lipstadt during the Irving trial, wrote:
"Not one of [Irving's] books, speeches or articles, not one paragraph, not one sentence in any of them, can be taken on trust as an accurate representation of its historical subject. All of them are completely worthless as history, because Irving cannot be trusted anywhere, in any of them, to give a reliable account of what he is talking or writing about."
I corresponded with Evans back in 2012. I wrote:
I am currently reading some of your work. What is your take on David Irving's Hitler's War precisely? He has been praised by a number of historians for digging into the archives and looking into primary sources. I realized that much of what has been written about the Third Reich has been based on secondary sources. I also discovered that you seem to present two contradictory views on Irving. At one point, you declared that Irving "knows an enormous amount about Hitler and his entourage and his immediate circle in the second world war and their conduct of military affairs, and over the years he's dug up through contacts and through sheer energy and diligence enormous amounts of new documentation of varying interest and importance, but some of it is undeniably important."
Yet after the trial, you wrote that Irving's writing as "completely worthless as history, because Irving cannot be trusted anywhere, in any of them, to give a reliable account of what he is talking or writing about if we mean by historian someone who is concerned to discover the truth about the past, and to give as accurate a representation of it as possible, then Irving is not a historian." Can you clarify those statements? Thank you so much.
Evans, astonishingly, responded by saying that "there is really no contradiction. He did dig up a lot of valuable material but what he did with it was worthless." This is the kind of thinking that pervades the Holocaust establishment! I wrote back and declared:
If he actually "did dig up a lot of valuable material," then everything he ever wrote could not possibly be "worthless." That would be an obvious contradiction, and I'm sure you would agree with me here. Some of his stuff could be demonstrably false—and I think he should be willing to conceive that point. However, one should be able to disprove his claims by what he seems or claims to know best: the archives, documented accounts, etc. I have carefully read Lying About Hitler and you seem to rely heavily on what other historians have said about Irving, which again is an appeal to authority.
Moreover, if that is not ad hominem, it is close enough. Should serious historians be willing to take this route? I really enjoy reading your work In Defense of History, in which you argue quite rightly that there was a community of historians in the 1920s in Germany who agreed on similar issues but we today would consider those issues to be quite wrong. If that is the case, it is not historically sound to summon the opinions of the experts in order to dismiss Irving. Is it possible to challenge Irving on his own ground? He has been saying for decades that he is more than willing to change his mind if someone would prove him wrong from the archives.
If not, he will then continue to marshal his claims that "conformist historians" have no interest in real history, most particularly when it comes to making extraordinary claims with regard to Nazi Germany and providing little archival evidence for those claims. He certainly would be right in line with rational and historical thought if he backs his claims with documents straight from the archives as opposed to relying on the opinions of like-minded historians. Would you not agree?
It was very clear to me throughout our dialogue that Evans does not even believe the stuff that he writes in books such as In Defense of History. These people are out there propounding one theory and laughing all the way to the bank. I was told by Irving that Evans got paid a huge amount of money for representing Lipstadt.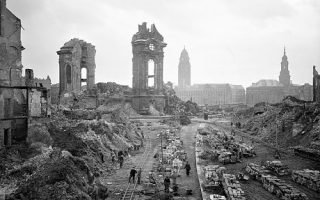 In any event, it seems that the British Telegraph was paying attention to Irving's Destruction of Dresden in 2015. Listen to the Telegraph here:
"Today marks the 70th anniversary of 'Operation Thunderclap,' one of the twentieth century's most controversial military actions. From 13 to 15 February 1945, British (and some American) heavy bombers dropped 2,400 tons of high explosives and 1,500 tons of incendiary bombs onto the ancient cathedral city of Dresden. In just a few hours, around 25,000 to 35,000 civilians were blown up or incinerated…
"It was not the first time a German city had been firebombed. "Operation Gomorrah" had seen Hamburg torched on 25 July the previous year. Nine thousand tons of explosives and incendiaries had flattened eight square miles of the city centre, and the resulting inferno had created an oxygen vacuum that whipped up a 150-mile-an-hour wind burning at 800 Celsius. The death toll was 37,000 people. (By comparison, the atom bomb in Nagasaki killed 40,000 on day one.)
"Chief of the Air Staff Charles Portal had calculated that bombing civilians could kill 900,000 in 18 months, seriously injure a million more, destroy six million homes, and 'de-house' 25 million, creating a humanitarian crisis that, he believed, would speed up the war."[1]
Didn't Irving write about similar things? If the Telegraph is right, then Evans' assessment of Irving is categorically wrong. If he is categorically wrong, then it is safe to say that the virulent attack on Irving by the Holocaust establishment is questionable. I would hasten to say that Irving will be vindicated precisely because his research on World War II is largely based on archival documents, not upon an ideological foundation.
In that sense, the Holocaust establishment will one day collapse completely. It's already been challenged. In fact, military historian R. H. S. Stolfi's provocative study Hitler: Beyond Evil and Tyranny, published by Prometheus Books, has already sent shockwaves across the historical spectrum. Stolfi, a professor emeritus at the U.S. Naval Postgraduate School, cogently argued that Hitler was rational in making many of his decisions and that the Holocaust establishment has irresponsibly demonized him for ideological purposes.
Stolfi declares that he has "weighted the great biographies [of Hitler] on the scales of historical reality and found them wanting…"[2] According to Stolfi, the great biographies do not ask deep questions and fail to address the metaphysical issues surrounding the evolution of Hitler and Nazi Germany. He writes,
"Virtually every literary piece written about Adolf Hitler in the more than half century since 1945 has been based on antipathy. In a seemingly boundless corpus of writing, every work from the mighty to the insignificant is fundamentally similar in its common revulsion for the man and his national movement.
"In the most recent great biography, Professor Ian Kershaw begins and ends with detestation. His work is skilled and often brilliant, but he fails to inform the reader of certain characteristics indispensable for true comprehension of the man, and he underestimates the importance of the postwar conditions inflicted by the Allies on Germany, which contributed to Hitler's rise.
"Bullock, Fest, and Kershaw ascribe criminal features to Hitler's foreign policy from 1933 through 1939, but they fail to correlate it realistically with the Allied imposition of the Versailles Treaty—the ultimate manifestation of German defeat and Allied victory following World War I.
"In the present situation, the reading public has been served only half a portrait of the great tyrant of the twentieth century….half a portrait of Hitler tells us little about the man as a human being and presents a distorted and incredible interpretation of his actions as creator of National Socialism and leader of Germany.
"The great biographies take excessive liberties in denigrating his person, and, in doing so, they make it difficult to comprehend him…Every single one falls short of producing an adequate understanding of Hitler as a historical person. To this point in time, the biographers have lost the biographical war."[3]
Well, Irving has been saying almost the same thing for decades. With the passing of time, the "Holocaust" narrative will become one of the greatest jokes in the history of humanity.
---
[1] Dominic Selwood, "Dresden was a civilian town with no military significance. Why did we burn its people?," Telegraph, February 13, 2015.
[2] Stolfi, Hitler, 11.
[3] Ibid., 11, 12, 17.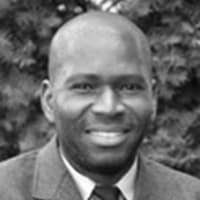 ATTENTION READERS
We See The World From All Sides and Want YOU To Be Fully Informed
In fact, intentional disinformation is a disgraceful scourge in media today. So to assuage any possible errant incorrect information posted herein, we strongly encourage you to seek corroboration from other non-VT sources before forming an educated opinion.
About VT
-
Policies & Disclosures
-
Comment Policy
Due to the nature of uncensored content posted by VT's fully independent international writers, VT cannot guarantee absolute validity. All content is owned by the author exclusively. Expressed opinions are NOT necessarily the views of VT, other authors, affiliates, advertisers, sponsors, partners, or technicians. Some content may be satirical in nature. All images are the full responsibility of the article author and NOT VT.