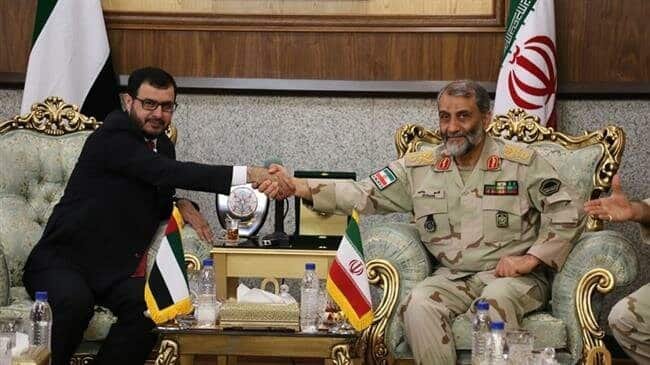 …by Press TV, Tehran
[ Editor's Note: Oh my, we have Iran now saying that it not only had good talks with the UAE, but they cut a deal on maritime security. That is going to twist some shorts in a knot in Washington and the Saudi palaces.
The PTV piece is short so I back filled it with the TRTWorld report from July 30th with a lot more information. Gosh I would have loved to be a fly on the wall when the Brits heard about this, right when they were in the middle of their silly attempt to play the lead in "defending the Hormuz Straits".
You just can't make this silly sh_t up, but apparently someone keeps trying. VT will be watching this developing story closely, as in how the Saudis respond and the US.
So far they have been quiet. Why? Well, what could they say? They must be stunned… Jim W. Dean ]

Jim's Editor's Notes are solely crowdfunded via PayPal
Jim's work includes research, field trips, Heritage TV Legacy archiving & more. Thanks for helping. Click to donate >>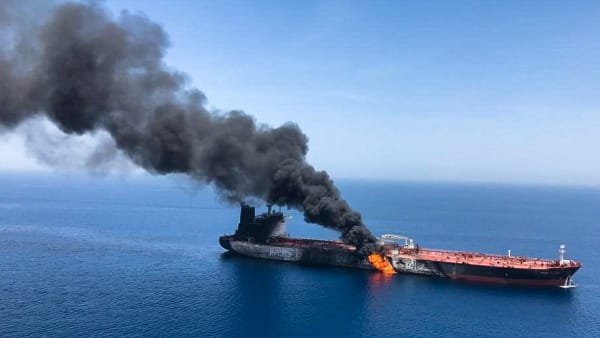 – First published … August 09, 2019 –
The UAE has signed a document on maritime border security with Iran. The UAE had been lobbying in Washington for a tougher stance on Tehran.
However, following suspicious attacks on oil tankers near the strategic Strait of Hormuz in May and June and subsequent fear of a major escalation in the region, UAE officials decided to rethink that strategy. Iran has called oil tanker incidents "suspicious".
During their visit to Iran, UAE officials cited extra-regional intervention by certain governments on maritime frontlines as a "source of trouble" for the region in the wake of a US initiative to shore up support from its allies to establish a naval coalition against Iran in the Persian Gulf.
The UAE also cited Iran's endeavors against drug smuggling in the region as another factor in bolstering border protection efforts with the country.
**
The two sides meet in what is being seen as a sign of attempts to ease tensions in the Persian Gulf.
…from TRT World
– First published … July 30, 2019 –
UAE officials travelled to Iran this week to hold talks on maritime security in the Persian Gulf where the threat of an escalation in tensions has increased in recent months with attacks and seizure of ships. 
Although the exact nature of the meeting remains unclear, some reports suggest that this was the first time since 2013 the two sides had met on the issue. UAE officials insisted it was a routine affair, however.
Iran's news agency ISNA said the seven-member UAE delegation and Iranian officials discussed issues related to shared borders, illegal entries, trespassing by fishermen, visits by citizens of each nation and maritime connections.
According to Dubai-based Khaleej Times, the meeting was "sixth in a series, the last one being three months ago". The two sides have a long-running dispute on islands including Abu Musa.
Iranian news websites showed pictures of Commander of Iran's Border Police Brigadier General Qassem Rezaei shaking hands with his Emirati counterpart Brigadier General Mohammad Ali Mesbah al Ahbabi. However, experts say, the UAE is reaching out to Iran to avoid being caught up in any escalation in the region.
"I think UAE is reassessing its foriegn policy. UAE's exit from Yemen and its rapprochement with Iran are two signs," Foad Izadi, Political Science Professor at Tehran University, told TRT World. "They realise relying on the Saudis and Trump is not very safe in the long run."
The UAE has decided to pull out some of its soldiers and military equipment from Yemen, which suggests that the years-long deadly conflict has hit a stalemate.
Iran backs the Houthi rebels in Yemen while the UAE along with Saudi Arabia has contributed money and men to support the government of Abdrabbuh Mansur Hadi and keep the Houthis at bay.
It still remains unclear what could have caused a change of heart in the UAE but the Houthi rebels, nevertheless, welcomed the talks with Iran.
"The UAE message from Iran was positive," Anadolu Agency quoted Houthi member Mohamed Ali al Houthi as saying.
While the officials in the administration of US President Donald Trump were quick to blame Iran for the attack on oil ships in May off the coast of Fujairah, the UAE trod cautiously, abstaining from blaming Tehran directly.
Yet at the same time Abu Dhabi has backed Washington when it abandoned a nuclear deal with Iran and reimposed crippling economic sanctions. The UAE and Saudi Arabia also cited Iran as a reason why they severed ties with former ally Qatar, saying the Qataris were too close to Iran.
"The UAE's justification for blockading Qatar was entirely hypocritical when it comes to Iran," says Dr Andreas Krieg, Assistant Professor at the School of Security Studies at King's College London. "The UAE's trade relationship with Iran albeit at times overshadowed by tension over the Abu Musa island, has been a lot deeper than Qatar's relationship with Iran."
Krieg says the sheer trade volume between the UAE and Iran in oil, metal and financial products has been 20 times larger than that of Qatar.
"Until today, despite new US sanctions on Iran, the UAE maintains very deep trade relations with Iran, importing steel and metal products, and allowing Iranians to launder money in the UAE, mostly Dubai, in breach of US sanctions."
The trade volume between the UAE and Iran last year was around $19 billion, according to the Financial Times, which in a recent article said the threat of sanctions could slash the volume of trade by half this year.
"For the UAE, the problem with Qatar was mostly over Al Jazeera, the Muslim Brotherhood and Qatar's empowerment of revolutionaries during the Arab Spring," Krieg said. "It was the Saudis who have taken a zero tolerance approach to Iran that the Emiratis supported."
Iran continued to remain on a war footing with the US allies, especially in the strategic Strait of Hormuz. The global powers aren't taking a submissive approach either. The UK is now trying to build an international security force to protect shipping in the Strait of Hormuz, where Iran seized a Uk-flagged Stena Impero tanker on July 19.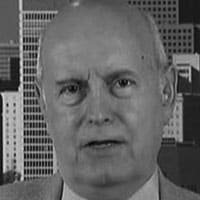 Jim W. Dean is VT Editor Emeritus.  He was an active editor on VT from 2010-2022.  He was involved in operations, development, and writing, plus an active schedule of TV and radio interviews.  He now writes and posts periodically for VT.
ATTENTION READERS
We See The World From All Sides and Want YOU To Be Fully Informed
In fact, intentional disinformation is a disgraceful scourge in media today. So to assuage any possible errant incorrect information posted herein, we strongly encourage you to seek corroboration from other non-VT sources before forming an educated opinion.
About VT
-
Policies & Disclosures
-
Comment Policy
Due to the nature of uncensored content posted by VT's fully independent international writers, VT cannot guarantee absolute validity. All content is owned by the author exclusively. Expressed opinions are NOT necessarily the views of VT, other authors, affiliates, advertisers, sponsors, partners, or technicians. Some content may be satirical in nature. All images are the full responsibility of the article author and NOT VT.