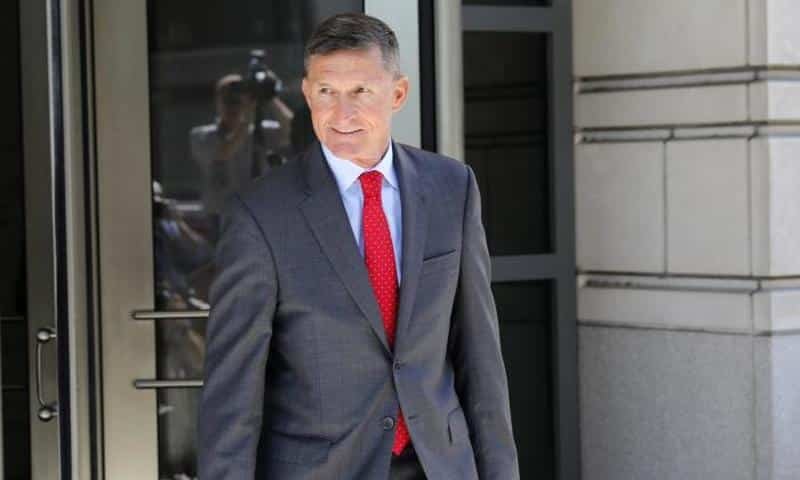 Shared by Robert Steele because of its importance to the integrity of the USA.
Tip of the Hat to Zero Hedge and  Brian Cates at The Epoch Times.
Having followed Lt. Gen. Michael Flynn's perjury case from the beginning, it's been apparent to me for some time that there are a lot of things in this case that just don't add up. Strange occurrences abound.
Here are just some of the twists and turns in the case, which has gone on for more than three years.
Now, it's not that far-fetched of an idea that the Mueller special counsel prosecutors would hide exculpatory evidence from the Flynn defense team, since they've just admitted to having done exactly that in another case their office has been prosecuting.
The defense team for Internet Research Agency/Concord, more popularly known as "the Russian troll farm case," hasn't been smooth going for the Mueller prosecutors.
First, the prosecution team got a real tongue-lashing from Judge Dabney L. Friedrich in early July, when it turned out they had no evidence whatsoever to prove their assertion that the Russian troll farms were being run by the Putin government.
Then, in a filing submitted to the court on Aug. 30, the IRA/Concord defense team alerted Judge Friedrich that the prosecutors just got around to handing them key evidence the prosecutors had for the past 18 months. The prosecution gave no explanation whatsoever as to why they hid this key evidence for more than a year.
It's hard to see at this point how the entire IRA/Concord case isn't tossed out.
What would it mean for Flynn's prosecutors to have been caught hiding exculpatory evidence from him and his lawyers, even after the presiding judge explicitly ordered them in February to hand over everything they had?
It would mean that the Flynn case is tossed out, since the prosecution team was caught engaging in gross misconduct.
Now you can see why Flynn refused to withdraw his guilty plea when Judge Sullivan gave him the opportunity to do so in late December 2018.
A withdrawal of the guilty plea or a pardon would let the Mueller prosecution team off the hook.
And they're not getting off the hook.
Flynn hired the best lawyer he possibly could have when it comes to exposing prosecutorial misconduct. Nobody knows the crafty, corrupt, and dishonest tricks federal prosecutors use better than Powell, who actually wrote a compelling book about such matters, entitled "License to Lie: Exposing Corruption in the Department of Justice."
Everything this Mueller prosecution team did in withholding exculpatory evidence from Flynn's defense team—and continued to withhold even after Judge Sullivan specifically issued an order about it—is going to be fully exposed.
Defying a federal judge's Brady order is a one-way ticket to not only getting fired, it's a serious enough offense to warrant disbarment and prosecution.
If it turns out Mueller special counsel prosecutors withheld exculpatory evidence— not only in the IRA/Concord case, but also in the cases against Flynn, Paul Manafort, Michael Cohen, Rick Gates, Roger Stone, and others—that will have a huge impact.
If they are willing to withhold exculpatory evidence in one case, why wouldn't they do the same thing in other cases they were prosecuting? Haven't they have already demonstrated they are willing to break the rules?
ROBERT STEELE: Robert Mueller should be under investigation and indictment for 3,000 counts of obstruction of justice and 3,000 counts of complicity in murder after the fact of 9/11, an inside job planned and executed by the Zionists with the complicity of the leadership of New York and New Jersey, all enabled and overseen by Dick Cheney. The time has come to throw out the bogus cases against both Mike Flynn and Roger Stone.
See Especially:
Memoranda for the President on 9/11: Time for the Truth — False Flag Deep State Truth! UPDATE 17: Israel Did It
Review: Licensed to Lie – Exposing Corruption in the Department of Justice by Sidney Powell (Trump Revolution Book 41) with Mike Flynn As Current Victim of Unethical Prosecutors
Robert David Steele is the conceptualizer of integrated election reform (#UNRIG) and the integration of holistic analytics, true cost economics, and Open Source Everything Engineering (OSEE) such that we can achieve a prosperous world at peace at 10-20% the cost of the failed Western economic model burdened by banks and lawyers.
A former US spy and co-founder of the Marine Corps Intelligence Activity, he is today the Chief Enabling Officer (CeO) of Earth Intelligence Network, a 501c3, and now also CeO of Open Source Everything (OSE Inc.). He continues his education with non-fiction reading, posting over 2,000 reviews across 98 categories; his hobbies include off-shore sailing and racketball.
ATTENTION READERS
We See The World From All Sides and Want YOU To Be Fully Informed
In fact, intentional disinformation is a disgraceful scourge in media today. So to assuage any possible errant incorrect information posted herein, we strongly encourage you to seek corroboration from other non-VT sources before forming an educated opinion.
About VT
-
Policies & Disclosures
-
Comment Policy
Due to the nature of uncensored content posted by VT's fully independent international writers, VT cannot guarantee absolute validity. All content is owned by the author exclusively. Expressed opinions are NOT necessarily the views of VT, other authors, affiliates, advertisers, sponsors, partners, or technicians. Some content may be satirical in nature. All images are the full responsibility of the article author and NOT VT.