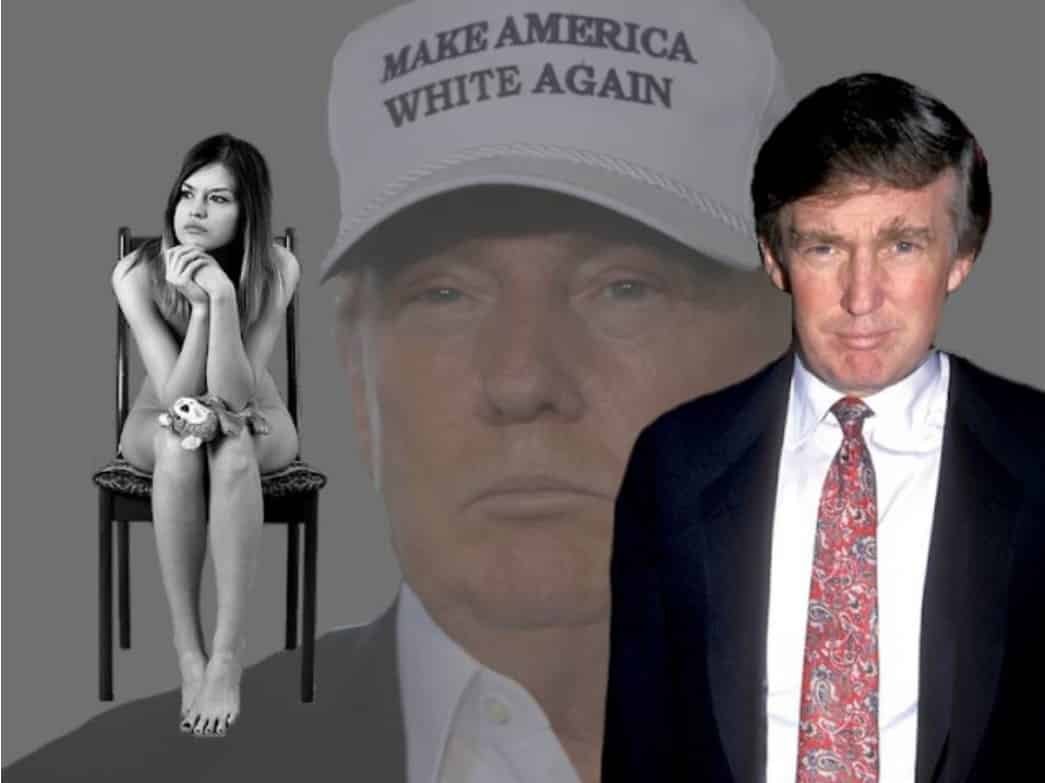 VT: Let's begin with some quotes from a legal document in a lawsuit dropped after Michael Cohen had someone's family threatened. This is just a few highlights, the accusations are made against Donald Trump. The victim was 13 years old. The full legal document is below.  VT has considerable corroborating evidence that everything here is true and that the rape parties such as those described below took place in New York, by both Epstein and Trump, many times.
Why was Jeffrey Epstein placed in an unguarded cell at the orders of Attorney General William Barr, where he was murdered after camera's were turned off and staff told to "disappear?"
Why is Ghislaine Maxwell's deposition testimony being sequestered at the orders of the Attorney General, now overturned by a federal judge?  Here is one of many cases against Trump, 25 we know of filed in court and many from "Club Epstein," the Manhattan "rape hole" only 2 minutes from Trump's home.
Not all victims survived.
Defendant Trump initiated sexual contact (with 13 year old) at four different parties. (with Jeffrey Epstein)
Trump tied (13 year old) Plaintiff to a bed, exposed himself to Plaintiff and then proceeded to forcibly rape Plaintiff.
During the course of the savage sexual attack, Plaintiff loudly pleaded for Trump to stop raping her.
Trump responded by violently striking Plaintiff in the face with an open hand and screaming that he would do whatever he wanted.
📺 NEW VIDEO

None of this is funny. #LetsGetSerious pic.twitter.com/i8y7CR2QeT

— MeidasTouch.com (@MeidasTouch) October 21, 2020
Immediately after raping the  13 year old, Trump threatened Plaintiff that if she ever revealed any of what happened (no NDA?) she and her family would be murdered by gangster friends of Trump.
After Trump raped the plaintiff, Jeffrey Epstein (Trump's constant companion) raped 13 year old Plaintiff both anally and vaginally.  When she screamed for Epstein to stop (Trump standing over them watching), Epstein attempted to strike her about the head with closed fists.
Epstein expressed rage that he was not the first one to take her virginity, which was taken during the initial rape by Donald Trump.
Trump told the 13 year old Plaintiff (rape victim) that she must remain silent "if she didn't want to disappear like Maria," a 12 year old girl that was forced to be involved in a foursome rape with Epstein.
Trump then told the Plaintiff that he could have her whole family killed.
Threats of violence against Plaintiff and her family continued as contact by representatives of Trump and Epstein continued for years.
Threats continued into the time Trump served as President, making them "official acts" according to the definition used by Attorney General Barr.
First of all, watch the video, the pattern is clear.  Trump convicts himself with his own mouth followed by lots of "he really didn't mean it…" from his underpantslings.
This is a guy who sits on a golden toilet all day, popping Adderall, tweeting and retweeting the same crap that flows from his massive pimpled underside.
Then there's the pedophile problem.  VT sits very close to the community around Trump, meaning NY scumbags, gangsters, street thugs and fraudsters.
Ever notice Trump uses the term "date" or "dating" when referring to women or, more often, pre-teen girls?  What does "dating" mean to Trump's group in New York?
First of all, "dates" are arranged through agencies, and these agencies are both modeling and escort.  Our sources say that all modeling agencies are also escort services and VT does happen to have two former NY models on staff both of whom have run across Donald Trump and then later went on to work as presidential appointees, one as a Civil Right Commissioner and the other as a National Security Advisor and member of the NSC.
We will withhold the names but you know who they are.
Trump's real reputation is for beating women with his fists.
From Courthouse News:
MANHATTAN (CN) – A woman who says Donald Trump raped her at a private sex party when she was 13 years old refiled a lawsuit against him Friday, two weeks after voluntarily dismissing a suit based on the same claims.
"Jane Doe" aka "Katie Johnson" says she was repeatedly raped, at 13, by Trump & Epstein at Epstein's NYC apartment in 1994.
She also described how Trump tied her to a bed and forcibly raped her.
Court Docket https://t.co/4myRVsJq0f #TrumpEpstein #25Women #TrumpRape
2/26 pic.twitter.com/sDA9TSxOUA

— ͏Postcards4USA (@postcards4USA) October 17, 2020
The new complaint, filed in the federal court in Manhattan, restates plaintiff Jane Doe's claims of the earlier lawsuit. Namely, that she was lured by a recruiter to summer parties hosted by co-defendant Jeffrey Epstein at an Upper East Side mansion on East 71st St., tied to a bed and forcibly raped by Trump, who slapped her with an open hand and told her he would do whatever he pleased with her.
"In 2016, "Jane Doe" filed a lawsuit against Trump alleging a "savage sexual attack" in 1994, when she was 13 years old, in which he tied her to a bed at Epstein's house, raped her, and struck her in the face."https://t.co/YFsteM8zlh

— Lil Lazer Beam (@BelovedLazer) October 18, 2020
Jane Does goes on to claim that after Epstein also forcibly raped her, he and Trump bickered over who should have taken the minor plaintiff's virginity.
The original complaint was accompanied by two declarations.
Nothing to see here. Just another never-before-seen photo of Trump with his young children and Jeffrey Epstein. pic.twitter.com/vwu7mHmXUg

— MeidasTouch.com (@MeidasTouch) October 20, 2020
The first declaration, signed by Jane Doe herself, detailed Trump's alleged "savage sexual attack" on the then-13-year-old plaintiff.
Dear QAnon,

Wow. How many photos of Trump with jailed pedophile Maxwell are there?

I know how important this issue is to all of you so please let me know. pic.twitter.com/TAtbLIATHZ

— Don Winslow (@donwinslow) October 17, 2020

The second declaration was signed by pseudonymous Tiffany Doe, who said she was hired by Jeffrey Epstein throughout the 1990s to recruit adolescent women to attend the billionaire's parties.
Tiffany Doe claims she convinced the then-13-year-old plaintiff to attend the parties as a means to break in to New York's professional modeling world. In her declaration, Tiffany Doe says she witnessed four sexual encounters in which Jane Doe was forced to have sex with Trump, and two encounters involving the plaintiff and Jeffrey Epstein.
!!!!! LET's GET THIS VILE INFORMATION OUT THERE. THEY SHUT IT DOWN IN 16 by ATTACKING HILLARY. THEY ARE DOING SAME WITH HUNTER-isn't timing AMAZING? COULDNT GET HILLARY, OBAMA OR BIDEN! WE HAVE THE STORIES OF DOZENS OF SEXUAL ASSAULTS ON WOMEN. https://t.co/it9Dc6pddo

— Sherrill (@Sherrillacyr12) October 18, 2020
The Tiffany Doe declaration included Epstein's threats against her and her family for disclosing the details of any sexual abuse of minors by Epstein and his party guests, swearing under penalty of perjury that she understands that her and her family's lives are "now in grave danger."
#Trump2020Landslide Trump raped a 13 y/o girl in 1994. The rape of the 13 y/o "Jane Doe was witnessed by a "Tiffany Doe" … obviously Ghislaine Maxwell. No coincidence the indictment against Maxwell is for crimes from 1994-1997. Maxwell will 100% be a witness against Trump. pic.twitter.com/nU5UVJcuKy

— Ecstasy Boy (@boy_ecstasy) October 16, 2020
The new complaint includes an additional witness exhibit from an anonymous "Joan Doe" whose sworn declaration says Jane Doe told her what happened with Trump and Epstein during the 1994-1995 school year.
Jane Doe says she has been subjected to painful daily reminders of the alleged assault due to the tremendous about of media coverage Trump's presidential campaign has received since he announced his candidacy in mid-June 2015.
Amended Complaint Filed 9/30/2016 by LawNewz on Scribd
Judge Status Conference Order Jane Doe. V Trump by LawNewz on Scribd
When Trump's attorney Michael Cohen said he threatened over 500 people, not all of them were veterans defrauded by Trump University.  Listen to Cohen's sworn testimony, this is also proof but we have much more.
.
ATTENTION READERS
We See The World From All Sides and Want YOU To Be Fully Informed
In fact, intentional disinformation is a disgraceful scourge in media today. So to assuage any possible errant incorrect information posted herein, we strongly encourage you to seek corroboration from other non-VT sources before forming an educated opinion.
About VT
-
Policies & Disclosures
-
Comment Policy
Due to the nature of uncensored content posted by VT's fully independent international writers, VT cannot guarantee absolute validity. All content is owned by the author exclusively. Expressed opinions are NOT necessarily the views of VT, other authors, affiliates, advertisers, sponsors, partners, or technicians. Some content may be satirical in nature. All images are the full responsibility of the article author and NOT VT.