Church peddling household cleansers as fake Alzheimer cure, one obviously not working on Trump, banned by FDA but pushed by Trump's dementia.
Trump's new medical advisor and spiritual guide is self proclaimed bishop Mark Grenon, who sells membership to the church of "aliens told me drinking industrial bleach cures everything."  In fact, Trump violated the law to make his statement as the FDC banned the sale of bleach to cure COVID 19 a week before.
Trump ignored the FDA and backed Genesis, accused by Trump's own administration of poisoning.
Coronavirus (COVID-19) Update: Federal judge enters temporary injunction against Genesis II Church of Health and Healing, preventing sale of Chlorine Dioxide Products Equivalent to Industrial Bleach to Treat COVID-19 -https://www.fda.gov/news-events/press-announcements/coronavirus-covid-19-update-federal-judge-enters-temporary-injunction-against-genesis-ii-church
By everything, we mean, and Trump back this mind you:
Autism
HIV
COVID 19
Breast Cancer
Ebola
And it does work, mind you, the disease will eventually go away, after death at the hands of drinking a corrosive industrial cleanser that ends human life and, with it, the diseases as well.
Pathos: IN October 2016, an ABC News "20/20" investigation exposed the dangerous activities the Genesis II Church of Health and Healing, founded by Jim Humble, above, a crackpot who claims to have come from another galaxy.
His mission on earth is to eliminate 95 percent of illnesses and diseases ranging from cancer to multiple sclerosis with a "miracle" product called MMS.
But MMS, or "miracle mineral solution or supplement" is  simply chlorine dioxide, a powerful bleach that is used both on textiles and in the industrial treatment of water. It has been banned in several countries around the world for use as a medical treatment.
The ABC report focuses on one of Humble's acolytes, 'bishop' Mark Grenon, who reacted angrily to questions posed by investigative reporter Brian Ross.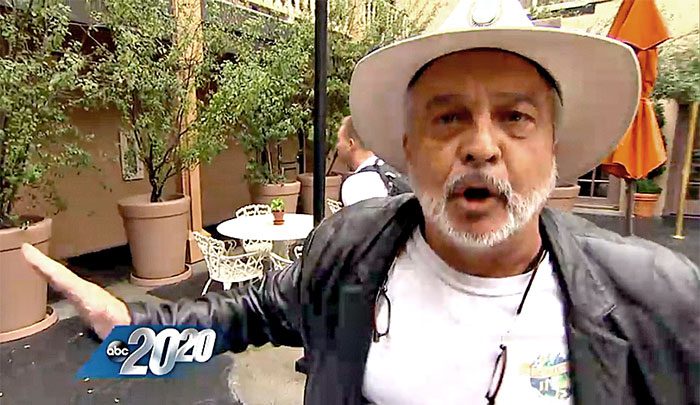 Now you would have thought that the ABC report, which shows a furious Grenon, above, attempting to escape a TV crew, would have have put the "church" out of business – business being the operative word as it charges people $450 to become ordained "ministers".
But the "bleach cult", as some call it, is still going strong, and yesterday (Saturday) it held another of its events in at the Icicle Village Resort in Leavenworth, Washington.
The group invited members of the public through Facebook to attend what it called its "effective alternative healing" event. The organiser, Tom Merry, publicised the event on his personal Facebook page by telling people that learning how to consume the bleach:
Could save your life, or the life of a loved one sent home to die.
The "church" asked attendants of the meeting to "donate" $450 each, or $800 per couple, in exchange for receiving membership to the organisation as well as packages of the bleach, which they call "sacraments". Participants were promised they will acquire
Guardian: The leader of the most prominent group in the US peddling potentially lethal industrial bleach as a "miracle cure" for coronavirus wrote to Donald Trump at the White House this week.
In his letter, Mark Grenon told Trump that chlorine dioxide – a powerful bleach used in industrial processes such as textile manufacturing that can have fatal side-effects when drunk – is "a wonderful detox that can kill 99% of the pathogens in the body". He added that it "can rid the body of Covid-19".
A few days after Grenon dispatched his letter, Trump went on national TV at his daily coronavirus briefing at the White House on Thursday and promoted the idea that disinfectant could be used as a treatment for the virus. To the astonishment of medical experts, the US president said that disinfectant "knocks it out in a minute. One minute!"
He went on to say: "Is there a way we can do something, by an injection inside or almost a cleaning? Because you see it gets in the lungs and it does a tremendous number on the lungs, so it'd be interesting to check that."
Trump did not specify where the idea of using disinfectant as a possible remedy for Covid-19 came from, and the source for his notion remains obscure. But the Guardian has learned that peddlers of chlorine dioxide – industrial bleach – have been making direct approaches to the White House in recent days.
ATTENTION READERS
We See The World From All Sides and Want YOU To Be Fully Informed
In fact, intentional disinformation is a disgraceful scourge in media today. So to assuage any possible errant incorrect information posted herein, we strongly encourage you to seek corroboration from other non-VT sources before forming an educated opinion.
About VT
-
Policies & Disclosures
-
Comment Policy
Due to the nature of uncensored content posted by VT's fully independent international writers, VT cannot guarantee absolute validity. All content is owned by the author exclusively. Expressed opinions are NOT necessarily the views of VT, other authors, affiliates, advertisers, sponsors, partners, or technicians. Some content may be satirical in nature. All images are the full responsibility of the article author and NOT VT.