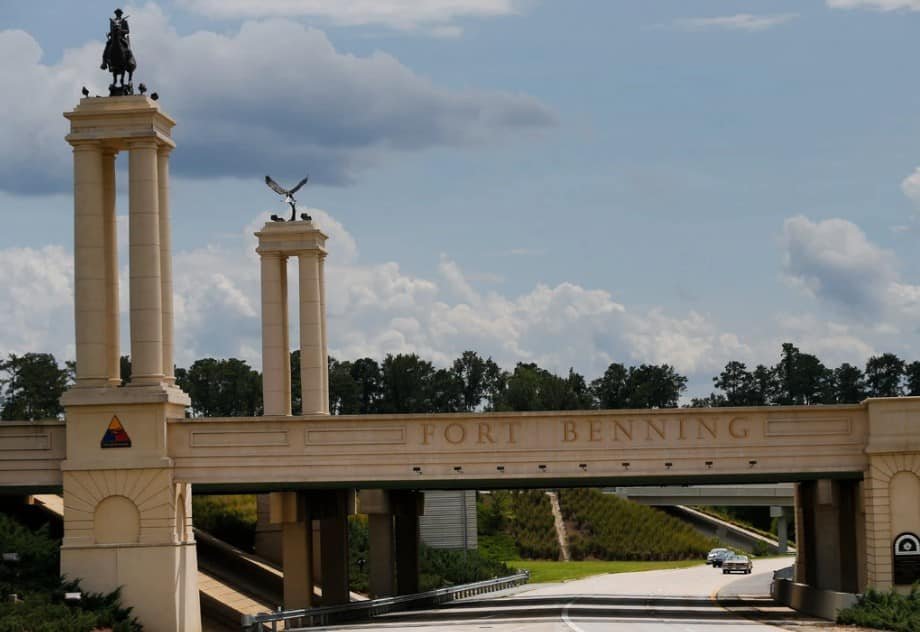 VT: The material below, taken from Saturday's NY Times, isn't known to many Americans and certainly not to many that served in the military.  The Pentagon went bat-shit crazy when they saw this, attacking the Times for being anti-American.
The cut down version originally touched on Confederate flag issues and memorials which can go either way.  This was a real war and real history.  However, whitewashing Confederate history which has carried on to modern times rife with racism, ignorance and hatred, can no longer avoid be addressed.
We have seen too much these past years, particularly the Trump years, to turn away.
Below, the information will be embarrassing and humiliating for many and we hope most Americans.  Racism goes back forever in the military.
During Vietnam, the military, and in particular the Marine Corps, was still mostly Gomer Pyle and about 5% Sgt. Rock.  Chow was grits and blackeyed peas and drill instructors were largely Southern boys, some good, many worthless and ignorant and they were the best of the best in the Marine Corps.
In Vietnam, the LIFERs (lazy ignorant fuckers evading reality) were largely southern, extremely bigoted and had a yellow streak a mile long.  Marine "line units, " the 0311's, were mostly college students, minorities and lunatics.
What we didn't see were "southern boys," who signed up for 4 years and were made intelligence analysts, though illiterate, filled the roles of truck drivers and such that make up 90% of the non-combat military.
The mix who were in combat fared poorly with no leadership whatsoever, no support of any kind, little food, defective weapons and the toughest enemy the US ever faced.
None survived untouched, and many, perhaps even a majority, never recovering and never living a normal life.  I might consider myself among that group.
Within 5 years, 50,000 would die.  Within 20 years a million more would die, mostly under 40.  Those who survived would qualify for VA compensation for combat related conditions, eventually, with processing often taking as long as 30 years.
Behind it all, racism in the military which, in Vietnam, turned to open war, a story never told.  For someone who was there, and I certainly was, the military needed qualified people and that meant most Southern boys needed to go along with many minorities who were physically sick much of the time and in some cases mentally unfit.
A second article form the NY Times covers that as well.  I read this and despite it sounding off at first, it is quite valid.  We suggest reading both articles at the Times.
And now for the nasty history lesson…..
The commandant avoided references to racism or white supremacy, suggesting that it was still justifiable for people of good will to view the Confederate banner as a harmless expression of regional pride. Nevertheless, innocent intentions cannot obscure the truth that secessionists embarked on the Civil War to guarantee the rights of some human beings to own others, or the fact that the Confederate banner represents the same white supremacist values as — and is often displayed in tandem with — the Nazi swastika.
This same toxic legacy clings to the 10 United States military installations across the South that were named for Confederate Army officers during the first half of the 20th century. Apologists often describe the names as a necessary gesture of reconciliation in the wake of the Civil War. In truth, the namings reflect a federal embrace of white supremacy that found its most poisonous expression in military installations where black servicemen were deliberately placed under the command of white Southerners — who were said to better "understand" Negroes — and confined to substandard housing, segregated transportation systems and even "colored only" seating in movie houses.
Celebrating a War Criminal The officials who named a military base in Virginia for a profoundly dishonorable Confederate general, George Pickett, must have been willfully blind to a voluminous record demonstrating his unworthiness. In addition to being accused of cowardice at the pivotal battle at Gettysburg, the incompetent, self-regarding Pickett faced a war crimes investigation for the executions of 22 Union soldiers at Kinston, N.C., near the end of the war. When a Union general reminded Pickett that federal policy mandated retaliation for extralegal killings of Union soldiers, the Confederate general responded by crowing about the killings and threatening to hang 10 U.S. Army prisoners for every Confederate prisoner who might be marched to the gallows.
A military panel investigating the Kinston killings wrote unsparingly of Pickett's command: "It is the opinion of board," the panel wrote, "these men have violated the rules of war and every principle of humanity, and are guilty of crimes too heinous to be excused by the Government of the United States." Pickett fled to Canada to avoid possible prosecution. He might well have been hauled back in manacles had the U.S. Army commander, Gen. Ulysses S. Grant, not short-circuited the investigation. As the journalist and Civil War historian Gerard A. Patterson writes, Grant's decision to save Pickett, with whom he had served in the Mexican-American war, was a classic act of old-boy cronyism. Even if Pickett's crimes were set aside, his ineptitude in combat should have ruled him out of consideration when federal authorities were naming military installations.
By the time the federal government sought out military training facilities in the South in preparation for war abroad, the school of mythology known as the Lost Cause movement — forged by groups like The United Daughters of the Confederacy — had rewritten Civil War history. This telling valorized the Ku Klux Klan; cast even the most execrable Confederate officers as saints; and portrayed slavery as an idyll featuring loving masters who doted on happy black retainers.
The Lost Cause era also ushered in a reign of racial terror during which African-Americans were stripped of basic rights and murdered in public for reasons such as competing with whites in business, seeking the vote or even failing to give way on the sidewalk. Adolf Hitler himself took notice, praising the United States as the near epitome of the racist state. The Nazi movement normalized its agenda in Germany by pointing out that "racist policies and practices" had been successfully applied in the Southern United States.
The federal government embraced pillars of the white supremacist movement when it named military bases in the South. Consider, for example, Fort Benning, Ga., which honors a Confederate general, Henry Lewis Benning, who devoted himself to the premise that African-Americans were not really human and could never be trusted with full citizenship.
Benning was widely influential in Southern politics and served on the Supreme Court of Georgia before turning his attentions to the cause of secession. In a now famous speech in 1861, he told secession conventioneers in Virginia that his native state of Georgia had left the union for one reason — to "prevent the abolition of her slavery." Benning's statements strongly resemble that of present-day white supremacists — and reference the race war theme put forward by the young racist who murdered nine African-Americans in Charleston five years ago.
Benning warned, for example, that the abolition of slavery would one day lead to the horror of "black governors, black legislatures, black juries, black everything." This, he opined, would place white womanhood at the mercy of African-Americans with the same rights as white people. "We will be completely exterminated," he said, "and the land will be left in the possession of the blacks, and then it will go back into a wilderness."
By naming yet another Georgia base for a Confederate general, John Brown Gordon, the federal government venerated a man who was a leader of the Georgia Ku Klux Klan after the Civil War and who may have taken on a broader role in the terrorist organization when its first national leader — a former Confederate general, Nathan Bedford Forrest — suffered declining health. As a politician, Gordon championed the late-19th-century campaign that stripped African-American Southerners of the citizenship rights they had briefly held during the period just after the Civil War known as Reconstruction.
The first problem with this argument is that, as individuals, these men were traitors. These rebel officers, who were willing to destroy the United States to keep black people in chains, are synonymous with the racist ideology that drove them to treason.
The second difficulty is that the base names were agreed upon as part of broader accommodation in which the military embraced stringent segregation so as not to offend Southerners by treating African-Americans as equals. The names represent not only oppression before and during the Civil War, but also state-sponsored bigotry after it.
Black recruits who volunteered to die for their country were mainly shut out of combat units, commanded by white Southerners who often resented being assigned to colored units. In some contexts, black servicemen were treated worse than prisoners of war. The actress and singer Lena Horne, for example, flew into a rage during World War II when she arrived at a military camp to entertain only to find that the best seats — in the "white" section of the audience — had been reserved for German P.O.W.s.
The racist conventions applied on Southern military bases were exported to bases in the North and West as well. When commanders sought to police the leisure time conduct of black soldiers, those conventions spilled over into surrounding towns that had never known Jim Crow. At the height of World War II, for example, Southern white officers at a base not far from Philadelphia reacted in vintage Deep South style when they saw black soldiers dating white women. One officer decreed that "any association between the colored soldiers and white women, whether voluntary or not, would be considered rape" — an offense that had long been subject to the death penalty under military law.
The Army surgeon general blew a kiss to racists in 1941 when he justified the Red Cross policy of segregating the wartime blood bank by donor race — even though there was no scientific reason for doing so. The point was to assure white recipients that they would receive only "white" plasma. African-American newspapers quickly pointed out that a black doctor, Dr. Charles Drew, who directed the first Red Cross blood bank, had pioneered the techniques that made large-scale blood plasma storage possible.
President Harry Truman desegregated the armed services through executive order in 1948, declaring that "there shall be equality of treatment and opportunity for all persons in the armed services without regard to race, color, religion or national origin."
Military installations that celebrate white supremacist traitors have loomed steadily larger in the civic landscape since the country began closing smaller bases and consolidating its forces on larger ones. Bases named for men who sought to destroy the Union in the name of racial injustice are an insult to the ideals servicemen and women are sworn to uphold — and an embarrassing artifact of the time when the military itself embraced anti-American values. It is long past time for those bases to be renamed.
ATTENTION READERS
We See The World From All Sides and Want YOU To Be Fully Informed
In fact, intentional disinformation is a disgraceful scourge in media today. So to assuage any possible errant incorrect information posted herein, we strongly encourage you to seek corroboration from other non-VT sources before forming an educated opinion.
About VT
-
Policies & Disclosures
-
Comment Policy
Due to the nature of uncensored content posted by VT's fully independent international writers, VT cannot guarantee absolute validity. All content is owned by the author exclusively. Expressed opinions are NOT necessarily the views of VT, other authors, affiliates, advertisers, sponsors, partners, or technicians. Some content may be satirical in nature. All images are the full responsibility of the article author and NOT VT.