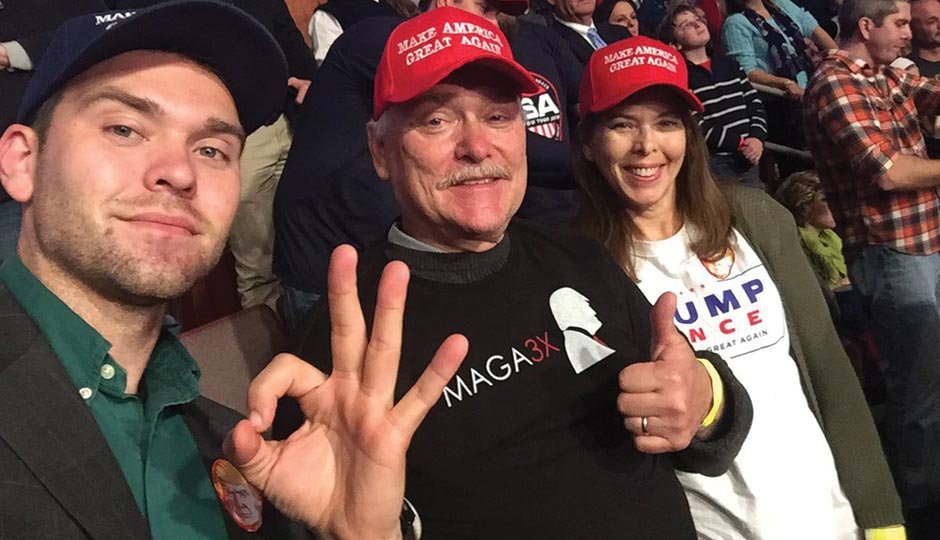 _________
Media Matters For America
White supremacists directly linked to pro-Trump media figure Jack Posobiec. Here's what you need to know about him.
Jack Posobiec, a conspiracy theorist and consummate pro-Trump media figure who often boasts of his access to the White House and other MAGA celebrities, worked as recently as 2017 with white supremacists who advocate for violence. Posobiec has a long record of extremism and ratfucking: He was an outspoken advocate of the "alt-right," published a book with the help of an "alt-right" figure, and pushed all kinds of smears and misinformation for political gain.
Posobiec reportedly had links to Jeffrey and Edward Clark, two white supremacist brothers. Jeffrey Clark was arrested by federal authorities in Washington, D.C., for gun charges after relatives contacted authorities about his support for last month's mass shooting in a Pittsburgh synagogue. As reported by HuffPost, Posobiec teamed up with the brothers in 2017 to film documentary footage; a source provided an image of Posobiec alongside the brothers. HuffPost also reported that anti-fascist researcher Laura Sennett said Jeffrey Clark had told her Posobiec both knew of his Nazi beliefs and was sympathetic to them.
Posobiec is currently a host for One America News Network, a right-wing news outlet that specializes in sycophantic coverage of President Donald Trump and conspiracy theories. He previously worked for far-right Canadian outlet Rebel Media. Posobiec achieved his standing in the MAGA media universe by embracing the "alt-right"​ and its public figures during the 2016 presidential election and, like many other grifters, eventually rebranding as a member of the "New Right" after the extremism of the "alt-right" made associating with it too toxic.
Despite his continued efforts to sanitize his role in spreading the "Pizzagate" conspiracy theory, Posobiec repeatedly broadcast to his social media followers and to Infowars audiences the baseless claim that a D.C. pizza restaurant served as a front for a child trafficking ring, showed up at the pizza parlor himself to "investigate," and then claimed that the arrest of a gunman who also showed up at the pizzeria was a "false flag."
Posobiec's ratfucking record includes spreading forged documents tied to Russia purporting to be then-French presidential candidate Emmanuel Macron's emails; planting a "Rape Melania" sign at an anti-Trump protest to smear activists; and doxxing one of the women who reported that she was sexually assaulted as a minor by defeated Alabama Republican Senate candidate Roy Moore. Leading up to the 2018 midterm elections, Posobiec was an administrator in a racist Facebook group that promoted Republican candidates and pushed far-right conspiracy theories.
He has built his brand by promoting attention-grabbing stunts that masquerade as activism, such as disrupting a theater presentation of William Shakespeare's Julius Caesar that he deemed to promote political violence, filing a civil rights lawsuit over all-female screenings of Wonder Woman, and trolling a congressional press conference on net neutrality to demand that Democratic senators disavow "satanic" internet pornography. He also gleefully participated in an online harassment campaign that resulted in CNN journalist Andrew Kaczynski receiving death threats.
Posobiec has ridden every controversy and subsequent media coverage to increase his visibility and online followers. He's used that branding for political access and promotion of his personal business endeavors, which include his self-congratulatory book about the movement that took Trump to victory, and his most recent book, published with the help of with "alt-right" figure Theodore Beale, who writes under the pseudonym Vox Day. Posobiec promoted this book by linking to Vox Day's website, a depository of white supremacist grievances.
Posobiec's clout in the MAGA social universe has risen high enough to earn him a retweet from Trump himself (when Posobiec wrote an accusatory tweet aimed at the media for focusing too much on the 2017 white supremacist "Unite the Right" rally in Charlottesville, VA) and allow him access to the White House. He used temporary White House press credentials in May 2017 to push the debunked conspiracy theory that former Democratic National Committee staffer Seth Rich was murdered for leaking DNC emails.
In his role as OANN correspondent, Posobiec regularly showcases his access to pro-Trump celebrities (including Donald Trump Jr.) and his presence at White House and Trump Hotel social functions. Meanwhile, he's used his OANN platform to hype smears from the defendant in the Seth Rich lawsuit, as well amplify the wild conspiracy theory known as QAnon, giving virulent far-right troll Microchip a platform and taking his word at face value that he is the anonymous poster known as Q. Microchip is an anonymous and prolific user of Gab — the social media site known for being "haven for white supremacists" — where he constantly posts white supremacist grievances and anti-Semitic and racial slurs and invites followers to "fuck shit up" legally by pushing and spreading the misinformation campaign QAnon.
It is clear that Posobiec's history of extremism, peddling of conspiracy theories, and ties to white supremacists are not a problem for the network that employs him, nor for the pro-Trump universe that has enabled his professional career. In that universe, misinformation and extremism are not deal breakers. They're assets.
ATTENTION READERS
We See The World From All Sides and Want YOU To Be Fully Informed
In fact, intentional disinformation is a disgraceful scourge in media today. So to assuage any possible errant incorrect information posted herein, we strongly encourage you to seek corroboration from other non-VT sources before forming an educated opinion.
About VT
-
Policies & Disclosures
-
Comment Policy
Due to the nature of uncensored content posted by VT's fully independent international writers, VT cannot guarantee absolute validity. All content is owned by the author exclusively. Expressed opinions are NOT necessarily the views of VT, other authors, affiliates, advertisers, sponsors, partners, or technicians. Some content may be satirical in nature. All images are the full responsibility of the article author and NOT VT.