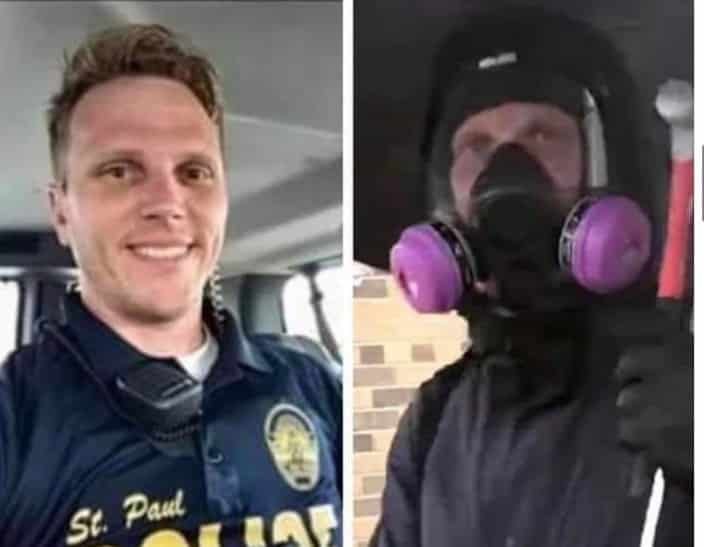 VT: Last nights terror attack in Minneapolis where a Trumpster fan reacting to Donnie's call to arms is now exposing Minneapolis police as "enemies of the people."
The police are burning Minneapolis to the ground.
The name of the man they are holding is withheld. Why?  He has had direct contact with high level Republicans and has been photographed with President Trump.
This police officer has been identified as a paid agitator in Minneapolis. Share this far and wide. https://t.co/wpndPZRx7W

— JASON ZUMWALT (@JasonZumwalt) May 29, 2020
What we do know about Minneapolis police is that they burned down their own police station and have been caught on film burning police cars, breaking windows and throwing fire bombs.
We find the Minneapolis police as well as other departments whose special squads are Israeli trained and with ties to Steve Bannon's "Gladiator School" to be working with MS13 and the Proud Boys.
This, however, is a smoking gun, why no name?  Do you want to be their "Oswald?"
Guardian: Truck drives through crowd of protesters on Minneapolis bridge
Officials say driver hospitalized after being dragged from his truck and beaten, but no others were hurt
A fuel semi-truck drove into a George Floyd demonstration of thousands of people on a bridge in Minneapolis apparently without seriously injuring anyone.
A large crowd protesting against the death of Floyd and against police brutality had blocked the Interstate 35 west bridge near downtown Minneapolis on Sunday evening when they spotted the fuel tanker coming around the curve at speed.
The mass of people parted in panic and fled to the sides of the bridge as the truck neared the crowd, coming close to hitting several people. People threw their bicycles into the path of the truck to slow it down.
As the vehicle ground to a halt, the crowd surged back toward the driver and dragged him from his cab and beat him. Protesters smashed the windshield of the truck.
Officials said no protesters appeared injured, but the Minnesota state patrol said in a tweet that the action appeared deliberate. The patrol said the driver was hurt and taken to a hospital with non-life-threatening injuries.
Minnesota governor Tim Walz later said the man was released from the hospital and taken into police custody. Public safety commissioner John Harrington said traffic cameras appear to show the truck was already on the freeway before barricades were put in place to shut it down at 5pm.  read more…but nothing of any sense whatsoever sadly..
https://www.theguardian.com/us-news/2020/may/31/semi-truck-drives-through-crowd-of-protesters-on-minneapolis-bridge
---
VT:  Trump asked for his supporters to attack demonstrators.  This one was a movie fan and as in The Long Kiss Goodnight, the good guys won and he got his MAGA hat wearing stinking ass kicked.
Trump was looking for domestic terror groups and he has found one, and he is it.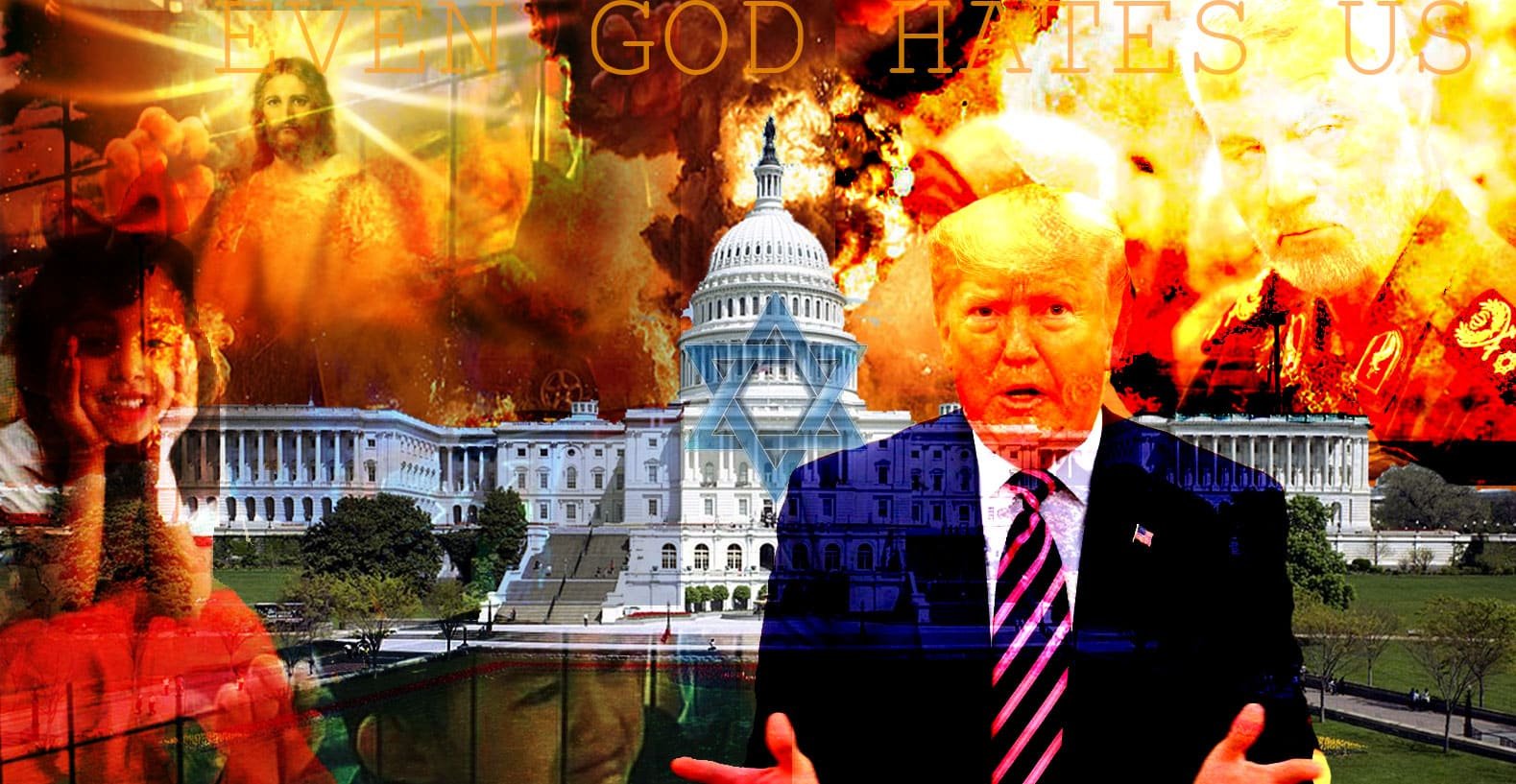 Next question:  How did the truck get through police and National Guard checkpoints?
This guy had help!
INTENSE VIDEO shows the moments right after a tanker truck driver barreled through a peaceful protest of thousands on 35W in Minneapolis. pic.twitter.com/hzLB4BLqZv

— TC Crime Watch (@TCCrimeWatch) May 31, 2020
Seth is with @FOX9. The tanker truck somehow got onto 35w, which was closed in both directions at the 35w Bridge due to thousands of protestors. Truck ran into the crowd which scattered, but reports are driver was pulled from the cab. Unclear who's been hurt. https://t.co/wqUcgN5qRq

— Cathy Wurzer (@CathyWurzer) May 31, 2020
BREAKING: Tanker truck plows into crowd of demonstrators on Minneapolis highway. Protesters scrambled as truck battled toward them. pic.twitter.com/Q5cTF9AGB2

— David Begnaud (@DavidBegnaud) May 31, 2020
As usual, fiction and fact meld as the scenario of the Gena Davis hit, the Long Kiss Goodnight, is acted out, not in Buffalo but in Minneapolis, this time not by the CIA but by a Trump supporter mad at a peaceful demonstration.
"I don't want nobody to change the narrative and say it was anything else but peaceful. They tried to kill us." Activist in #Minneapolis after a tanker truck drove into thousands of people pic.twitter.com/2s2iq3GPX8

— People for Bernie (@People4Bernie) May 31, 2020
RT: A tanker truck driver plowed his vehicle into a massive crowd of anti-police brutality protesters on the Interstate 35W Bridge in Minneapolis, with hundreds of people miraculously scattering away at the very last second.
BREAKING: Thousands of protesters scatter as tanker truck driver speeds into crowd on #Minneapolis interstate; unclear if anyone injured

— Breaking911 (@Breaking911) May 31, 2020
Nobody was seriously hurt in the shocking incident – except for the driver who was pulled out of the truck and beaten by the outraged crowd.
A tanker truck barreled through thousands of peaceful protesters in Minneapolis as the crowd rushed out of the way. The driver was arrested and officials said no one was hit, though some protesters told local media that they had seen people with injuries.https://t.co/FohD5ehXFA pic.twitter.com/E6hssu9yaQ

— The New York Times (@nytimes) June 1, 2020
At the time of the incident there were thousands of people on the bridge, who were marching against police brutality and planning to take a knee in tribute to George Floyd. The unarmed black man was killed while in custody of the Minneapolis, after a white officer kneeled on his neck and ignored his pleas to let him breathe
Tanker truck drives into protesters on Minneapolis highway: Reuters witness https://t.co/YPQU0Grhne pic.twitter.com/gWYHRzH0zf

— Reuters (@Reuters) June 1, 2020
It remains unclear how the truck was allowed to drive that close to the crowd of demonstrators, as many noted the bridge was supposed to be blocked and guarded by police amid a citywide curfew and lockdowns.
New cell phone video of a tanker truck driving into protestors on the 35W bridge. Video shot by witness Treye Harrison. pic.twitter.com/jiVvyzIA07

— Boyd Huppert (@BoydHuppert) May 31, 2020
ATTENTION READERS
We See The World From All Sides and Want YOU To Be Fully Informed
In fact, intentional disinformation is a disgraceful scourge in media today. So to assuage any possible errant incorrect information posted herein, we strongly encourage you to seek corroboration from other non-VT sources before forming an educated opinion.
About VT
-
Policies & Disclosures
-
Comment Policy
Due to the nature of uncensored content posted by VT's fully independent international writers, VT cannot guarantee absolute validity. All content is owned by the author exclusively. Expressed opinions are NOT necessarily the views of VT, other authors, affiliates, advertisers, sponsors, partners, or technicians. Some content may be satirical in nature. All images are the full responsibility of the article author and NOT VT.