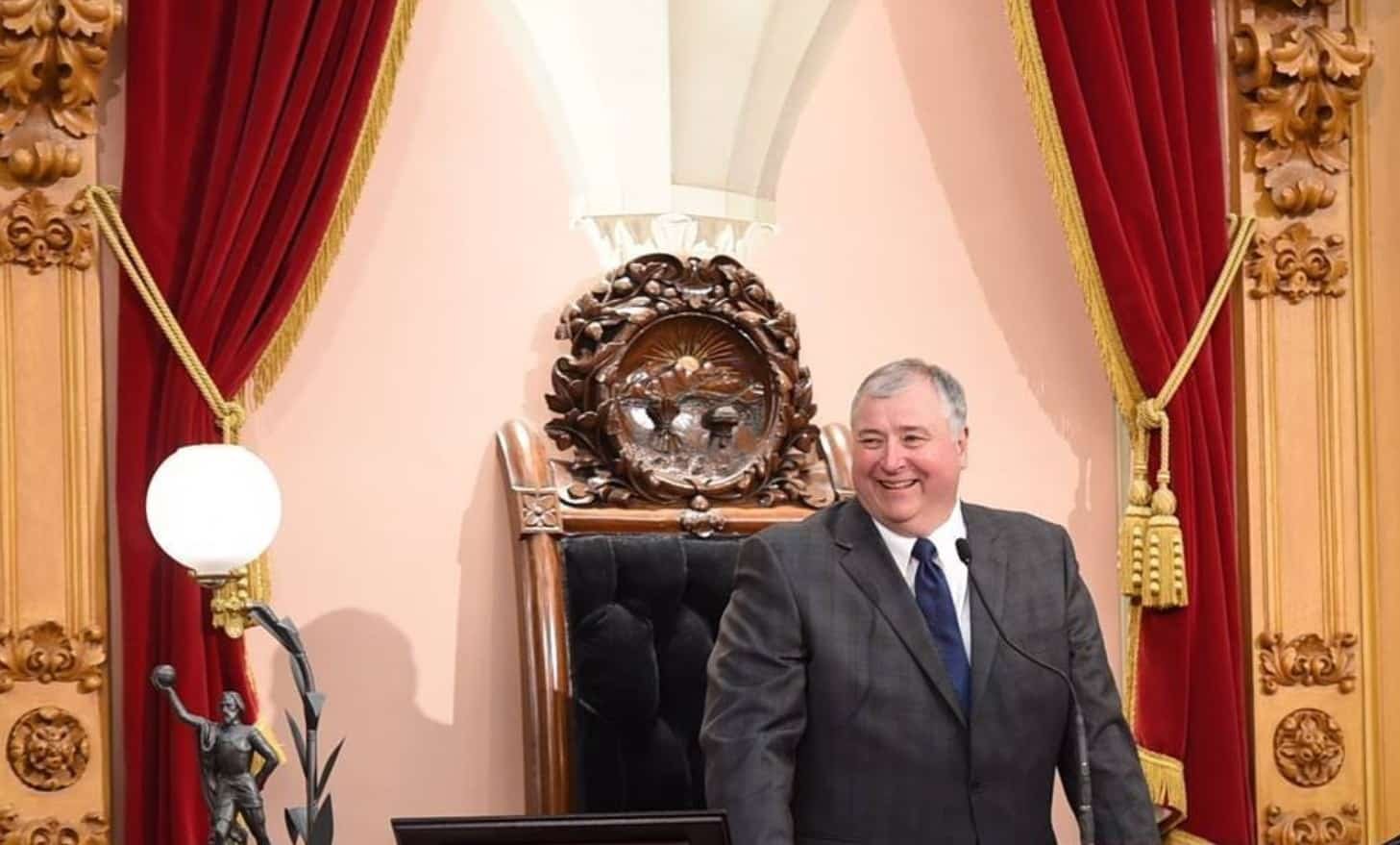 A $60 million kickback on a $2 billion payoff to a corrupt Ohio utility that runs the most dangerous nuclear plant in the world has led a trail of corruption to a series of rigged elections including one that put Shitstain in the White House.
The 2004 election was rigged for Bush when the same people stole $50 million from the Ohio state employees pension fund, gave it to a GOP coin dealer, friend and business partner of those arrested today (Tom Noe, a former neighbor, still in jail). Noe bought Madonna's bra for supposedly $50m, took millions for himself then kicked the rest back.
When the Feds came after them, like today, going after the GOP vote rigger computer guru, there was a mysterious plane crash:
Matt Borges
[ Editor's Note: The plot thickens. The list is growing and could lead to more cases and charges of bribery corruption, as once it gets started it grows.
A former Ohio Republican Party chairman, Matt Borges lobbied for that nuclear energy bailout, representing the company that owns the two power plants – called FirstEnergy Solutions at the time and now named Energy Harbor.
Inquiring minds will be asking if this Repub SuperPac was another scam to suck money into a Biden effort as party to a dirty tricks plan. Expect more arrests, as the FBI will want to have everyone rounded up as part of plea deals. Those that talk first get the best deals.
"He made headlines just last month for announcing he would be voting for Democratic presidential candidate Joe Biden and creating a PAC to help defeat President Trump. 
Borges was ensnared in a bribery scandal in 2004, when he was working with then-Ohio Treasurer Joe Deters, now Hamilton County's prosecutor. He admitted funneling contributions to Deters' campaign from donors seeking to do business with the treasurer's office and pled guilty to a misdemeanor charge. " …from the Cincinnati Inquirer.
As Gordon has often hinted, the State Houses can be cesspools of political corruption when one party gets control, as they feel with enough money they can retain control, so the go for the gold.
Also charged Tuesday were four lobbyists and Republican operatives:
Matthew Borges, former Ohio Republican Party chair and consultant;
Neil Clark, founder of Grant Street Consultants and once called by USA Today "one of the best connected lobbyists in Columbus";
Juan Cespedes, co-founder of The Oxley Group in Columbus;
Jeffrey Longstreth, adviser to Householder;
Generation Now Ohio, a nonprofit that federal prosecutors link to Longstreth and Householder, also faces racketeering charges."
"This is likely the largest bribery, money laundering scheme ever perpetrated against the people of the state of Ohio," said U.S. Attorney David DeVillers, whose office will lead the prosecution of the case. "This was bribery, plain and simple. This was a quid pro quo. This was pay to play."
If you were suspicious that political corruption was going on all over the country like this, and for many years, you might be right. One of the first places to start would be Trump winning Ohio in 2016. Was this gang, and that is the only way to describe them, doing similar scams to pad the vote with their generosity? … Jim W. Dean ]
~
Larry Householder was picked up at his home in the countryside
Daily Beast: Ohio's top state lawmaker conspired to funnel tens of millions of dollars from the state's electric utility to his political allies in order to consolidate power over the state legislature and shepherd through a $1.5 billion bailout for the utility's nuclear power plants, federal prosecutors alleged on Tuesday.
The FBI arrested Ohio speaker Larry Household, a Republican, and four alleged co-conspirators and leveled charges of racketeering and bribery related to the scheme. At a press conference on Tuesday afternoon, U.S. Attorney David DeVillers called it "likely the largest bribery [and] money laundering scheme ever perpetrated against the people of the state of Ohio."
BREAKING: The Ohio House Speaker has been arrested by the FBI due to a multi-million dollar bribery

His arrest is related to a bill passed a year ago that provided coal/nuclear plant bailouts and gutted renewable energy requirements https://t.co/CK19HDCqJr

— Sunrise Movement 🌅 (@sunrisemvmt) July 21, 2020
At the center of the scheme was Householder, who prosecutors say used a nonprofit "dark money" group called Generation Now to funnel money from the utility, First Energy, into state-level political contests. Householder's goals, DeVillers said, were to pass and preserve a contentious bill to bail out two FirstEnergy nuclear plants, and "to build a power base for Larry Householder."
The investigation centers on House Bill 6, the $1 billion-plus ratepayer bailout of two Ohio nuclear power plants that Householder helped push through last year with the help of millions in dark money, according to the Toledo Blade. https://t.co/YmGr5y2aji

— Adam Goldman (@adamgoldmanNYT) July 21, 2020
After his arrest, Ohio Gov. Mike DeWine called on the speaker to "resign immediately."
The outrageous Ohio bill that bailed out coal & nuclear plants while shafting renewables and energy efficiency makes a lot more sense as part of a $60M bribery scheme between First Energy and the House speaker. https://t.co/5j3Ekzo6OT

— Michael Grunwald (@MikeGrunwald) July 21, 2020
"I am deeply concerned about the allegations of wrongdoing issued today by the U.S. Attorney's Office. Every American has the presumption of innocence until proven guilty," DeWine tweeted Tuesday. "Because of the nature of these charges, it will be impossible for Speaker Householder to effectively lead the Ohio House of Representatives; therefore, I am calling on Speaker Householder to resign immediately. This is a sad day for Ohio."
First Energy stock drops 17% today on news of company's ties to $60 million bribery scheme for Ohio nuclear bailout pic.twitter.com/3OtrAciPF3

— Matt Wright Fox 8 (@mattwrighttv) July 21, 2020
*
ATTENTION READERS
We See The World From All Sides and Want YOU To Be Fully Informed
In fact, intentional disinformation is a disgraceful scourge in media today. So to assuage any possible errant incorrect information posted herein, we strongly encourage you to seek corroboration from other non-VT sources before forming an educated opinion.
About VT
-
Policies & Disclosures
-
Comment Policy
Due to the nature of uncensored content posted by VT's fully independent international writers, VT cannot guarantee absolute validity. All content is owned by the author exclusively. Expressed opinions are NOT necessarily the views of VT, other authors, affiliates, advertisers, sponsors, partners, or technicians. Some content may be satirical in nature. All images are the full responsibility of the article author and NOT VT.