by Fabio Giuseppe Carlo Carisio for VT Mediterranean
Versione originale in Italiano
«After that kind of mushroom-shaped cloud that is very reminiscent of nuclear explosions, the so-called "thermal rings" are visible in the videos in the following moments, which develop into an explosion only when it is caused from top to bottom and not when it is a simple blast from the ground. This makes it very probable that the explosion in the port of Beirut was caused by a bomb or a missile».
This statement was made by a retired Carabinieri officer who, for obvious reasons, wants to remain anonymous. But he is an expert in explosives, has the NBCR (Nuclear Bacteriological Chemical Radiological) emergency patent, and above all he has worked for a long time in missions in the Middle East.
The explosion that causes the atom-like fungus and then the thermal rings – VIDEO
Not only does it reveal this technical detail that supports the thesis of a missile with a small nuclear charge dropped on the port of the Lebanese city that has made more than 130 dead, 5 thousand injured and 300 thousand displaced. But he adds other details that corroborate the thesis of the military attack that was carried out with a malice, precision and skill so refined as to make Mossad, the Israeli counterintelligence, the number one suspect.
Beirut: Deep State "Killed" Shia-Christian Govt. Ex Zionist MP: "Blast as Nuclear Bomb. I hope it was Israel"
On the Beirut disaster, Lebanese President Michel Aoun supports this possibility, even with all the caution that diplomacy requires.
As reported by the Lebanese broadcaster MTV, the Lebanese head of state said that «the cause of the explosions has not yet been determined, since there is a possibility that external interference has been produced through a missile, a bomb, or any other action».
Lebanese President Michel Aoun at the scene of the disaster (center with mask)
«A statement of extreme relevance, given that Aoun himself confirmed that during the meeting with Emmanuel Macron, he asked France to provide Lebanon with aerial images of the explosion. "If they do not have them, we will ask other countries to determine if it was an external attack", concluded the Christian leader, once again making clear Beirut's desire not to stop with an unnecessary investigation» writes a report by InsideOver, the Italian and English geopolitical site of the newspaper Il Giornale.
So far all the media, especially in Europe, have accused Hezbollah for keeping the approximately 2,750 tons of ammonium nitrate seized a few years ago in a foreign freighter in a warehouse in the center of a city.
Lebanon-Iraq: Christian religious leaders bless US-CIA, Zionist and Sunni coups under CANVAS acts
But those who do it do not really know the economic situation of Lebanon, devastated by the US sanctions issued for no reason, only because Hezbollah is allied with the Pasdaran, the Guards of the Islamic Revolution of Iran, and undermined by continuous insurrections that appear to be piloted by CANVAS, the self-styled anti-biolence center, which was actually used by the American counterintelligence of the CIA (Central Intelligence Agency) for the bloody coups in Lebanon (Revolution of the Cedar, 2005), in Georgia (Revolution of the Roses, 2003) and in Ukraine (Revolution orange, 2004 and then 2014) which the same organization boasts on its official website.
In such context it is not easy to transport and secure so much explosive material that, moreover, in a port it is easy to transport abroad for Hezbollah which, it should not be forgotten, despite being a paramilitary organization declared terrorist by the US, has given a fundamental contribution to the Syrian president Bashar Al Assad in defeating ISIS, as they are of Shiite Muslim confession like the government of Damascus and therefore are enemies of the Islamic extremist Sunni Salafist terrorists.
Human Organs' Traffic in Syria ignored by UN: Sana and CBS videos on White Helmets, Al Qaeda & Turkey Crimes
SIRIA, TRAFFICO D'ORGANI IGNORATO DA ONU E NATO: Da White Helmets e Al Qaeda al mercato nero in Turchia denunciato dalla TV CBS
It is therefore evident that in the hypothesis of a missile attack, some Lebanese have betrayed their homeland, enticed by the very generous engagements of the Israeli Mossad. There is in fact another detail in the dynamics of the explosion always highlighted by our military source.
«When an explosion occurs in a deposit of flammable material, there is a "trigger for sympathy"» he explains. It is a domino effect. Each explosive charge ignites another in just a few seconds so as to produce a single explosion.
Why in Beirut did a fire break out first, and only after the explosive explosion with a thermal effect following the ignition and then a mechanical effect, the one that devastated buildings for kilometers?
The explanation can only be the one already supported by Gospa News on the basis of the intelligence revelations reported by VT: two missiles.
Beirut: ex CIA 007: "Alleged IsraelI Attack". Christian Party secretary Killed. 100 more deaths. Italian marines injured.
The first may have been launched outside the warehouse to cause the bang, the fire and the first giant cloud of smoke. The second was thrown into the warehouse to create the disaster. Because? To enable the whole world to make videos.
If there had been a single gigantic explosion, there would have been no time to film the explosion and therefore the terrorist effect would not have been effective. This is similar to what happened for the "planes" against the Twin Towers of the World Trade Center, as they served to draw the attention of the whole world to the disaster so that we could witness the explosion triggered by micro nuclear charges, as the military experts of VT claim, and lawyers for the victims.
LOBBY ARMI – 3: TYCOON SIONISTA DEI DRONI SPIA-KILLER PREMIATO DAI MASSONI USA E DALLA REGINA UK
Too bad that the West is so entangled with the Lobby of the Weapons of the Zionists (descendants of the Ashkenazi and not of the Israelites, as we have repeatedly written) that it cannot afford to make a serious investigation into their criminal acts. Therefore Lebanon will be left alone like Syria and Sri Lanka after the Easter 2019 attacks. So goes this evil world.
Fabio Giuseppe Carlo Carisio
© COPYRIGHT GOSPA NEWS for VETERANS TODAY only
no reproduction without authorization – Versione originale in Italiano

---
MAIN SOURCES
GOSPA NEWS – JIHADISTS REPORTS
JIHAD SAUDITA, TOP SECRET FILES: DAI DETENUTI INVIATI IN SIRIA ALLE BOMBE IN SRI LANKA
*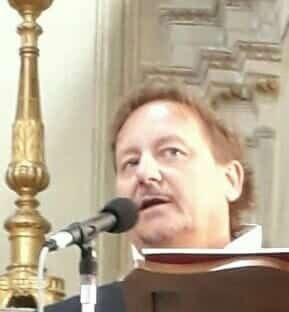 Fabio is Director and Editor of Gospa News; a Christian Information Journal.
Fabio Giuseppe Carlo Carisio, born on 24/2/1967 in Borgosesia, started working as a reporter when he was only 19 years old in the alpine area of Valsesia, Piedmont, his birth region in Italy. After studying literature and history at the Catholic University of the Sacred Heart in Milan, he became director of the local newspaper Notizia Oggi Vercelli and specialized in judicial reporting.
For about 15 years he is a correspondent from Northern Italy for the Italian newspapers Libero and Il Giornale, also writing important revelations on the Ustica massacre, a report on Freemasonry and organized crime.
With independent investigations, he collaborates with Carabinieri and Guardia di Finanza in important investigations that conclude with the arrest of Camorra entrepreneurs or corrupt politicians.
In July 2018 he found the counter-information web media Gospa News focused on geopolitics, terrorism, Middle East, and military intelligence.
His articles were published on many international media and website as SouthFront, Reseau International, Sputnik Italia, United Nation Association Westminster, Global Research, Kolozeg and more…
His investigations was quoted also by The Gateway Pundit, Tasnim and others
He worked for many years for the magazine Art & Wine as an art critic and curator.
ATTENTION READERS
We See The World From All Sides and Want YOU To Be Fully Informed
In fact, intentional disinformation is a disgraceful scourge in media today. So to assuage any possible errant incorrect information posted herein, we strongly encourage you to seek corroboration from other non-VT sources before forming an educated opinion.
About VT
-
Policies & Disclosures
-
Comment Policy
Due to the nature of uncensored content posted by VT's fully independent international writers, VT cannot guarantee absolute validity. All content is owned by the author exclusively. Expressed opinions are NOT necessarily the views of VT, other authors, affiliates, advertisers, sponsors, partners, or technicians. Some content may be satirical in nature. All images are the full responsibility of the article author and NOT VT.