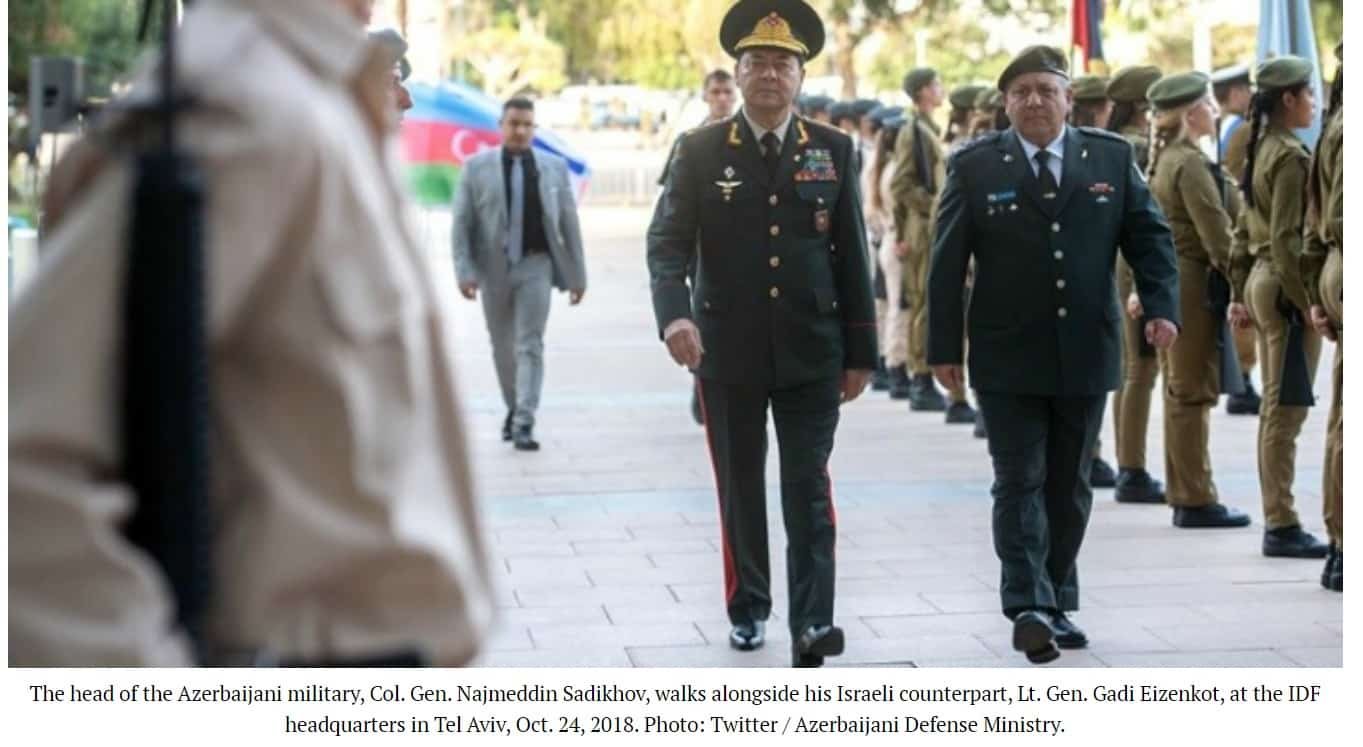 …by Art Stepanian for VT Armenia
The Armeniapedia.org online encyclopedia has a section titled "Armenian Hall of Shame" which lists characters whose actions against Armenia and Armenians have earned them a place on the shaming platform. The list—with more than 120 names—includes Madeleine Albright, Condoleezza Rice, Dennis Hastert, Justin McCarthy, Paul Goble, and Hakan Yavuz.
Among the assortment of the anti-Armenian gang is one Adelle Nazarian of Los Angeles. Despite the name, she is not Armenian. Her Iranian parents left that country because of alleged anti-Semitism, New Jersey-born Adelle says.
In the past few years, "journalist" Nazarian has been lobbing rotten tomatoes at Armenia and Armenians. Like that other journalist manqué Nurit Greenger of Los Angeles (see "Shrill Jacqueline-of-all-tirades Attacks Armenia and Artsakh" in Keghart.org May 4, 2020) Nazarian applies a litmus test to determine her editorial stance: states friendly with Israel get a positive spin and those hostile become the targets of her venom.
For example, she's pro Kurdish independence in Syria, Iraq, and in Iran because Israel supports the creation of Kurdistan in Syria/Iraq/Iran as a device to weaken the two Arab states and Iran. She's silent regarding the Kurdish struggle in Turkey because Israel, despite Erdogan, is friendly with Turkey.
Although Armenia is not anti-Israel, Nazarian doesn't approve of Armenia because Armenia is at war with Israel's client Azerbaijan which has bought billion dollars worth of armaments from Israel. Like her "older sister" Nurit, Adelle abides by the dictum: "the enemy of my friend is my enemy."
As much as attacking nations, states, and organizations busybody Adelle deems hostile, the lightweight scribbler invests a lot of time to self-promotion. On her blog, she flashes her photos with politicians and her "deep thoughts" on everything from God to ketchup. She must be under the illusion that she's attractive.
Why else the interminable album of her photos on social media? Adelle in old-fashioned Hollywood pin-up pose; Adelle with a come-hither look in a revealing evening dress; Adelle beaming through thick kohl eye-shadow; Adelle with lots of leg, and Adelle with glossy pink lipstick fashionable with pole dancers.
It's a stretch to call Adelle journalist. She's more of a PR megaphone. A hired typist, her best friends are clichés. Infelicities of English abound in her copy. She covers up her ignorance of Armenians by repeating what more adept anti-Armenian propagandists have spouted over the years.
But her glaring handicaps haven't discouraged Adelle from churning anti-Armenian articles: a case of political agenda overcoming journalistic objectivity. While her "think pieces" are confined to small, far-right outlets, they're of some importance because they have the potential of turning some Jewish readers against Armenians.
Here are the two headlines of her articles which represent variations of her two obsessions:
"An Open Letter to Special Envoy Elan Carr: Time to Counter Armenian Anti-Semitism"—The Algemeiner (NYC), July 9, 2019. And "U.S. Should Follow in EU's Lead on Nagorno-Karabakh'—Arab News (Saudi Arabia), July 7, 2020.
A few years ago Armenian seminarians in Jerusalem attacked two yeshiva students (she describes the fight as 'lynching' thus indicating she doesn't know what lynching means). Since Israel occupied the Old City of Jerusalem in 1967, Jewish fundamentalists have made a habit of attacking Armenians, including the current Armenian Patriarch when he was a bishop.
Armenian seminarians have been spat at; Israelis have written anti-Armenian graffiti on Armenian Quarter walls and have torn posters depicting the Genocide. Nazarian doesn't mention seminarians were belatedly reacting to the frequent accosting by the yeshiva students.
In the past four years, Jerusalem Nature Museum has dedicated a week celebrating the 1,700-year Armenian presence in the city. On June 29 of this year the Times of Israel published an article headlined: "Mayor of Jerusalem Visits Armenian Ceramic Art Exhibition."
The report said: "Moshe Lion, mayor of Jerusalem, visited the Armenian exhibition dedicated to the Armenian ceramics art at Nature Museum of Jerusalem…" Similar Israeli and Armenian cooperation go unmentioned in Nazarian's articles because they do not advance her agenda.
There are fewer than 1,200 Jerusalem Armenians in a city of 874,186 in 2016). The tiny community has no quarrel with Israel and welcomed Armenia's recent decision to open an embassy in Tel Aviv. Israel has no consulate or embassy in Armenia.
Although Israel is the number-one provider of weapons to Azerbaijan, Armenia has not criticized Israel. Armenia recognizes the Holocaust with a monument. Israel doesn't recognize the Armenian Genocide. These facts are of no interest to her because they do not advance her thesis.
With the ignorance and arrogance of a cub reporter, Nazarian says Armenia is anti-Semitic because it honors Karekin Nzhdeh, one of the saviors of the nascent First Republic of Armenia who supported Nazi Germany for existential reasons: he hoped Germany would liberate Armenia from Soviet rule and alternately feared because of Hitler's antipathy towards Armenians, the German army rolling to the Baku oilfields might commit a genocide of Armenians—especially when the government–controlled Turkish media was braying that Armenians were Semites and thus deserved the fate of the Jews.
Perhaps because she lacks a well-rounded education, Nazarian might not know the proverb "The drowning man will clutch at straw." To prevent the extinction of his people, Njdeh was prepared to associate with anyone. Nazarian surely knows that since its birth Israel has allied with numerous undesirable regimes around the world—from apartheid South Africa to the fascist juntas of Latin America to military-ruled Turkey.
Her third "proof" of Armenian anti-Semitism is the "evidence" provided by the Anti-Defamation League (ADL). It's not worth addressing the accusation of an organization which colluded with Turkey to defeat Armenian Genocide recognition resolution by Congress. The ADL is a discredited political group which illicitly spied on thousands of Americans and American organizations. It also possessed reams of illegally acquired government records and classified FBI documents.
The fourth "proof" of "Armenian anti-Semitism" is a Pew Research Centre study which said one-third of Armenians prefers not to have a Jew as a neighbor. Why the surprise at that discovery when Israel has for years been arming Azerbaijan—the country which threatens to erase Armenia from the map?
While Armenia has been circumspect about criticizing Israel, some Armenians expressed their frustration with Israeli policy in unacceptable terms. When Americans fought the Germans and the Japanese during WWII, many Americans stooped to expressing their hatred of their foes in racist terms ("Hun," "Bosh," "Kraut," "Jap," and "slanty-eyes.") Similarly, some Armenians who were interviewed by Pew expressed their political differences with Israel by demonstrating antipathy towards Jews.
These distinctions are beyond the sensibilities of Nazarian who is a graduate of a New Jersey institution whose "notable alumni" include Soon-Yi Previn (the child-bride of Woody Allen), wrestler Edward Ferrara, and spiritualist "Master" Peter Deunov of the Universal White Church. Nazarian is not among the school's "notable" alumni.
It's pointless to refute Nazarian's allegations regarding the Armenia/Azerbaijan conflict: she merely repeats the hoary Aliyev statements. If you've read one of her pro-Azeri articles, you've read them all. She hails Azerbaijan as a model secular republic and with the same breath says Armenia is "solidly identifiable Christian state" (it must be a crime).
She doesn't mention Armenia's constitution states everyone has freedom of thought, conscience, and religion. She doesn't mention "secular" Azerbaijan has fined 34 people for practicing "illegal religion" and Azeri prisoners are found dead while Azeri prisoners of conscience are tortured with impunity.
Nazarian's journalistic lapses are many. In "Big League Politics (May 27, 2020), she wrote: "The recent alleged arson on the Tomb of Ruth and Mordechai, a Jewish holy site in Iran, is indicative of the ever-rising rate of anti-Semitism and broad intolerance in the Islamic Republic." How did the alleged arson at the beginning of the sentence become a fact by the end of the sentence?
She doesn't realize that journalism and public relations do not mix. Thus, in her CV she redundantly and ostentatiously describes herself as international journalist, public relations and public affairs expert, news correspondent, hard news reporter, news writer and expert at strategic communications, political reporter, on-air reporter, news analyst, breaking news reporter, foreign affairs reporter, social media expert, investigative reporter, expert in broadcast and print media, public policy analyst, foreign policy analyst, speech writer, international security maven, public speaker, a person with friends at the U.S. Congress…
Nazarian was caught with her skirt down last year when it was revealed she had worked as researcher for AF International of Maryland–lobbyist for the Komala Party of Iranian Kurdistan. AF International reported it had paid $1,000 to Nazarian for "Research services."
On June 18, 2019 Big League Politics published a Nazarian article whose first paragraph said: "The United States representative of the Komala Party of Iranian Kurdistan, who was imprisoned and tortured for over two years by Iran's Islamic regime, praised the Trump administration's decision to designate Iran's Islamic Revolutionary Guard as a foreign terrorist organization but said that more needs to be done to help the people of Iran break free from the current regime." Government records showed Nazarian was paid $1,000 around the same time by AF International.
Coincidentally, the month she was paid $1,000 by AF International, Nazarian published an article which said: "Azerbaijan: A nation that bears the torch, and burden of bringing religious freedom to its less tolerant neighbors in the region." Soon after it was revealed Najarian was a registered agent of Azerbaijan under the U.S. Foreign Agents Registration Act.
Although her status as Azeri agent who had written a pro-Azeri article would have spelled "finis" to her journalistic career the scandal didn't hurt Nazarian because her usual outlets have dubious professional standards or are the mouthpieces of interest groups Nazarian supports.
In a recent Instagram to her followers, Nazarian wrote: "Someone once said something about never getting in the way of someone while they are destroying themselves." For a change, Adelle Nazarian might have a point.
ATTENTION READERS
We See The World From All Sides and Want YOU To Be Fully Informed
In fact, intentional disinformation is a disgraceful scourge in media today. So to assuage any possible errant incorrect information posted herein, we strongly encourage you to seek corroboration from other non-VT sources before forming an educated opinion.
About VT
-
Policies & Disclosures
-
Comment Policy
Due to the nature of uncensored content posted by VT's fully independent international writers, VT cannot guarantee absolute validity. All content is owned by the author exclusively. Expressed opinions are NOT necessarily the views of VT, other authors, affiliates, advertisers, sponsors, partners, or technicians. Some content may be satirical in nature. All images are the full responsibility of the article author and NOT VT.