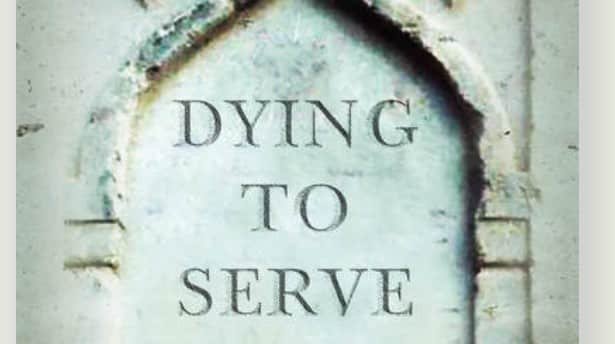 BOOK REVIEW BY BRIGADIER GENERAL SAMSON SIMON SHARAF OF VT
 Book WRITTEN BY MARIA RASHID
It was a rude shock for the Indo-Western world when Pakistan's Law Enforcement Agencies successfully defeated the terrorism insurgency meant to make Pakistan unstable to a point that UN intervention would become mandatory. Peace and development was brought to these unsettled areas in double quick time and political reforms executed, bringing frontier regions into the mainstream. This does not suit the instability trajectories crafted by the West to see Pakistan go down timidly.
This hard reality pinches decision makers from Paris to London, Washington and Delhi and therefore Pakistan's success must be demonised.
'Dying to Serve: Militarism, Affect, and the Politics of Sacrifice in the Pakistan Army' is such an attempt by Maria Rashid in her book published by Stanford University Press, California. The familiar route she took to demonise the armed forces of Pakistan is all too clear. The book was her PhD dissertation at School of Oriental and Asian Studies (SOAS) University of London, a notably leftist turned liberal institution notorious for its anti-Pakistan propaganda.  In the process, she has exploited her military linkages, demonised the country, its armed forces and even religion to appease her western institution, anti-Pakistan supervisors and play to the tunes of liberal left of Pakistan.
By all standards, Pakistan's war against terrorism matched the ferocity of wars that defeated Soviet Union and USA in Pakistan. In large proportions, the foreign funded non state actors were the same. This outcome was least expected but Pakistan did it with much lesser resources and better execution of counter plans. This was despite the reality that Pakistan was contending with tens of hostile intelligence agencies.
Soviet, NATO and American assaults were by fire. Freedom fighters melted away to reappear at the time and place of their own choosing. These campaigns despite use of air power, missiles, daisy cutters and leading edge technologies without 'Boots on Ground' stalled into defeats. The picture of Mike Pompeo, U. S. Secretary of State with Taliban leaders some of who had undergone the torturous and inhuman incarceration at Guantanamo Bay amplifies it never worked. However accomplished it may seem, and however successful President Trump's Peace Policy is, it remains a defeat.
But Pakistan's operational strategy was different. It involved encirclements (cutting off escape routes), fixations through fire, fire assaults and finally assaults with boots on ground. Thus Pakistan was able to dominate heights and spaces as a permanent feature and sweeping through hostile zones with observations, surveillance, fire and physical movements. Had Law Enforcement Agencies not taken such risks of casualties, with Officer to Sepoy Ratio less than 1:5, the outcome would have been no different than Soviet Union, USA and its Allies in NATO. Inability to hold ground over prolonged periods, followed by imposition of a credible political consensus remain the two major causes of failure for Soviet Union and the West. It is this victory that a recently qualified psychologist with no field and clinical experience and in complete disregard to Military Sociology is trying to do.
Her entire context of reasoning is flawed and violated the basic premise of cause and effect, an essential ingredient of any scholarly work. Instead of being value-neutral, her arguments are biased based on fictitious interviews her supervisors had no means of authenticating.  Let's analyse her first argument.
She argues that Pakistan military has used death in combat, particularly the Islamic concept of martyrdom, as a tool to extend its domination over the country's political and civil society. But in her thesis, she evades the question about who imposed war of terror on Pakistan. With this flawed reasoning, she is targeting the Pakistan Army and citizens who have stood like a wall against destabilisation.
She reasons that, "To understand the Pakistani military's hold over the imagination and loyalty of the Pakistan society requires changing our focus from the coercive power of the military that's on display every time a military regime takes over to its ability to shape sympathy and opinion during as well after military regimes leave".
This is a sweeping generalisation as Pakistan has evolved uninterrupted in democracy since 2002, 10 of them shared by parties in opposition. Civilian leaders have appointed five successive military chiefs including extensions.  Martial Laws in Pakistan as accepted by many military sociologists like Samuel Huntington, Stephen P Cohen, Morris Janowitz and Amos Perlmutter in the nature of political crises and national development. Pakistan Army by any sense of the word is not praetorian.
Had she read Military Sociology, her quest to foray into this field from a funnelled window of infant psychology would have resulted in different conclusions. As regards the WOT, she should have been astute to read and consult Bruce Riedal who has written extensively on the mock Afghan Jihad, US war in Afghanistan and Pakistan's WOT. Nowhere in her book does she condemn CIA's effort at revising the Islamic Syllabus at Nebraska and imposing it on Madrassas in Pakistan to fuel the fires of the mock Afghan Jihad.
Which country in the world does not have a monument for its martyrs? Graves of unknown soldiers' world over are national monuments world leaders visit. So why ridicule Pakistan's honouring its martyrs? World over these are honoured with the Last Post and flag hoisting. Pakistan is doing nothing different. Military ceremonies world over are the hall mark of military precision like drill square. Narrating how Shuhada ceremonies are coordinated, fine-tuned and staged should not have become a bone of contention for the author who has a military background and studied in military cantonments.
On the sociology of military recruitment, she singled out one district in the Pathowar Plateau that was a recruiting ground during British Colonialism. This is a national professional army. No one's poverty is exploited. Recruitments are voluntary and more than 30% manpower comes from Sindh and Balochistan. About 10% soldiers volunteer from urban areas. Most it is a multi-religious army with Christian, Parsee, Hindu and Sikh combatants. No wonder that Bruce Riedal commented that Pakistan does not fail is because it is one family and the armed forces are at the heart of it.
The author ignored that national character of the armed forces 'in parenthesis' to qualify her sacrilegious notions to please her masters at SOAS and Stanford.
It seems that elements hostile to Pakistan have a penchant for picking young Pakistani girls from military backgrounds and promoting them as academicians, scholars and opinion makers. This young author is another one in this long list of pseudo leftist liberals with assumed insights, spewing venom against the armed forces.
Such propaganda is an aspersion on the academic credential of institutions like SOAS University of London and Stanford University. They have become part of the Hybrid Campaign against Pakistan.
ATTENTION READERS
We See The World From All Sides and Want YOU To Be Fully Informed
In fact, intentional disinformation is a disgraceful scourge in media today. So to assuage any possible errant incorrect information posted herein, we strongly encourage you to seek corroboration from other non-VT sources before forming an educated opinion.
About VT
-
Policies & Disclosures
-
Comment Policy
Due to the nature of uncensored content posted by VT's fully independent international writers, VT cannot guarantee absolute validity. All content is owned by the author exclusively. Expressed opinions are NOT necessarily the views of VT, other authors, affiliates, advertisers, sponsors, partners, or technicians. Some content may be satirical in nature. All images are the full responsibility of the article author and NOT VT.