by Fabio Giuseppe Carlo Carisio for VT Europe
The devil makes the pots but not the lid. While the theory of the genetically modified organism built in the laboratory is becoming more and more concrete on the origin of the SARS-2 virus, here is the second hitch for one of the leading companies in the production of vaccines, the AstraZeneca of Anglo-Swedish ownership but actually controlled by the same American and Zionist shareholders of the Weapons Lobby (as demonstrated in previous investigations).
WUHAN-GATES – 15. EU-Italy Covid Vaccine' Business in Gates-Big Pharma's Dirty Hands
Big Pharma stumbles upon a second case of adverse reaction in a few days which, however, claims not to be related to the Covid-19 vaccine being tested. While a Hong Kong virologist confirms that this new Coronavirus strain was man-made, as part of those "dual-use" research for vaccine but also military bioweapon, as claimed by a Nobel Prize for Medicine, a former director of the British counter-intelligence MI6 and a NATO consultant bio-engineer, here is another incident for the multinational already known for cases of doping, suicide and other serious violations of drug laws.
WUHAN-GATES – 20. "Covid-19 Built in Wuhan Lab". Chinese Virologist Protected by FBI said. But Forgets US Risky Experiments…
The problem is looming huge for Europe which has already booked 400 million doses of the Oxford University vaccine, developed by the Jenner Institute, of which AstraZeneca acquired the distribution but then blocked clinical trials after a first very serious spinal cord infection (which could cause paralysis in the guinea pig. human) to which is added a second dramatic case…
WUHAN-GATES – 12. MI6 British Intelligence former Head: "SARS-2 Built in Bio-Lab". Pics and Proofs of HIV Tests
---
from Russia Today
Two people have fallen ill during the trials of AstraZeneca's coronavirus vaccine in the UK, the company's internal papers revealed, and a source said they had both suffered from the same serious neurological disorder.
The company published details of the trials on Saturday, after facing criticism over the lack of transparency surrounding the testing of the much-anticipated vaccine against the virus, which has so far infected more than 30.8 million people and caused over 958,000 fatalities worldwide.
The first participant of the British trials – which are being conducted in conjunction with Oxford University – fell ill after receiving one dose of the experimental vaccine in July.
AstraZeneca Vaccine Trials stopped for Mysterious Illness: May Lead Paralysis. Big Pharma Deal against Trump
The female volunteer was later diagnosed with transverse myelitis, a rare inflammatory disease that affects the spinal cord, causing weakness, sensory alterations, and autonomic nervous-system dysfunction. The company's spokeswoman later told the media the volunteer had undiagnosed multiple sclerosis, and the trials resumed.
The second female recipient of the vaccine suffered complications after the follow-up dose in September. AstraZeneca didn't confirm her diagnosis, but a source told the New York Times it was also transverse myelitis.
On September 6, trials of the drug were paused again, after the second woman felt ill, but they resumed in Britain, Brazil, India, and South Africa less than a week later. The US hasn't yet green-lighted the continuation of the test, however.
WUHAN-GATES 16. Criminal Pharma for Vaccines in EU. Fraud, Doping and Suicide
AstraZeneca, which has administered its vaccine to some 18,000 people worldwide, said in internal documents that the two cases of the illness were "unlikely to be associated with the vaccine, or there was insufficient evidence to say for certain that the illnesses were or were not related to the vaccine." 
Transverse myelitis is a serious and rare disease, and its repeated cases among the participants of the trials may well see AstraZeneca losing its vaccine bid all together.
AstraZeneca's vaccine uses a monkey adenovirus that shares a gene with the Covid-19 coronavirus. It's an untested method of vaccine development, according to Kirill Dmitriev, CEO of the Russian Direct Investment Fund that bankrolled the Russian vaccine development.
COVID-19: Putin's Vaccine challenges Big Pharma Lobby. Why it's frightening for WHO
Unlike AstraZeneca's jab, Russia's Sputnik V, the world's first registered vaccine, uses human adenoviruses as a vector – an extensively studied approach.
Earlier this month, respected British medical journal The Lancet published the Russian Ministry of Health's Sputnik V study, showing the vaccine to be 100 percent effective, producing antibodies in all 76 participants of early-stage trials.
Russia to sell 100 million doses of COVID-19 vaccine to India
*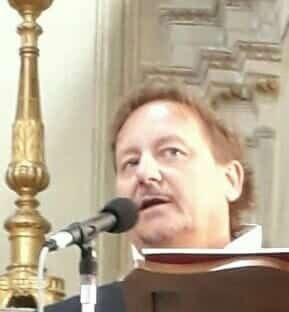 Fabio is Director and Editor of Gospa News; a Christian Information Journal.
Fabio Giuseppe Carlo Carisio, born on 24/2/1967 in Borgosesia, started working as a reporter when he was only 19 years old in the alpine area of Valsesia, Piedmont, his birth region in Italy. After studying literature and history at the Catholic University of the Sacred Heart in Milan, he became director of the local newspaper Notizia Oggi Vercelli and specialized in judicial reporting.
For about 15 years he is a correspondent from Northern Italy for the Italian newspapers Libero and Il Giornale, also writing important revelations on the Ustica massacre, a report on Freemasonry and organized crime.
With independent investigations, he collaborates with Carabinieri and Guardia di Finanza in important investigations that conclude with the arrest of Camorra entrepreneurs or corrupt politicians.
In July 2018 he found the counter-information web media Gospa News focused on geopolitics, terrorism, Middle East, and military intelligence.
His articles were published on many international media and website as SouthFront, Reseau International, Sputnik Italia, United Nation Association Westminster, Global Research, Kolozeg and more…
His investigations was quoted also by The Gateway Pundit, Tasnim and others
He worked for many years for the magazine Art & Wine as an art critic and curator.
ATTENTION READERS
We See The World From All Sides and Want YOU To Be Fully Informed
In fact, intentional disinformation is a disgraceful scourge in media today. So to assuage any possible errant incorrect information posted herein, we strongly encourage you to seek corroboration from other non-VT sources before forming an educated opinion.
About VT
-
Policies & Disclosures
-
Comment Policy
Due to the nature of uncensored content posted by VT's fully independent international writers, VT cannot guarantee absolute validity. All content is owned by the author exclusively. Expressed opinions are NOT necessarily the views of VT, other authors, affiliates, advertisers, sponsors, partners, or technicians. Some content may be satirical in nature. All images are the full responsibility of the article author and NOT VT.