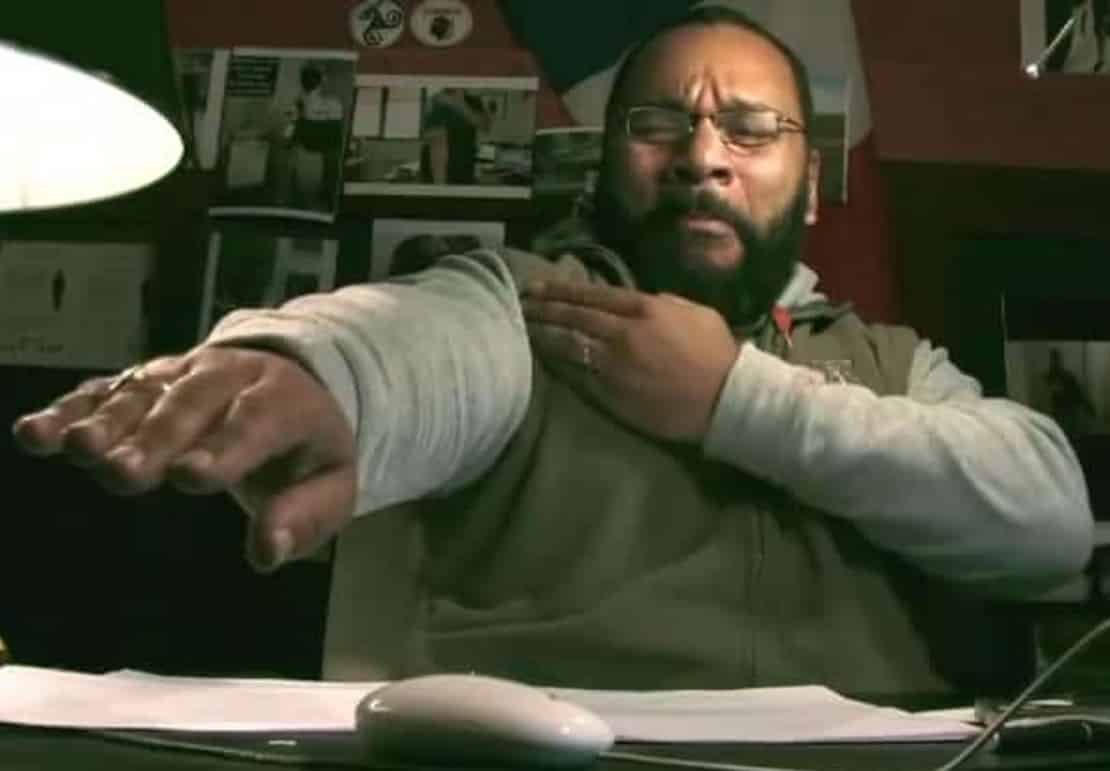 By Richard Edmondson for VT (part of the VT delegation to Damascus in 2015)
Send a quenelle to AIPAC for the cavalier bigotry of supporting an apartheid state;
Send a quenelle to AIPAC for the insane violence of Israeli settlers, for the fields burned and olive trees destroyed, the price tag attacks, homes raided, the children taken in the middle of the night—send a quenelle for the Facebook racism, the no-partner-for-peace poppycock malarkey, and the ever-expanding illegal settlements sprouting up out of the weeds of land-grabbing perfidy;
Send a quenelle to AIPAC and the greasy, grimy, wailing-wall-kissing, yarmulke-wearing politicians that serve as its court jesters—shabbes goyim-equilibrated obscurities—who when they die, won't even get to be buried in a Jewish cemetery;
Send a quenelle to AIPAC for the jadedness of the media, the assassination of honest journalism, the driving into extinction of the Cronkites and the Murrows, and their replacement by the one-flavor-for-all anchor sponges of vapidity, whose teleprompters carefully omit any criticism of the Jewish state;
Send a quenelle to AIPAC on behalf of the mothers forced to give birth at the checkpoints of sorrow;
Send a quenelle to AIPAC whose coin in the realm of public credibility is melting like molten copper, like tar pits of black crude dripping into the crevices of hell, send it for the growing public disgust, the antipathy and loathing, over the incessant calls for war;
Send a quenelle to AIPAC for the mop handle with the white flag attached, and for the woman who'd held it aloft, waving it at the soldiers, until the handle dropped from her hands, the white flag lying in the Gaza dirt, stained crimson with the blood of her two dead granddaughters;
Send a quenelle to AIPAC on behalf of the dead American soldiers whose bodies were ripped apart by false justifications, double-dealing, and artful pretense; send it for the half million Iraqi children

whose deaths were "worth it"

, for the yellowcake uranium forgeries, for the weapons inspectors who never found the weapons of mass destruction;
Send a quenelle to AIPAC for the heads covered with hoods and the electro-shocked genitals, for the million or more Iraqis killed or displaced, for the loss of pride, for an entire nation starved, plastered, and sloshed back into the stone age; for the folded skin around the eyes of the corpses and the absence of humanity and virtue in those who ordered it;
Send a quenelle to the vitriolic babble about weapons of mass destruction, dictators killing their own people, and all options being on the table, and send a quenelle to the lying malefactors who propagated this brimming stream of perjury, who dropped bombs on weddings, made amputees of husbands, sons, and boyfriends, and who infrequently went before the cameras and expressed their regrets afterwards;
Send a quenelle to AIPAC for the deceit, hypocrisy, the violation of UN resolutions, the policy of so-called nuclear ambiguity that an iniquitous and corrupt rogue state has been allowed to get away with for more than three decades, for the reprehensible behavior of governments who look the other way as innocents are murdered, send it for love standing strong in the face of hate, for the tear gas canisters, for contusions on skulls that have been battered, and for the shadows darkening this world;
Send a quenelle to the pit of vipers, to those blowing the shofar of madness, to the stool pigeons who gave us the Patriot Act, to the pit of blind vipers leading the other blind vipers into isolation, delegitimization, and simultaneous explosions of delirium, lunacy, and self destruction;
Send a quenelle to AIPAC for the $18 trillion debt run up fighting a mélange of wars, the blighted inner city landscapes, crumbling infrastructure, and the lack of universal healthcare while the richest one percent drive around in gold-plated limousines; and send a quenelle to the politicians who brought us these things while pledging their eternal, undying support for Israel;
Send a Quenelle to AIPAC for the fortitude lacking, for the slurs, intimidations, accusations of anti-Semitism, the lost careers, and send a quenelle on behalf of the Helen Thomases, those who went against the grain, who stood up and spoke truth in the face of the run-to-slumber masses, ducking their heads as they duck for cover from the eternally-knifing opprobrium;
Send a quenelle to AIPAC and the twittering, sycophantic fools who run the universities, and whose job it is to confiscate freedom of thought, unlearn learning, and smash the car windows of free speech—all on behalf of one certain group of people, so they can go on robbing, plundering, and slow-genociding another people;
Send a quenelle to AIPAC for the broken bones and torn flesh of those shot with rubber-coated steel bullets, for the tears, mingled with the dust, from the ones driven out of their homes;
Send a quenelle into the darkness of the human mind that could conceive of a God who ordered genocide, who branded innocent children as "Amalekites" and commanded their total destruction and annihilation;
And send a quenelle for the lost dreams, the stolen futures, the student loan debt piling up higher and higher while billions a year continue to get shoveled to Israel—the parasite that seemingly can't be pulled off, poisoned off, or eliminated with antibiotics or antiviral medications.
Paddling our boats through a lost stream of time,
Brackish waters, and forms in a diaphanous mist
Pass under us, over us, in a never-straight line;
The boat suddenly angles in an ill-defined list—
Hope, optimism, promise, achievement,
Fall to the wayside, ambling knaves,
The giraffe-necked librettist's puzzled bereavement
Ahead, behind us, to the end of our days.
Send a quenelle to AIPAC
Send a quenelle to AIPAC
Send a quenelle to those who love nothing
Send a quenelle for the angels with clipped wings
Send a quenelle to AIPAC
By Richard Edmondson
---
Reasons to Flash the Quenelle Salute:
1. It infuriates Zionists:
2. It's respectful:
3. It teaches children when they're young:
4. It's politically incorrect and sends a statement:
5. You might win an award:
6. It's hip and catching on at lots of universities:
7. It's professional and business-like:
It has been reported that Benjamin Netanyahu, just before leaving for America to attend the AIPAC conference and commandeer Congress, stopped for a prayer at the Western Wall.
Perhaps by chance did he run into this guy?
Free Palestine!
Dieudonne! He's the man!!!
ATTENTION READERS
We See The World From All Sides and Want YOU To Be Fully Informed
In fact, intentional disinformation is a disgraceful scourge in media today. So to assuage any possible errant incorrect information posted herein, we strongly encourage you to seek corroboration from other non-VT sources before forming an educated opinion.
About VT
-
Policies & Disclosures
-
Comment Policy
Due to the nature of uncensored content posted by VT's fully independent international writers, VT cannot guarantee absolute validity. All content is owned by the author exclusively. Expressed opinions are NOT necessarily the views of VT, other authors, affiliates, advertisers, sponsors, partners, or technicians. Some content may be satirical in nature. All images are the full responsibility of the article author and NOT VT.