by Fabio Giuseppe Carlo Carisio for VT Mediterranean
The Arab Springs are starting again! The new US President Joseph Biden, a pupil of Barack Obama of whom he was vice president when the attacks in Libya and Syria began, only lasted a month in showing the world his pacifist face.
The repeated public declarations for a resumption of dialogue with the Iran on the nuclear deal, interrupted by former President Donald Trump on pressure from Israel that it would like to be the only power in the Middle East to hold the atomic missiles (it is estimated that Tel Aviv has at least 100 nuclear warheads), vanished in the face of opposition from the Iranian government which, legitimately, first asked for a concrete sign of détente with the suspension of the heavy economic sanctions inflicted by Washington on Tehran.
Iran's revenge starts from Qom. Thanks to Fordow's nuclear bunker plant
Biden pretended not to hear and has now moved to counterattack by imitating the aggressive and violent line of Israel that for three years every month has been bombing Syria with the excuse of hitting the posts of the Quds Forces, the special department of the Revolutionary Guards Islamic (Pasdaran), an Iranian paramilitary organization that is well-liked in Syria as it has been instrumental in helping Syrian President Bashar Al Assad defeat ISIS and extremist jihadists armed by the American Central Intelligence Agency for a planned regime-change since 1983 when Damascus was ruled by his father Hafiz.
Turkish papers: 21 Erdogan's jihadist militias supported by Cia, Pentagon and armed with TOW missiles
The "excuse" for the attack initiated by the US Air Force on Biden's orders, as reported by Russia Today, were the attacks against the Erbil base conducted in recent days and attributed, without evident evidence, to formations close to the Hezbollah, the Lebanese paramilitary group declared terrorist by the Americans and of Shiite Islamic confession like the Iranian Pasdaran, enemies of the Sunni Muslims of the Persian Gulf countries allied to the US and now also of Israel by virtue of the recent "Abrahamic Agreement".
The conflict is rekindled in Syria, therefore, on the eve of the imminent visit of Pope Francis to Iraq. The weapons lobby thanks… Here are the details in the Russia Today report.
According to SANA(Syrian Araba News Agency), China on Friday called for respecting sovereignty and territorial integrity of Syria.
"We call on all parties concerned to respect Syria's sovereignty, independence and territorial integrity, and to avoid additional complications to the situation," Xinhua news agency quoted Foreign Ministry's Spokesman Wang Wenbin as saying to reporters .
The statements come in light of the US attack on the Syrian-Iraqi border area. Russian Foreign Ministry strongly condemned the US attack, stressing that it is an "unacceptable violation of international law.
Other 10 Rockets on Iraq (Al Asad US Airbase). Waiting Pope's Holy Masses… High Risk for Francesco's Trip in Baghdad (update)
SOHR (Syrian Observatory of HUman Rights) activists have documented a spike in the number of Iranian-backed militiamen killed in US airstrikes in west Euphrates region. 22 militiamen of the Iraqi Hezbollah and Iraqi Popular Mobilization Forces, mostly of the Iraqi Hezbollah, were killed in the US aerial attacks on their positions and a weapons shipment at the time when it was crossing from Iraq to Syria, via a military crossing near Al-Qa'em crossing in Al-Bokamal area in the eastern countryside of Deir Ezzor.
«The death toll is expected to rise further as the attack left several militiamen injured, some seriously. There are unconfirmed reports of more casualties. It is worth noting that attack, which took place at 01:00 am Syria time, destroyed three trucks carrying ammunition» wrote SOHR.
According to SOHR sources the Iranian forces and their proxy factions evacuated several posts and headquarters in Al-Bokamal immediately after the attack, where they were redeployed in other positions for fear of being subjected to successive attacks.
---
AIR STRIKES AGAINST IRAN-BACKED MILITIA
by Russia Today
Air strikes against Iran-backed militia in Syria were approved by US President Joe Biden and intended as reprisal for rocket attacks on US bases in Iraq, multiple media outlets reported citing unnamed administration officials.
The attack on Thursday evening was described as a "strike against a site in Syria linked to Iranian-backed militias" by the Reuters correspondent at the Pentagon, citing an anonymous US official.
Rocket attack on Erbil's US Base in Iraq: 1 killed, 6 injuried
The officials tell Reuters the strike was approve by President Joe Biden and comes after a series of recent rocket attacks against U.S. targets in Iraq.
— Idrees Ali (@idreesali114) February 25, 2021
The strike "comes after a series of recent rocket attacks against US targets in Iraq," Reuters added.
A CBS correspondent said the strike "was carried out in response to recent rocket attacks on locations in Iraq" where US troops and contractors were located.
BREAKING: @CBSDavidMartin reports that the US has conducted a strike against a site in Syria linked to Iranian-backed militias. He reports that it was carried out in response to recent rocket attacks on locations in Iraq where US troops & personnel are located.
— Margaret Brennan (@margbrennan) February 25, 2021
There has been no official statement from the Biden administration about the attack as so far. Unconfirmed reports from Syria spoke of explosions near Al-Bukamal, a town in the Deir-ez-Zor province near the border with Iraq.
The reported airstrikes come after a series of rocket attacks on the Green Zone in Baghdad, the Balad Air Base and the Erbil International Airport in Iraq over the past two weeks. No group has claimed responsibility and the Pentagon has not officially blamed anyone.
This is not the first time the US has blamed Iran for attacks on American troops and contractors in neighboring Iraq. After one contractor died, the Trump administration targeted the Kataib Hezbollah militia and other Shia Popular Mobilization Units (PMU), which culminated in the drone assasination of General Qassem Soleimani, commander of the Quds Force of the Islamic Revolutionary Guard Corps (IRGC) of Iran, in January 2020.
Biden himself led the chorus of Democrats who denounced President Donald Trump's move at the time, saying he "tossed a stick of dynamite into a tinderbox." House Speaker Nancy Pelosi (D-California) had said the Soleimani strike risked "provoking further dangerous escalation of violence" and was undertaken without congressional authorization.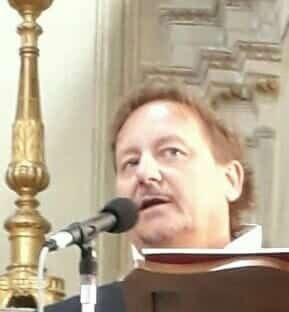 Fabio is Director and Editor of Gospa News; a Christian Information Journal.
Fabio Giuseppe Carlo Carisio, born on 24/2/1967 in Borgosesia, started working as a reporter when he was only 19 years old in the alpine area of Valsesia, Piedmont, his birth region in Italy. After studying literature and history at the Catholic University of the Sacred Heart in Milan, he became director of the local newspaper Notizia Oggi Vercelli and specialized in judicial reporting.
For about 15 years he is a correspondent from Northern Italy for the Italian newspapers Libero and Il Giornale, also writing important revelations on the Ustica massacre, a report on Freemasonry and organized crime.
With independent investigations, he collaborates with Carabinieri and Guardia di Finanza in important investigations that conclude with the arrest of Camorra entrepreneurs or corrupt politicians.
In July 2018 he found the counter-information web media Gospa News focused on geopolitics, terrorism, Middle East, and military intelligence.
His articles were published on many international media and website as SouthFront, Reseau International, Sputnik Italia, United Nation Association Westminster, Global Research, Kolozeg and more…
His investigations was quoted also by The Gateway Pundit, Tasnim and others
He worked for many years for the magazine Art & Wine as an art critic and curator.
ATTENTION READERS
We See The World From All Sides and Want YOU To Be Fully Informed
In fact, intentional disinformation is a disgraceful scourge in media today. So to assuage any possible errant incorrect information posted herein, we strongly encourage you to seek corroboration from other non-VT sources before forming an educated opinion.
About VT
-
Policies & Disclosures
-
Comment Policy
Due to the nature of uncensored content posted by VT's fully independent international writers, VT cannot guarantee absolute validity. All content is owned by the author exclusively. Expressed opinions are NOT necessarily the views of VT, other authors, affiliates, advertisers, sponsors, partners, or technicians. Some content may be satirical in nature. All images are the full responsibility of the article author and NOT VT.