by Uri Avnery, with Gush Shalom
[ Editor's Update: On 4 August 2018, Avnery suffered a stroke and was hospitalized in a critical condition in Tel Aviv. He died at Ichilov Hospital on 20 August 2018 at the age of 94, less than a month short of his 95th birthday.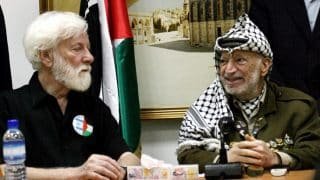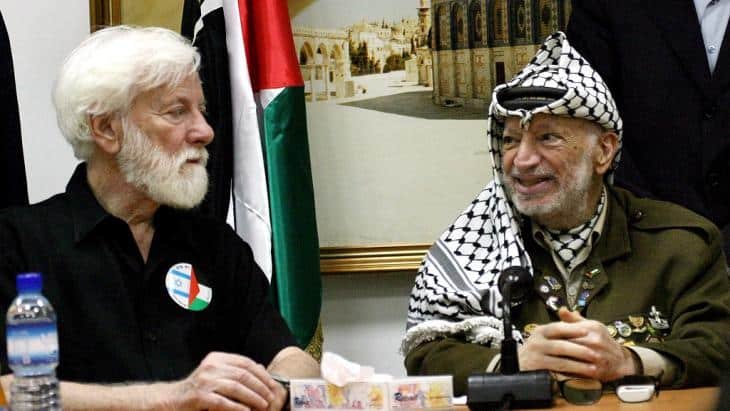 Despite my years of publishing him on VT, I never had a conversation with him. I did get an email once, after we have put him on the staff page, actually an honorary position as he had not asked for it, and asked us to remove him.
I understood instantly. The Netanyahu government has never been happy with us, and Uri already had his plate full being on the doo doo list as a critic himself, and did not want to give the government a club to whack him over the head with, his working with the alleged evil Israeli haters at VT.
That claim of course was a bogus one. We have never had any problem with the people there, just the crimes against humanity segement, like we do with anyone else of that ilk around the world when we run across them.
Uri was alreay pushing the envelope in being a critic of Israel excesses toward the Palestinians, as do we. To that you can add all their other 'excesses', as they create a lot of mayhem in the world and we are waiting for the day when that is brought to and end as the world will be a better place.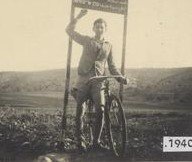 The Netanyahu government cheap con with us was like calling VT America haters because we think all child molesters should be put to death or get life sentences.
We always viewed that problem as a simple security issue. But the Israeli supremacists have always taken to themselves edit the crimes against humanity out of their life story.
They will never get a free pass here. If they want to erase the stain, then they have to pony up to the table and make amends for the terror war they inflicted on the Palestinian people.
The US also needs a come to Jesus moment. By funding the repressive Zionist government we have effectively funded their campaign against the Palestinians. And even worse, we have paid for all of Israel's espionage operations in the US, and not only concerning Israel specific issues.
Like Turkey, Israel runs 'wholesale' espionage operation here. The keep what they can to compromise entities here in the US to serve its interests, and then sells off on the open market what it does not need. Think technology to China for example.
The entire US security apparatus is aware of this but remains silent as our compromised Congress has control over their budgets and appointments, which we here Israel even has input on that… JD ]
*
[Original Editor's note: Uri gives us another update of the split inside Israel between the Likud "Thuggernaught" and what is left of the liberal peace crowd, which is not much.
But the news is that some major Israeli figures, even if they are from the Left, are calling for a boycott of not just the settlers in the West Bank but of Israel proper.
Why? It is because they see no force inside Israel capable of countering Zionist extremism. What these people are calling for is the political equivalent of the military challenge on the best way to take a bridge, which is to assault it from both ends at once.
This requires a river crossing under fire, with more casualties initially; but once the far side of the bridge is under attack, the near side defense most often will collapse to retreat while they still can. What these Left leaders are saying is that we are doomed to lose if we cannot get outside help.
I agree, as I have long editorialized that "we" would have to work with people inside Israel to change the worst case scenario we are in now. The Left does not have a history of being angels, as a lot of blood was shed, and many of the former early Zionists served in Left regimes there.
So this is great news on top of the growing shift against Israel. Last week, France said that if there is no substantial movement on the Palestinian peace process, it would recognize Palestine. Yes, this was announced in a country long said to be completely compromised by its Jewish Lobby and Israeli policy.
We also had a large and very public group of Italian academics calling for a boycott of Israel. Yes, this is happening in a community where the Jewish Lobby has ruthlessly purged academics from their positions for the crime of not being subservient to Israeli policy, which is deemed a heresy even among atheist Jews. I think we are going to see some big changes this year… Jim W. Dean ]

Jim's Editor's Notes are solely crowdfunded via PayPal
Jim's work includes research, field trips, Heritage TV Legacy archiving & more. Thanks for helping. Click to donate >>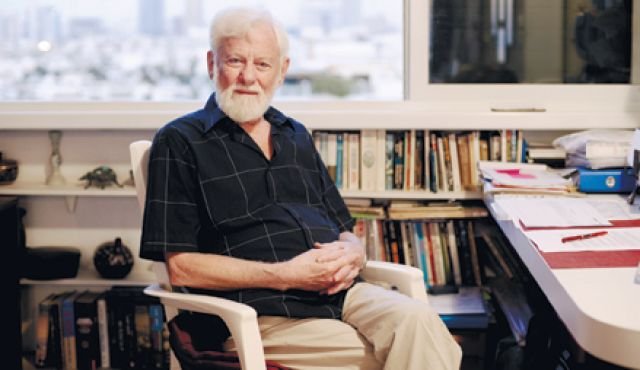 – First published  …  January 30, 2016 –
Hamelin, a small town in Germany not so far from where I was born, was infested with rats. In their despair, the burghers called upon a rat-catcher and promised him a thousand guilders for liberating them from this plague.
The rat-catcher took his pipe and played such a sweet melody that all the rats came out of their holes and joined him. He marched them to the Weser river, where they all drowned.
Once freed from this plague, the burghers saw no reason to pay. So the piper took out his pipe again and produced an even sweeter melody. The enchanted children of the town gathered around him, and he marched them straight down to the river, where they all drowned.
Binyamin Netanyahu is our pied piper. Enchanted by his melodies, the people of Israel are marching behind him towards the river. Those burghers who are aware of what is happening are looking on. They don't know what to do. How to save the children?
The Israeli Peace Camp is in despair. No savior is in sight. Many just sit in front of their TV set and wring their hands. Among the rest a debate is going on. Will redemption come from within Israel or from outside?
The latest contributor to this debate is Amos Schocken, the owner of the "Haaretz" newspaper. He has written one of his rare articles, arguing that only outside forces can save us now.
Let me first say that I admire Schocken. "Haaretz" ("The Land") is one of the last bastions of Israeli democracy. Cursed and detested by the entire rightist majority, it leads the intellectual battle for democracy and peace.
All this while the written media are in dire financial straits, in Israel and around the world. From my own experience as a magazine owner and editor – who lost this battle – I know just how heroic and heartbreaking this job is.
In his article Schocken says that the battle to save Israel from within is hopeless, and that we must therefore support the pressures coming from outside: the growing worldwide movement for boycotting Israel politically, economically and academically.
Another prominent Israeli who supports this view is Alon Liel, a former ambassador to South Africa and current university lecturer. Based on his own experience, Liel asserts that it was the worldwide boycott that brought the apartheid regime to its knees.
Far be it from me to contest the testimony of such a towering expert. I never went to South Africa to see for myself. But I have talked to many participants, black and white, and my impression is a bit different. It is very tempting to compare present-day Israel with apartheid South Africa. Indeed, the comparison is almost unavoidable. But what does it tell us?
The accepted view in the West is that it was the international boycott of the atrocious Apartheid regime that broke its spine. This is a comforting view. The conscience of the world woke up and crushed the villains.
But this is a view from the outside. The view from the inside seems to be quite different. The inside view appreciates the help of the international community, but it attributes the victory to the fight of the black population itself, its readiness to suffer, its heroism, its tenacity. Using many different methods, including terrorism and strikes, it finally made Apartheid impossible.
The international pressure helped by making the whites increasingly aware of their isolation. Some measures, such as the international boycott on South African sports teams, were especially painful. But without the fight of the black population itself, international pressure would have been ineffective.
The highest respect is due to the white South Africans who actively supported the black struggle, including terrorism, at great personal risk. Many of them were Jews. Some escaped to Israel. One was my friend and neighbor, Arthur Goldreich. Strange as it seemed to some, the Israeli government supported the apartheid regime.
Even a superficial comparison between the two cases shows that the Israeli apartheid regime enjoys major assets which did not exist in South Africa.
The South African white rulers were universally detested because they quite openly supported the Nazis in World War II. The Jews were the victims of the Nazis. The Holocaust is a huge asset of Israeli propaganda. So is the labeling of all critics of Israel as anti-Semites – a very effective weapon these days.
My latest contribution: "Who is an anti-Semite? Someone who tells the truth about the occupation."
The uncritical support of the powerful Jewish communities throughout the world for the Israeli government is something the South African whites could not even have dreamed of. And, of course, there is no Nelson Mandela in sight. Not after Arafat's isolation and murder, at least.
Paradoxically, there is a little bit of racism in the view that it was the whites in the Western world that delivered the blacks in South Africa, and not the black South Africans themselves.
There is another big difference between the two situations. Hardened by centuries of persecution in the Christian world, Jewish Israelis can react to outside pressure differently than expected. Outside pressure can turn out to be counterproductive. It may re-confirm the old Jewish belief that Jews are persecuted not for what they do, but for who they are. That is one of Netanyahu's main selling points.
Years ago, an army entertainment group sang and danced to the joyful tune of a song that started with the words: "The whole world is against us /But we don't give a damn…"
This also concerns the BDS campaign. 18 years ago, my friends and I were the first to declare a boycott on the products of the settlements. We wanted to drive a wedge between Israelis and settlers. Therefore we did not declare a boycott of Israel proper, which would drive ordinary Israelis into the arms of the settlers. Only direct support of the settlements should be rejected.
That is still my opinion. But everyone abroad should make up his/her own mind. Always remembering that the main objective is to influence public opinion in Israel proper. The "INSIDE – OUTSIDE" debate may sound purely theoretical, but it is not. It has very practical implications.
The Israeli peace camp is in a state of despair.
The size and power of the right wing is growing. Almost daily, obnoxious new laws are proposed and enacted, some of them with an unmistakable fascist flavor.
The Prime Minister, Binyamin Netanyahu, has surrounded himself with a bunch of male and female rowdies mainly from his Likud party, compared to whom he is a liberal. The main opposition party, the "Zionist Camp" (alias Labor), could be called Likud B.
Apart from some dozens of fringe groups who brave this wave and do admirable work, each in its chosen niche, the peace camp is paralyzed by its own despair.  Its slogan could well be "Nothing can be done anymore. No point doing anything". (Jewish-Arab cooperation in the common fight inside Israel – now sadly lacking – is also essential.)
In this climate, the idea that only outside pressure can save Israel from itself is comforting. Somebody out there will do the job for us. So let's enjoy the pleasures of democracy while it lasts.
I know that nothing is further from the thoughts of Schocken, Liel and all the others, who fight the daily fight. But I am afraid that this may be the consequence of their views.So who is right: those who believe that only the fight inside Israel can save us, or those who put their trust entirely in outside pressure? My answer is: neither. Or, rather, both.
Those who fight inside need all the outside help they can get. All the moral people in all the countries of the world should see it as their duty to help those groups and persons inside Israel who continue to fight for democracy, justice and equality.
If Israel is dear to them, they should come to the aid of these brave groups, morally, politically and materially.
But for outside pressure to be effective, they must be able to connect with the fight inside, publicize it and gain support for it. They can give new hope to those who are despairing. Nothing is more vital.
The government realizes this. Therefore it is enacting all kinds of laws to cut Israeli peace groups off from foreign help. So let the good fight go on – inside, outside, everywhere.
*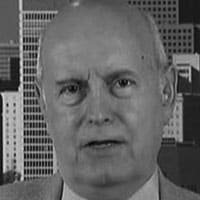 Jim W. Dean is VT Editor Emeritus.  He was an active editor on VT from 2010-2022.  He was involved in operations, development, and writing, plus an active schedule of TV and radio interviews.  He now writes and posts periodically for VT.
ATTENTION READERS
We See The World From All Sides and Want YOU To Be Fully Informed
In fact, intentional disinformation is a disgraceful scourge in media today. So to assuage any possible errant incorrect information posted herein, we strongly encourage you to seek corroboration from other non-VT sources before forming an educated opinion.
About VT
-
Policies & Disclosures
-
Comment Policy
Due to the nature of uncensored content posted by VT's fully independent international writers, VT cannot guarantee absolute validity. All content is owned by the author exclusively. Expressed opinions are NOT necessarily the views of VT, other authors, affiliates, advertisers, sponsors, partners, or technicians. Some content may be satirical in nature. All images are the full responsibility of the article author and NOT VT.