[ Editor's Note: Something strange is going on here. Why the 'civilian' arrest warrant, and not a peep in the story about a Marine investigation. Normal procedure would have had all of this officer's command dragged in for questioning to see who else might have been involved as active Trumpers.
Superimpose this situation of the military command people who signed their open letter screed to fight that 'socialist takeover' recently. Where has the military justice command been during all this? We have not heard a word of them doing anything, which gosh, kind a raises the suspiticions of some that it might have been involved in this for some time.
Hence we have the civilian arrest warrant being issued, with the added irony of the FBI training facility being at Quantico. And if we take a step back we have the military stand down on January 6th.
While we got some public discussion on the Congressional investigation into the Jaunary 6th insurection, we did not see anything that was done and the military command structure has only been mentioned in terms of the national guard remaing in DC for an extended period.
We are months into many stories about the Trumper infiltration of the police and military, yet any real investigation is on a slow boat to China. VT does not view this as the command being 'busy', but purposefully keeping a low profile and so far avoided in any real outside investigation, much less anything internal. What's up wid dat?… Jim W. Dean ]

Jim's Editor's Notes are solely crowdfunded via PayPal
Jim's work includes research, field trips, Heritage TV Legacy archiving & more. Thanks for helping. Click to donate >>
*
First published … May 14, 2021
Operations officer of US Marines Counter-Terrorism force for Africa and the Middle East arrested in coup plot against the United States.  From an interview in 2015:
"The deployment started with amphibious operations in Djibouti during Alligator Dagger and moved to the Arabian Gulf with Alligator Thunder," said U.S. Marine Maj. Christopher Warnagiris, operations officer for the U.S. landing force command element aboard Tonnerre.  "We ended with an exercise in Kuwait during Alligator Lightning, where we employed SPMAGTF-CR-CC to conduct our first tactical use of the MV-22 Osprey aboard a French ship, which entailed deck landings and amphibious raid exercises."
Warnagiris noted that while there were many firsts during the deployment, the inclusion of a new R2LM team was one of the highlights. Although it was designed to support U.S. and North Atlantic Treaty Organization forces or allied ships to perform en route emergency care, the R2LM team offered critical care capabilities during the multilateral exercises aboard Tonnerre.
"We successfully integrated with the French medical team and proved that we can conduct maritime operations on a NATO-allied vessel and various medical and amphibious operations," said Lt. Cmdr. Patrick Magajna, a R2LM emergency medicine physician aboard Tonnerre. "Even though we did business a little differently and experienced a language barrier in the beginning, we managed to work through the challenges quickly."
Daily Beast: An active-duty Marine Corps Major, who allegedly pushed a cop during the Capitol riot so thousands of fellow insurrections could enter the building, was among a fresh crop of alleged rioters to be hit with federal charges Thursday.
Christopher Warnagiris, aka #YellowZipSkulker, was arrested in Quantico, per his arrest warrant. pic.twitter.com/qdhUkkHaDz

— Ryan J. Reilly (@ryanjreilly) May 13, 2021
Christopher Warnagiris, a 40-year-old who has been stationed at the Marine Corps base in Quantico since last summer, has been hit with a slew of charges, including assaulting officers and obstruction of justice. He was arrested on Thursday in Virginia and is set to make a court appearance in the afternoon. He is one of dozens of current and former law enforcement officials charged in connection with the Jan. 6 riot.
VIDEO: I've assembled this clip of active duty USMC officer Christopher Warnagiris blocking a Police officer from closing door & helping others to breach #Capitol.

In final seconds, police officer tumbles backwards to the floor. pic.twitter.com/aSzFL5IRVo

— John Scott-Railton (@jsrailton) May 13, 2021
Videos and photos showed Warnagiris—wearing a dark jacket with green zippers, a military green backpack, and gloves—trying to enter the Capitol through the East Rotunda doors with a slew of others. While Capitol Police officers attempted to hold the large crowd at bay, they eventually lost ground and a group of rioters managed to push the doors open, according to a criminal complaint. Warnagiris seemed to "use his body to keep the door partially open" to help others inside.
Capitol riot: Marine Corps Maj. Christopher Warnagiris charged for role in Jan. 6 attack. https://t.co/EV4UN7RDeI

— ⋋〳 ᵕ _ʖ ᵕ 〵⋌ (@sansmalarkey) May 14, 2021
"As the struggle continued, several USCP officers repositioned themselves from the outside of the doorway to the inside and continued to try to stop the stream of individuals from entering the building," the complaint states.  read more..
https://www.thedailybeast.com/active-duty-marine-christopher-warnagiris-charged-for-capitol-riot?ref=home
Active Duty U.S. Marine Corps Officer Arrested for Assault on Federal Law Enforcement Officer During Jan. 6 Capitol Breach
Defendant, Stationed in Virginia, Defied, Pushed and Resisted Capitol Police to Help Other Rioters Break into the U.S. Capitol
Note: A full copy of the charging documents can be viewed here.
WASHINGTON — An active duty U.S. Marine Corps commissioned officer stationed at the Marine Corps Base Quantico was arrested today in Virginia and charged with crimes related to the breach of the U.S. Capitol on Jan. 6, which disrupted a joint session of the U.S. Congress in the process of ascertaining and counting the electoral votes related to the presidential election.
Major Christopher Warnagiris, 40, of Woodbridge, is charged with federal offenses that include assaulting, resisting or impeding certain officers; obstruction of law enforcement during civil disorder; and obstruction of justice, among other charges. Warnagiris will make his initial court appearance today at 2:00 p.m. in the Eastern District of Virginia. Public access to the hearing is available via: 1-877-336-1828, with an access code of 8977102.
According to court documents and security camera footage, Warnagiris violently entered the Capitol on Jan. 6, after pushing through a line of police officers guarding the East Rotunda doors. Once inside, Warnagiris positioned himself in the corner of the doorway, using his body to keep the door open and pull others inside. When a U.S. Capitol Police (USCP) officer tried to pull the doors shut, Warnagiris refused and continued pushing it open. Warnagiris can be seen pushing the officer in an effort to maintain his position in the open door in security camera footage and publicly available video footage captured shortly after 2:25 p.m.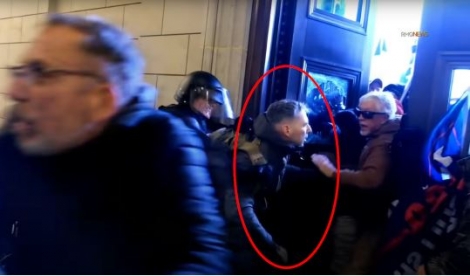 The case is being prosecuted by the U.S. Attorney's Office for the District of Columbia and the Department of Justice National Security Division's Counterterrorism Section. Valuable assistance was provided by the U.S. Attorney's Office for the Eastern District of Virginia.
The case is being investigated by the FBI's Washington Field Office, who identified Warnagiris as #241 in their seeking information photos.
In the first 120 days after Jan. 6, approximately 440 individuals have been arrested on charges related to the Jan. 6 Capitol breach, including over 125 individuals charged with assaulting or impeding law enforcement. The investigation remains ongoing.
Anyone with tips can call 1-800-CALL-FBI (800-225-5324) or visit tips.fbi.gov.
The charges contained in any criminal complaint or indictment are allegations. The defendant is presumed innocent unless and until proven guilty beyond a reasonable doubt in a court of law.
ATTENTION READERS
We See The World From All Sides and Want YOU To Be Fully Informed
In fact, intentional disinformation is a disgraceful scourge in media today. So to assuage any possible errant incorrect information posted herein, we strongly encourage you to seek corroboration from other non-VT sources before forming an educated opinion.
About VT
-
Policies & Disclosures
-
Comment Policy
Due to the nature of uncensored content posted by VT's fully independent international writers, VT cannot guarantee absolute validity. All content is owned by the author exclusively. Expressed opinions are NOT necessarily the views of VT, other authors, affiliates, advertisers, sponsors, partners, or technicians. Some content may be satirical in nature. All images are the full responsibility of the article author and NOT VT.