National Medal of Honor Museum Welcomes Newest Medal of Honor Recipient, U.S. Army Colonel Ralph Puckett, Jr. (Ret.), to Select Group of American Heroes
First published … May 21, 2021
Editor's Note: VT readers know what I am going to say here, "Better late than never." There are only a handful of Korean MoH recipients left. Ernst West died on May 1rst, at 89. He joined up with his home town friend John Collier, from Eastern Kentucky.
Collier jumped on a grenade to save his buddies, while West dragged three wounded men to safety while under fire on Heartbreak Ridge.
Both were given the Medal of Honor, and West never mentioned his without mentioning his old friend. West had not wanted to accept his on the grounds the everybody should get one if he did, but an Aunt and Uncle talked him out of that.
So we have a new President giving his first one out, and restocking the Medal of Honor Society with the elderly Colonel West in an historic event with Presdent Moon of Korea present. With all the continued political craziness going on we need these breaks.
Woody Williams, of Iwo Jima fame, who I interviewed a decade ago in Atlanta is the only surviving WWII MoH recipient, and still going strong at 97.
He and his two grandsons started the Woody Williams Medal of Honor Foundation in 2010, to begin building Memorial Monuments for Gold Star Families because he felt they had never been recognized as a unit for their loss. He wants this to be his legacy for all those who did not make it.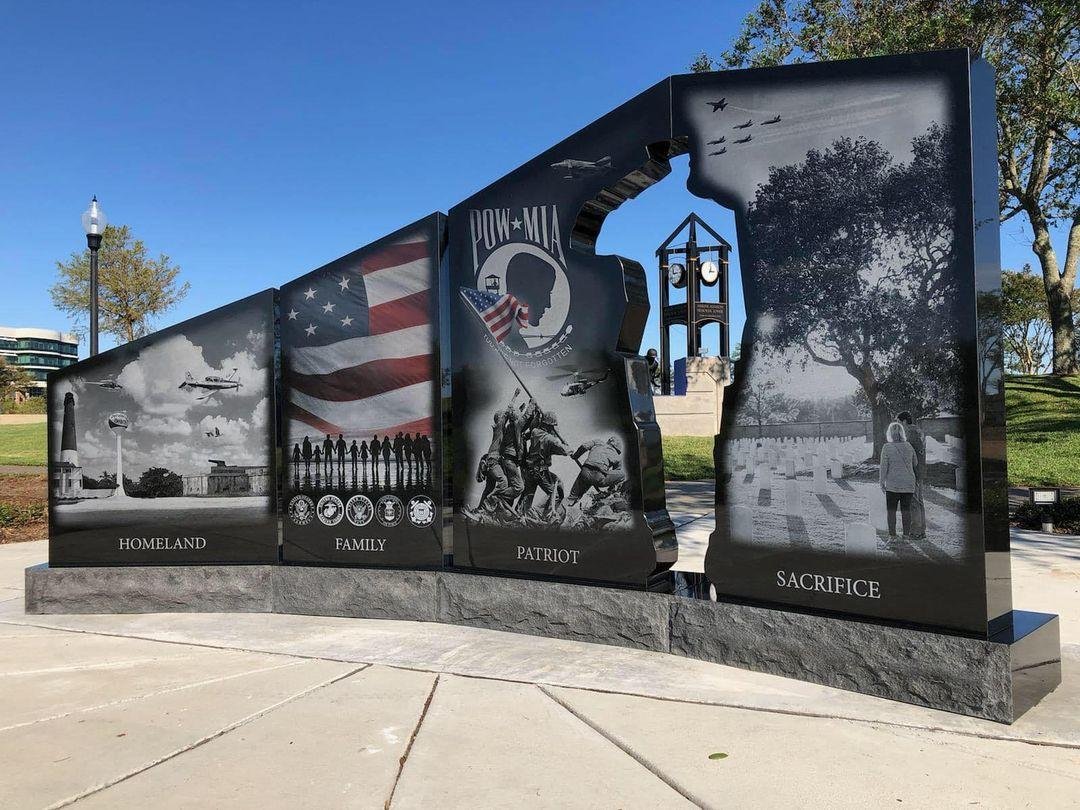 They have 76 completed now with 74 in progress, and VT will be promoting their effort by reporting monthly what all they have been doing. I am working on one here in Grand Rapids and hopefully another on Lake Michigan near Gordon.
The Puckett story below is from the Medal of Honor Museum office in DC, in a temporary home while they are working to build the National Medal of Honor Museum.
'For everything there is a season'. It is monument building time for Woody. I am hoping to book him for my Miltary Order of World Wars Cenntennial convention in Detroit in August. Gordon has told me a lot about his old home town, and I expect to have quite a week there.
But today we salute Colonel West for his living to see this day so we could share it with him. We are getting to an age that we don't think about WWII much until one of the remaining vets dies. The 'forever wars' are getting most of our attention… Jim W. Dean ]

Jim's Editor's Notes are solely crowdfunded via PayPal
Jim's work includes research, field trips, Heritage TV Legacy archiving & more. Thanks for helping. Click to donate >>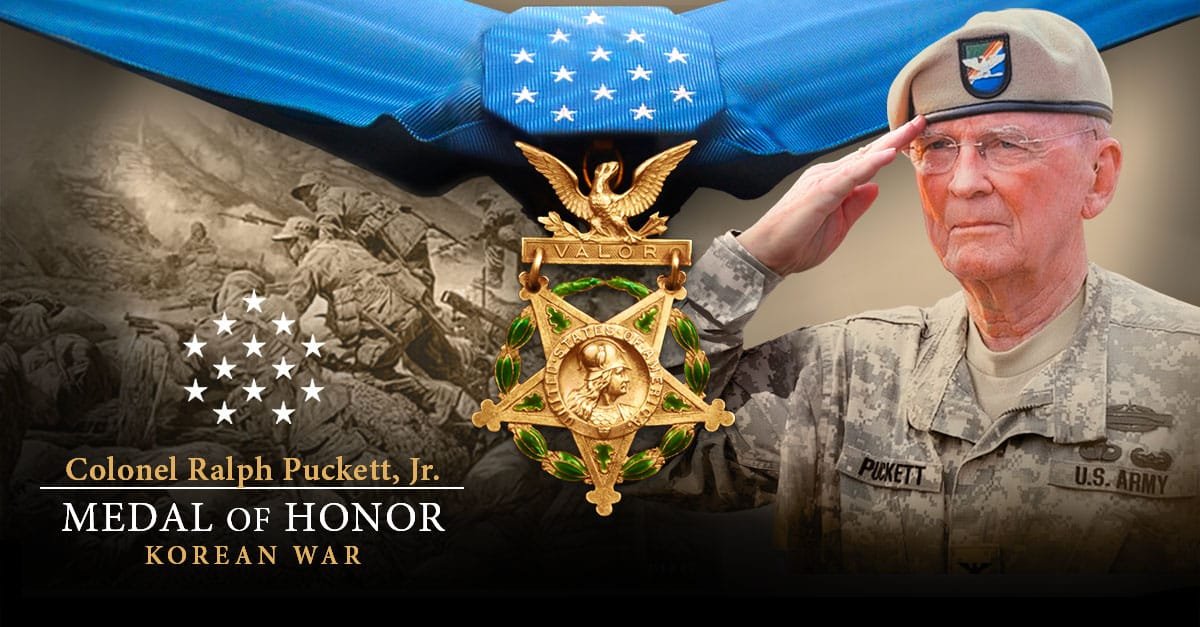 First published … May ??, 2021
WASHINGTON, D.C. – (May 21, 2021) – The National Medal of Honor Museum today welcomed America's newest Medal of Honor recipient, Colonel Ralph Puckett, Jr., U.S. Army, Retired, to the close-knit Medal of Honor community.
"It is a proud day for America to see Colonel Ralph Puckett, Jr. awarded the Medal of Honor. His courage on the battlefield and lifetime of service exemplify the enduring values of our nation's highest military award.
Over 70 years ago, as a 24-year-old First Lieutenant, he did everything in his power to keep his fellow Rangers alive on Hill 205 in Korea, risking life and limb for his brothers in arms. His actions in that battle are rightly recognized today as extraordinary.
A veteran of two wars and a gifted leader of men, Colonel Puckett went on to train and mentor multiple generations of U.S. Army Rangers, inspiring decades of excellence from the military's very best. The National Medal of Honor Museum congratulates this great American and is honored to be able to tell his amazing story," said National Medal of Honor Museum President and Chief Executive Officer James T. Connors.
Puckett joins the close-knit Medal of Honor community with recipients spanning every branch of service from numerous conflicts since the Civil War. Of the more than 3,500 individuals to receive the Medal of Honor, only 67 are still living today.
Puckett was awarded the Medal of Honor for his actions during the Korean War. While serving as the commander of the 8th U.S. Army Ranger Company on November 25 and 26, 1950, Puckett led his newly assembled Ranger company, a relatively small force, through six aggressive assaults by hostile forces that outnumbered them ten to one.
During the attacks, he was wounded multiple times by grenade and mortar fragments, yet refused to evacuate. When their position was in danger of being completely overrun, he ordered his men to leave him behind. They disobeyed the order and retrieved him while under fire.
Puckett has served the nation his entire life. His life of military service began in the U.S. Army Air Corps Enlisted Reserve. He attended and graduated from West Point in 1949 and remained in active duty for more than two decades. He fought in Korea and Vietnam, earning the Distinguished Service Cross in each conflict, two Silver Stars, and five Purple Hearts among numerous military decorations.
Today, his Distinguished Service Cross from the Korean War was upgraded to the Medal of Honor.
Puckett has dedicated his life to the service of others, particularly his fellow Army Rangers. Puckett was an inaugural inductee into the Ranger Hall of Fame in 1992 and spent 12 years as the 75th Ranger Regiment's honorary colonel. To this day, at 94 years of age, Puckett remains active in service to the military by mentoring future leaders.
To learn more about Colonel Puckett's actions that earned him the Medal of Honor and his life of continued service to our country and the U.S. Army's 75th Ranger Regiment, visit the National Medal of Honor Museum website.
**
President Biden on Friday awarded the first Medal of Honor of his presidency to retired Colonel Ralph Puckett Jr. for his "conspicuous gallantry" in the Korean War. Mr. Biden presented the medal, which is the nation's highest military honor, in a ceremony alongside South Korean President Moon Jae-in.
"President Moon, it's a real honor to have you here participating in this ceremony today," Mr. Biden said. "The strength of the alliance between the United States and the Republic of Korea was born out of the courage, determination and sacrifice of the Korean troops fighting shoulder to shoulder with American troops. And having you here today is an important recognition of all that our nation has achieved together, both of them, in the decades since."
President Biden said the honor for Puckett is "70 years overdue." The president said he's "incredibly proud" to give Puckett the full recognition he deserves, and he retold the story of Puckett's heroism.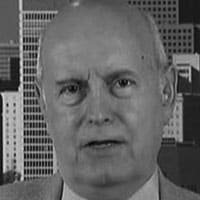 Jim W. Dean is VT Editor Emeritus.  He was an active editor on VT from 2010-2022.  He was involved in operations, development, and writing, plus an active schedule of TV and radio interviews.  He now writes and posts periodically for VT.
ATTENTION READERS
We See The World From All Sides and Want YOU To Be Fully Informed
In fact, intentional disinformation is a disgraceful scourge in media today. So to assuage any possible errant incorrect information posted herein, we strongly encourage you to seek corroboration from other non-VT sources before forming an educated opinion.
About VT
-
Policies & Disclosures
-
Comment Policy
Due to the nature of uncensored content posted by VT's fully independent international writers, VT cannot guarantee absolute validity. All content is owned by the author exclusively. Expressed opinions are NOT necessarily the views of VT, other authors, affiliates, advertisers, sponsors, partners, or technicians. Some content may be satirical in nature. All images are the full responsibility of the article author and NOT VT.