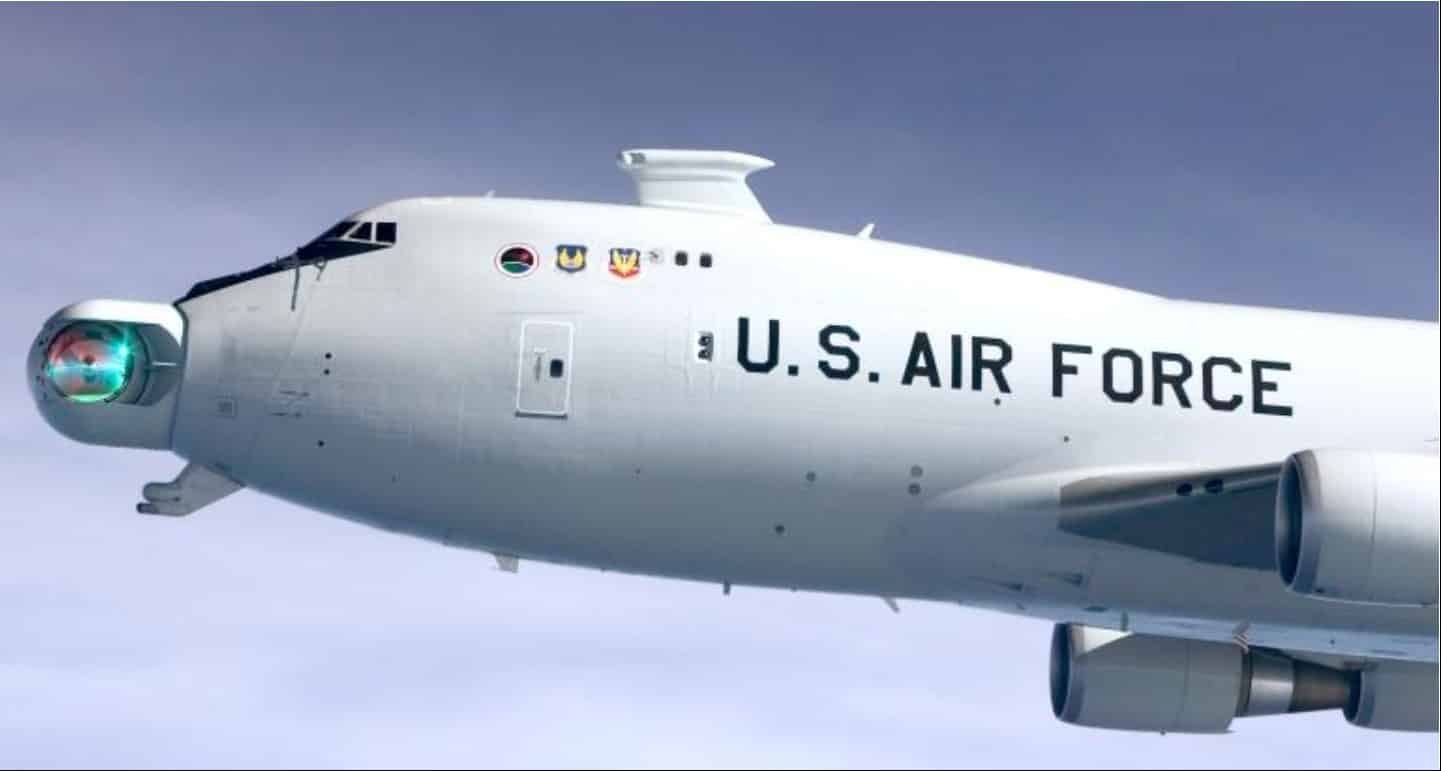 Directed Energy Weapons and Electromagnetic Bombs

 



(U.S. Air Force)
The nascent technology of Directed Energy Weapons (DEW) and Electromagnetic Bombs (E-bombs) will revolutionise many aspects of modern warfare. While immature, this technology will permit new offensive and defensive techniques against a wide range of targets. These non-nuclear weapons provide tactical options which did not exist decades ago, when nuclear High-altitude Electro Magnetic Pulse (HEMP) weapons were the principal capability in this domain.

This website will post a selection of relevant articles and papers. 
Microwave Directed Energy Weapon and E-Bomb Topics
Carlo Kopp
AOC and IOI: IO/EW/Cyber Operations International Conference
Oct 2012
E-Bombs vs. Pervasive Infrastructure Vulnerability
Carlo Kopp
Air Power Australia
Jan 2012

E-Bomb Frequently Asked Questions
Carlo Kopp

Air Power Australia

May 2008
Ranets E High Power Microwave Directed Energy Weapon
Carlo Kopp
RAAF APSC WP15
Jul 1993

A Doctrine for the Use of Electromagnetic Pulse Weapons [PDF]

Carlo Kopp
Air & Space Power Chronicles, Maxwell AFB
1996

The Electromagnetic Bomb – a Weapon of Electrical Mass Destruction
Russian Translation Part 1, 

 

Part 2
Mirror@GlobalSecurity.org,

 

Mirror@APA

Carlo Kopp
InfoWARcon 5 Conf Washington DC
Sep 1996

The E-bomb – A Weapon of Electrical Mass Destruction [PDF Slides]

Carlo Kopp
RAAF APSC WP50
Jun 1995

An Introduction to the Technical and Operational Aspect of the Electromagnetic Bomb [PDF]

Carlo Kopp

Journal of Electronic Defense
Mar 2003

E-Bombs Away! (EC Monitor)
Necati Ertekin

Naval Postgraduate School MEng Thesis

Sep 2008

E-Bomb: The Key Element of the Contemporary Military-Technical Revolution

Robert J. Capozzella, LtCol, USAF

Research Report
Air War College

Feb 2010

High Power Microwaves on the Future Battlefield: Implications for US Defense

Eileen Walling, Col, USAF

Center for Strategy and Technology
Air War College
May 2000

High Power Microwaves: Strategic and Operational Implications for Warfare

Alexander B. Prischepenko

 



Popular Mechanics Seminar

Nov 2010

Video (Russian language):

 


Electromagnetic Weapons: Myths and Reality
HPM E-Bomb / NCIS LA Episode 3.11 (Dec 2011)

 

Higher Power

Nuclear High-altitude Electro Magnetic Pulse Topics

William Graham et al
EMP Commission

Apr 2008

Report of the Commission to Assess the Threat to the United States from Electromagnetic Pulse (EMP) Attack

Irving Mindel
Defense Nuclear Agency
Oct 1977

EMP Awareness Course Notes, 3rd Ed

Philip Dolan

Defense Nuclear Agency

Jul 1978

Capabilities of Nuclear Weapons: Electromagnetic Pulse (EMP) Phenomena

Conrad Longmire

LNLL

June 1986

Justification and Verification of High-Altitude EMP Theory

Tesche F.M. et al

Defense Nuclear Agency
Feb 1992

Magnetohydrodynamic Electromagnetic Pulse (MHD-EMP) Interaction with Power Transmission And Distribution Systems

Steven Chavin et al

Defense Nuclear Agency

Aug 1979
MHDEMP Code Simulation of Starfish

Barnes P.R. et al
Defense Nuclear Agency
Sep 1993

MHD-EMP Analysis and Protection

Edward Conrad et al

Defense Threat Reduction Agency

Aug 2010

Collateral Damage to Satellites from an EMP Attack

 



Steven McGrath, Capt, USMC
Naval Postgraduate School MSc Thesis
Mar 1992

The Electromagnetic Pulse Environment and its Influence on Tactical Electronic and Communications Equipment

Ralph Johler

INSTITUTE FOR TELECOMMUNICATION SCIENCES AND AERONOMY

Dec 1966

Electromagnetic Pulse Propagation in the Normal Terrestrial Waveguide Environment

Technical Report

Office of Technology & Standards

June 1988

The Effects of High-altitude Electromagnetic Pulse (HEMP) on Telecommunications Assets

Kruse V.J. et al

Department of Energy

Apr 1991

Impacts of a Nominal Nuclear Electromagnetic Pulse on Electric Power Systems

Kevin Cogan
U.S. Army War College
Sep 2010

"IN THE DARK" Military Planning for a Catastrophic Critical Infrastructure Event (HEMP/Solar)

Robert Oreskovic, Col, US Army

U.S. Army War College

Mar 2011

Electromagnetic Pulse – a Catastrophic Threat the the Homeland

Thomas Riddle,LtCol, US Army
U.S. Army War College
May 2004

Nuclear High Altitude Electromagnetic Pulse: Implications for Homeland Security and Homeland Defense

Colin Miller

Center for Strategy and Technology
Air War College

Nov 2005

Electromagnetic Pulse Threats in 2010

Vincent Ellis

Harry Diamond Laboratories

Jun 1989

Consumer Electronics Testing to Fast-Rise EMP

Pierce J.R. et al

National Research Council

Aug 1984

Evaluation of Methodologies for Estimating Vulnerability to Electromagnetic Pulse Effects

Antti Pulkkinen

University of Helsinki

Aug 2003

Geomagnetic Induction During Highly Disturbed Space Weather Conditions: Studies of Ground Effects

Carlo Kopp
Air Power Australia
Jan 2012
Operations Hardtack and Fishbowl High Altitude Test Imagery [HEMP Primer]

Commission to Assess the Threat to the United States from Electromagnetic Pulse (EMP) Attack
EMPACT America

 

Website

Laser Directed Energy Weapon Topics

Carlo Kopp

Air Power Australia

May 2008
High Energy Laser Directed Energy Weapons
Carlo Kopp

Defence Today

Dec 2008

High Energy Laser air defence weapons [PDF]
Carlo Kopp

Defence Today
May 2006
Directed Energy Weapons Part 1 [PDF]
Carlo Kopp

Defence Today
Jul 2006

Directed Energy Weapons Part 2 [PDF]
Carlo Kopp

Defence Today
Nov 2006

Directed Energy Weapons Part 3 [PDF]
Carlo Kopp

Australian Aviation

Dec 1981

High Energy Laser Weapons
(U.S. Air Force)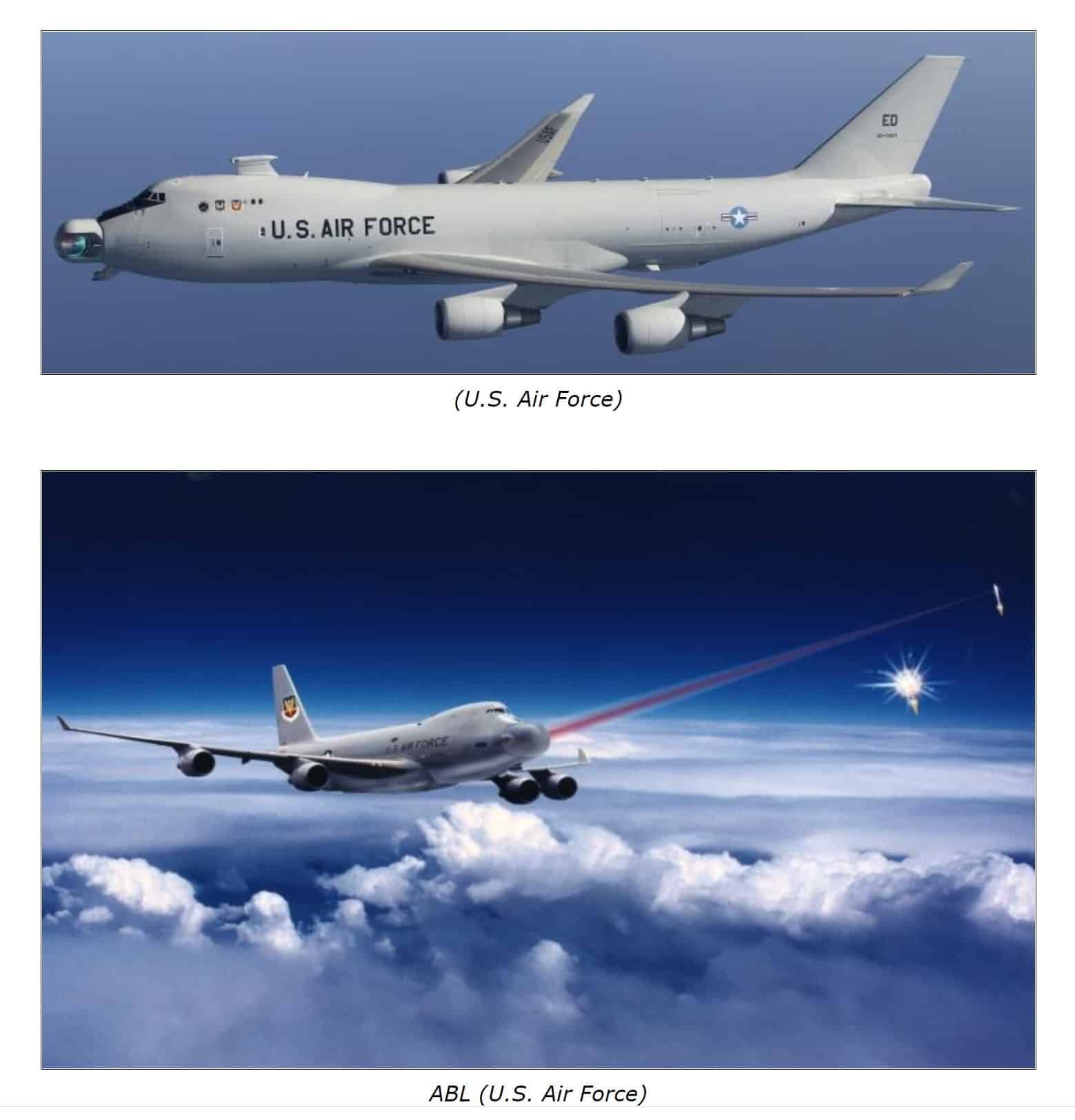 ABL (U.S. Air Force)
Related Links [Click for more …]
The first experiments using an airborne High Energy Laser (HEL) were performed by the US Air Force between 1975 and 1984, using a modified NKC-135A equipped with a carbon dioxide Gas Dynamic Laser (GDL). Despite its limitations the ALL system destroyed several AIM-9 missiles and a BMQ-34A drone (US Air Force).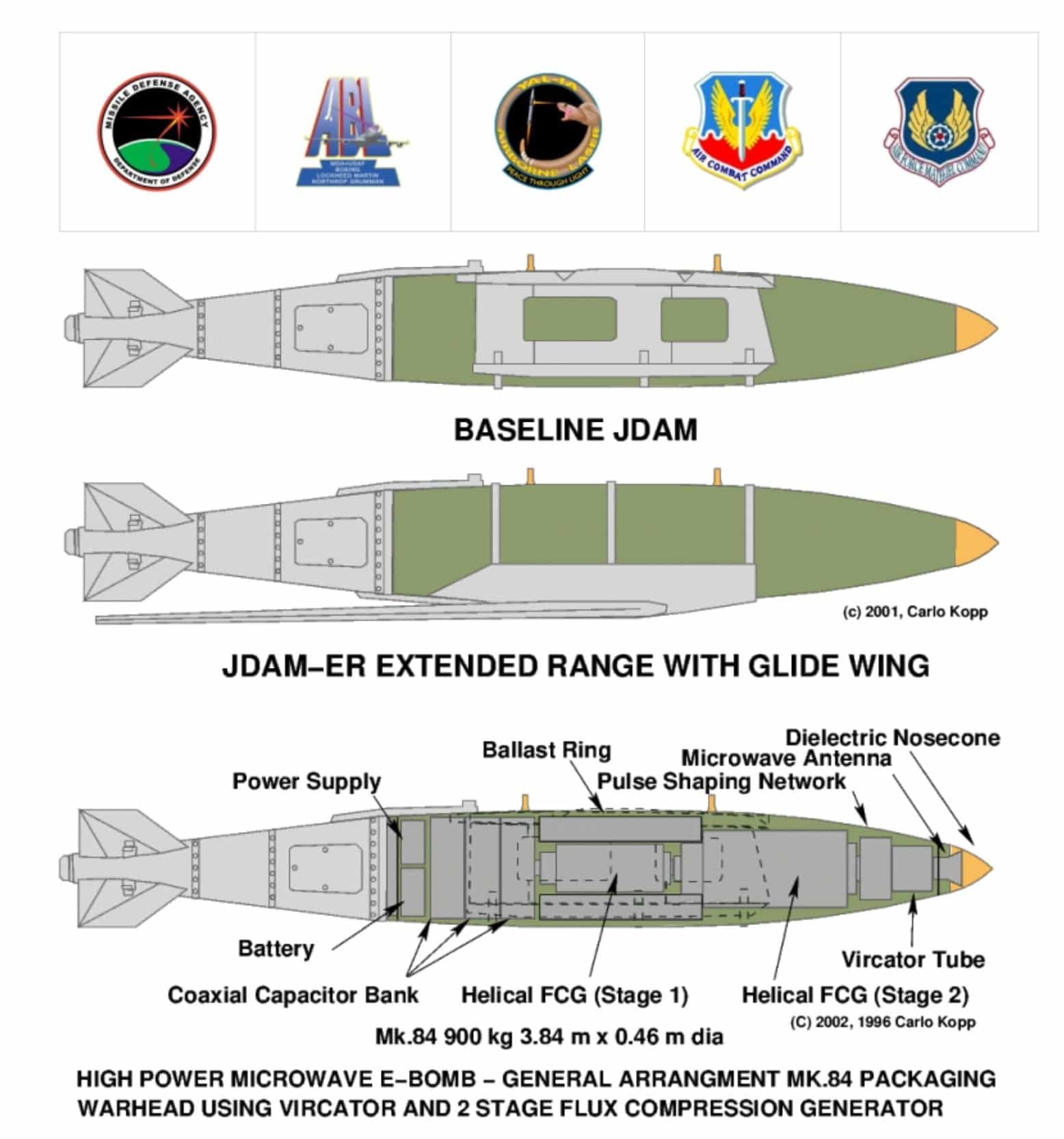 The development of compact E-bomb warheads, especially using HPM emitters, will permit their integration in a wide range of weapons. To date bombs, cruise missiles and artillery rounds have been proposed for the delivery of such devices. Depicted are some representative non-Western delivery systems and the most likely warhead packaging we can expect to observe (C. Kopp).
ATTENTION READERS
We See The World From All Sides and Want YOU To Be Fully Informed
In fact, intentional disinformation is a disgraceful scourge in media today. So to assuage any possible errant incorrect information posted herein, we strongly encourage you to seek corroboration from other non-VT sources before forming an educated opinion.
About VT
-
Policies & Disclosures
-
Comment Policy
Due to the nature of uncensored content posted by VT's fully independent international writers, VT cannot guarantee absolute validity. All content is owned by the author exclusively. Expressed opinions are NOT necessarily the views of VT, other authors, affiliates, advertisers, sponsors, partners, or technicians. Some content may be satirical in nature. All images are the full responsibility of the article author and NOT VT.