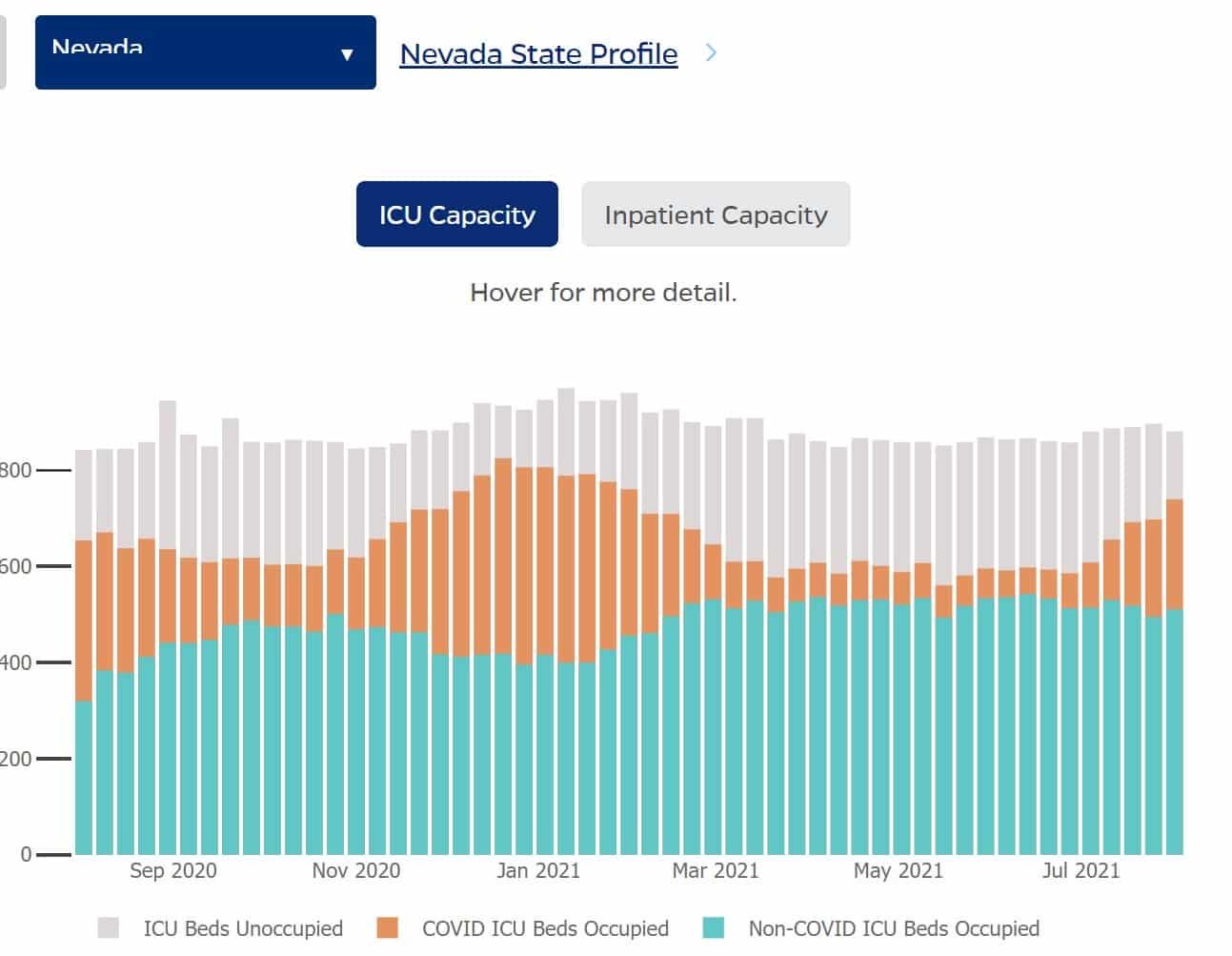 VT: My vaccine card, along with a list of other vaccinations, sits inside my Israeli tapped IPhone case.  I have kids and grandchildren that can't be visited because of COVID. (We're maybe secretly Germans)
There has never been a better time for getting out of the US and seeing if the rest of the world is as crazy (it isn't), and that's nearly impossible except for Ted Cruz.
Let's look at what should be learned.  Vermont is a "smart folks state."  There are NO people in ICU's dying from COVID.  Nobody.
Check:
https://coronavirus.jhu.edu/data/hospitalization-7-day-trend/vermont
Texas, Florida, you know the states, their ICU's are filling up.  There is no record of a vaccinated person, even 100 years old, in an ICU in the US suffering from COVID.
Read that one twice.
We appear to have, averaging about 62 years old, thousands and thousands of Americans of low IQ who have decided to die of COVID and are getting that wish.
Are you one of them?
Do you smoke?  Need to lose some weight?  Lack of vaccination, even if you are 30, can put you on a ventilator quick as shit.  That tube down your throat will be the end, no more sex, no more food, no more monster truck rallies.
The person doing it is saying, under their voice…"that dumb fuck did it to herself."
Go through the list at the link above.  It tells a story.  Then head to your email, maybe you can find a podcast that will tell you that democrats are releasing VZ gas from drones in the "dumb fuck states." 
I found a comment saying that today on VT.  WTF.
Daily Beast: One week after President Joe Biden announced that all employees and in-person contractors of the federal government will be required to be fully vaccinated for COVID-19 in order to return to the workplace, the government is still figuring out how to implement it.
The attestation system that Biden envisions is unprecedented in its scale and scope, dwarfing efforts by everything from Walmart to the Met Gala to start requiring proof of COVID-19 vaccination in order for Americans to work, eat, drink and play.
Despite that, the details of how it all will work have remained relatively unclear, with many officials across the federal government still waiting for an official timeline and process for clearing employees to return to work without restrictions.
"Each workplace is going to look different because the federal government is very diverse in terms of what its workplaces look like—some places will be able to do this quicker than others," a White House official told The Daily Beast. "A lot of this is in process. There's millions of employees and it's been four days."
The current plan to require vaccination for the more than 2 million people in the federal civilian workforce, officials told The Daily Beast, will not mirror the efforts of some cities and states to create a federal vaccine passport, or require federal employees to present vaccine cards to their superiors. Biden's plan will instead rely on one of the most universal tools of the federal bureaucracy: paperwork.
Federal workers will be asked to sign an attestation—effectively an affidavit—declaring that they have been fully vaccinated before returning to work. Knowingly lying on an attestation would be a violation of federal law, with those convicted facing up to five years in prison and a potential ban on ever serving in government again.  Read more…
https://www.thedailybeast.com/joe-biden-mandated-vax-for-feds-now-comes-the-hard-part?ref=home
---
18 U.S.C. § 1001 – U.S. Code – Unannotated Title 18. Crimes and Criminal Procedure § 1001. Statements or entries generally
(a)  Except as otherwise provided in this section, whoever, in any matter within the jurisdiction of the executive, legislative, or judicial branch of the Government of the United States, knowingly and willfully–
(1)  falsifies, conceals, or covers up by any trick, scheme, or device a material fact;
(2)  makes any materially false, fictitious, or fraudulent statement or representation;  or
(3)  makes or uses any false writing or document knowing the same to contain any materially false, fictitious, or fraudulent statement or entry;
shall be fined under this title, imprisoned not more than 5 years or, if the offense involves international or domestic terrorism (as defined in section 2331 ), imprisoned not more than 8 years, or both.  If the matter relates to an offense under chapter 109A, 109B, 110, or 117, or section 1591 , then the term of imprisonment imposed under this section shall be not more than 8 years.
(b)  Subsection (a) does not apply to a party to a judicial proceeding, or that party's counsel, for statements, representations, writings or documents submitted by such party or counsel to a judge or magistrate in that proceeding.
(c)  With respect to any matter within the jurisdiction of the legislative branch, subsection (a) shall apply only to–
(1)  administrative matters, including a claim for payment, a matter related to the procurement of property or services, personnel or employment practices, or support services, or a document required by law, rule, or regulation to be submitted to the Congress or any office or officer within the legislative branch;  or
(2)  any investigation or review, conducted pursuant to the authority of any committee, subcommittee, commission or office of the Congress, consistent with applicable rules of the House or Senate.
ATTENTION READERS
We See The World From All Sides and Want YOU To Be Fully Informed
In fact, intentional disinformation is a disgraceful scourge in media today. So to assuage any possible errant incorrect information posted herein, we strongly encourage you to seek corroboration from other non-VT sources before forming an educated opinion.
About VT
-
Policies & Disclosures
-
Comment Policy
Due to the nature of uncensored content posted by VT's fully independent international writers, VT cannot guarantee absolute validity. All content is owned by the author exclusively. Expressed opinions are NOT necessarily the views of VT, other authors, affiliates, advertisers, sponsors, partners, or technicians. Some content may be satirical in nature. All images are the full responsibility of the article author and NOT VT.