[ Editor's Note: While Biden is basking in the sunlight of 'not being Donald Trump, and hence a savior of sorts, he, like Trump, has some no-go areas.
While we have read much about the ripple effects of bad policy disasters under Trump, there remain those from the Obama administration, and now Biden to challenge their credibility as proponents of human rights and the US setting an example for others to follow.
Unfortunately, we have had a 'bad seed' among us, those who have been just fine with the economic advantages of using cheap proxy terrorists for regime change operations, which allows more of the defense pork to remain in the hands of the big defense contractors.
I do not have space today to get into the $100 billion per year in heroin trade coming out of Afghanistan. When is the last time any American heard about the DEA even filing a report on it, or the Defense Intelligence Agency, the State Department (which as a huge intelligence operation) showing what they have been doing to choke off the evil trade?
David is an Armenian patriot and serves his ancestors well via his continued battle to keep the depredations of Azerbaijan, and others, against Armenians who have just wanted to be left alone, living in their ancient lands.
But cash-rich Azerbaijan, with a non-democratic government, had no problem conducting an offensive war despite its close relations with the US and Russia, where both combined were powerless to reign Azerbaijan in.
With this last round of fighting, the Azeris took enough land to justify the effort to its people but left this bad example in the region for others to follow… Jim W. Dean ]
---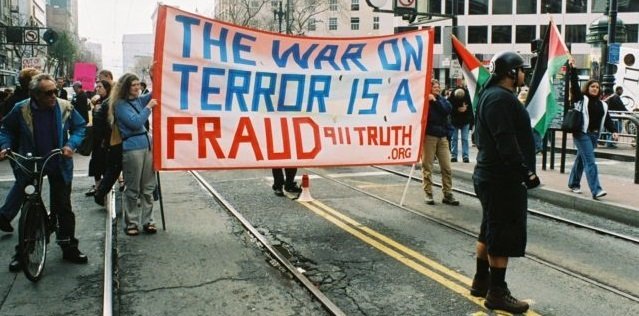 First published August 06, 2021  
by David Boyajian
Successive American administrations and the State Department have often shut their eyes to international terrorism and even covered it up.
As the 20th anniversary of 9/11 and America's Global War on Terrorism (GWOT) looms, this shocks the conscience.  It also endangers the homeland and our military men and women overseas.
We'll prove that Turkey and Azerbaijan remain among the most egregious sponsors of international terrorist organizations and that the U.S. covers those countries.
Among these organizations: ISIS, Al-Qaeda, Al-Nusra, Ansar Al-Din, Hamza Division, Hayat Tahrir Al-Sham, Jaysh Al-Sunna, Sultan Murad Brigade, Sultan Suleyman Shah Brigade/Al-Amshat, and more.
Terrorist Turkey
He also describes Turkey's sending terrorist mercenaries (some listed above) into Azerbaijan against Armenian-populated Artsakh/Nagorno-Karabagh in 2020.
As with Turkey, the State Department has largely ignored utterly corrupt Azerbaijan's long record of supporting terrorism.
Terrorist Azerbaijan
These included war criminal and former ISIS commander Sayf Balud.
As a result, one hundred bipartisan members of Congress (2021) and the European Union Parliament (2020) have condemned Azerbaijan and Turkey.
Azerbaijan is also violating the UN Convention against the Use of Mercenaries which it signed in 1997.  In November, the UN's Working Group on Mercenaries excoriated Turkey and Azerbaijan.  However, the UN's leading member has refused to raise this issue.
Candidate Joe Biden pledged to "rally the world" against "transnational terrorism."  Yet the White House has done nothing about Azeri terrorism.  Armenia, incidentally, is the only country in that region with no ties to international terrorism.
We've let our government make a farce of the GWOT.
More Cover-ups
On July 21, Senate Foreign Relations Chair Bob Menendez (D-NJ) asked Undersecretary of State Victoria Nuland about "Turkey facilitating the transfer of fighters from Syria to Azerbaijan" last year.
Her "answer"?  She'd discuss it only "in another setting," as if Menendez's assertion wasn't already public knowledge. Thus, Nuland covered for Azerbaijan and Turkey.
At a 2016 public forum in Cambridge, Massachusetts, I quizzed then-U.S Ambassador to Armenia Richard M. Mills about Turkey's support for ISIS.
I also mentioned that I'd be distributing Dr. David L. Phillips' ISIS-Turkey Links study to the audience. Mills angrily denied any and all ties between Turkey and ISIS or similar groups.  Like Nuland, he covered for Turkey.
We know Mills lied because in 2014 Vice President Biden told his Harvard audience that Turkey and others had been giving "hundreds of millions of dollars [and] tons of weapons" to Al-Nusra, Al-Qaeda, and ISIS.
President Obama immediately covered for Turkey by ordering Biden to apologize to President Erdogan.
Just after 9/11, then-U.S. Ambassador to Azerbaijan Ross L. Wilson spoke at Harvard before a small group that included me. I grilled him about a study on Azerbaijan's being a terrorist hub.
Wilson angrily denied it all even though the State Department had publicly acknowledged that Al-Qaeda in Azerbaijan had helped to carry out 1998's American embassy bombings.
Like the others, Wilson covered for Turkey.
Silence isn't Golden
The State Department apparently believes that terrorists are acceptable — provided they're backed by a NATO member (Turkey) or a country (Azerbaijan) with sundry gas and oil fields.
The relative silence of Americans and American organizations who favor a strong military, declare their opposition to terrorism, and lay claim to the religious high ground is similarly hypocritical.
Let us speak up and take action — or become complicit.

David Boyajian's main foreign policy focus is the Caucasus.  His work can be found at Armeniapedia.org
ATTENTION READERS
We See The World From All Sides and Want YOU To Be Fully Informed
In fact, intentional disinformation is a disgraceful scourge in media today. So to assuage any possible errant incorrect information posted herein, we strongly encourage you to seek corroboration from other non-VT sources before forming an educated opinion.
About VT
-
Policies & Disclosures
-
Comment Policy
Due to the nature of uncensored content posted by VT's fully independent international writers, VT cannot guarantee absolute validity. All content is owned by the author exclusively. Expressed opinions are NOT necessarily the views of VT, other authors, affiliates, advertisers, sponsors, partners, or technicians. Some content may be satirical in nature. All images are the full responsibility of the article author and NOT VT.