The Senior Editor
We have a guest suite off the main entry, it's his room.  When judging people, there are ways and there are ways.  He is or rather was a great houseguest, disturbingly honest and insightful and the pets loved him.
Right off, Steele is being attacked.  What was Steele's game?  What I can tell you is that he kept his cover right up to the last.  He was something very different than he seemed, than he sounded.  I would laugh, watching him on InfoWars, dragging Jones around by the nose.
Steele had other plans.
Steele, of course, says he isn't dead.  But he would say that, wouldn't he?
oops @csthetruth is Robert David Steele dead or not? pic.twitter.com/usvrH0bsP8

— Georgia Webb (@GeorgWebb) August 29, 2021
Our talks…he was always walking his poor little dog to death it seemed…mile upon mile.
I watched Steel put on his many hats, QAnon promoter, Trumper, always part of his long game to work the "Trump base," the only available and moldable political unit that could be turned around to save America.
Steele delved into that sewer, he immersed himself tirelessly in it but he did it for us.  Steele wasn't the fool some are saying but rather a martyr though that was never by choice.  He wanted more…a chance to make things right.
His "right" and my "right" are identical, a world without fear, without war, without rule by the real threats to mankind, manifested in Google Corporation and the pedophile rings he hated.
Few, perhaps none of you, ever saw the real Robert David Steele.  There were  layers there, games within games.  Steele was "taking his shot" at gaining the presidency, playing one side against the other but trusting in his own ability to, once he made it, to fix what is wrong.
We spent hundreds of hours on that one…always agreeing in principle and seldom in method.
Here's some more dangerous propaganda from Robert David Steele in which he brags about himself like the pompous narcissist he was and lauds criminal Russian asset Bill Binney.

My old pal livestock dewormer afficianado @JosephJFlynn1 makes an appearance as well. https://t.co/zX3ibRPmL9

— Jim Stewartson, Antifascist, #RIPQ 🇺🇸🏴‍☠️ (@jimstewartson) August 29, 2021
He felt Trump had to get into office…and then fail, leaving a power vacuum that would allow a clean sweep of the very real sewage we all see every day in Washington.
I was going to be Secretary of State or National Security Advisor.
I think he could have done it.
Inside…Robert was a nice little kid.  Few saw it.  He was demanding, sometimes oddly so and often confrontive with people he didn't respect.
His passing leaves a hole few will understand, one none can fill.
Maybe Trump would have listened to him, quite a gamble.  Steele had to hide so many of his core beliefs, particularly about Zionism which he found utterly revolting, in order to gain the promised financial support that would have, he believed, turned this country around.
His vision of what America needs to be is one I share.  He would have cleaned out the military industrial complex, emptied Washington of special interest money, the varying lobbies, Kosher Nostra most of all and stepped on the slithering creatures who make up congress and the political parties.
Likely I would have wielded the hammer.
He did what he did because he cared…not because he lived for power or fame.
What he really wanted was to buy a boat…and sail south and beyond, but he wanted to finish things beforehand.  They will never be finished.
His name goes with so many others, a list so many of us will be joining sooner than we imagine.
I always saw the kid inside Robert…a very nice little kid.  Behind the gruff exterior…and few could do "gruff" like RDS…was the soul of a poet warrior.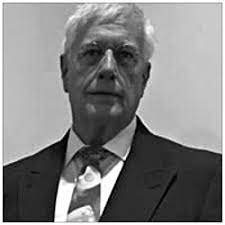 Gordon Duff posted articles on VT from 2008 to 2022. He is a Marine combat veteran of the Vietnam War. A disabled veteran, he worked on veterans and POW issues for decades.
Gordon is an accredited diplomat and is generally accepted as one of the top global intelligence specialists. He manages the world's largest private intelligence organization and regularly consults with governments challenged by security issues.
Duff has traveled extensively, is published around the world, and is a regular guest on TV and radio in more than "several" countries. He is also a trained chef, wine enthusiast, avid motorcyclist, and gunsmith specializing in historical weapons and restoration. Business experience and interests are in energy and defense technology.
ATTENTION READERS
We See The World From All Sides and Want YOU To Be Fully Informed
In fact, intentional disinformation is a disgraceful scourge in media today. So to assuage any possible errant incorrect information posted herein, we strongly encourage you to seek corroboration from other non-VT sources before forming an educated opinion.
About VT
-
Policies & Disclosures
-
Comment Policy
Due to the nature of uncensored content posted by VT's fully independent international writers, VT cannot guarantee absolute validity. All content is owned by the author exclusively. Expressed opinions are NOT necessarily the views of VT, other authors, affiliates, advertisers, sponsors, partners, or technicians. Some content may be satirical in nature. All images are the full responsibility of the article author and NOT VT.