by Fabio Giuseppe Carlo Carisio for VT Italy
Versione originale in Italiano
Author Note: some people don't even respect the death of an 18-year-old girl to argue that vaccines are good for you… The CDC confirmed that PCR Swab are not reliable so therefore all the data on infections from Covid-19 are false. I published many international research which are found in the main specialist scientific journal (British Medical Journal, Nature, Science, Science Direct, Oxford University…) not in the toilet…
COVID-19 HA UCCISO SOLO CHI MOLTO MALATO, MA PURE TANTI VACCINATI! Dati Shock dall'Istituto Superiore della Sanità
A few days ago the Istituto Superiore della Sanità (Superior Health Institute) of Rome published the report on deaths with Covid claiming that only 2.9% were killed by Sars Cov-2 while all the others died from previous serious diseases (most of them had at least 3) which Covid has complicated.
Gilead's Billionaire Antiviral vs Covid: Gates-CIA prophecy, WHO-Soros affairs. French Parliament Now Investigates…
In 2017, the Poynter Institute (mentioned below) received $1.3 million from the Omidyar Network and the Open Society Foundations in order to support new projects in three main areas: fact-checking technology, impact tracking, and financial awards through innovation grants and crowdfunding matches.
………………………….
[ Editor's Note: VT considers this report, one of many from Fabio, to discredit the Covid vaccines by publishing hyped numbers from the growing industry of habitual vaccine critics for various reasons, which we suspect to have been to increase their Google rankings and clicks, an epidemic of its on in online and social media.
Fabio has a good record of sending us well research material, but as with many others who are vaccine critics, their research skills seem to go in the toilet with it comes to fact checking their own contrary claims to public health officials, the value of who's work they just dimiss as having no credibility whatsoever.
"Heart Attacks Risk For Covid Vaccinated Pilots, Must Not Fly". US Air Force Medical Officer "Whistleblower" also denounces Toxic Substances in Vaccines
But to exclude including official information from EU authorities which disputes the anti-vaxer claims is not journalism. It is advocacy. Missing from all all the anti-vaxers reporting is any analysis of the lives that could have been saved had their been less hyping of the Covid vax threats.
The CDC and the major public health departments have had huge resources focused on following reaction to all of their vaccines. What I have seen from the anti-vax community is that it just waives this huge effort away, apparently having appointed themselves as the final arbitrator, but of course never having submitted their qualifications and competence to do so.
https://veteranstoday.com/2021/10/15/breaking-us-cdc-retires-pcr-test-due-to-it-may-cant-distinguished-covid-from-influenza-viruses/
Below is a fact check source that took about 10 seconds to find. I suspect an hour of research would turn up tons more.  It is from Politifact.com. Like VT they actually have a lot of professionally trained and experienced people to separate the real from the hype. And yes, they include the CDC's research as among their sources. Imagine that.
There are many more sources like this, that the anti-vaxers don't seem to want to know about, or more possibly do not want to find or know about material that refutes their positions.
…from the Poytner Institute
As states across the U.S. expand the eligibility for getting a COVID-19 shot, a conservative website blasted out a warning from Europe.
The Gateway Pundit claimed two of the vaccines being used in the United States are behind thousands of deaths and injuries in Europe.
"From Europe: 3,964 people have died from adverse drug reactions for COVID-19 'vaccines' – 162,610 injuries," said the headline of the March 28 story, which was shared on Facebook.
The Facebook post was flagged as part of Facebook's efforts to combat false news and misinformation on its News Feed. (Read more about our partnership with Facebook.)
The Gateway Pundit cites information from Global Research, a Canadian website run by the Centre for Research on Globalization, which was accused by NATO of posting conspiracy theories, spreading Russian disinformation and undermining Western media.
The post specifically looks at vaccines from Pfizer/BioNTech, Moderna and AstraZeneca, offering a breakdown of the different injuries and deaths purportedly associated with each vaccine using numbers from a European Union-maintained database called EudraVigilance.
The implication is the COVID-19 vaccines are harmful and could result in injury or death.
However, the numbers are taken out of context to exaggerate the risk of vaccines.
The EudraVigilance database itself cautions the information it collects is for "suspected side effects … but which are not necessarily related to our caused by the medicine."
"Information on suspected side effects should not be interpreted as meaning that the medicine or the active substance causes the observed effect or is unsafe to use," EudraVigilance's website says. "Only a detailed evaluation and scientific assessment of all available data allows for robust conclusions to be drawn on the benefits and risks of a medicine."
Taking the raw data of possible COVID-19 vaccination reactions at face value and using them without context is an oft-used tactic by people attempting to undermine public confidence in the vaccines, according to the New York Times. They frequently interpret the numbers from EudraVigilance or from its United States counterpart, the Vaccine Adverse Event Reporting System, as evidence of the vaccines' dangers.
Since VAERS doesn't show whether an adverse event was caused by the vaccine or occurred coincidentally, it's generally not useful on its own for assessing whether a vaccine poses a risk to human health, Dr. Walter Orenstein, associate director of the Emory Vaccine Center in Atlanta, previously told PolitiFact.
The numbers shared by both the European and American databases have also not been thoroughly vetted independently by scientists. In some cases, the reactions are self-reported.
A doctor once successfully reported to VAERS the flu vaccine had turned him into The Hulk, a Marvel Comics character, in an effort to show the possible dangers of blindly relying on the data.
It's too early to tell if the reactions that are being reported are merely coincidental. Regardless, health agencies in the United States and abroad continue to monitor the vaccines' safety.
The Centers for Disease Control and Prevention has been able to confirm extremely rare cases of people developing a severe allergic reaction to their vaccinations. Those reactions occur in about two to five people per 1 million who are vaccinated and can be treated quickly. There hasn't been any definitive proof that a COVID-19 vaccination led to someone's death.
So far, U.S. regulators have granted emergency use authorization to three vaccines — they come from Pfizer/BioNTech, Moderna and Johnson & Johnson. The CDC says the vaccines in use in the U.S. are safe and effective.
AstraZeneca has not yet asked the U.S. Food and Drug Administration for emergency use authorization for its COVID-19 vaccine.
A possible blood clotting issue, reported in Germany in relation to the AstraZeneca vaccine is currently under study and is said to be extremely rare. While several countries suspended the vaccine's use for certain groups, a definitive link has not yet been found.
Our ruling
A post claimed that in Europe "3,964 people have died from adverse drug reactions for COVID-19 'vaccines' – 162,610 injuries."
That's a misrepresentation of information in an European database that tracks suspected reactions to medicines, including COVID-19 vaccines. The agency behind the database cautions that the information is only of suspected side effects, and that it should not be interpreted as meaning that the medicine caused the effects or that it's unsafe.
A detailed evaluation and scientific assessment of all available data is needed before drawing conclusions, the agency said.
The COVID-19 vaccines have been administered to millions of people across Europe and the United States, and health agencies have vouched for their safety and effectiveness. We found no definitive proof that a COVID-19 vaccine caused someone's death.
We rate this claim False.  ….end Poytner Institute.
Editor's Note continued: The flip side of this, particularly here in the US, is that our current public health crisis is a pandemic of the unvaccinated. I have seen some of the autopsy photos of the dead, literally rotting themselves to death from the inside, a horrible way to die.
What kind of concern have the self righteous anti-vaxers had for these people?… basically zero from what I can see. At VT we have steadfastly looked at the data, and how professionally it was compiled.
Covid: More than 500 Complaints on alleged Italian State's Massacre due to the Ignored Therapies
We found people with reputations (and jobs) they did not want to use. In the anti-vaxer crowd we found an intensely biased crowd, mostly anti-vax all their lives, who saw Covid as an opporunity to engage in a anti-vaccine jihad, which that have done, and conveniently skipping putting their qualifications on the line.
Part of this is due to the social media pandemic, where both low self esteem people and egotistical ones, found Covid to be a warm and fuzzy place for them to be and get lots of attention, pretending they care about unnecessary deaths, but subject only to their rules.
Dr. Eran Elhaik, the Israeli geneticist that broke the story on VT how the vast majority of so-called Jews in Israel and in many other places, had no more Semitic DNA than I had. He used a wonderfu phrase a period at the end of this report. "They shot the arrow, and then they painted the bullseye around it." It is one of my cherished quotes.
https://veteranstoday.com/2021/10/20/zionist-lobby-1-singer-elliott-fink-blackrock-within-gates-soros-in-covid-big-pharmas-businessgsk-gilead/
And also, no one of any standing in the  Jewish community put a dent in his 'Who is reallyh a Jew' work. And as usual, our allegedly free mass media, completely ignored the work. As Gordon does so love to say, "Welcome to how the world really works"… Jim W. Dean ]
by Fabio Giuseppe Carlo Carisio for VT Italy
«The report on the death of Camilla Canepa, the 18-year-old student from Sestri Levante, who died last June at the San Martino hospital in Genoa after being vaccinated with Astrazeneca at an open day, was filed last June:" any previous pathology and had not taken any medication ".
Death from thrombosis "is reasonably to be referred to an adverse effect from the administration of the anti Covid vaccine," write the coroner Luca Tajana and the haematologist Franco Piovella in the report filed with the prosecutor to the prosecutors investigating the case. The girl was healthy, they point out, and the medical history form was filled in correctly as was the administration of the vaccine».
Disturbing and Mysterious Death of 18yo Camilla after Vaccine. AstraZeneca's Jabs stopped in Italy for Young People
The newspaper Il Messaggero confirms the atrocious suspicions that spread from the early hours of the girl's death. The mainstream media tried to blame a past immune disease as the cause of death. But the family members, through their lawyer, replied that the girl had no disease and therefore there could be no correlation with her sudden death.
Camilla in Italy, Simone in Us: Two Teens Died after different Vaccines
This terrible truth that emerged from the judicial investigation not only raises once again disturbing doubts on the safety of vaccines, in particular that of the monkey DNA-based gene serum supported by the Minister of Health Roberto Speranza in defiance of any reasonable doubt, but highlights another disconcerting circumstance concerning the modalities of mass vaccinations in the Hubs and in the Open Days, where the young girl was vaccinated, where there is not enough time to analyze the anamnesis of the vaccinees (the medical record). In her case, however, it would have been adequately "evaluated".
Covid Vaccinated, Ongoing Decimation! Meanwhile EMA Conceals Deaths' Data. More than 10 thousand People Died after Jabs in EU and Us
The fact remains that today an appraisal certifies only one thing: Camilla Canepa is one of those cases out of 100 thousand in which you crack for the vaccine. So far, the EudraVigilance pharmacovigilance report has recorded 27,000 reports of fatal cases after experimental gene vaccines authorized in the European Union. It should not be forgotten that a few weeks ago the death of a 44-year-old BBC presenter was unequivocally associated with the previous vaccination.
Coroner confirms 44-year-old BBC presenter died from AstraZeneca Covid-19 vaccine side effect
For the Italian Medicines Agency (AIFA) one death for every 100 thousand vaccinated is scientifically "acceptable" data. It is not for those like us who have known that for months now, since home therapies ignored by national health authorities have been applied by conscientious doctors at risk of breaking the absurd anti-Covid ministerial protocol based only on "watchful waiting and Tachipirina", he wrote of many Sars-Cov-2 patients recovered without vaccine but only with cortisone, antibiotics, hydroxychlorichine with the help of supplements such as Vitamin D, quercin or South African geranium.
Cortisone Defeated Covid-19: Oxford confirmed Italian Neurologist's Therapy Negleted. How many Deaths for WHO Faults?
Camilla Canepa is a state murder! Exactly like all those victims of a state massacre reported to various public prosecutors by the biologist Franco Trinca and by the lawyer Alessandro Fusillo and by many of their followers for effective home therapies against Covid but totally ignored.
IGNORED THERAPY: "Anti-SARS Drug Financed by EU but Not Used in Covid Pandemic". Hard Complaint by Italian Biologist and Lawyer
Faced with the death of an 18-year-old girl, the infamous political conspiracy sponsored by Big Pharma GSK, the multinational GlaxoSmithKline partner of Matteo Renzi's Democratic Party in the 12 compulsory school-age vaccinesthat now controls 70% of Pfizer's commercial network, and the same Pfizer, the main sponsor of US President Joseph Biden's campaigning campaign, should be stopped.
British Medical Journal Contested FDA for "Political Decision" on Full Approval of Pfizer Vaccine without Public Discussion of Data
We trust that at least one honest magistrate is still in Italy for too long has been fertile ground for the Mafia in association with the secret services of the Central Intelligence Agency which guarantees coverage of every great crime and massacre.
© COPYRIGHT GOSPA NEWS
no reproduction without authorization 
---
MAIN SOURCES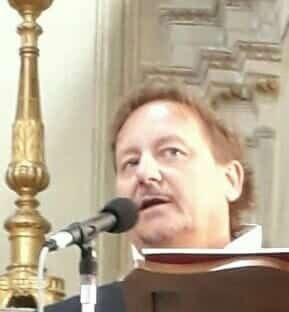 Fabio is Director and Editor of Gospa News; a Christian Information Journal.
Fabio Giuseppe Carlo Carisio, born on 24/2/1967 in Borgosesia, started working as a reporter when he was only 19 years old in the alpine area of Valsesia, Piedmont, his birth region in Italy. After studying literature and history at the Catholic University of the Sacred Heart in Milan, he became director of the local newspaper Notizia Oggi Vercelli and specialized in judicial reporting.
For about 15 years he is a correspondent from Northern Italy for the Italian newspapers Libero and Il Giornale, also writing important revelations on the Ustica massacre, a report on Freemasonry and organized crime.
With independent investigations, he collaborates with Carabinieri and Guardia di Finanza in important investigations that conclude with the arrest of Camorra entrepreneurs or corrupt politicians.
In July 2018 he found the counter-information web media Gospa News focused on geopolitics, terrorism, Middle East, and military intelligence.
His articles were published on many international media and website as SouthFront, Reseau International, Sputnik Italia, United Nation Association Westminster, Global Research, Kolozeg and more…
His investigations was quoted also by The Gateway Pundit, Tasnim and others
He worked for many years for the magazine Art & Wine as an art critic and curator.
ATTENTION READERS
We See The World From All Sides and Want YOU To Be Fully Informed
In fact, intentional disinformation is a disgraceful scourge in media today. So to assuage any possible errant incorrect information posted herein, we strongly encourage you to seek corroboration from other non-VT sources before forming an educated opinion.
About VT
-
Policies & Disclosures
-
Comment Policy
Due to the nature of uncensored content posted by VT's fully independent international writers, VT cannot guarantee absolute validity. All content is owned by the author exclusively. Expressed opinions are NOT necessarily the views of VT, other authors, affiliates, advertisers, sponsors, partners, or technicians. Some content may be satirical in nature. All images are the full responsibility of the article author and NOT VT.