…from South Front
[ Editor's Note: The Syrian Coalition remains in full preparation mode for a general Turkish attack by conducting joint operations with Russian and Syrian forces, with the Kurds participating in their respective areas.
Turkish and 'other country' jihadi proxies have been conducting diversion attacks in an obvious attempt to spread Syrian forces out widely. The attacks are being retaliated against with Russian air power, which effectively has been live fire training for Russian pilots being rotated through the Syrian conflict.
Any military units that go to war without this type of experience under their belt are at a great disadvantage. The Russians learned this during their early days of flying combat missions, which exposed a lot of weaknesses that had to be fixed.
After the first year of that war the Russian Air force had circulated all fighter and chopper pilots through that theater so they would go home as combat veterans to pass on what they had learned.
The last VT trip to Syria was a month before the Russians went in, although we were not aware of that coming, as we were focused on other matters. Top officials were very busy, working long hours.
The photo below was taken by Gordon at a midnight meeting at the Syrian Justice minister's office, that being the only open time of the day to have a conference.
Despite the long day, he (a non-muslim) managed to bring out a bottle of bourbon and glasses, which was not really something to partake of while talking to high level people in a war. I am off screen to the right behind Mike Harris trying to view the computer screen, as we were getting previewed the ISIS order of battle.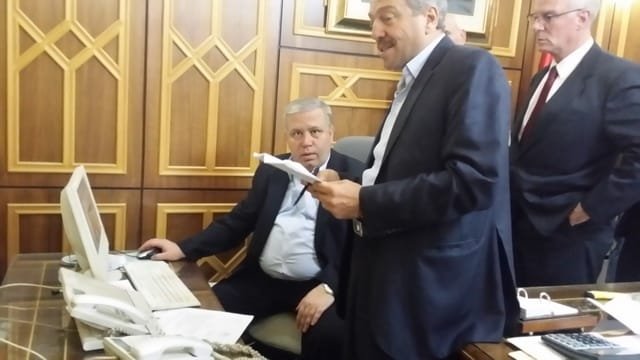 I remember the quote from Putin at the time when Western media was asking him about funding the cost of the war, and he replied that it was not really costing anything, as the military was using its training budget to do it.
The US does something similar with sending its special operations people anywhere it can for combat operations field experience.
December would be a rough month for Erdogan to initiate combat operations. That said, the Syrians might want to push them back out of Idlib and give the Turkish army a bloody nose. But Assad has shown throughout the war to be careful about exposing his army to a bad defeat because maintaining good morale is critical to the survival of the country.
The last major fighting in Idlib saw Turkey using large numbers of combat (Israeli) drones which really hurt the Syrians. Assad does not want to go through that again… Jim W. Dean ]

Jim's Editor's Notes are solely crowdfunded via PayPal
Jim's work includes research, field trips, Heritage TV Legacy archiving & more. Thanks for helping. Click to donate >>
First Published … November 05, 2021
Turkey's operation or two in northern Syria are expected to begin every day, yet they keep being "postponed". Currently, some would say that the situation has become quite complicated thanks to the presence and activities of US, and primarily Russian forces, mostly in the northeastern regions.
To further deter Ankara's ambitions, Russian forces are establishing a new base near the town of Manbij in the eastern countryside of Aleppo. As of November 5th, there have been Russian military vehicles and Syrian Arab Army (SAA) artillery present.
As an additional reinforcement to the northeastern region, Moscow is reportedly planning to deploy an S-400 long-range air-defense system. A number of Syrian and Russian Pantsir-S short-range air-defense systems and radars are known to be deployed at al-Qamishli Airport.
Manbij and its surroundings are held by the Kurdish-led Syrian Democratic Forces (SDF). The SAA established a network of positions around the town a few years ago in order to protect it from the Turkish military and its proxies who occupy nearby areas.
In the last few days, Russian forces and the SAA held a series of joint drills in northern and northeastern Syria in coordination with the SDF.
The drills are meant to show a joint resolve of the Damascus government and its allies to confront any Turkish attack on the SDF in order to maintain stability and security. The SDF and SAA cannot be considered as true allies, they are simply forced to cooperate in the face of a common adversary.
As in previous operations, Turkey is expected to rely mainly on a large force of Syrian rebels that it has trained and equipped over the last few years. At least 20,000 fighters now follow a unified command structure under what is being called the Syrian National Army.
While Ankara prepares to begin fighting, Israel is sporadically carrying out strikes on targets in Syria, and primarily in and around Damascus. Most recently, on November 3rd, two Israeli F-16 fighter jets targeted logistics support facilities of the Syrian Arab Army.
This does little to conceal the fact that Tel Aviv's forces are attempting to assist the Turkish Armed Forces in a potential fight, by impeding the SAA's ability to support its troops in a fight.
While all of this is taking place, ISIS are also conveniently increasing its activity on the ground diverting strengths and capabilities of Russia's Aerospace Forces (VKS) and the SAA. According to local reports, ISIS terrorists stepped up their attacks in eastern and central Syria in recent days.
VKS warplanes carried out at least ten airstrikes hitting ISIS positions in Syria's central region. The raids were likely a response to recent attacks in one of which ISIS militants destroyed a vehicle of Iraqi Kata'ib Hezbollah near the town of Madan in the eastern countryside of Raqqa with an anti-tank guided missile (ATGM).
How an ATGM got in the hands of the besieged terrorists is a mystery in and of itself, but there's many of those in northern and central Syria, near the positions of the US, Turkey and the various factions.
Thus, in general, events are becoming extremely complex and unstable. The coming days will show whether Turkey will decide to escalate in these conditions. It appears that the answer to that question may be no rather than yes.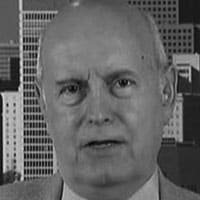 Jim W. Dean is VT Editor Emeritus.  He was an active editor on VT from 2010-2022.  He was involved in operations, development, and writing, plus an active schedule of TV and radio interviews.  He now writes and posts periodically for VT.
ATTENTION READERS
We See The World From All Sides and Want YOU To Be Fully Informed
In fact, intentional disinformation is a disgraceful scourge in media today. So to assuage any possible errant incorrect information posted herein, we strongly encourage you to seek corroboration from other non-VT sources before forming an educated opinion.
About VT
-
Policies & Disclosures
-
Comment Policy
Due to the nature of uncensored content posted by VT's fully independent international writers, VT cannot guarantee absolute validity. All content is owned by the author exclusively. Expressed opinions are NOT necessarily the views of VT, other authors, affiliates, advertisers, sponsors, partners, or technicians. Some content may be satirical in nature. All images are the full responsibility of the article author and NOT VT.