by Fabio Giuseppe Carlo Carisio for VT Europe
Those who seize the power and keep the power in Kyiv demand to stop hostilities immediately otherwise all the responsibility for the possible continuation of bloodbath will be on the consciousness of the regime that is ruling in Kyiv. By declaring this decision I'm confident that I will have the support of the people of Russia, all patriotic forces of Russia».
With these words ends the long speech of almost an hour given by the President of the Russian Federation Vladimir Putin to justify not only the recognition of the Separatist Republics of Donetsk and Lugansk, signed last night, Monday, February 21, 2022, but also their protection from attacks by the Ukrainian army began with the clumsy excuse of a "false flag" attack on asylum that only the corrupt Western media believed.
As Russia Today reports Putin has indeed instructed the Russian Defense Ministry to send peacekeepers into the Donbas while telling the Ministry of Foreign Affairs to establish diplomatic relations with both Donbas Republics. The measures have taken effect immediately.
The Kremlin's official move comes shortly after Putin's lengthy address to the nation on Monday evening, explaining the step as a long-overdue response to the brotherly Ukrainian nation becoming a "colony" of the West and falling under the rule of a "Russophobic" government both hostile to Moscow and denying ethnic Russians and Russian-speakers basic human rights.
COUP IN UKRAINE: THE GENESIS – 1. Snipers' Massacre in Kiev Maidan Square 2014 like that on CIA's Shade in Caracas 2002
As the situation in Donbas, we can see that the Kyiv elite keep stating publicly about the lack of willingness to implement the Minsk agreement to settle the conflict. They are not interested in peaceful resolution vice versa they want to start blitzkrieg as it happened back in 2014 – the Russian president blames – Everything was done in vain. The president is changing, the parliament members are changing but the idea of the aggressive regime is still the same.
A regime that ceased power in Kyiv was created by the coup d'etat of 2014. And those who choose the way of violence admit they see no other way to resolve the Donbas crisis other than the military way. In this regard, I deem it necessary to make a decision to should have been made a long time ago to immediately recognize the independence and sovereignty of Donetsk People's Republic and Lugansk People's Republic. I would like to request the federal assembly to back this decision and ratify the agreement of friendship and mutual help with both republics.
Ukraine: Bomb(?) on Kindergarten, Nato False-Flag & Jihadists. Sheikh Mansur Battalion Shielded by Soros-Us' Media
At the end of his long speech to the nation, the president then signed the decree recognizing the two self-proclaimed republics. The signing took place in the presence of the two separatist leaders, Denis Pushilin and Leonid Pasechnik.
Before these conclusions, his words had been touching and patronizing. Of course, my address is also aimed at our fellow citizens in Ukraine. We'll have to have a substantive and detailed conversation because the matter is very serious. The situation in Donbas is becoming critical and today I'm addressing you directly not only to talk about what's happening but also to inform you about the decision we're making about possible steps in this regard.
Once again I would like to underscore that Ukraine is not just a neighbor, a neighboring country to us. It is an inherent part of our own history, culture, spiritual space. They're our comrades, relatives, not only colleagues, friends but also our family. People we have had blood and family ties with since ancient times. Since ancient times people from ancient southwestern Russian lands were called themselves, recalling themselves Russian and Orthodox».
WEAPONS LOBBY – 5. NWO's Warfare Plan against Russia and Counter-Information. CEPA Project from Washington with NATO-EU & Defense Corporations
But the facts are something else according to Putin: The legacy left by the Russian Empire has been totally trampled. Kyiv is preparing to destroy Russian churches, Russia has become a common target of a campaign in which religion is also involved. Ukraine is trying to enter into conflict with us, there are terrorists in the country who are supported and encouraged by the international community.
Faced with this dramatic escalation, which by various leaders is already interpreted as an invasion, the Ukrainian Attorney General's initiative is hilarious, declaring that he has opened an investigation into the Russian president for the recognition of the separatist republics.
US President Joe Biden's decision to sign an executive order banning new investment, trade, and financing by US citizens in or from the so-called Donetsk and Luhansk republics is also smiling. This was announced by the White House, according to which this order will also give the authority to "impose sanctions on any person determined to operate in those areas of Ukraine.
UkraineGate: islamic reporter funded by Obama-Biden and Soros in 2014 coup, now at the top of weapon's industry
The NATO troops sent to reinforce Ukraine are ready for the worst but a confrontation could be avoided if they do not oppose the arrival of Kremlin troops in the Donbas, for years firmly in the hands of the Russian-speaking rebels who did not accept the 2014 coup financed by George Soros and the Western NATO embassies, as demonstrated in several of our investigations.
Along the warning sent to the USA and the Atlantic Alliance to which Putin himself asked to join. We need to have understood what is happening today to explain the motive and aims that Russia has. We need to say a couple of words about it. I will say one thing that I never said before in public. I will say it for the first time. Back in 2000 when president Bill Clinton was visiting Moscow at the end of his term I asked him how would America see Russia joining Nato. I would not give you all the details of that conversation but the reaction to my conversation looked well very reserved let me put it this way».
"US Military-Industrial Complex Wants War in Ukraine" Gabbard told. As the Nightmare of CEPA's Plan
Then Putin blurts out on the attitude of the military organization in Brussels. It still backs the question of why did they do that. What for ok you don't want to see a friend on us and ally in us but do you want to make an enemy out of us. The only answer that we got was it's not about our political regime or anything else. It's just they don't need such a big and independent country as Russia. So that's the answer to all the questions. That's the source of traditional American policy they pursue in the Russian track. That's reacting like this to all our proposals about security. You only need to look at the map to see how did the Western countries keep their word about the non-expansion of Nato eastwards they just lied to us».
In 1990, according to an official NATO document, it was said that the alliance would not expand to the East: empty words, exactly the opposite has happened. In 1999, Poland, Hungary, and the Czech Republic were included. Then another opening towards the Baltic Republics. Military infrastructures have arrived at the gates of Russia, with negative effects on the entire European security architecture: it was a strategic mistake» added the Russian president.
«They talk about the same open doors policy more than that once again they try to blackmail us. Once again they threaten us with sanctions and I think they still impose those, introduce those as strong and more powerful our country becomes we will always find an excuse to introduce more sanctions regardless of the situation in Ukraine that is the only goal is to contain the development of Russia».
And they will do that as they did it before without any formal excuse, only because we exist and we will never concede our sovereignty our national interests, and our values. And I want to be frank: in the current situation when our proposals about equitable dialect about principal matters had no response from the US and Nato when the level of threat for our country  Is becoming greater and greater Russia has every right to take countermeasures to enhance our security and that's how we plan to act».
Fabio Giuseppe Carlo Carisio
© COPYRIGHT GOSPA NEWS
prohibition of reproduction without authorization 
follow Gospa News on Telegram
---
MAIN SOURCES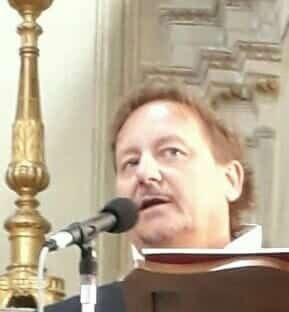 Fabio is Director and Editor of Gospa News; a Christian Information Journal.
Fabio Giuseppe Carlo Carisio, born on 24/2/1967 in Borgosesia, started working as a reporter when he was only 19 years old in the alpine area of Valsesia, Piedmont, his birth region in Italy. After studying literature and history at the Catholic University of the Sacred Heart in Milan, he became director of the local newspaper Notizia Oggi Vercelli and specialized in judicial reporting.
For about 15 years he is a correspondent from Northern Italy for the Italian newspapers Libero and Il Giornale, also writing important revelations on the Ustica massacre, a report on Freemasonry and organized crime.
With independent investigations, he collaborates with Carabinieri and Guardia di Finanza in important investigations that conclude with the arrest of Camorra entrepreneurs or corrupt politicians.
In July 2018 he found the counter-information web media Gospa News focused on geopolitics, terrorism, Middle East, and military intelligence.
His articles were published on many international media and website as SouthFront, Reseau International, Sputnik Italia, United Nation Association Westminster, Global Research, Kolozeg and more…
His investigations was quoted also by The Gateway Pundit, Tasnim and others
He worked for many years for the magazine Art & Wine as an art critic and curator.
ATTENTION READERS
We See The World From All Sides and Want YOU To Be Fully Informed
In fact, intentional disinformation is a disgraceful scourge in media today. So to assuage any possible errant incorrect information posted herein, we strongly encourage you to seek corroboration from other non-VT sources before forming an educated opinion.
About VT
-
Policies & Disclosures
-
Comment Policy
Due to the nature of uncensored content posted by VT's fully independent international writers, VT cannot guarantee absolute validity. All content is owned by the author exclusively. Expressed opinions are NOT necessarily the views of VT, other authors, affiliates, advertisers, sponsors, partners, or technicians. Some content may be satirical in nature. All images are the full responsibility of the article author and NOT VT.