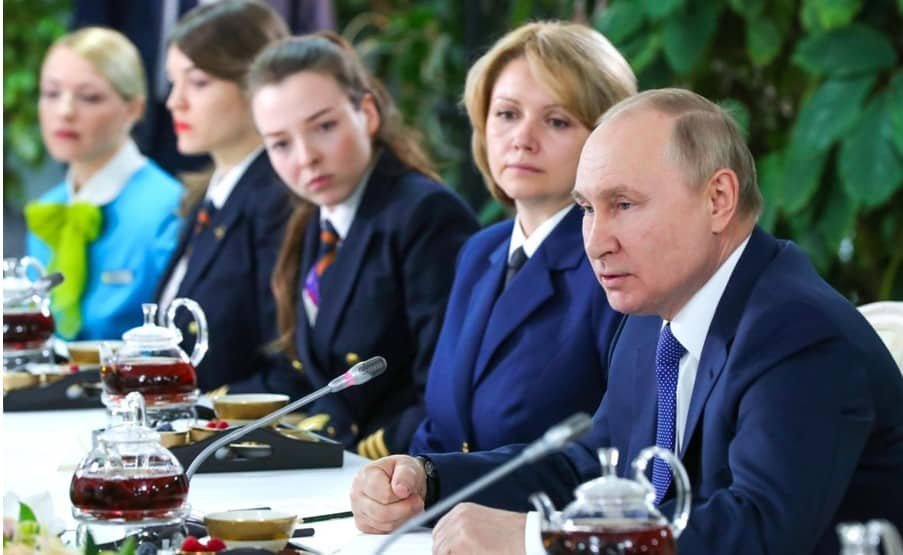 anti-spiegel.ru – Russian President Putin met with pilots and stewardesses to discuss the situation in the aviation industry. Of course, he was also asked about Ukraine.
At the meeting with female employees of the aviation industry, i.e. pilots and stewardesses, Putin was asked by a female Airbus co-pilot about the situation in Ukraine, the reasons for the military operation, and Russia's goals. I have translated Putin's full answer.
Start of translation:
I'll make it very short, but I still have to start, as they say in such cases, in the 'middle of the field.' I said it at the beginning of the operation and I talked about it before the decision was made – a difficult decision, no doubt.
What is it about?
It's about the fact that after the unconstitutional coup in Ukraine, which, unfortunately, was actively supported by Western countries… Why hide the sins, they don't even hide it, they openly said that they spent five billion dollars on it, they distributed warm buns on the Maidan and so on. And then, instead of getting the situation back under control, even if it got out of control, even if it was a so-called excess of the executors – there is a legal term for it, which means you planned one thing and did another – they could have and should have brought this situation back into political channels. This is all the more true because, on the eve of this coup, three foreign ministers came to Kyiv in 2014 and signed an agreement with the government of the day and acted as guarantors of those agreements that the situation would evolve politically.
No, nothing of the sort. They carried out a coup d'état. They supported those who carried out the coup. And then came the well-known events in Crimea and in southeastern Ukraine, in the Donbass, where people did not support the coup.
As you know, Crimea decided in a referendum to return to the Russian Federation. Of course, we could only support that, especially since they were threatened by nationalists and neo-fascists. I say now that there is all the evidence that they were right at that time.
And then, or almost in parallel, the events in the Donbass began. What did this lead to? The people who opposed this development, as a result, were persecuted, and the Kiev government began to conduct military operations in the area. They conducted two large-scale punitive military campaigns, using heavy equipment, fighter planes, direct attacks on Donetsk, shelling squares from above, tanks, planes, and so on.
Both campaigns failed, they were defeated. This was followed by the so-called Minsk Agreement, or the Package of Measures, as it is officially called, which pointed the way to a peaceful resolution of the conflict. And we tried to do everything in our power to go down that path, to restore the territorial integrity of Ukraine, and to protect the interests of the people who live in those territories.
And what did they demand? Elementary things: the right to speak their native language, in this case, Russian, and to live within their traditions and culture. It was nothing special. Nothing special.
No, Kiev organized a blockade of these areas, cutting them off from the banking system, from the supply of food, from the payment of pensions, social benefits, and so on. There were some handouts, but to get these benefits and pensions, you had to cross the front line.
(Translator's note: This is true, I know such cases myself. In the summer of 2014, Kiev stopped pension payments in the Donbass. Those who wanted to get pensions had to go through the front line into Ukraine, register as refugees, and then for each pension payment go through the front line again into Ukraine to collect their pensions).
Do you know what I want to say? This may sound harsh, it just came to my mind, but still, the situation forces me to say these things. You see for yourself when in one region or another stray dogs attack and injure people, and there are even fatal cases, and then – and this is a separate problem that local authorities have to deal with – we see how people start poisoning, killing, shooting these animals. Listen, but people in Donbass are not stray dogs after all. Over the years, between 13,000 and 14,000 people have been killed, over 500 children have been killed or maimed.
But what is particularly unbearable is that the so-called civilized West has not noticed this all these years. Listen, eight years!
Moreover, the government in Kiev has recently begun to state directly and publicly that it has no intention of implementing this agreement. They talk about it on TV, on the Internet, everywhere they publicly say "we don't like it", "we won't do it" At the same time, they have repeatedly accused Russia that we don't comply with the agreement. This is just nonsense, a theater of absurdity: they say "black" to what is white and "white" to what is black.
Lately, it's gotten worse. Suddenly they started talking about what they are going to do, well, they have been talking about it for a long time, but they started talking more and more actively about Ukraine joining NATO. Do you understand what that could have led to or could still lead to?
If Ukraine is a NATO country, then under the organization's founding treaty, all other members of the alliance are obligated to support that country in the event of a military conflict. No one but us here recognizes Crimea as Russian.
They are conducting military operations in the Donbass, they will also go to Crimea, and then we will have to go to war with all of NATO. What is that? Are the consequences clear or not? I think they are clear to everyone.
Now there is talk of obtaining nuclear status, that is, acquiring nuclear weapons. We cannot ignore this, especially since we know how the so-called West behaves towards Russia. (Translator's note: Western media have hardly reported on this, but Ukrainian President Selensky openly announced at the Munich Security Conference the weekend before the Russian military operation that his country would like to acquire nuclear weapons.)
First, Ukraine still has nuclear capabilities from the Soviet era in terms of nuclear enrichment, so it will be able to organize that work. There are missile systems, which means Yushmash alone, it has developed intercontinental ballistic missiles for the Soviet Union. And there overseas, they're still helping to do that. And then they will say, "We don't recognize the nuclear status, they did that themselves." They will bring these systems under their control, and from that second on, the fate of Russia will be completely different. Because then our strategic adversaries won't even have to have intercontinental ballistic missiles, they'll keep us right here in the nuclear crosshairs and that's it.
How can we ignore all of that? These are absolutely real threats, this is not some farfetched nonsense. And our guys who are fighting there now are laying down their lives-they are fighting for our future, for our children's future. That's an absolutely obvious thing.
And the people who don't want to understand that, especially from today's leadership, should understand that if they continue to do what they're doing-I've talked about this, too-they're putting the future of our statehood in jeopardy, and if that happens, they're going to have it on their conscience.
What is happening now? I have already talked about the goals that we have set.
The first, of course, is to protect the people of Donbass. How? By demilitarizing and de-nazifying Ukraine, giving it a neutral status. Why? Because it will not join NATO if it is neutral. And it's in the Ukrainian constitution that they go into NATO. Understand, they wrote that in the constitution!
What is denazification? I talked to my Western colleagues, and they say, "What's the matter, you have radicals too." Yes, there are, but we don't have radicals in the government. And everybody admits that there are them there in the government. Yes, we might have a few jerks running around somewhere with swastikas, but do we support that at the state level? Do we have thousands of people walking around our capitals with swastikas and torches – in Moscow or in our other regional capitals – like in Germany in the 1930s? Does that exist in our country? There is, and it is supported. Do we support those who killed Russians, Jews and Poles during the war, do we make them heroes? But that is what is done there. (Translator's note: All that Putin says about Ukraine is true, I have listed some examples here).
What is happening now is also very important. You see, they have taken foreign citizens hostage, in Sumy, in Kharkiv – more than six thousand young people, students. They've herded them into the train station and have been holding them there for three days. Listen, they have been holding them there for three days! We have told everybody. We told the current leadership of Ukraine, and they, "Yes, yes, of course, we are doing everything now." We told the European leaders, and I personally told them, and they, "Yes, yes, we are exerting influence now." We told the Secretary-General of the United Nations, and he said, "Yes, we are taking care of it now." Nobody is doing anything!
(Translator's note: This is also true and this is also known to the Western media, because the Kremlin reported on the phone call with Chancellor Scholz that Putin informed Scholz about how Nazi battalions use civilians as human shields, Putin also informed Scholz about the situation of foreign students. If the Kremlin's report were untrue and Putin had not told Scholz this, the Chancellor's Office would have reacted accordingly. The same goes for the phone call with French President Macron, in which Putin told Macron about Indian students taken hostage by Nazi battalions in Kharkiv, and Putin asked Macron to work for their safe evacuation).
They treat the people they consider their own citizens even worse. They simply use them directly as "human shields"
In Mariupol, this is happening right now as we speak. The government in Kiev has called our soldiers, "Provide corridors for the departure of citizens" Of course, our guys responded immediately – immediately! – And even suspended combat operations and looked to see what was going on. They're not letting anybody out. Do you understand what they are doing? They're not letting anybody out, they're using them as "human shields." Who are 'they'? Of course, the neo-Nazis. (Translator's note: This is also true, the demand for safe corridors was also reported by Ukrainian media, only then Ukraine did not implement it itself. I have since reported on this, details can be found here).
We register the presence of fighters from the Middle East and from some European countries. We know it, we hear them on the airwaves. They are using what is called jihad mobiles – they are filling cars with explosives and driving them to the troops. But they have not succeeded and will not succeed.
Who are such people if not neo-Nazis? By such actions, they destroy their country and their statehood.
Therefore, one of our main demands is demilitarization, that is, we help the citizens, the residents of the Donbass, by seeking the neutral status of Ukraine, by seeking the demilitarization of the country, because we need to clearly understand which weapons are under whose control and where.
There are various options here that we are discussing now, including with representatives of the government in Kiev during the negotiation process in Belarus. We thank President Lukashenko for organizing this workshop and helping us to conduct these negotiations.
Our proposals are on the table of the negotiating team from Kiev. We hope that they will respond positively to them.
End of translation
Source: anti-spiegel.ru
ATTENTION READERS
We See The World From All Sides and Want YOU To Be Fully Informed
In fact, intentional disinformation is a disgraceful scourge in media today. So to assuage any possible errant incorrect information posted herein, we strongly encourage you to seek corroboration from other non-VT sources before forming an educated opinion.
About VT
-
Policies & Disclosures
-
Comment Policy
Due to the nature of uncensored content posted by VT's fully independent international writers, VT cannot guarantee absolute validity. All content is owned by the author exclusively. Expressed opinions are NOT necessarily the views of VT, other authors, affiliates, advertisers, sponsors, partners, or technicians. Some content may be satirical in nature. All images are the full responsibility of the article author and NOT VT.