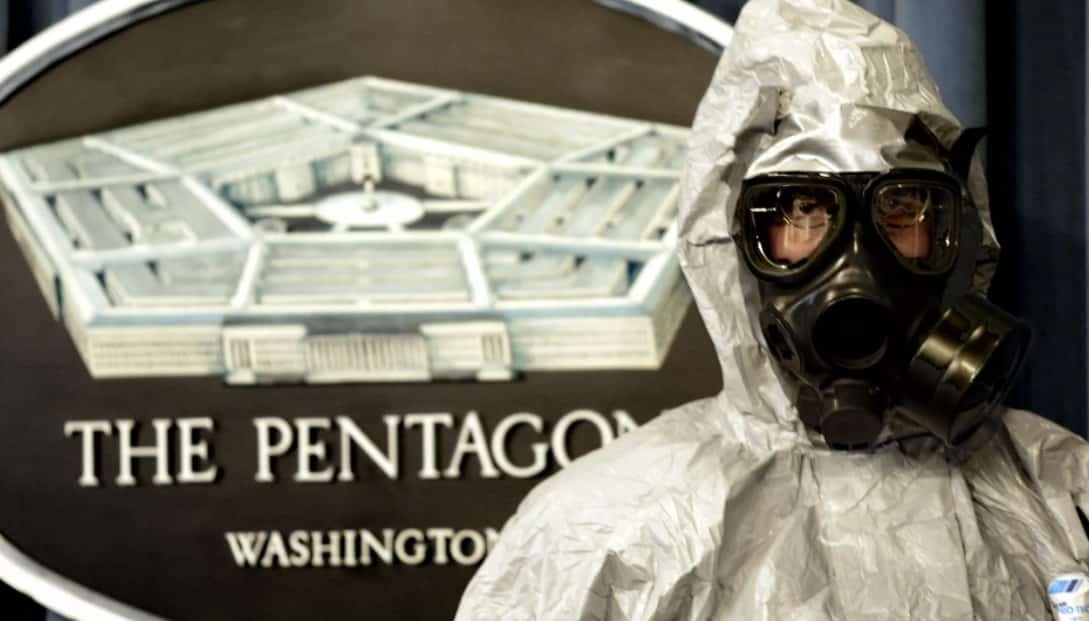 Being updated
Sourced from Russian State Controlled Media.  However this is a confirmed story.
The Russian military began to pull back the curtain on the size and scope of the network of Pentagon-funded biolabs in Ukraine last week. US officials and media initially dismissed these revelations as "Russian disinformation," but were forced to correct their narrative after undersecretary of state Victoria Nuland admitted that such labs do exist.
The Russian Ministry of Defence has released fresh details about the US military-funded biolabs operating in Ukraine, including a trove of original documentation. The MoD also revealed that Joanna Wintrol, the US Defence Threat Reduction Agency's liaison officer at the US Embassy in Kiev, has been serving as one of the program's curators.
Commenting on a trove of papers released in a presentation Thursday, Russian Radiological, Chemical, and Biological Defence Troops chief Igor Kirillov pointed to a document dated 6 March 2015 which he said confirmed in no uncertain terms that components of biological weapons were being created in Ukraine with direct US involvement and financing.
"An analysis of the information received suggests that Ukrainian specialists have not been made aware of the potential risks involved in the transfer of biomaterials, and that they are essentially being used and kept in the dark, and have no real idea about the true goals of the ongoing research," Kirillov said at a briefing in Moscow on Thursday.
Kirillov suggested that it was "no coincidence that these biolaboratories were chosen by the DTRA and its contractor Black & Veatch "to execute Project UP-8, directed at the study of pathogens of Crimean Congo hemorrhagic fever, leptospirosis and hantaviruses," given that these pathogens have natural foci in both Ukraine and Russia.
Document© screenshot
"Their use can be disguised as the natural outbreak of diseases. This is why this particular project received additional funding, and the deadlines for its implementation were extended," Kirillov said.
In all, the Russian RCB Troops' analysis determined that labs in Kiev, Odessa, Lvov and Kharkov had received $32 million in funding for Project UP-8.
Ukrainian biolaboratories were also the main executor of Project P-782, conducting research into the transmission of diseases through bats. A Russian RCB Troops analysis of documents in this area has shown that Pentagon research in this area has been going on since at least 2009 under the direct supervision of US specialists and that work in this area was undertaken in related projects, known as P-382, P-444, and P-568.
Kirillov said the Pentagon had invested $1.6 million into this research, which was said to have been carried out at a lab in Kharkov, northeastern Ukraine, and the Lugar Center in Tbilisi.
"One of the curators of this activity was DRA Chief Joanna Wintrol. Perhaps she should speak to journalists?" Kirillov suggested.
Document
The officer said that documents showed that the Pentagon began its bat-related research in October 2019, on the eve of the start of the coronavirus pandemic.
Document
Project Flu-Fly-Way
The officer also pointed to new information gleaned from documents received from the Kharkov Institute of Veterinary Medicine on the use of wild migratory birds as vectors for the transmission of a highly pathogenic form of avian influenza. This research, he said, included a study of the conditions under which the processes of the virus's transmission could become uncontrollable, with the purpose being to cause economic damage and creating risks to food security.
Document
© screenshot
The same Kharkov lab, he said, has been involved with the collection of strains of avian influenza with high epidemic potential, including those capable of overcoming the interspecies barrier.
Kirillov also reported that the MoD has information that Ukraine's biolabs are continuing to destroy biomaterials and documentation on their research into dangerous viruses, in accordance with instructions sent out last month by Ukraine's minister of health.
Document
"We continue to receive information about attempts to destroy biomaterials and documentation in Ukraine's laboratories. We are aware that during such liquidation activities at the Laboratory of Veterinary Medicine in the settlement of Khlebodarskoye [Odessa region] Ukrainian nationals working at the lab were not even allowed in the building," the officer said.
The emergency destruction of documents has also taken place in a biolab in the city of Kherson. In that case, Kirillov speculated, "one of the reasons the rush may be to conceal information about the outbreak of dirofilariasis, a disease transmitted by mosquitos, which took place in Kherson in 2018.
"The question arises about why four cases of infection were detected in February, which is not typical given the life cycle of these insects. In April 2018 Pentagon representatives visited local health facilities, where they were acquainted with the results of an epidemiological investigation and copied down medical records," the officer said.
Document
"This laboratory cooperates with the Mechnikov Anti-Plague Research Institute in Odessa, which conducts research on plague, anthrax, cholera, tularemia and arboviruses," Kirillov said.
Kirillov also expanded on previously-made MoD allegations on the sending of serum samples of Ukrainian patients abroad, citing documentation on the transfer of 5,000 samples to the Lugar Center, and indications that 773 more samples were sent to a UK reference lab. The MoD released a sample invoice.
Document
© screenshot
Commenting on the impact of these biolabs' operations for the region, Kirillov said that the unusual 2018 deaths of over 70 residents of the settlement of Peski, Donetsk People's Republic from drug-resistant strains of tuberculosis may be associated with the activities of one such lab, with pathogens either accidentally or deliberately leaked.
The officer accused the United States and Ukraine of keeping quiet about the biological activity taking place at Ukrainian Biolabs from the United Nations, notwithstanding the Biological Weapons Convention's rules, which require member countries to submit detailed information on their ongoing biological activities.
"I'm referring here to the confidence-building measures, which are published with the aim of monitoring the implementation of the Convention. Since 2016, the moment that the projects we've named began to be realized…the United States and Ukraine have deliberately kept silent about this work in international reporting, due to its clear military-biological direction. This secrecy is another reason to stop and think about the goals the Pentagon is pursuing in Ukraine," Kirillov suggested.
Essentially, the officer said, Washington's use of third countries to carry out military biological activities was a means to bypass its international obligations by proxy. The current activity isn't new, Kirillov stressed, pointing to President Barack Obama's admission in 2010 that the United States carried out illegal research involving the deliberate infection with syphilis and gonorrhea pathogens of Guatemalan citizens back in the 1940s.
ATTENTION READERS
We See The World From All Sides and Want YOU To Be Fully Informed
In fact, intentional disinformation is a disgraceful scourge in media today. So to assuage any possible errant incorrect information posted herein, we strongly encourage you to seek corroboration from other non-VT sources before forming an educated opinion.
About VT
-
Policies & Disclosures
-
Comment Policy
Due to the nature of uncensored content posted by VT's fully independent international writers, VT cannot guarantee absolute validity. All content is owned by the author exclusively. Expressed opinions are NOT necessarily the views of VT, other authors, affiliates, advertisers, sponsors, partners, or technicians. Some content may be satirical in nature. All images are the full responsibility of the article author and NOT VT.