DISCLOSURE: Sourced from Russian government funded media
FULL DISCLOSURE: Sourced from Russian State-Controlled Media
VT Report from the Scene: 3 helicopters were shot down but Russians chose to let the 4th land where Azov commanders who were hiding in an underground bunker (leftover from a real German Nazi base during World War II) popped out and loaded themselves on…thinking they were going to be brought to Biden's side.
Russians watched the whole thing with drones…they let the 4th helicopter take off….then shot it down as well where the crash would not endanger civilians.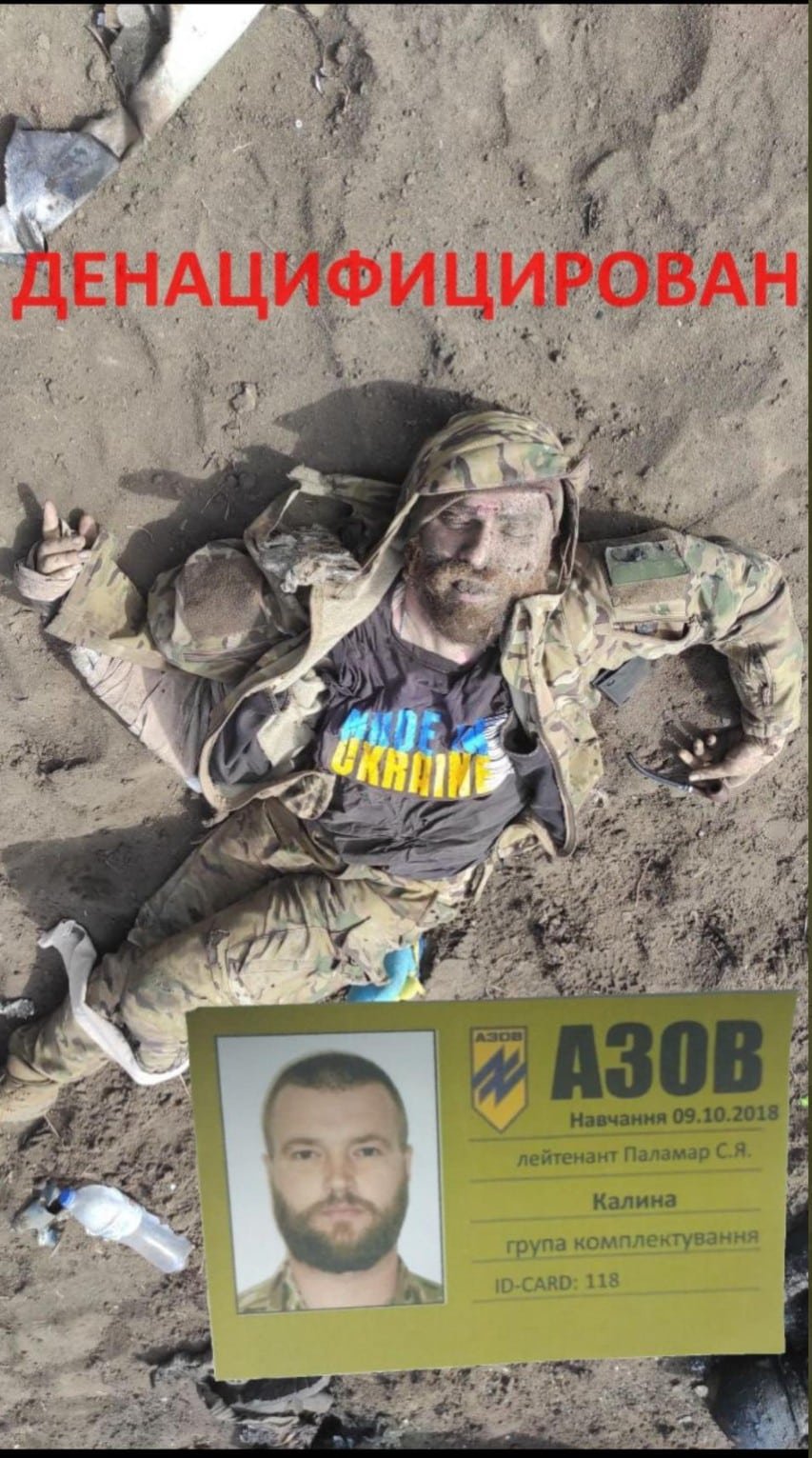 The mopping-up of Mariupol continues. On 30 and 31 March, DPR and Russian Federation units achieved significant success in destroying the manpower and equipment of the Azov regiment's defending units.  Background:  Please excuse the NATO shill twitter added…done by Twitter.
The attack of battalion "Azov" & of Ukrainian army on the Mariupol city in May 2014 .
The people blocked them even without arms pic.twitter.com/qNTKlZu8TO

— Thomas Welschen (@TWelschen) March 31, 2022
Russian Armed Forces reconnaissance units launch operations at Azovstal plant.
The AFU grouping in Mariupol is dissipated and operates in isolated fortified areas.
In their turn, separate units of the Azov regiment continue active defense operations in the heavily fortified industrial area of the Azovstal plant. Casualties on both sides are reported.
On the morning of 31 March, another attempt was made to evacuate the Azov Regiment commanders from the Azovstal plant using two Mi-8 helicopters. A DPR official said that both helicopters were shot down. Notably, the helicopters were allowed to land on the territory of Azovstal, and were shot down after taking off with the evacuees on board.
Un corresponsal de "Izvestia" llegó al lugar del accidente de uno de los helicópteros de las Fuerzas Armadas de Ucrania, que fue derribado por las fuerzas de la RPD cerca de Mariupol
15 personas murieron, dos más sobrevivieron y fueron detenidos⬇️ pic.twitter.com/MFbIh2cbtd

— Irina ☭🇷🇺 (@IrinaMar10) March 31, 2022
One helicopter went down near Rybatskoye. The crew and passengers were found dead. The helicopter was tentatively identified as Mi-8MSB, tail number 864, of the Poltava 18th Aviation Brigade. The second one went up in smoke but continued on its way. Reports are now coming in that the landing site of the second helicopter has been found. There are three survivors from the crew and passengers of the second helicopter.
‼ ‼ ‼ ‼ There is a confirmation from the military! THE DEPUTY COMMANDER OF "Azov", "Kalina" was in a helicopter shot down near Mariupol‼ ‼ ‼ pic.twitter.com/mSm6805T72

— 1_plus_1equals3 (@1_plus_1equals3) March 31, 2022
This was the second attempt to evacuate the Azov commanders by helicopter. On 28 March, Russian air defense forces shot down a Ukrainian Mi-8 over the sea.
Azov's information activity from Mariupol dropped sharply.
🇷🇺🇺🇦 Russian marines destroying Nazi Azov pigs in Mariupol. #UkraineWar #RussianArmy #Russia #NaziUkraine #UkraineNazi pic.twitter.com/pmO3tJqHpy

— Wilhelm Gottsreich Sigismond von Ormstein (@WilhelmOrmstein) March 31, 2022
Battle for #Mariupol continues…
On this footage Russians hits positions of #Azov batallion…#War
🇷🇺🇺🇦 pic.twitter.com/eQ0XZDYZo8

— Real Libyan (@real__libyan) March 31, 2022
A humanitarian corridor for evacuation from Mariupol to Zaporizhzhya started operating from 10:00 on 31 March. An intermediate point for evacuation is in Berdyansk. A DPR official explained that Azov fighters who had not surrendered earlier were considered war criminals who had been killing civilians. They will not be let through. The officer explained that they were promised life, but not released.
Video from the downed MI-8 evacuating AZOV guys from Mariupol. pic.twitter.com/kSM7rqHWKk

— Masno (@NovichokRossiya) March 31, 2022
In Mariupol, the Azov regiment's personal data of the unit's servicemen fell into the hands of the Donetsk people's republic. It is surprising why they were not destroyed by the regiment's commanders before retreating from the base. It is also reported that all secret documentation was left behind.
Sources:  Twitter and SouthFront.org
ATTENTION READERS
We See The World From All Sides and Want YOU To Be Fully Informed
In fact, intentional disinformation is a disgraceful scourge in media today. So to assuage any possible errant incorrect information posted herein, we strongly encourage you to seek corroboration from other non-VT sources before forming an educated opinion.
About VT
-
Policies & Disclosures
-
Comment Policy
Due to the nature of uncensored content posted by VT's fully independent international writers, VT cannot guarantee absolute validity. All content is owned by the author exclusively. Expressed opinions are NOT necessarily the views of VT, other authors, affiliates, advertisers, sponsors, partners, or technicians. Some content may be satirical in nature. All images are the full responsibility of the article author and NOT VT.