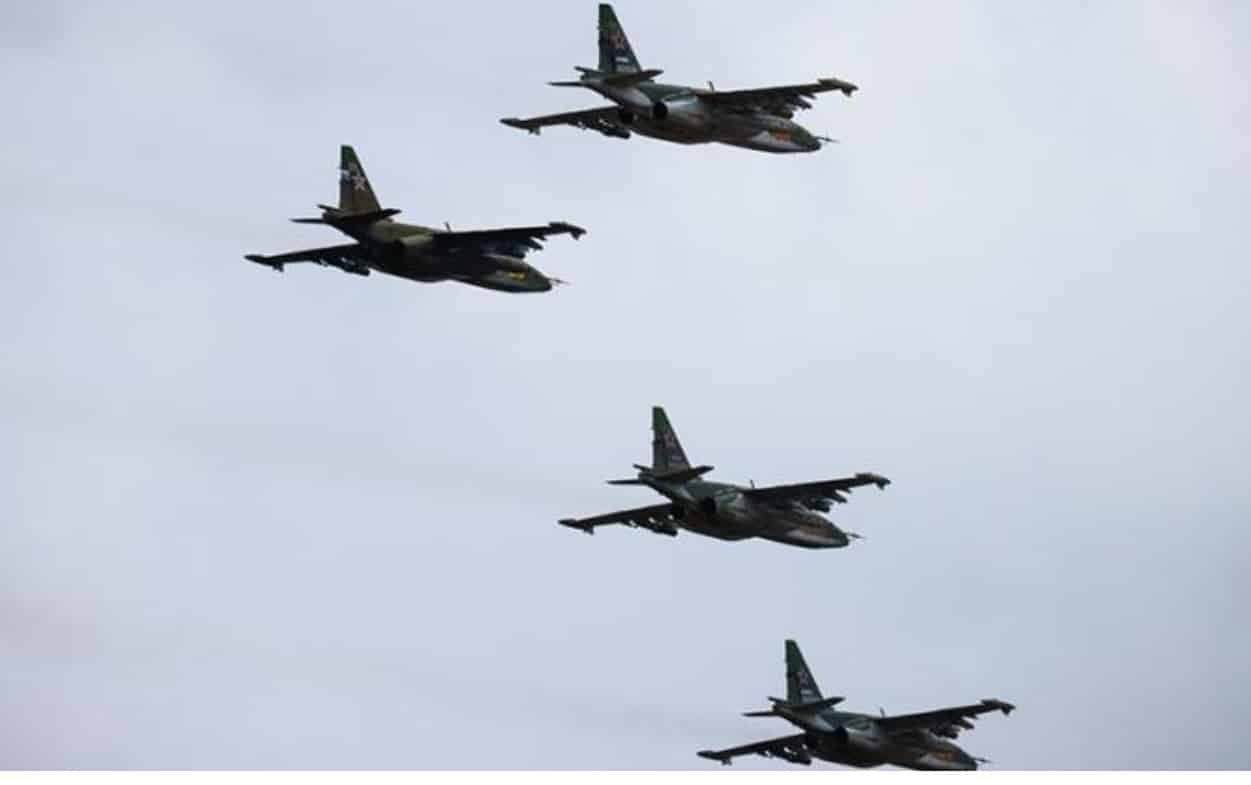 ALERT:  Sourced from Russian State-Controlled Media
SVPressa: "Whoever is flying is that Muscovite!". In recent weeks, the main tactical essence of the events after the victory of Russia's combat aviation in total air superiority has been reduced to such a simple formula for the Ukrainian military.
Our attack planes and helicopters literally "iron" the battlefield, do not allow heads to be raised in the trenches, and "hang" over the roads, making it almost impossible to transfer reserves, fuel, and ammunition to the front line. Under such conditions, defeat is only a matter of time for any army.
Naturally, Kyiv is trying with all its might to rectify such a disastrous situation for it. It is clear that if this is possible, then only with the help of foreign "partners". Therefore, in this direction, the Ukrainian authorities are developing simply frenzied activity, trying to get air vehicles at least somewhere as soon as possible. And – not just any, but Soviet-made, since the pilots of the Armed Forces of Ukraine are trained to fly only on such. Fate simply did not leave them time for retraining to Western models.
If you remember, at the beginning of March, the news became a sensation that Slovakia, Poland, and Bulgaria would immediately supply Ukraine with 70 MiG-29 and Su-25 military aircraft to fight the Russians from day today. As they say, it didn't work out. Despite the undisguised pressure of the United States, obviously interested in such an outcome, all three countries, one after another, "jumped" from the risky project, fraught with a direct armed clash with Russia.
But here's a new twist on the hot topic: on March 31, the American broadcaster CNN reported that a new request for urgent arms supplies had been received from Kyiv to the United States Congress. "The list also includes combat aircraft, specifically the Su-25, a Russian-made attack aircraft," CNN notes.
Let's take the risk of correcting US journalists: Ukraine this time, without a doubt, lays claim to striking aircraft not of Russian, but of Soviet production. That is, they are quite worn out.
If we are talking about heavily used "rooks" (as the Su-25 has long been nicknamed in the Soviet army), then we are definitely talking about samples produced at the Tbilisi Aviation Plant, which, after privatization in 2002, became known as JSC TAM (Joint Stock Company Tbilaviamsheni).
By 1986, Russia also established the production of such attack aircraft in Ulan-Ude. But since 2018, it has already stopped its production, preferring the much more advanced two-seat front-line fighter-bomber Su-34. And besides, let's not lather the rope for ourselves, responding to Kyiv's tearful pleas, shall we? Or allowing our allies to do the same?
So, Ukraine is asking the Americans to get somewhere for it precisely those Su-25s that come from Georgia. But what kind of country is counting on the complaisance of which country, if the Eastern Europeans, who have this aircraft in service, have already declared a resolute "No!" on this occasion?
Almost without the risk of making a mistake, it can be argued that it is precisely Georgia that the Ukrainian authorities are demanding from Washington to twist its arms harder and faster.
Where does such a guess come from? But where.
On March 31, President Volodymyr Zelensky, in a televised address to the nation, said that in the leadership of his country there are those who "work for the defense of Ukraine" and those who "work only to stay in office." Obviously, among the latter, he had in mind the Ambassador of Ukraine to Georgia Igor Dolgov, since, it turns out, he was suddenly returned by Zelensky from the host country the other day. The president's explanation is: "With all due respect: there will be no weapons, there will be no sanctions, there will be no restrictions on Russian business – please look for another job."
Famous Ukrainian artist arrested in Russia
A native of Ukraine living in the Moscow region was arrested in the case of extremism because of a video about the Russian military. This was announced by Olga Vradiy, senior assistant to the head of the regional head office of the Investigative Committee of Russia.
So: it is very likely that the main fault of the former Ambassador Dolgov is the failure of his attempts to force Tbilisi to immediately supply Kiev with Su-25 attack aircraft, which continue to be produced at the aircraft factory in this city in a slightly modernized version called Su-25KM.
Moreover, there was a significant break in the production of such attack aircraft in the capital of Georgia. He was to blame for the partial destruction of the infrastructure of the aircraft factory by airstrikes by Russian Su-25s fired on it during the memorable five-day war "08.08.08" for South Ossetia.
The restoration of some kind of work of this conveyor happened only after almost 13 years, at the beginning of 2021. Moreover, as it turned out, not a full cycle of aircraft production was established at TAM, but only the restoration of the combat readiness of attack aircraft produced back in the days of the USSR with their overhaul.
But it was also a good business because, in just over the years of the existence of this machine, it was made in the amount of about a thousand copies. And several hundred faulty "rooks" around the world, from Africa to Asia, are still toiling under airfield fences and in hangars, waiting for repair or disposal. It is at their service that the Georgians revived their TAM.
For reference: according to Forbes magazine (USA), approximately 485 of these aircraft are currently in service in the armies of 24 countries. They make up 3% of all manned combat aircraft in the world. Most of these Su-25s still have the old fire control systems, weak self-defense systems, and unguided projectiles that they flew back in the 1980s and 1990s.
But first, as expected, the repair and modernization at the revived aircraft plant began to undergo the Su-25 of the Georgian Air Force itself. By September 2021, the first four such upgraded vehicles (out of 12 remaining in the Georgian Air Force) took to the skies for the first time after a long break.
There are big doubts that they, having said goodbye to the plant, have become much stronger.
At least the specialized blog bmpd, published under the auspices of the Russian Center for Analysis of Strategies and Technologies, is sure that in order to revive the first attack aircraft in Tbilisi, the Georgians had nowhere to get armored capsules that ensure the survival of pilots when their aircraft is hit by anti-aircraft fire from the ground. Simply because such armored capsules for any Su-25 are made of titanium from the very beginning at the Russian VSMPO-AVISMA Corporation PJSC. But Russia is unlikely to have supplied products of such a "delicate" nature to Georgia, which is not too friendly towards us.
So, almost certainly at TAM, titanium on the first repaired attack aircraft was replaced with ordinary aluminum. This greatly reduced the chances of the resulting aircraft and its pilot surviving in a real battle. Nevertheless, I am almost sure that it is precisely these four attack aircraft, for lack of a better one, that Ukraine is so far unsuccessfully claiming today. Simply because there are no others, combat-ready, in Georgia yet. And to wait – the situation does not allow it.
Kyiv's hope for Georgia in this sense, apparently, was especially great.  Remembering, probably, Kyiv's help to the Georgians with anti-aircraft missile systems in that very war "08.08.08". And the help of Georgian volunteers to Ukraine in the confrontation with Russia in the fight for Donbass. Or maybe even an ambiguous story with Saakashvili for Kyiv. The stronger, it seems, turned out to be a disappointment. Georgia, taught by bitter experience today (unlike in 2008 and 2014) is trying with all its might not to get involved in the military-political battle of the collective West with Moscow. The supply of attack aircraft – in the first place.
This has already caused Kyiv's fierce reproaches of betrayal. Thus, on March 28, the head of the office of the President of Ukraine, Andriy Yermak, on the air of Tbilisi television, considered it possible to publicly reproach Tbilisi with almost a secret collusion with Moscow: "The Ukrainian people are waiting for concrete steps to condemn Russia's aggression in order to join all the announced sanctions, not only on words but also in deeds. But we receive information about the warming of relations between Russia and Georgia, and there is a feeling that we do not know something. We know that this cannot happen so easily, especially when it comes to our neighbor to the north. Therefore, there is a feeling of something unknown. The obscurity must end. We are waiting for clarity."
There is a "thaw" between our country and Georgia, or Yermak only imagined it – it is still unclear. However, it is absolutely certain that the absolute political and military dependence of our Transcaucasian neighbors on the Americans has not disappeared. Therefore, it is quite natural that Kyiv decided to "squeal" on the former allies who have become suspiciously intractable, specifically in Washington. The hope is understandable: Tbilisi is unlikely to withstand a powerful kick from there. And then the longed-for Su-25s will be able to go to defend Ukraine.
However, in this whole story, how it did not end, for me personally, is not clear. And what, in fact, are four or even forty attack aircraft or fighters able to decide in favor of Kyiv in the unfolding battle? Well, suppose Ukraine gets them. From Georgia or someone else – it doesn't matter. These planes will not last even a couple of days at new airfields! Russian anti-aircraft missile systems, bombs, and missiles will be sent to the forefathers. Like almost all combat aircraft over the past month.
What and to whom to prove here: it is still impossible to intercept our air superiority over Ukraine with such forces. Nothing to try. It will do nothing but shed more blood.
In confirmation – one more reference. Here are simply devastating, in my opinion, for Kyiv, data from the clearly pro-Ukrainian Polish website Defence24. pl: Today, Russian pilots on average make up to 200 sorties over Ukraine every day. And the Ukrainians in response – no more than five to ten. Including for transport purposes.
This is the collapse of the Air Force of the Armed Forces of Ukraine. Georgia is unable to cancel it, even if, at the behest of the United States, it gave Kiev all 12 of its half-dead "rooks".
Source:  SVPressa.ru
ATTENTION READERS
We See The World From All Sides and Want YOU To Be Fully Informed
In fact, intentional disinformation is a disgraceful scourge in media today. So to assuage any possible errant incorrect information posted herein, we strongly encourage you to seek corroboration from other non-VT sources before forming an educated opinion.
About VT
-
Policies & Disclosures
-
Comment Policy
Due to the nature of uncensored content posted by VT's fully independent international writers, VT cannot guarantee absolute validity. All content is owned by the author exclusively. Expressed opinions are NOT necessarily the views of VT, other authors, affiliates, advertisers, sponsors, partners, or technicians. Some content may be satirical in nature. All images are the full responsibility of the article author and NOT VT.