By Claudio Resta for VT Italia
Nowadays in the present conflict in Ukraine the delaying strategy of a slow and gradual attack on the enemy, targeting its supply lines, and accepting only smaller engagements on the favorable ground, rather than a decisive attack, this strategy doesn't seem to reveal itself as a very successful one on a battleground, I personally believe.
Yet, despite the fact that this strategy has been adopted mainly with the aim of minimizing the loss of civilian lives, I guess, what is most unfair is the western indifference and contempt toward this human lives saving strategy that isn't appraised and rewarded at all by Western PR and mainstream media.
That on the opposite is unfairly everyday stigmatized by Western PR and on all Western mainstream media in bad faith ignoring any respect for Ukraine's civil lives.
I believe that the reason for this prudent and cautious strategy may be found in a sort of inferiority complex that Russians have always had toward the West.
Peter the Great fought to turn Russia from a backward country into a European country.
He went to see how the Dutch built warships and the Prussians trained the army.
Alexander, I had an inferiority complex towards Napoleon, at the time at the height of power. He never wanted to go against him, but he was forced to do so by the Russian merchant class.
The aristocratic ruling class at the time of the Tsarist Empire spoke French even after the revolution to feel part of that part of Europe that appeared more advanced.
Just Lenin was indeed free from this complex but he represented a unique example of this exception rather than the rule due to all his wanderings abroad during his exile with an extremely independent, critical, and lucid mind. His exile: a forced "Grand Tour".
I personally believe that even Stalin himself, who apparently does not seem to be affected by such a complex, in some way was partly in line with this complex. At least he was not so absolutely free from it as Lenin although he did not show it.
Concerning the present situation, I believe that the Russian people and their leader should get rid of this complex given the particular historical moment we are experiencing.
The lowest point in the history of the West, especially in its culture, of its values, and of its civilization.
Beyond the Hindu religion, also in a secular perspective something like the Kalyuga of Western Civilization.
Or if we want to remain in a Christian perspective: We have to go back to the Great Schism of 1054.
Also because the reigning Pope Frances (?) doesn't seem to have good credentials.
Two Popes alive at the same time (?!) and the implications of this coexistence (Sedevacantism, Munus Petrinus, and Alia;
His illegal election against Canon Law due to Sankt Gallen Mafia;
A possible charge of heresy for Bergoglio that no catholic dares to denounce (the Dubia of 4 Cardinals);
But his Church financially relies upon his power in the total absence of all spirituality.
And other relevant reasons like the spontaneous closing of churches for prophylactic measures and the blackout of spiritual assistance to Christian souls during Covid 19 emergency…Something never heard in all history, I believe.
According to the Protocols, the Pope and the Tzar were the last two bastions against the Plot…
So Russia please be aware of your high duty of responsibility towards this harsh present in contemporary history and please rid again all the World of evil influences and if necessary get yourself rid of your inferiority complex towards a now decayed West.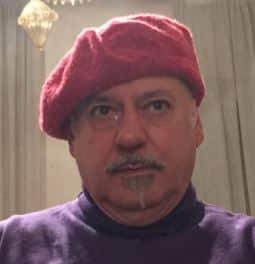 Claudio Resta was born in Genoa, Italy in 1958, he is a citizen of the world (Spinoza), a maverick philosopher, an interdisciplinary expert, oh, and an artist, too.
Grew up in a family of scientists where many sciences were represented by philosophy to psychoanalysis, from economics to history, from mathematics to physics, and where these sciences were subject to public display by their subject experts family members, and all those who they were part of could participate in a public family dialogue/debate on these subjects if they so wished.  Read Full Bio
ATTENTION READERS
We See The World From All Sides and Want YOU To Be Fully Informed
In fact, intentional disinformation is a disgraceful scourge in media today. So to assuage any possible errant incorrect information posted herein, we strongly encourage you to seek corroboration from other non-VT sources before forming an educated opinion.
About VT
-
Policies & Disclosures
-
Comment Policy
Due to the nature of uncensored content posted by VT's fully independent international writers, VT cannot guarantee absolute validity. All content is owned by the author exclusively. Expressed opinions are NOT necessarily the views of VT, other authors, affiliates, advertisers, sponsors, partners, or technicians. Some content may be satirical in nature. All images are the full responsibility of the article author and NOT VT.