Introduction by Fabio Giuseppe Carlo Carisio
Long last! Finally, even a site of Western intelligence admits what in the 007 of NATO and the USA everyone has known very well for years. ISIS has been managed and used by Turkey for all the most infamous military operations initiated over the past 10 years in the Middle East.
The CIA (Central Intelligence Agency) had planned the destruction of the government of Syria for a regime-change since 1983. So it is not surprising that with the MOM operation managed by the CIA Istanbul station it sent the powerful anti- TOW tank with 21 jihadist formations of the rebels against Assad, including some extremist terrorist groups.
It was an elegant way to get those weapons also to ISIS founded by Caliph Al Baghdadi, freed from the USA by Camp Bucca, and considered by Iraqi intelligence as an agent of the CIA and Mossad. The military jihadists group has been funded by Muslim Brotherhood of Qatar and Turkey. With help of UE Commission too!!!!
The links to the Gospa News inquiries were added a posteriori by our editorial staff
---
by The Soufan Center
Late last week, Turkey announced the capture of a high-ranking member of the Islamic State (IS) in Istanbul, initially believed to be the new leader, though that is now uncertain.
Since its rise in 2014, IS financiers and logisticians have cultivated and maintained robust support networks throughout Turkey, but now, it seems that senior leadership is active there, as well.
If it does turn out to Abu al-Hassan al-Hashimi al-Qurayshi was arrested, it would indeed be significant, especially as the new IS leader has engineered major changes within the broader global enterprise.
Turkey offers terrorist groups many advantages, given the country's connections to the licit financial system, its modern communications, and transportation infrastructure, and its role as an international and regional hub.
Late last week, Turkey (or Türkiye) announced the capture of a high-ranking member of the Islamic State (IS) in Istanbul. Some initially believed the captured individual to be the group's new emir, Abu al-Hassan al-Hashimi al-Qurayshi, while others believe it was Haji Zaid al-Sumaida'i, part of the shura committee under Islamic State's previous leader, Abu Ibrahim al-Hashimi al-Qurayshi, who was killed after a U.S. special forces raid in early February. Although there remains uncertainty surrounding the true identity of this individual, the arrest indicated that high-ranking IS officials felt comfortable enough to operate in Istanbul, Turkey's most populous city.
14 Thousand Jihadist Troops in Libya for Turkey Blitz alongside US Weapons' Lobby, NATO's Deep State & NWO
Many are now wondering why the government of Turkish President Recep Tayyip Erdogan is not doing more to root out IS militants, including its top leadership, from cities, towns, and villages across the country. For the most part, Turkey's security services are focused on the threat posed by Kurdish militant groups operating in the eastern border region. Government bandwidth in Turkey is no doubt stretched, as the country struggles to control inflation along with rising food and energy costs; Ankara has the additional responsibility of caring for the more than 3 million refugees currently seeking shelter there.
The arrest came as the result of an extensive surveillance operation conducted by Turkish security services and could end up being an intelligence boon once the individual in custody is interrogated. Whether or not Turkey allows allies to have direct access to the detainee or information resulting from questioning will likely be the subject of intense closed-door negotiations. This high profile capture also suggests that IS feels comfortable operating not just in eastern Turkey, but throughout the country.
Top secret files: "ISIS sends terrorists to Europe with the help of Turkish intelligence". Under Nato's nose
Since its rise in 2014, IS financiers and logisticians have cultivated and maintained robust support networks throughout Turkey, but now, it seems like senior leadership is active there, as well. Erdogan has been criticized for years for taking a passive approach to combating IS in Turkey, with some suggesting that he is fearful of antagonizing the militants, who have demonstrated both a willingness and capability to launch strikes on Turkish soil. A devastating terror attack at the Reina nightclub in Istanbul in the early morning hours of New Year's Day 2017 was claimed by IS; 39 civilians were killed and another 79 were injured in the attack. Perceptions of Turkish inaction or indifference to the presence of IS members in its country have been a long-time source of consternation for its allies.
Intel Reminder. CIA TOP SECRET FILE: US WAR IN SYRIA PLANNED SINCE 1983
For years, the so-called "jihadi highway" ran through Turkey into Syria and Iraq, where tens of thousands of foreign fighters from around the world flooded into the conflict zone to join the ranks of jihadist groups such as IS and Jabhat al-Nusra. However, tensions remain, as many Western states continue to rely on Kurdish partners in northeastern Syria to manage thousands of IS-associated detainees and their families in camps throughout the region, with little evidence of effective accountability mechanisms or repatriation options to address the humanitarian and security challenges in the camps.
Turkish papers: 21 Erdogan's jihadist militias supported by Cia, Pentagon and armed with TOW missiles
If it does turn out to be Abu al-Hassan al-Hashimi al-Qurayshi that was arrested, it would indeed be significant. After all, the new IS leader was motivated to make changes within the broader IS global enterprise. The recent organizational modifications—breaking out new franchise groups in the Sahel and Mozambique—demonstrate that al-Qurayshi was attempting to implement shifts within the group designed to take advantage of power vacuums, particularly in sub-Saharan Africa. As the group's center of gravity shifts from the Levant to Africa and South Asia, where Islamic State Khorasan (IS-K) is mounting increasing attacks, IS globally is at an inflection point. Leadership still matters, so if al-Qurayshi has been captured, it could prove especially damaging, particularly considering the apparent need for IS leaders to focus on operational security instead of external operations.
However, with the attention of many Western states on the war in Ukraine and the increasing competition between the U.S. and China, attention to counterterrorism, including addressing the evolution of groups like IS and al-Qaeda to more regionally- and locally- focused affiliates, remains limited.
"Al Nusra (Al Qaeda) Terrorists Funded by Qatar". Scotland Yard Investigates. Syrian Refugees' and American Reporter's Lawsuits against Doha's banks
A country like Turkey is a double-edged sword for groups like IS. On the one hand, Turkey has capable security forces, as demonstrated by what was a lengthy covert surveillance operation to capture the IS senior leader. On the other hand, unlike Afghanistan, which is geographically isolated and underdeveloped, Turkey can serve as a financial and logistical node for terrorists, given the country's connections to the licit financial system and its modern communications and transportation infrastructure.
These features make Turkey an attractive sanctuary for the operational support activities required to plan and execute high profile terrorist attacks. Moreover, given the dire stateof Turkey's economy, there is likely no shortage of well-connected facilitators willing to put bulk cash to work in front companies or other money laundering schemes.
Originally published by The Soufan Center
---
The Soufan Center (TSC) is an independent non-profit organization offering research, analysis, and strategic dialogue on global security challenges and foreign policy issues, with a particular focus on counterterrorism, violent extremism, armed conflict, and the rule of law. Our work is underpinned by a recognition that human rights and human security perspectives are critical to developing credible, effective, and sustainable solutions. TSC fills a niche role by producing objective and innovative reports and analyses, and fostering dynamic dialogue and exchanges, to effectively equip governments, international organizations, the private sector, and civil society with key resources to inform policies and practice.
WUHAN-GATES – 33. SARS-2 Manmade in Biolab and Concealed by NWO Intel. As Ties among ISIS, Turkey, NATO & CIA
WUHAN-GATES – 50. The Italian Boss of Obama's Coronavirus. Ukraine Laboratories Funded by former CIA Director Leon Panetta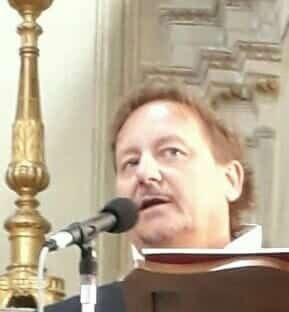 Fabio is Director and Editor of Gospa News; a Christian Information Journal.
Fabio Giuseppe Carlo Carisio, born on 24/2/1967 in Borgosesia, started working as a reporter when he was only 19 years old in the alpine area of Valsesia, Piedmont, his birth region in Italy. After studying literature and history at the Catholic University of the Sacred Heart in Milan, he became director of the local newspaper Notizia Oggi Vercelli and specialized in judicial reporting.
For about 15 years he is a correspondent from Northern Italy for the Italian newspapers Libero and Il Giornale, also writing important revelations on the Ustica massacre, a report on Freemasonry and organized crime.
With independent investigations, he collaborates with Carabinieri and Guardia di Finanza in important investigations that conclude with the arrest of Camorra entrepreneurs or corrupt politicians.
In July 2018 he found the counter-information web media Gospa News focused on geopolitics, terrorism, Middle East, and military intelligence.
His articles were published on many international media and website as SouthFront, Reseau International, Sputnik Italia, United Nation Association Westminster, Global Research, Kolozeg and more…
His investigations was quoted also by The Gateway Pundit, Tasnim and others
He worked for many years for the magazine Art & Wine as an art critic and curator.
ATTENTION READERS
We See The World From All Sides and Want YOU To Be Fully Informed
In fact, intentional disinformation is a disgraceful scourge in media today. So to assuage any possible errant incorrect information posted herein, we strongly encourage you to seek corroboration from other non-VT sources before forming an educated opinion.
About VT
-
Policies & Disclosures
-
Comment Policy
Due to the nature of uncensored content posted by VT's fully independent international writers, VT cannot guarantee absolute validity. All content is owned by the author exclusively. Expressed opinions are NOT necessarily the views of VT, other authors, affiliates, advertisers, sponsors, partners, or technicians. Some content may be satirical in nature. All images are the full responsibility of the article author and NOT VT.