Two weeks ago, Donald Trump hosted a gay sex party at Mar-a-Lago in celebration of so-called "anal marriage" being double legalized.
Los Angeles Blade, December 16:
Former President Donald Trump addressed an audience gathered at his Mar-a-Lago club and estate in Palm Beach, Fla., Thursday night for the Log Cabin Republicans' Spirit of Lincoln gala, the conservative LGBTQ group's flagship event.
"We are fighting for the gay community, and we are fighting and fighting hard," Trump said.
"Last night, we had over 450 LGBT conservatives and our straight allies join us for another amazing Spirit of Lincoln gala," Log Cabin Republicans President Charles Moran told the Washington Blade.
The fag hag Kari Lake was also there, and made a joke about how the queers were going to have an "anal orgy" at the swimming pool.
That was just the beginning of a pre-2024 slide into extreme degeneracy.
It turns out that Trump not only supports men sticking their fists (often double fists) into the holes of boys, he also supports men sticking their tongs into the holes of women and chopping up their infants before sucking them out with a vacuum.
On Sunday, still analyzing the midterms, Trump posted this to his "Truth Social" website: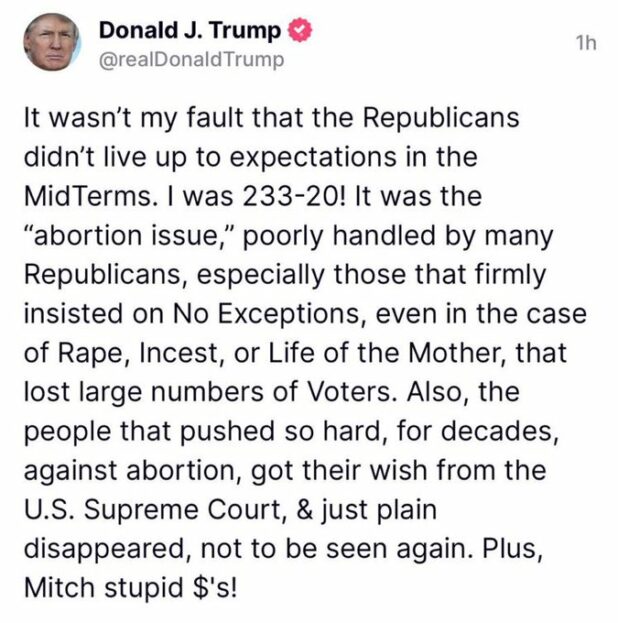 People are claiming that he's not endorsing abortion. He actually is endorsing abortion by promoting these "exceptions." All abortion is satanic child sacrifice, but when you include "rape" on that list, you are endorsing abortion on-demand. As we've seen with the Harvey Weinstein criminal trial, any heterosexual sex is legally "rape" if a woman says it is (even if it's with your boyfriend and you don't tell him "no" or in any way imply you're not interested).
But you don't even have to go into all of that. He's openly attacking the pro-life movement. Why would you do this? This is significantly worse than promoting anal fisting (and even double fisting).
Homosexuality and murder are two of the four sins that cry out to heaven for vengeance. At this point, he might well start calling for the oppression of the poor and the defrauding of workers in posts on Truth Social.
Aside from the morality, you have a broader and purely political issue here: if Trump thinks it's a good idea to go out and publicly attack the pro-life movement, unprompted, for no reason, then what exactly is going on with his brain? Whatever you think about the morality of abortion, it is clear that the overwhelming majority of Trump-supporters are strongly against it. To a lesser extent, that is true of so-called "anal marriage."
The man is totally rudderless. He is flopping around. He has no plan at all, and he's abandoned his strategy of following his instincts. He's being advised by the Jews. It's a disaster. This nigga is truly stumped.
It's not even clear what he's offering. During his shockingly bad and very low energy announcement speech, he didn't really present a platform. He just listed off talking points that you would hear on Sean Hannity or Steven Crowder. I don't even know what people are supposed to be rallying around, other than his personality.
There is only one viable candidate for Christians who oppose fisting and baby murder.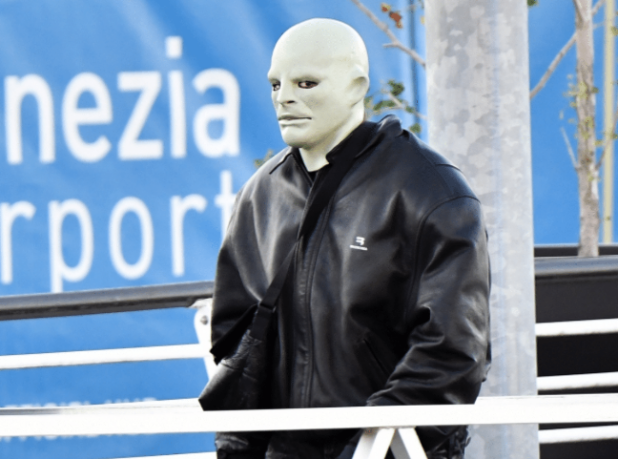 Please Note: I Would Vaguely Support Trump Under Certain Circumstances (Please Screenshot This)
I just want to be clear, so no one can come at me and claim I totally changed my position: there are circumstances under which I would support Donald Trump. Basically, in a situation where there was no Ye in the race, I would support him over DeSantis.
Here's the thing: no Republican is going to win anyway, because the vote is rigged. Everyone knows this. What I care about right now is the platform of running for office. Basically, I want to see Ye talk about the Jews, and force this issue into the public discussion.
I would also definitely support Ye as president, of course, I just really don't think that's possible. At least not in 2024. Something very drastic would have to happen for this calculus to change, because right now, the vote is totally locked down.
We have to tell the truth about the fraud. Pretending it isn't real is not a workable strategy.
Trump pretended that the midterms would be real, so now he feels he has to come up with these bizarre statements about what caused the GOP to lose the midterms, when it was actually just fraud. It is a catch 22, where it's hard to say "this election is going to be fake but go vote anyway." The problem is then that even if your people do go vote, they can say "well, your people didn't vote because you kept saying there was so much fraud it didn't matter."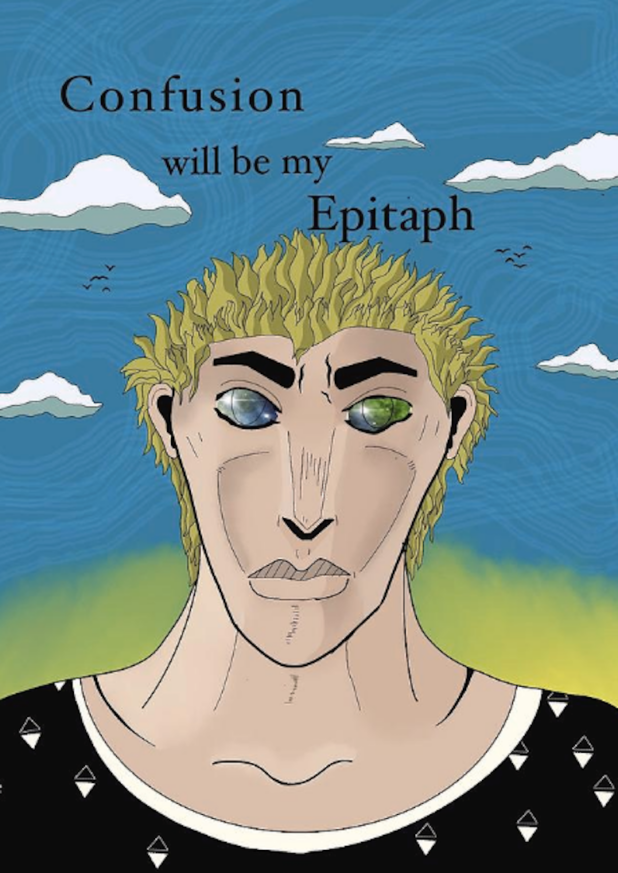 The thing is: if Trump is the nominee, he will call out the fraud after they steal the election from him, and that will further serve to undermine faith in the system. That is the only real goal at this point – to make people understand that this system is unsalvageable.
Conversely, DeSantis will not say the election was faked if he gets the nomination and has the election stolen from him. Therefore, as a basic matter of reality, it is worth telling people to go vote for Trump, if in fact he is the nominee.
I think there is very little chance he will be the nominee. He saw the response to his announcement speech, he was told directly by Nick Fuentes how bad it was, and he has not changed course with the "moderate Trump" approach. He is instead doubling down and promoting abortion.
Trump walked straight into a trap. DeSantis is going to go out there and attack Trump on all of this moderate stuff during the primaries. He's going to blame the vax on him and I'm sure he's also going to say Trump is pro-abortion based on this recent "truth" he posted.
Right now, I'm all in for Ye. Common wisdom is that he can't win the primary, but I think he actually can, assuming he stays the course. But if he doesn't, sure, I will futilely cast my support for Trump over DeSantis.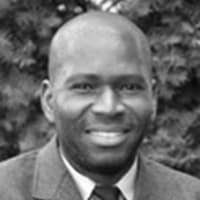 ATTENTION READERS
We See The World From All Sides and Want YOU To Be Fully Informed
In fact, intentional disinformation is a disgraceful scourge in media today. So to assuage any possible errant incorrect information posted herein, we strongly encourage you to seek corroboration from other non-VT sources before forming an educated opinion.
About VT
-
Policies & Disclosures
-
Comment Policy
Due to the nature of uncensored content posted by VT's fully independent international writers, VT cannot guarantee absolute validity. All content is owned by the author exclusively. Expressed opinions are NOT necessarily the views of VT, other authors, affiliates, advertisers, sponsors, partners, or technicians. Some content may be satirical in nature. All images are the full responsibility of the article author and NOT VT.