Update 5 by FAA
Normal air traffic operations are resuming gradually across the U.S. following an overnight outage to the Notice to Air Missions system that provides safety info to flight crews.
The ground stop has been lifted. We continue to look into the cause of the initial problem
Update 5: Normal air traffic operations are resuming gradually across the U.S. following an overnight outage to the Notice to Air Missions system that provides safety info to flight crews. The ground stop has been lifted.

We continue to look into the cause of the initial problem

— The FAA ✈️ (@FAANews) January 11, 2023
by Fabio Giuseppe Carlo Carisio
«For the first time since the September 11th attacks, the U.S. Federal Aviation Administration has grounded all domestic flights Wednesday morning after suffering a nationwide technical outage» wrote Fox News.
The FAA said it had experienced a computer outage and so ordered airlines to pause all domestic departures until 9 a.m. Eastern Time (14:00 GMT) following the failure of the Notice to Air Missions (NOTAM).
"The FAA is working to restore its Notice to Air Missions System. We are performing final validation checks and reloading the system now. Operations across the National Airspace System are affected. We will provide frequent updates as we make progress," the US FAA said.
About 2,512 flights within, into and out of the U.S. were delayed as of around 7:56 a.m. ET Wednesday morning, according to the online flight tracker FlightAware.
9/11 – The Avoidable Massacre Allowed by CIA. Helped Al Qaeda in Balkans, Obstructed FBI Investigations. Tribute to John O'Neill Killed in the Towers
The White House said there was no evidence the outage was the result of a cyberattack, although President Joe Biden had instructed the Department of Transportation to do a "full investigation" of the causes.
On "Mornings with Maria," FOX Business White House correspondent Edward Lawrence was in Mexico City, waiting to board a flight to Dallas that's now delayed "indefinitely."
"We talked to the pilot. We did get on the plane, and we were sitting in our seats and then ended up getting off the plane because, they, for security reasons, they wanted us in the airport," Lawrence reported. "
"In talking to the pilots," he continued, "they said they've never seen this kind of ground stop with this kind of issue."
The suspicious Huge Hacking
The mysterious outage grows the suspicion of an huge hacking inside the website Hacker News (yCombinator.com).
AYBABTME recall:  «Are 2020s the years where the cold war is back as a lukewarm war, and also all of NA aviation needs to reconvene with its decrepit software? Next plot-twist, it was all ready to blow, but ultimately triggered by Russian/Chinese/North Korean hackers. Ok, taking off my tinfoil hat. Still, maybe I'm suffering of nostalgia bias but the last few years really make for a lot of prime source material for docudramas».
RagnarD reply: «No need for a tinfoil hat. Such systems are prime targets for states hostile to the U.S. If this one wasn't before, it will be now.
heisenbit adds: «Forensic analysis will reveal that there were multiple hidden failures over the past years that were covered up by foreign hackers to ensure their backdoors were not revealed in an in-depth investigation».

Before nkcmr asked: «Why do all aviation IT systems feel like they are so fragile? It feels like not a single month can pass these days without some "Airline X has major outage and ruins tons of people's days!" story on the news».
unionemployee blamed: «The NOTAM system is embarrassing. This just tops it off. Actually, our whole ATC system and the way the FAA operates is embarrassing. It all works kind of like waste management in NYC. If they were to add new tech and efficiency, fewer people would have jobs, so we keep doing it the old way to the detriment of everyone else».
yehosef then writes: «don't forget about this beauty» adding the link of previous attack to FAA network on 2021».
In that time Biden president promised sanctions to Russia!
Ukrainians NeoNazi's Chief Zelensky Armed by Biden for the StarWars: US Patriot vs Russian Missiles Sarmat & Zyrcon
Now what kind of other sanctions can impose after the Ukrainian ongoing arming and funding for war?
SolarWinds hackers targeted NASA, Federal Aviation Administration networks
«Hackers are said to have broken into the networks of U.S. space agency NASA and the Federal Aviation Administration as part of a wider espionage campaign targeting U.S. government agencies and private companies» wrote TechCrunch website on February, 23, 2021.
The two agencies were named by the Washington Post on Tuesday, hours ahead of a Senate Intelligence Committee hearing tasked with investigating the widespread cyberattack, which the previous Trump administration said was "likely Russian in origin."
Zelensky's Desecration of Christmas. Kyiv Monastery taken away from Russian Orthodox then Given to Schismatic Priests
A spokesperson for NASA did not dispute the report but declined to comment citing an "ongoing investigation." A spokesperson for the FAA did not respond to a request for comment.
It's believed NASA and the FAA are the two remaining unnamed agencies of the nine government agencies confirmed to have been breached by the attack. The other seven include the Departments of Commerce, Energy, Homeland Security, Justice and State, the Treasury and the National Institutes of Health, though it's not believed the attackers breached their classified networks.
FireEye, Microsoft and Malwarebytes were among a number of cybersecurity companies also breached as part of the attacks.
ZELENSKY's GASH AT CHRISTMAS TRUCE! Biden's Neo-Nazi Rejects Putin and Kirill's Gesture of Peace
The Biden administration is reportedly preparing sanctions against Russia, in large part because of the hacking campaign, the Post also reported.
The attacks were discovered last year (2020 – ed) after FireEye raised the alarm about the hacking campaign after its own network was breached.
Each victim was a customer of the U.S. software firm SolarWinds, whose network management tools are used across the federal government and Fortune 500 companies. The hackers broke into SolarWinds' network, planted a backdoor in its software and pushed the backdoor to customer networks with a tainted software update.
Fabio Giuseppe Carlo Carisio
© COPYRIGHT GOSPA NEWS
prohibition of reproduction without authorization 
follow Gospa News on Telegram
FOX NEWS – Pilots say FAA computer outage that grounded US flights nationwide unprecedented
RUSSIA TODAY – Kremlin explains lack of peace talks on Ukraine
TECHCRUNCH – SolarWinds hackers targeted NASA, Federal Aviation Administration networks
APOCALYPSE's DROPS over US because of AntiChrist Biden! Tremendous Christmas Blizzard is Killing Many Americans after Devilish "Gifts" for Ukrainian War
RINCARI CARBURANTI PER LE GUERRE NAZI-FASCISTE. Per Armare l'Ucraina Meloni ripristina l'Accise del Duce sull'Etiopia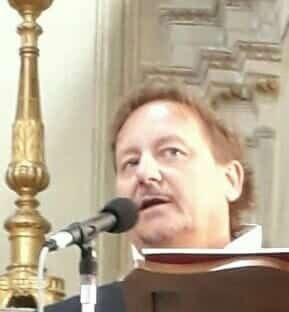 Fabio is Director and Editor of Gospa News; a Christian Information Journal.
Fabio Giuseppe Carlo Carisio, born on 24/2/1967 in Borgosesia, started working as a reporter when he was only 19 years old in the alpine area of Valsesia, Piedmont, his birth region in Italy. After studying literature and history at the Catholic University of the Sacred Heart in Milan, he became director of the local newspaper Notizia Oggi Vercelli and specialized in judicial reporting.
For about 15 years he is a correspondent from Northern Italy for the Italian newspapers Libero and Il Giornale, also writing important revelations on the Ustica massacre, a report on Freemasonry and organized crime.
With independent investigations, he collaborates with Carabinieri and Guardia di Finanza in important investigations that conclude with the arrest of Camorra entrepreneurs or corrupt politicians.
In July 2018 he found the counter-information web media Gospa News focused on geopolitics, terrorism, Middle East, and military intelligence.
His articles were published on many international media and website as SouthFront, Reseau International, Sputnik Italia, United Nation Association Westminster, Global Research, Kolozeg and more…
His investigations was quoted also by The Gateway Pundit, Tasnim and others
He worked for many years for the magazine Art & Wine as an art critic and curator.
ATTENTION READERS
We See The World From All Sides and Want YOU To Be Fully Informed
In fact, intentional disinformation is a disgraceful scourge in media today. So to assuage any possible errant incorrect information posted herein, we strongly encourage you to seek corroboration from other non-VT sources before forming an educated opinion.
About VT
-
Policies & Disclosures
-
Comment Policy
Due to the nature of uncensored content posted by VT's fully independent international writers, VT cannot guarantee absolute validity. All content is owned by the author exclusively. Expressed opinions are NOT necessarily the views of VT, other authors, affiliates, advertisers, sponsors, partners, or technicians. Some content may be satirical in nature. All images are the full responsibility of the article author and NOT VT.