DISCLOSURE: VT condemns the horrific tragedy committed by the NAZI Party against Jewish Citizens of Europe during Word War II known as the "Holocaust". VT condemns all racism, bigotry, hate speech, and violence. However, we are an open source uncensored journal and support the right of independent writers and commentors to express their voices; even if those voices are not mainstream as long as they do NOT openly call for violence. Please report any violations of comment policy to us immediately. Strong reader discretion is advised.
---
Recently I attended an event at the University of Lethbridge, my place of employment until 2018 when I retired from teaching while retaining the title of Professor Emeritus.
My retirement at age 67 emerged from a period of struggle after the Canadian branch of the Anti-Defamation League (ADL), a key agency in North America's stupendously-influential Israel Lobby, teamed up with the administration of the U of L in a joint effort to smear me and de-platform me from my academic position.
In the above video I present my own analysis of the nature of the smear campaign leading to the decision in October of 2016 to "suspend" without due process this then-Full and Tenured Professor.
The suspension was publicized worldwide by many agencies of the Zionist-oriented media network that helps make the Israel Lobby such a formidable force in the political and cultural wars that shape so many aspects of our day-to-day realities throughout the so-called "West."
Much to my surprise, a judicial ruling in Alberta of the Court of Queen's Bench in 2017 overturned my suspension with the consequence I was reinstated to my academic position. This judicial intervention to reinstate me to my academic position created a furor in the Zionist media network.
The Zionist media mafia immediately renewed on MSM and social media yet another onslaught of defamations characterizing me as some sort of demonic Holocaust-denying anti-Semitic Conspiracy Theorist. The media mob renewed its call that, in the cause of supposedly protecting "human rights," I must be kept away from the tender sensibilities of impressionable young students at all costs.
The recent event on February 1, 2023, at the University of Lethbridge renewed my memories of these past experiences. In retrospect, this episode of academic defamation can now be understood as an integral part of the pervasive slide into the academic malaise that presently prevails in thousands of universities only just emerging from vax-mandated tyranny. How will the staff, students, and administrators of authority-compliant universities respond to the next rounds of imposed mandates aimed at subordinating humanity through further lockdowns on life, liberty, and the ownership of property by non-billionaires?
As I argue in the accompanying video, the increasingly-dominant prevalence of woke philosophies in centers of supposedly "higher learning," is part of a matrix instrumental in the sabotage of scientific methodology and reasonable public discourse.
The key controversy at the U of L, where I taught in the Department of Native American Studies in the 1990s, had to do with the subject matter of Prof. Frances Widdowson's presentation. Her thesis is the ascent of what she calls "Wokeism" is currently ruining the basis of academic freedom, a core requirement of academic credibility and viability. One of her case studies is to illustrate the narrowing of academic discourse concerning the historical depiction of the Canadian government's federally-funded embrace of Christian-run Indian residential schools for about a century starting in the late 1800s.
An unruly mob-like situation developed in the U of L's main public space based on allegations by Indigenous Studies professors, students, and other interested parties. The proponents of shutting down public discourse planned and implemented the drowning out of Prof. Widdowson with a loud noise. Prof, Widdowson was silenced in this way because she refuses to adhere to the politically correct interpretation of Indian Residential schools. Professor Widdowson stands accused of being a "residential school denialist." A concerted campaign was therefore developed to overpower her voice with Aboriginal drumming and chanting together with the discordant wailing of a very loud electric guitar.
My own effort to bring about some sort of decent exchange on the ideas at play in the large public Feb. 1 gathering at The University of Lethbridge led me to conceive of a title for a lecture, namely "Denialism in the Betrayal of Science and Reasonable Public Discourse." The growing importance of "denialism" strikes me as a phenomenon closely related to the rise of "wokeism." Increasingly we see in the media references to, for instance, "climate change denial" or "COVID denial." This is a trend that has surely been reinforced by the huge import attached to the phrase, "Holocaust Denial."
This term was seeming cast in concrete in 1993 when Deborah Lipstadt pushed aside the phrase "Holocaust revisionism" with her 1993 book, "Denying the Holocaust." Prof. Lipstadt's subsequent litigious encounter with David Irving was later featured in a Hollywood film titled Denial.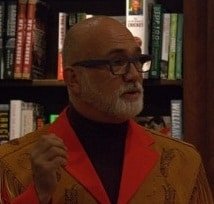 Prof. Anthony James Hall is a Professor of Globalization Studies at the University of Lethbridge in Alberta Canada where he has taught for 25 years. Along with Kevin Barrett, Tony is co-host of False Flag Weekly News at No Lies Radio Network. Prof. Hall is also Editor-In-Chief of the American Herald Tribune.
His recent books include The American Empire and the Fourth World (Part I) as well as Earth into Property: Colonization, Decolonization, and Capitalism (Part II). Both are peered reviewed academic texts published by McGill-Queen's University Press. Prof. Hall is a contributor to both books edited by Dr. Barrett on the two false flag shootings in Paris in 2015.
Part II was selected by The Independent in the UK as one of the best books of 2010. The journal of the American Library Association called Earth into Property "a scholarly tour de force."   One of the book's features is to set 9/11 and the 9/11 Wars in the context of global history since 1492.
ATTENTION READERS
We See The World From All Sides and Want YOU To Be Fully Informed
In fact, intentional disinformation is a disgraceful scourge in media today. So to assuage any possible errant incorrect information posted herein, we strongly encourage you to seek corroboration from other non-VT sources before forming an educated opinion.
About VT
-
Policies & Disclosures
-
Comment Policy
Due to the nature of uncensored content posted by VT's fully independent international writers, VT cannot guarantee absolute validity. All content is owned by the author exclusively. Expressed opinions are NOT necessarily the views of VT, other authors, affiliates, advertisers, sponsors, partners, or technicians. Some content may be satirical in nature. All images are the full responsibility of the article author and NOT VT.