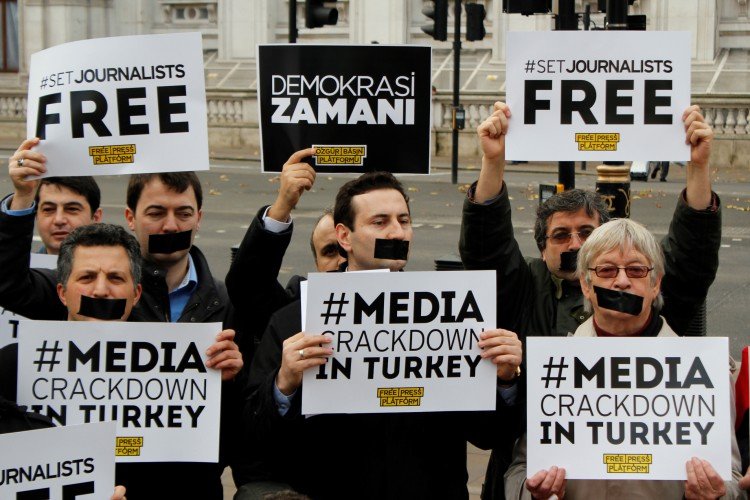 … from  Press TV,  Tehran
[ Editor's Note: Erdogan went over to the offensive on the Turkish press controversy responding to Obama's attacks. Erdo claims Obama has never brought the issue up, while Obama says he did. But Erdo's is only lying for domestic consumption.
His security team thugs want to beat up protesters or throw anti-Erdogan journalists out of the Brookings Institute meeting, showing his true colors. These engagements were recorded by cell phone and are part of Sultan Erdogan's legacy now.
Despite what the military has said publicly about disavowing any thought of a coup, they are watching their country lose American support, which is something they have historically considered a national security threat.
But they are in a dodgy situation now. Even a military coup which turned power instantly over to a civilian government would see the Muslim masses out into the the streets, where the military could then be tagged with triggering a religious upheaval.
Others would say the religious upheaval has already taken place, which is why a military coup is needed. To that you can add Turkey's getting involved in foreign provocations, and the military preferring peace be secured in Syria, so the refugees can go back and the army can concentrate on the Kurds.
Erdogan is "farming" the refugees now. The $3-billion a year for the next two years is a good cushion for some of the economic upheaval caused by Russia's sanctions against Turkey. And as I reported yesterday, he is planning to naturalize the refugees as Turkish citizens, draw on their loyalty, and move them to Kurdish areas to vote in the next elections to create a wider parliamentary ruling margin for himself.
That could easily backfire with more mayhem and carnage for which his leadership, or non-leadership will be banned. The military has to know what a huge error shooting down the Russian plane was. They should have done a coup then, as the timing would have been perfect, but one must be set to jump quickly so there is less time to be discovered.
The Russians are leaning heavy on the US to take a stronger stand in forcing Turkey to stop supplying ISIL in Syria, and we can assume in Iraq. The longer the US stalls, the weaker it looks. We will be watching this story very closely… Jim W. Dean ]
____________
– First published  …  April 03, 2016 –
Turkish President Recep Tayyip Erdogan says it is saddening that US President Barack Obama made comments in his "absence" about freedom of press in Turkey.
"I am saddened that these kinds of comments have been made in my absence," the Turkish president said in a press briefing in Istanbul on Sunday as he rounded off a trip to the United States.
"These issues did not come onto the agenda in our talks with Mr Obama," Erdogan said. "He did not talk to me about this kind of thing. In our previous telephone conversations we talked about other more useful things than press freedom."
There is enough press freedom in Turkey, Erdogan stated, arguing that even the publications which insult him or call him things like "thief" and "killer" are not shut down. "Those publications that make these insults still exist."
"If it was true that Turkey was a dictatorship, then how could such publications come out?" Erdogan asked.

"Such insults and threats are not permitted in the West," the Turkish president said. "Had Obama put these issues (about press freedom) on the agenda in the talks, then I would have told him that."
Obama said during a news conference at the end of a nuclear security summit in Washington on April 1 that the approach Turkish authorities have been taking toward the press could lead the country down a troubling path.
"There is no doubt that President Erdogan has been repeatedly elected through a democratic process, but I think the approach that they've been taking towards the press is one that could lead Turkey down a path that would be very troubling."
Obama also said he had openly spoken with Erdogan about "very troubling" developments in Turkey, especially in regard to freedom of the press, religion and democracy. "I have expressed this to him directly so it's no secret, that there are some trends within Turkey that I have been troubled with."
Still, Obama said that Turkey is a NATO ally and an important partner in fighting terrorism.
Many rights groups from across the globe have been calling on Western countries to press Turkey on the issue of human rights.
There have been reports of many people prosecuted in Turkey for insulting top authorities.
Activists say Erdogan has filed hundreds of court cases against critics, including many journalists, for insulting him since he took office in August 2014.
Two senior journalists from the Turkish opposition Cumhuriyet daily face trial for revealing Ankara's military support for the Takfiri militants in Syria.
Can Dundar, the editor-in-chief at Cumhuriyet newspaper, and the paper's Ankara representative, Erdem Gul, face charges of espionage, treason and revealing state secrets for publishing video footage purportedly showing trucks belonging to Turkey's National Intelligence Organization (MIT) ferrying weapons in January 2014 to Takfiri terror groups operating in Syria.
In an open letter to Prime Minister Ahmet Davutoglu on March 24, dozens of prominent writers including Nobel laureates called on the administration to drop charges against the Cumhuriyet journalists. The PEN International letter expressed concern over the "increasing climate of fear and censorship and the stifling of critical voices in Turkey."
'Alliance of militant groups' blamed for anti-Erdogan protest
Elsewhere in his remarks, President Erdogan blamed a number of groups banned by Turkey for a series of recent protests in the United States which led to scuffles with his security guards.
Erdogan's security staff clashed with angry protesters on March 31 ahead of his speech at the Brookings Institution in Washington.
The Turkish president said he saw at the protest "representatives" of the outlawed Kurdistan Workers' Party (PKK), the Kurdish People's Protection Units (YPG) and the Armenian Secret Army for the Liberation of Armenia (ASALA).
Ankara accuses Syrian Kurdish group Democratic Union Party, also known as the PYD, and its military wing the YPG of having links to the PKK militant group that has been fighting for an autonomous Kurdish region inside Turkey since the 1980s.
Turkey also blames ASALA of carrying out a string of deadly attacks in the 1970s and 1980s purportedly aimed at avenging the mass killing of Armenians during the Ottoman Empire.
Erdogan said the militant groups were all working in cahoots in the protests with allies of his arch enemy, the US-based exiled Turkish preacher Fethullah Gulen, who is believed to be wielding significant influence in the police and judiciary, as well as media and business circles.
Ankara accuses Gulen of running what it calls the Fethullahist Terror Organisation/Parallel State Structure (FeTO/PDY) and seeking to overthrow the legitimate Turkish authorities.
"The situation that took place ahead of the conference was really, really significant," Erdogan said. "I saw myself representatives from the Parallel State Structure who have fled our country side-by-side and right next to those from" the PKK, YPG and ASALA, he added. "This is the proof, this is the evidence."
Turkey has asked the US to extradite Gulen but Washington has shown little interest in doing so.
____________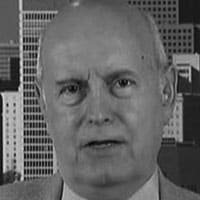 Jim W. Dean is VT Editor Emeritus.  He was an active editor on VT from 2010-2022.  He was involved in operations, development, and writing, plus an active schedule of TV and radio interviews.  He now writes and posts periodically for VT.
ATTENTION READERS
We See The World From All Sides and Want YOU To Be Fully Informed
In fact, intentional disinformation is a disgraceful scourge in media today. So to assuage any possible errant incorrect information posted herein, we strongly encourage you to seek corroboration from other non-VT sources before forming an educated opinion.
About VT
-
Policies & Disclosures
-
Comment Policy
Due to the nature of uncensored content posted by VT's fully independent international writers, VT cannot guarantee absolute validity. All content is owned by the author exclusively. Expressed opinions are NOT necessarily the views of VT, other authors, affiliates, advertisers, sponsors, partners, or technicians. Some content may be satirical in nature. All images are the full responsibility of the article author and NOT VT.