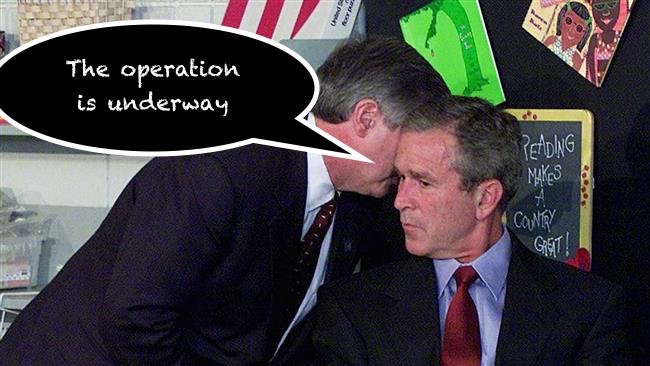 CIA Director John Brennan is afraid of that a serious investigation into the September 11, 2001, terrorist attacks will expose the role Israeli and American intelligence played in the 9/11 coup d'état, says Dr. Kevin Barrett, an American academic who has been studying the events of 9/11 since late 2003.
Dr. Barrett, a founding member of the Scientific Panel for the Investigation of 9/11, made the remarks in a phone interview with Press TV on Monday, after Brennan said that it would be a mistake to release the 28 classified pages from the 9/11 Commission report because they contain "un-vetted" information that could implicate Saudi Arabia in the terrorist attacks.
"This chapter was kept out because of concerns about sensitive methods, investigative actions, and the investigation of 9/11 was still underway in 2002," Brennan told NBC News on Sunday.
The CIA chief said releasing the 28-page classified document would give ammunition to those who want to tie the terrorist attacks to Saudi Arabia.
Dr. Barrett said "the real reason that [Brennan] is opposed to opening this can of worms is that the Intelligence Community has got a serious problem on their hands here, because the fact is, as a top level official told the New York Times that in 2001, '9/11 was not an intelligence failure, 9/11 was an intelligence success.'"
"I am not sure why they considered this an intelligence success at the time, but we certainly saw all kinds of celebrations going on in high levels American places after 9/11. We had President [George W.] Bush smoking a cigar with his adopted cousin Bandar 'Bush', the leading Saudi representative in the United States, on the White House balcony – I think it was September 12th when two of them shared a celebratory cigar. "We had Bush calling a huge party at the CIA, I think, a week or ten days after 9/11. Again it was a celebration!"
September 11th was a neocon coup d'état
"I don't know precisely what the details were, but what we know overall about September 11th was that it was a coup d'état by the neoconservative wing of the US power structure. It probably was operated through intelligence assets, primarily the Israeli Mossad, which must have played the lead role, but apparently the top of the American command chain was complicit as well," Dr. Barrett said.
"So this is the real picture here. And the fact is that the CIA or elements of the CIA did participate in the coup d'état of September 11, 2001, they brought those so-called Saudi nationals over into the United States as CIA assets – that is they were not Saudi, they were American assets," he pointed out.
"They were brought over to the United States over CIA snitch visas – a particular kind of pseudo work visa that is given to Saudi CIA assets as a reward for their service," he stated.
"So this is the sort of thing that will come out if there is a serious investigation, and the 28 pages will point at the so-called hijackers who were actually patsies, who were not even on the planes, how they were brought over and set up by the CIA."
What kind of role Saudis played in 9/11?
"The actual document points at the Saudis, and that's of course because the CIA and Mossad intentionally arranged and made sure that there would be Saudi funding traces to these patsies so that Saudi Arabia could be blamed after 9/11 and pressured," Dr. Barrett said.
"And that's what they are doing now. They are pressuring Saudi Arabia because of the differences between the US and the Saudis right now," he added.
"If this can of worms gets opened up, and there is some kind of honest investigation it would quickly show that the Saudis only played a minor role in 9/11, and they did so under orders from the real power structure in the world which is the Zionist banker power structure that rules the United States, and it is often more concerned about Israel than about the United States," the analyst stated.
"So Brennan clearly doesn't want to take a chance that this is all going to blow up in his face, and that we're going to have war crimes trials here in the United States, treason trials, and we're going to discover that our government has been essentially taken over by traitors and stooges of Israel," the scholar concluded.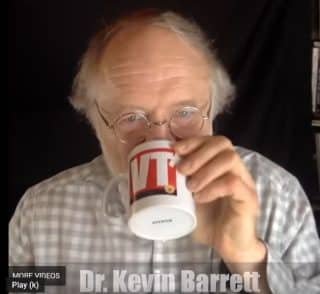 Dr. Kevin Barrett, a Ph.D. Arabist-Islamologist is one of America's best-known critics of the War on Terror.
He is the host of TRUTH JIHAD RADIO; a hard-driving weekly radio show funded by listener subscriptions at Substack and the weekly news roundup FALSE FLAG WEEKLY NEWS (FFWN).
He also has appeared many times on Fox, CNN, PBS, and other broadcast outlets, and has inspired feature stories and op-eds in the New York Times, the Christian Science Monitor, the Chicago Tribune, and other leading publications.
Dr. Barrett has taught at colleges and universities in San Francisco, Paris, and Wisconsin; where he ran for Congress in 2008. He currently works as a nonprofit organizer, author, and talk radio host.
ATTENTION READERS
We See The World From All Sides and Want YOU To Be Fully Informed
In fact, intentional disinformation is a disgraceful scourge in media today. So to assuage any possible errant incorrect information posted herein, we strongly encourage you to seek corroboration from other non-VT sources before forming an educated opinion.
About VT
-
Policies & Disclosures
-
Comment Policy
Due to the nature of uncensored content posted by VT's fully independent international writers, VT cannot guarantee absolute validity. All content is owned by the author exclusively. Expressed opinions are NOT necessarily the views of VT, other authors, affiliates, advertisers, sponsors, partners, or technicians. Some content may be satirical in nature. All images are the full responsibility of the article author and NOT VT.