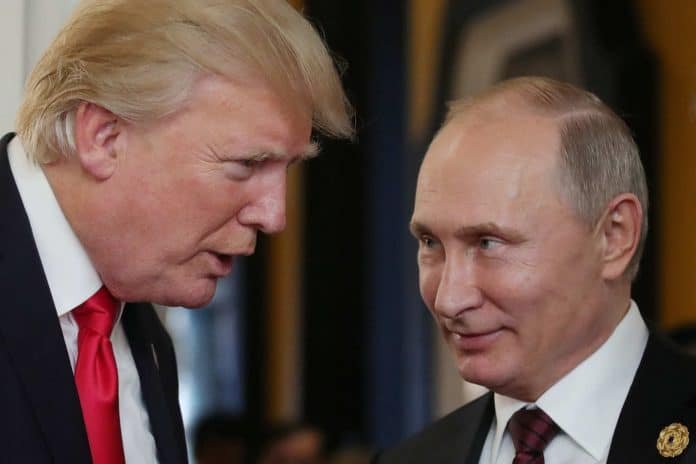 …by Nauman Sadiq for VT
Several months ago, a couple of caricatures went viral on social media. In one of those caricatures, Donald Trump was depicted as a child sitting on a chair and Vladimir Putin was shown whispering something into Trump's ears from behind.
In the other, Trump was portrayed as sitting in Steve Bannon's lap and the latter was shown mumbling into Trump's ears, "Who is the big boy now?" And Trump was shown replying, "I am a big boy."
The meaning conveyed by those cunningly crafted caricatures was to illustrate that Trump lacks the intelligence to think for himself and that he is being manipulated and played around by Putin and Bannon.
Those caricatures must have affronted the vanity of Donald Trump to an extent that after the publication of those caricatures, he became ill-disposed towards Putin and fired Bannon from his job as the White House chief strategist in August last year.
Donald Trump is an impressionable man-child whose vocabulary does not extend beyond a few words and whose frequent typographical errors on his Twitter timeline, such as 'unpresidented' and 'covfefe' have made him a laughing stock for journalists and social media users alike.
These spelling mistakes reveal that though fond of watching news and talk shows on the American conservative television channels, like the Fox News, but Trump isn't much of a reader.
It is very easy for the neuroscientists on the payroll of corporate media to manipulate the minds of such puerile politicians and to lead them by the nose to toe the line of political establishments, particularly on foreign policy matters.
Nevertheless, it would be pertinent to mention here that unlike dyed-in-the-wool politicians, like Barack Obama and Hillary Clinton, who cannot look past beyond the tunnel vision of political establishments, it appears that Donald Trump is familiar with alternative news perspectives, such as Steve Bannon's Breitbart, no matter how racist and xenophobic.
Though far from being its diehard ideologue but Donald Trump has been affiliated with the infamous white supremacist 'alt-right' movement, which regards Islamic terrorism as an existential threat to America's security. Trump's recent tweet slamming Pakistan for playing a double game in Afghanistan and providing safe havens to the Afghan Taliban on its soil reveals his uncompromising and hawkish stance on terrorism.
Many political commentators on the Pakistani media are misinterpreting the tweet as nothing more than a momentary tantrum of a fickle US president, who wants to pin the blame of Washington's failures in Afghanistan on Pakistan.
But along with the tweet, the Trump administration has also withheld a tranche of $255 million US assistance to Pakistan, which shows that it wasn't 'just a tweet' but a carefully considered policy of the new US administration to persuade Pakistan to toe Washington's line in Afghanistan.
Moreover, it would be pertinent to mention here that In a momentous decision in July last year, Pakistan's Prime Minister Nawaz Sharif was disqualified from holding public office by the country's Supreme Court on the flimsy pretext of holding an 'Iqama' (a work permit) for a Dubai-based company.
Although it is generally assumed the revelations in the Panama Papers, that Nawaz Sharif and his family members own offshore companies, led to the disqualification of the prime minister, but another important factor that contributed to the downfall of Nawaz Sharif is often overlooked.
In October 2016, one of Pakistan's leading English language newspapers, Dawn News, published an exclusive report [1] dubbed as the 'Dawn Leaks' in Pakistan's press.
In the report titled 'Act against militants or face international isolation,' citing an advisor to the prime minister, Tariq Fatemi, who has since been fired from his job for disclosing the internal deliberations of a high-level meeting to the media, the author of the report Cyril Almeida contended that in a huddle of Pakistan's civilian and military leadership, the civilian government had told the military's top brass to withdraw its support from the militant outfits operating in Pakistan, specifically from the Haqqani network, Lashkar-e-Taiba and Jaish-e-Mohammad.
After losing tens of thousands of lives to terror attacks during the last decade, an across the board consensus has developed amongst Pakistan's mainstream political forces that the policy of nurturing militants against regional adversaries has backfired on Pakistan and it risks facing international isolation due to belligerent policies of Pakistan's security establishment.
Not only Washington, but Pakistan's 'all-weather ally' China, which plans to invest $62 billion in Pakistan via its China-Pakistan Economic Corridor (CPEC) projects, has also made its reservations public regarding Pakistan's continued support to the aforementioned jihadist groups.
Thus, excluding a handful of far-right Islamist political parties that are funded by the Gulf's petro-dollars and historically garner less than 10% votes of Pakistan's electorate, all the civilian political forces are in favor of turning a new leaf in Pakistan's checkered political history by endorsing the government's decision of an indiscriminate crackdown on militant outfits operating in Pakistan.
But Pakistan's security establishment jealously guards its traditional domain, the security and foreign policy of Pakistan, and still maintains a distinction between the so-called 'good and bad' Taliban.
Regarding Pakistan's duplicitous stance on terrorism, it's worth noting that there are three distinct categories of militants operating in Pakistan: the Afghanistan-focused Pashtun militants; the Kashmir-focused Punjabi militants; and foreign transnational terrorists, including the Arab militants of al-Qaeda, the Uzbek insurgents of Islamic Movement of Uzbekistan (IMU) and the Chinese Uighur jihadists of the East Turkistan Islamic Movement (ETIM).
Compared to tens of thousands of native Pashtun and Punjabi militants, the foreign transnational terrorists number only in a few hundred and are hence inconsequential.
Tehreek-e-Taliban Pakistan (TTP), which is mainly comprised of Pashtun militants, carries out bombings against Pakistan's state apparatus. The ethnic factor is critical here. Although the Pakistani Taliban (TTP) like to couch their rhetoric in religious terms, but it is the difference of ethnicity and language that enables them to recruit Pashtun tribesmen who are willing to carry out subversive activities against the Punjabi-dominated state apparatus, while the Kashmir-focused Punjabi militants have by and large remained loyal to their patrons in the security agencies of Pakistan.
Although Pakistan's security establishment has been willing to conduct military operations against the Pakistani Taliban (TTP), which are regarded as a security threat to Pakistan's state apparatus, but as far as the Kashmir-focused Punjabi militants, including the Lashkar-e-Taiba and Jaish-e-Mohammad, and the Afghanistan-focused Quetta Shura Taliban, including the Haqqani network, are concerned, they are still enjoying impunity because such militant groups are regarded as 'strategic assets' by Pakistan's security agencies.
Therefore, the Sharif administration's decision that Pakistan must act against the jihadist proxies of the security establishment or risk facing international isolation infuriated the military's top brass, and consequently, the country's judiciary was used to disqualify an elected prime minister in order to browbeat the civilian leadership of Pakistan.
Finally, after Trump's recent outburst against Pakistan, many willfully blind security and defense analysts are suggesting that Pakistan needs to intensify its diplomatic efforts to persuade the new US administration that Pakistan is sincere in its fight against terrorism. But diplomacy is not a pantomime in which one can persuade one's interlocutors merely by hollow words without substantiating the words with tangible actions.
The double game played by Pakistan's security agencies in Afghanistan and Kashmir to destabilize its regional adversaries is in plain sight for everybody to discern and feel indignant about.
Therefore, Pakistan will have to withdraw its support from the Afghan Taliban and the Punjabi militant groups, if it is eager to maintain good working relations with the Trump administration and wants to avoid economic sanctions and international censure.
---
About the author:  Nauman Sadiq is an Islamabad-based attorney, columnist and geopolitical analyst focused on the politics of Af-Pak and Middle East regions, neocolonialism and petro-imperialism.
ATTENTION READERS
We See The World From All Sides and Want YOU To Be Fully Informed
In fact, intentional disinformation is a disgraceful scourge in media today. So to assuage any possible errant incorrect information posted herein, we strongly encourage you to seek corroboration from other non-VT sources before forming an educated opinion.
About VT
-
Policies & Disclosures
-
Comment Policy
Due to the nature of uncensored content posted by VT's fully independent international writers, VT cannot guarantee absolute validity. All content is owned by the author exclusively. Expressed opinions are NOT necessarily the views of VT, other authors, affiliates, advertisers, sponsors, partners, or technicians. Some content may be satirical in nature. All images are the full responsibility of the article author and NOT VT.