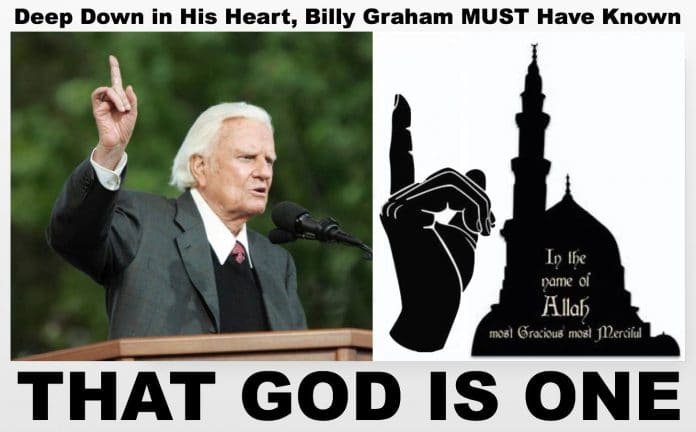 "The leader of this team of doctors was a dignified, solicitous gentleman who held up one finger directly in front of Yossarian and demanded, 'How many fingers do you see?' "
"Two," said Yossarian.
"How many fingers do you see now?" asked the doctor, holding up two.
"Two" said Yossarian.
"And how many now?" asked the doctor, holding up none.
"Two"" said Yossarian.
"The doctor's face wreathed with a smile. 'By Jove he's right,' he declared jubilantly. 'He does see everything twice.' "
–Catch 22 by Joseph Heller
Billy Graham has finally gone to meet his Maker. He may be surprised at Whom he meets.
Billy apparently thought he was going to meet his Makers (plural). In his article "Do Christians and Muslims Worship the Same God?" he wrote:
"Christians and Muslims do not worship the same God. Christians worship the triune God—Father, Son and Holy Spirit—and no other god. We know the Father through the Son, and it is solely through Christ's atonement for sin that salvation has come. Salvation comes to those who confess with their lips that Jesus Christ is Lord and believe in their hearts that God has raised Him from the dead (Romans 10:9)."
So Billy thought he was going to meet Three-Gods-In-One. Though we know God doesn't literally have fingers, we can (figuratively) imagine God holding up one finger and saying "How many fingers do you see?" Billy says "three!"
Then God asks Billy about the good and bad he has done. Billy sees his whole life flashing before his eyes.
Billy says "Why does that matter? My lips confessed the magic formula, and my heart believed Jesus was raised from the dead! Surely my moral or immoral actions are completely irrelevant!"
At this point, God might very well be wondering how a creature imbued with reason (and heart-centered intuition) could possibly believe such things.
Of course, unlike Billy Graham, I don't pretend to be absolutely certain about what God thinks. Nor do I understand what Billy Graham could possibly mean by asserting that the one Creator of the whole cosmos could possibly "have a son."
I have listened to Christians talk about the Trinity, and about the "son of God" thing, all my life. And I must be really, really stupid, because I don't have the faintest idea what they could possibly be talking about. The funny thing is, most of them don't either. Many  even admit it! But rather than being consistent and professing Unitarianism, they  stick with a religion whose central dogma makes no sense to them…or to anyone else, as far as I can tell.
So Billy Graham thinks Unitarians don't worship the same God that other Christians do, because they worship one God, not the holy Three-In-One. Wouldn't it make more sense to say that Christians (including Unitarians) as well as Muslims, Jews, and others worship the same God but have different ways of understanding the divine Creator?
Muslims believe the Qur'an gives (more or less) 99 "most beautiful names" of God. But they aren't crazy enough to think Christians, Jews, and others who don't approach God through those 99 names are worshipping an entirely different God! It is only (some) (intolerant) (exclusivist) (ultra-dogmatic) Christians who are so full of themselves and their own (wacky) belief system as to puff themselves up and announce "it's my way or the highway! Accept my Three-In-One God or suffer eternal damnation!" (OK, there are some Muslims who act like that too—they are called wahhabis—but they would be a vanishingly insignificant sect if the British and then the Americans hadn't spent three centuries showering them with ever-greater supplies of money and weapons.)
In fairness, it's obvious that the conundrums at the heart of Christianity do not necessarily produce arrogance, fanaticism, illogic, or spiritual blindness. There are plenty of Christians, now and in the past, who have achieved humility and saintliness while professing an absurd credo (while even sometimes admitting credo quia absurdum, "I believe it because it is absurd.")
But I do think these central confusions of Christianity have led to the gradual demise of that once-great religion. In a post-Enlightenment era of universal literacy and widespread education, stuff that just doesn't make sense becomes less and less appealing. Perhaps more importantly, the image of God as father and son anthromorphized the divine—it led Christians to see God as a (male) human being. This produced the current dispensation of  Humanism (worship of the human being) which is the dominant religion of today's Western elites.
So that's my concise summary of how I think Billy Graham got it wrong.
But I'm sure when he meets his Maker, God will explain it to him far better than I ever could.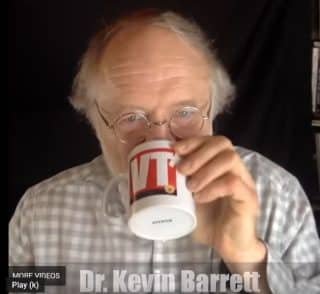 Dr. Kevin Barrett, a Ph.D. Arabist-Islamologist is one of America's best-known critics of the War on Terror.
He is the host of TRUTH JIHAD RADIO; a hard-driving weekly radio show funded by listener subscriptions at Substack and the weekly news roundup FALSE FLAG WEEKLY NEWS (FFWN).
He also has appeared many times on Fox, CNN, PBS, and other broadcast outlets, and has inspired feature stories and op-eds in the New York Times, the Christian Science Monitor, the Chicago Tribune, and other leading publications.
Dr. Barrett has taught at colleges and universities in San Francisco, Paris, and Wisconsin; where he ran for Congress in 2008. He currently works as a nonprofit organizer, author, and talk radio host.
ATTENTION READERS
We See The World From All Sides and Want YOU To Be Fully Informed
In fact, intentional disinformation is a disgraceful scourge in media today. So to assuage any possible errant incorrect information posted herein, we strongly encourage you to seek corroboration from other non-VT sources before forming an educated opinion.
About VT
-
Policies & Disclosures
-
Comment Policy
Due to the nature of uncensored content posted by VT's fully independent international writers, VT cannot guarantee absolute validity. All content is owned by the author exclusively. Expressed opinions are NOT necessarily the views of VT, other authors, affiliates, advertisers, sponsors, partners, or technicians. Some content may be satirical in nature. All images are the full responsibility of the article author and NOT VT.