Introduction by Gordon Duff
The article below is from Russia Today.  Everything in it is true and nothing in it is published in Western News.  Trump, who we believe is not a Russian pawn but rather working for the, for lack of a better term, "Kosher-Nostra," the Russian-Israeli/Gangster "oligarchs," has asked America's military for a plan to intercede on behalf of the terrorists in Ghouta.
 
I have watched them randomly shelling Damascus in person.  It is like a lottery, hit a school today, a public market tomorrow.  They are terrorists.
 
Behind them are groups like Cohen's "Google Jigsaw" and the Union of Medical Care and Relief Organizations, a CIA puppet.  Add to this Clooney's infamous White Helmets, repackaged ISIS beheaders who kill kids and drag them around in front of the cameras as phony gas victims, and you are beginning to understand both Trump and Netanyahu.
 
These are monsters.Now to the "Russian propaganda" which in most cases turns out to be absolute truth, most not all, that the American population is not allowed to see, even on alternative media.
Google delisted VT, blocks us at every turn and has instituted keylogger and other hacks over and over. Don't let them run your lives, quit all Google services and run away from Facebook as fast as you can.  Don't even begin to ask why, just do it… Gordon.
 *
… Rania Khalek 
A general view of the destruction in the town of Al-Nashabiyah in the besieged Eastern Ghouta region outside Syria's capital Damascus, March 4, 2018 © SANA / AFP
As Syrian government forces battle Jaysh al-Islam to retake Eastern Ghouta, Western media outlets have totally ignored the atrocities of the insurgents, preferring to blame all the violence on the "regime."
They're at it again, howling about a town in Syria that's being retaken by the government. This time it's Eastern Ghouta, a suburb of Damascus and one of the last remaining strongholds of the Islamist insurgency that has torn the country apart over the last seven years.
Before Eastern Ghouta it was Aleppo and before Aleppo it was Madaya and before Madaya it was Homs, and so on. All of these places were framed as though there were no armed insurgents present, and the Syrian authorities were just mercilessly massacring civilians out of cartoonishly villainous bloodlust. If the insurgents were mentioned, they were usually (and still are) presented by the western press as moderate rebels and freedom fighters.
So if your only understanding of Eastern Ghouta comes from the mainstream media, then you're left with the impression that there's a one-sided conflict taking place between the Syrian government and its civilians. But this war isn't so simple.
Jihadist leaders
The "rebels" in charge of Eastern Ghouta are a collection of jihadist groups, the strongest of which is Jaysh al-Islam, or the Army of Islam, a Salafi-Jihadist group backed by Saudi Arabia that seeks to replace the Syrian government with an Islamic State (IS, formerly ISIS).
Jaysh al-Islam is extremely sectarian and just as nasty in its rhetoric, tactics and goals as IS. It engages in public executions and has publicly bragged about parading caged civilians from the minority Alawite sect in the streets as human shields. The group's founder, the late Zahran Alloush, openly called for the ethnic cleansing of religious minorities from Damascus.
The second largest group is Faylaq al-Rahman, which is allied with Hayet Tahrir al-Sham, or HTS, the latest name for Syria's Al-Qaeda affiliate. HTS also has a small presence in Eastern Ghouta as well as Ahar al-Sham and Nour al-Din al-Zenki, former recipients of US weapons whose fighters videotaped themselves beheading a teenage boy.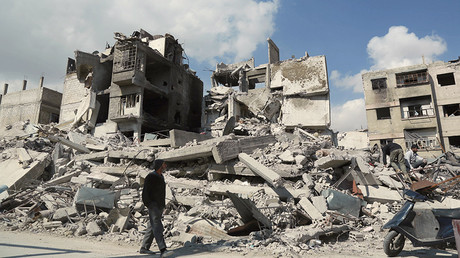 'US accusations against Russia over E. Ghouta are escalation of information war'
Most recently, civilians fleeing Eastern Ghouta have described being fired on by militants seeking to prevent them from escaping to the safety of government-controlled territory, another fact that Western media outlets refuse to report. Reports that insurgents were withholding food and humanitarian aid from civilians have similarly been ignored by the mainstream.
Information war
Syria is perhaps the most heavily propagandized civil war in history. Tens of millions of dollars have been spent by Western governments and their regional allies building a media apparatus that sanitizes the insurgency, blames all of the violence on the government and agitates for more forceful Western military intervention against Syrian president Bashar Assad. And Western media outlets have come to rely on these propaganda sources for information about the conflict.
The most famous is the White Helmets, a rescue group heavily funded by the US and UK governments. Marketed by a top PR firm, the White Helmets openly advocate for regime change while working alongside Al-Qaeda-linked rebels in opposition areas. Some of its members have participated in atrocities on video, a fact almost entirely ignored by Western media, which is enamored with the group.
The other go-to source for Western media outlets is the Syrian Observatory for Human Rights, a monitoring organization that is run by one man working from his house in Britain who is openly biased towards the opposition.
Western media also frequently relies on self-described "media activists" in areas of Syria controlled by militant groups. But these groups don't tolerate activism or journalism. In fact, they are known to jail, torture and summarily execute activists, lawyers, humanitarian workers, journalists and minorities. That's why Western journalists can't travel to insurgent-held areas of Syria: because they'll likely be kidnapped, ransomed or killed.
This should raise serious questions about anyone purporting to be an independent source of information from inside insurgent-held Syria because it's impossible for people to put out information without the permission of the jihadist authorities who have an interest in promoting a narrative that provokes outrage and spurs intervention. This is especially true in Eastern Ghouta, where insurgents are currently losing ground. The only thing that can save Jaysh al-Islam from defeat is outside intervention.
Of course, information coming from government areas should also be treated with skepticism. Because, after all, governments also lie. But in the case of Syria, the western press already treats media reports out of Syrian government areas as if they're all made-up, while unquestioningly regurgitating whatever the insurgents say as fact. Meanwhile, the media totally ignores victims in government areas.
For years, insurgents in Eastern Ghouta have terrorized and killed thousands of civilians living in Damascus, which you almost never hear about in the West. Instead, mainstream outlets are busy crying out for the west to do something.
Al-Qaeda death squads
And that brings us to one of the Western media's most pernicious lies, how Western inaction allowed the bloodshed in Syria to continue with impunity. But the west has intervened in Syria and by doing so it prolonged the slaughter and empowered Al-Qaeda.
Despite being warned as early as November 2011 that the armed opposition was dominated by violent sectarian extremists, the Obama administration spent $1 billion a year training and funneling weapons to an insurgency they knew was linked to Al-Qaeda in order to overthrow the Syrian government. Al-Qaeda has built its largest affiliate in history as a direct result of this reckless US regime change policy.
In other words, the US government outsourced its war on Syria to Al-Qaeda death squads and Americans have no idea because Western media continue to promote lies about the West's so-called inaction.
This is not about glorifying the Syrian government, which is indeed authoritarian and extremely flawed. It's about what would have replaced the government had it collapsed. The alternative was unacceptable to most Syrians.
That is why the vast majority of Syrians – at least 75 percent as of 2016, a number that is certainly higher today as the government has recaptured vast swathes of territory from insurgents – live in government-controlled areas. In fact, millions fled to the safety of government controlled cities after insurgents violently captured their areas to escape the criminal behavior of the armed insurgents. Others fled because they feared the government bombing that the extremist groups invited when they entered.
To really understand the severity of what the US did in Syria, let's put it in the American context. It would be the equivalent of America's adversaries funding and arming the KKK to invade and occupy cities in the US and the media then describing the KKK militias as "moderate rebels" and "freedom fighters" as they kill minorities and shell civilians in Washington, New York and Los Angeles.
Imagine how Washington might react in such a scenario. Well actually you don't have to imagine. Look no further than their global killing spree after the terrorist attacks of 9/11, which ironically enough created the Al-Qaeda threat in the Middle East to begin with.
Double standards
And then there's the massive double standard at play.
After IS captured large swathes of territory in Iraq, the Iraqi government, with American air support, launched a series of operations to retake cities like Mosul and Fallujah and Tikrit, which the Western press almost always celebrated as liberation.
Meanwhile in Syria, the Syrian government, with Russian air support, has used many of the same military tactics to retake cities like Aleppo and Eastern Ghouta from groups no different than IS, yet the media has framed those operations as heinous acts that amount to genocide.
The conflict in Syria might be a confusing and complicated mess. But as the howls from the mainstream press for the West to do something grow louder, it's important to stay mindful of the fact that there is an agenda behind their one-sided version of reality.
The statements, views and opinions expressed in this column are solely those of the author and do not necessarily represent those of RT.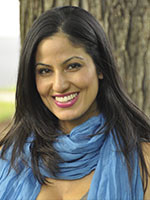 Rania Khalek is an American journalist, writer and political commentator based in the Middle East.
ATTENTION READERS
We See The World From All Sides and Want YOU To Be Fully Informed
In fact, intentional disinformation is a disgraceful scourge in media today. So to assuage any possible errant incorrect information posted herein, we strongly encourage you to seek corroboration from other non-VT sources before forming an educated opinion.
About VT
-
Policies & Disclosures
-
Comment Policy
Due to the nature of uncensored content posted by VT's fully independent international writers, VT cannot guarantee absolute validity. All content is owned by the author exclusively. Expressed opinions are NOT necessarily the views of VT, other authors, affiliates, advertisers, sponsors, partners, or technicians. Some content may be satirical in nature. All images are the full responsibility of the article author and NOT VT.