It is sad today to think there are those among us who would willingly chose for America to become (in many cases we have already reached that point) a country with ever-increasing income taxes, high crime, a weak U.S. military, unlimited illegal immigration with open borders, and willingly chose to revert back to Obama-Era unemployment with shrinking economic opportunities. These are the same folks who are probably praying for a continuation of our" two-tiered justice system" with the likes of the Clintons and the Deep State law breakers laughing at we regular Americas, while they get away with breaking whatever laws they chose. This is what the election of 2018 will be about.
The election of Donald Trump, which caught the media, the political pundits, and the most corrupt Justice Department in the history of America by complete surprise, has inspired a silent coup d'etat by the "Deep State" – a band of seditionists made up of the highest ranking officials in the Justice Department, including the FBI, the NSA, and former Obama Administration ne'er-do-wells , including president Barack Obama himself, and assorted other U.S. security agencies who are fearful of President Trump clearing-out and draining the cesspool of Washington corruption and influence.
According to whistleblower Edward Snowden, "The Deep State is not just the intelligence agencies, it is really a way of referring to the career bureaucracy of government". These are officials who sit in powerful positions, who don't leave when presidents do, and who watch presidents come and go . . . they are the cesspool dwellers who influence policy, influence presidents, and accumulate a great deal of personal wealth in the process.
In an article for The New York Review of Books, written by Michael Tomalsky on August 16, 2018, he quoted Newt Gingrich using the term "Deep State" in the context of the Robert Mueller investigation as Special Prosecutor: "Mueller is the tip of the Deep State spear aimed at destroying or at a minimum undermining and crippling the Trump presidency".  Gingrich then added to that statement:  "The brazen redefinition of Mueller's task (originally appointed to investigate the phantom "Russian Collusion" fairy tale that going onto its second year has not developed a single piece of evidence) tells you how arrogant the deep state is and how confident it is it can get away with anything".
The term Deep State is often used in a critical sense regarding the general electorate to refer to the "lack of influence" popular democracy has on democratically elected institutions and the decisions they make. In short the Deep State is an illegal shadow government that uses corruption, deviancy, and deception to operate for its own benefit and often profit, while its participants totally disregarding their oaths of office, the rule of law, or the provisions of the U.S. Constitution. Originally defined  in 2014 by Mike Lofgren, a former Republican U.S. congressional aide, as "a hybrid association of elements of government and parts of top-level finance and industry that is effectively able to govern the United States without reference to the consent of the governed as expressed through the formal political process."  In short, this is a definition of SEDITION!
The Mid-Term Elections this November are even more important than the Presidential Elections of 2016, because the Deep State and their minions in the media, the radical Leftists that, along with the ignorant Democrat Party members who have no idea of what is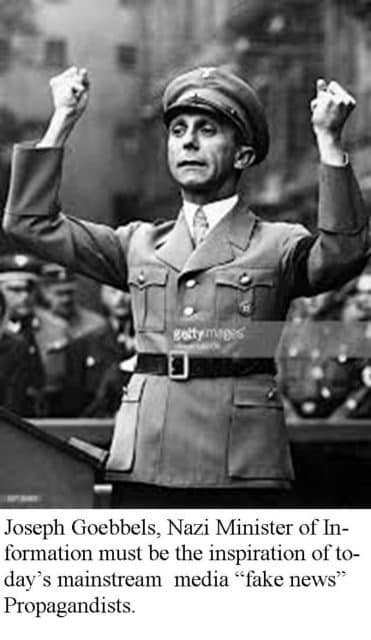 going on around them, will be easily swayed into thinking everything is fine because Trump has America on the road to becoming great again.  It is unfortunate that the American citizens who lean to the Left, are in total darkness about the politics in America because they watch, listen and read the news put out by the Joseph Goebbels' propagandist newspapers like the New York Times, the Washington Post, USA Today, and other newspapers unfit for wrapping fish. (NOTE: To refresh everyone's memory Joseph Goebbels was Hitler's Minister of Information.)
I am not picking on Democrats per se, but after nearly two years of the Mueller Investigation; a year and a half of Senate and House Oversight Committee hearings into the allegations of corruption in the Department of Justice; the firing of high-ranking FBI personnel; the charges of perjury against several members of our security agencies; James Comey's whitewash of the accusations against Hillary Clinton's seditious actions while Secretary of State under Obama's Administration; the secret selling-off of America's uranium stockpiles to Russia in exchange for a $145 million donation to the Clinton Foundation, and all the publicity surrounding the Special Prosecutor's bogus Trump-Russia Collusion case, a March 2018 poll found most respondents (63%) were unfamiliar with the term "deep state" . . . now that indicates a substantial portion of brain-dead among the U.S. population.
Now to be fair to those who can tell you who the leading soap opera stars might be, who's who in the latest fantasy sports league, who is the leader in the American Idol competition is, and what strip joint Stormy Daniels may be appearing at, three-fourths (74%) of those surveyed say that they believe this type of group probably exists in the federal government. The reason for not knowing about the current state of affairs in American politics is because less than half say they watch only mainstream media news on television and read the usual newspapers, which are so full of "fake news", I suppose we must conclude the it is true that "ignorance is bliss" if it weren't so sad!
For those of us who take an interest in sorting out the politics of today, and really do care about the future of our country, it look s like we have a real uphill battle to educate the rest of America about what has happened since 2016 in the goal to restore America to greatness. With the election in November, here are a few of the accomplishment's the have happened under the Trump Administration.
Below is a partial list which will never be listed in the mainstream press, however, for the sake of brevity, I have only listed the real gems from a list of 60 points listed in The Washington Times in an article by written by Paul Bedard on June 04, 2018. For the complete list which will probably blow you away, please click the above link. One note not list below is the 4.1% GDP this past quarter and an estimate that it will be strong for the rest of the year. That is how the U.S. government will offset the cost of the 2016 tax cuts which the Democrats all voted against!
In his first 500 days in office President Donald J. Trump has achieved results domestically and internationally for the American people.
Since taking office, President Trump has strengthened American leadership, security, prosperity, and accountability.
The American economy is stronger, American workers are experiencing more opportunities, confidence is soaring, and business is booming.
President Trump has re-asserted American leadership on the world stage, secured vital investments in our military, and stood up against threats to our national security.
President Trump has put the American people first and made government more accountable.
Nearly 3 million jobs have been created since President Trump took office.
304,000 manufacturing jobs have been created since President Trump took office, and manufacturing employment stands at its highest level since December 2008. Remember Obama said we needed to get use to the loss of manufacturing jobs and that we the people had "to suck it up".
337,000 construction jobs have been created since President Trump took office, and construction employment stands at its highest level since June 2008.
Under President Trump, the unemployment rate has dropped to 3.8, the lowest rate since April 2000, and job openings have reached 6.6 million, the highest level recorded.
67 percent of Americans believe now is a good time to find a quality job, according to Gallup.
Only under President Trump have more than 50 percent of Americans believed it is a good time to find a quality job since Gallup began asking the question 17 years ago.
President Trump prioritized job training and workforce development to empower workers to seize more opportunities, signing an Executive Order to expand apprenticeship opportunities.
President Trump has restored confidence in the American economy, with confidence among both consumers and businesses reaching historic highs.
Consumer confidence in current conditions has reached a 17-year high, according to the Conference Board.
Optimism among manufacturers has hit record highs under President Trump, according to the National Association of Manufacturers.
Small business optimism has sustained record-high levels under President Trump according to the National Federation of Independent Business.
President Trump signed the historic Tax Cuts and Jobs Act into law, cutting taxes for American families and making American business more competitive, allowing American to keep more of their hard-earned money!
American families received $3.2 trillion in gross tax cuts and saw the child tax credit double. Check out your tax refunds this year. You'll be surprised!
The top corporate tax rate was lowered from 35 percent to 21 percent so American businesses could be more competitive, and return to the U.S.
President Trump has rolled back unnecessary job-killing regulations beyond expectations.
In 2017, President Trump far exceeded his promise to eliminate regulations at a two-to-one ratio, issuing 22 deregulatory actions for every new regulatory action.
Since taking office, President Trump has advanced free, fair, and reciprocal trade deals that protect American workers, ending decades of destructive trade policies.
Days after taking office, the President withdrew the United States from the Trans-Pacific Partnership negotiations and agreement.
President Trump's Administration is working to defend American intellectual property from China's unfair practices through a range of actions.
The President improved the KORUS trade agreement with the Republic of Korea, which will allow more U.S. automobile exports to South Korea with lower tariffs and increase U.S. pharmaceutical access to South Korea.
President Trump followed through on his promise to move the U.S. Embassy in Israel to Jerusalem.
President Trump ordered an end to United States participation in the horrible Iran deal and immediately began the process of re-imposing sanctions that had been lifted or waived or Iran.
The Department of the Treasury has issued a range of sanctions targeting Iranian activities and entities, including the Islamic Revolutionary Guard Corps-Qods Force.
Under President Trump, the United States has led an unprecedented global campaign to achieve the peaceful denuclearization of the Korean peninsula.
President Trump's leadership has contributed to the return of 17 Americans held overseas.
In May 2018 alone, Venezuela released one American and North Korea released three Americans who came home to the United States.
The President has secured historic increases in defense funding in order to rebuild our Nation's military with the resources they need, after years of harmful sequester.
The United States has worked with international allies to decimate ISIS.
President Trump ordered strikes against Syria in response to the regime's use of chemical weapons in April 2017 and April 2018.
The Trump Administration has imposed a range of sanctions on the Maduro dictatorship in Venezuela, including sanctions targeting Maduro and other senior government officials. Venezuela – once the darling of America's Marxist proponents (the Democrats) is now in total chaos and ruin.
AMERICA'S COMMUNITIES ARE SAFER AND MORE SECURE: President Trump has worked to secure our borders, enforce our immigration laws, and protect the safety and security of American communities. FOLKS . . . TRUMP CAN'T BUILD THE WALL BY HIMSELF. HE NEEDS THE VOTE OF CONGRESS.
From the start of President Trump's Administration to the end of FY 2017, U.S. Immigration and Customs Enforcement (ICE) Enforcement and Removal Operations (ERO) made 110,568 arrests of illegal aliens.
Arrests made in this time-frame represented a 42 percent increase from the same time-frame in FY 2016.
Of the 110,568 arrests made, 92 percent had a criminal conviction, pending criminal charge, were an ICE fugitive, or had a reinstated final order of removal.
AMERICA'S GOVERNMENT IS MORE ACCOUNTABLE: Since taking office, President Trump has worked to ensure government is more accountable to the American people.
President Trump has confirmed the most circuit court judges of any President in their first year, and secured Justice Neil Gorsuch's confirmation to the United States Supreme Court.
President Trump has signed legislation to bring more accountability to the Department of Veterans Affairs and provide our veterans with more choice in the care they receive.
President Trump signed the Department of Veterans Affairs Accountability and Whistleblower Protection Act of 2017, improving processes for addressing misconduct.
President Trump signed the VA Choice and Quality Employment Act into law, authorizing $2.1 billion in additional funds for the Veterans Choice Program.
President Trump successfully eliminated the penalty for Obamacare's burdensome individual mandate.
The President's Administration is seeking to provide more affordable health coverage and broader access to affordable alternatives to Obamacare plans.
While Leftists traditionally don't want FACTS, it is up to us to keep spreading the good deeds that are happening in the Trump Presidency. What is needed is to get rid of the naysayers in Congress so the people can rebuild this country together!
Following his service in the Marine Corps, Ed built a diverse career in business in both sales/marketing and management. He is a medical research specialist (biological response modifiers) and has published numerous books. His latest books are Concept of America and soon-to-be released, Blessed are the Heroes. Ed is past Development Director of the National Guard Bureau of International Affairs-State Partnership Program, and Fundraising Coordinator for the Warrior2Citizen Project. Mr. Mattson is a noted speaker and has addressed more than 3000 audiences in 42 states and 5 foreign countries. He has been awarded the Order of the Sword by American Cancer Society, is a Rotarian Paul Harris Fellow and appeared on more than 15 radio and television talk-shows. His non-fiction books range from what it means to be an American, to his best selling book on cancer research, Say NO to the Undertaker, published by Author House.
ATTENTION READERS
We See The World From All Sides and Want YOU To Be Fully Informed
In fact, intentional disinformation is a disgraceful scourge in media today. So to assuage any possible errant incorrect information posted herein, we strongly encourage you to seek corroboration from other non-VT sources before forming an educated opinion.
About VT
-
Policies & Disclosures
-
Comment Policy
Due to the nature of uncensored content posted by VT's fully independent international writers, VT cannot guarantee absolute validity. All content is owned by the author exclusively. Expressed opinions are NOT necessarily the views of VT, other authors, affiliates, advertisers, sponsors, partners, or technicians. Some content may be satirical in nature. All images are the full responsibility of the article author and NOT VT.