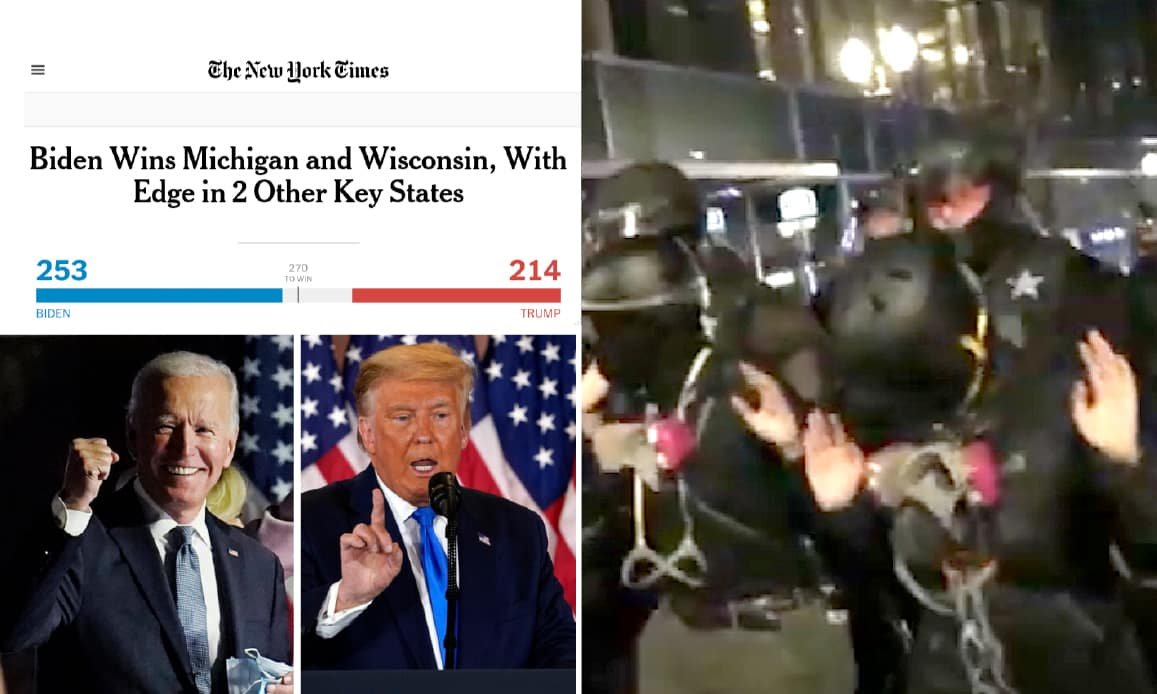 by Fabio Giuseppe Carlo Carisio for VT
Editor's note: Not wanting to be critical of my good friend Fabio, but his may well be one of the stupidest things I have ever read.  Doing research using only agenda driven drivel should always be avoided. Do read it.  Keep a barf bag near.
Versione originale in Italiano
UPDATE 7.35 ITALIAN TIME (UTC + 1) – THURSDAY, NOVEMBER, 5
Errors, mysteries, suspicions, appeals for the recount of votes and finally threats to call into question the Supreme Court to clarify. The climate of the elections in the US for the race for the White House is increasingly heated, which is played on the wool thread of the difference contained in a handful of votes of the Great Electors (below in the full post the voting mechanism for the American presidential elections).
This has further inflamed the souls of the anti-Trump rioters, exponents of Black Lives Matter and Antifa, trained anti-fascist groups and close to terrorist organizations, raising the specter of an urban guerrilla and a civil war should the polls prove favorable to the outgoing president Donald Trump, now at a disadvantage to challenger Joe Biden
Uncertainty reigns supreme over the name of the future president who could remain in a limbo of nervousness and accusations of electoral fraud until Thursday 12 November, the deadline in which one of the decisive states, North Carolina, will accept the arrival of the votes by mail .
The case and the tensions are well evidenced by the fact that there was even a clash between two of the main American media: the Fox News network which followed the ballots in real time but allegedly committed a macroscopic mistake as reported by the New York Times newspaper and remarked with emphasis by the Russian media Sputnik International.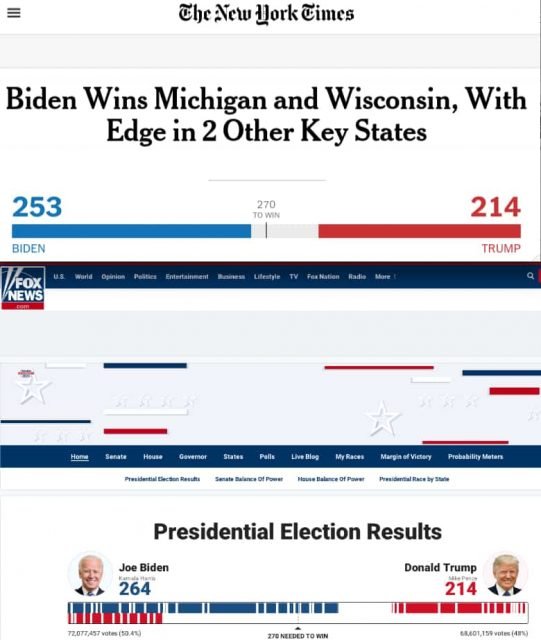 «The Trump campaign has denounced the counting of votes in the presidential election, claiming "massive cheating", and has initiated lawsuits to stop ballot counts in Michigan and Pennsylvania. A Trump campaign senior advisor, Jason Miller, asserted that Donald Trump would win Arizona, citing over a half million uncounted early ballots in the state. He urged The Associated Press and Fox News to retract their election calls that predict a Biden win in Arizona» wrote Daria Bedenko on Sputnik.
According to the Russian network, In a Wednesday tweet, Miller claimed that "this is big", referring to reports suggesting that Adrian Fontes, a recorder for Arizona's Maricopa County, said that there were some 180,000 early ballots returned in the county. According to Miller, referring to overall numbers, Arizona has over 600,000 ballots yet to be counted.
Regarding Arizona results, observers of the NYT spotted an error in the Edison Research data feed, noting a "glitch" in Biden's favour claiming that 98 per cent of the ballots had been counted – with the real figures of 86 per cent. The New York Times also wondered why Fox News, the media of tycoon Rupert Murdoch famously supporter of President Trump, did not rectify the assignment of the pivotal state.
ANTI-TRUMP PROTESTS AND ARRESTS IN MANHATTAN AND PORTLAND
As highlighted in previous updates, the results of the vote are already creating social unrest. The black rights movement Black Lives Matter had occupied the square in front of the White House since the evening of Election Day, Tuesday 3 November, forcing the police to carry out a massive intervention. New York Police Department tightened security measures around Trump Tower and made 60 arrests of violent anti-Trump protesters on the night between Tuesday and Wednesday.
But the most massive protests were recorded in Portland, a hotbed of dangerous thugs trained in urban warfare (in black overalls, helmets and gas masks), where the National Guard had to intervene to quell a demonstration that could degenerate if the recount Trump.
MINNEAPOLIS HELL with Soros' Black Lives Matter & Antifa ISIS-Allies in NED-Deep State Plot vs Trump
SUSPICIOUS CASE IN WISCONSIN
Wisconsin is among the most sensational cases of the disputes over the polling of votes by the electoral committee of the outgoing president. In that state, in fact, within a few minutes, as evidenced by an ABC News chart, there was a sudden leap in Biden's favor of 500,000 preferences.
"We are winning," Biden said strong of the 253 votes of the electors so far attributed to him by the NYT while Fox, for the mistake on Arizona, recognizes 264, one step away from the 270 necessary for victory. "They steal our vote," Trump thundered, threatening to appeal to the Supreme Court where his trusty judge Amy Barrett took office.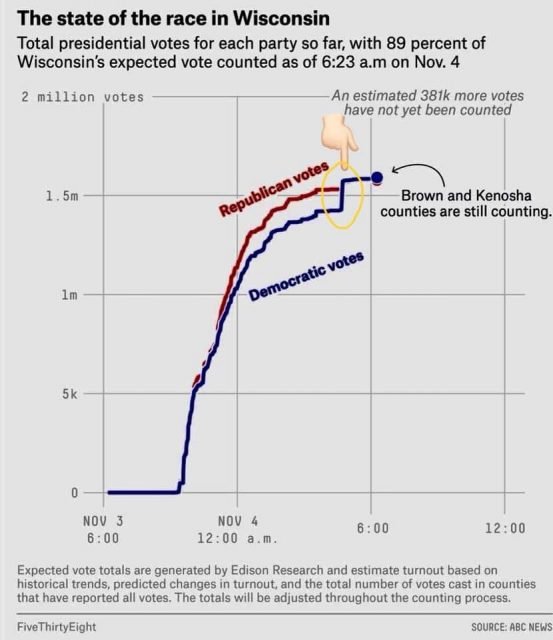 The head of an international observer mission to the US elections has accused US President Donald Trump of "gross abuse of office," after he called for an end to vote counting in key swing states.
"The most disturbing thing was that with presidential fanfare of the White House, that is, with all the insignia of power, the American commander-in-chief called for an end to the count because of his purported victory," Michael Link, head of the Organization for Security and Cooperation in Europe (OSCE), told Germany's Stuttgarter Zeitung newspaper on Thursday.
"That was a gross abuse of office," he added, calling Trump's claims of foul play by Democrats "baseless."
But here is the situation state by state radiographed by the New York Times. Here is the state of play in battleground states as of 9:55 p.m. Eastern time on Wednesday (UTC – 5).
ARIZONA
Electoral votes: 11
Biden leads Trump, 51.0 percent to 47.6 percent, with 86 percent of the estimated vote in.
To keep in mind: Trump needs to win nearly two-thirds of the remaining votes to capture the state. Officials in Maricopa County, the state's most populous county and home to Phoenix, say they will release a results update after 1 a.m. Eastern time on Thursday.
GEORGIA
Electoral votes: 16
Trump leads Biden, 49.8 percent to 49.0 percent, with 95 percent of the estimated vote in.
Keep in mind: Many of the votes still coming in are in suburbs of Atlanta and other populous counties that have been breaking for Biden. Mr. Biden must win around 60 percent of the remaining votes to pull ahead. Georgia's secretary of state said that he was expecting workers to continue tallying votes until late Wednesday or Thursday.
NEVADA
Electoral votes: 6
Biden leads Trump, 49.3 percent to 48.7 percent, with 86 percent of the estimated vote in.
Keep in mind: Mr. Biden leads by fewer than 8,000 votes, but all of the Election Day vote has been counted, leaving only Democratic-leaning late mail and provisional ballots to be tabulated. Officials said results would be released around noon Eastern time on Thursday.
NORTH CAROLINA
Electoral votes: 15
Trump leads Biden, 50.1 percent to 48.7 percent, with 95 percent of the estimated vote in.
Keep in mind: With most votes now tabulated, Biden would need to win about two-thirds of the remainder to pull ahead. Mail ballots postmarked by Election Day will be accepted until next Thursday, Nov. 12.
WUHAN-GATES – 22. Former CIA Pandemic's Prophet in Biden's Team. To manage for NWO Military Intel, AI, Big Tech and Trading in EU
PENNSYLVANIA
Electoral votes: 20
Trump leads Biden, 50.9 percent to 47.8 percent, with 88 percent of the estimated vote in.
Keep in mind: Most of the votes yet to be counted are in counties where Biden is ahead, including Philadelphia, the state's most populous county, where Biden leads by about 60 percentage points, and Allegheny, which Biden leads by over 10 points and which includes Pittsburgh. But plenty of votes are outstanding in dozens of smaller Trump-leaning counties. Biden needs to win about two-thirds of the remaining votes to win the state. Officials have said they expect most votes to be counted by Friday.
MICHIGAN
Electoral votes: 16
Biden was declared the winner, 50.3 percent to 48.1 percent, a margin of 1.8 percentage points, with more than 98 percent of votes counted.
Keep in mind: Before the Michigan race was called, the Trump campaign had announced that it was suing to halt the counting of mail-in ballots there because of what it called insufficient transparency in the process.
WISCONSIN
Electoral votes: 10
Biden was declared the winner, 49.4 percent to 48.8 percent, a margin of 0.6 percentage points, with more than 98 percent of votes counted.
Keep in mind: Wisconsin law allows a recount when the leading candidate's margin is less than one percent, and the Trump campaign said it would request one.
FULL POST IN ITALIAN VERSION WITH MACHINE TRANSLATING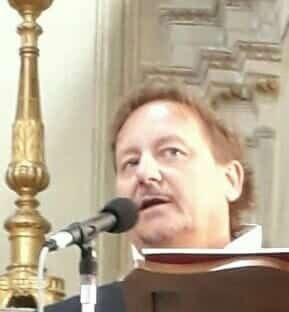 Fabio is Director and Editor of Gospa News; a Christian Information Journal.
Fabio Giuseppe Carlo Carisio, born on 24/2/1967 in Borgosesia, started working as a reporter when he was only 19 years old in the alpine area of Valsesia, Piedmont, his birth region in Italy. After studying literature and history at the Catholic University of the Sacred Heart in Milan, he became director of the local newspaper Notizia Oggi Vercelli and specialized in judicial reporting.
For about 15 years he is a correspondent from Northern Italy for the Italian newspapers Libero and Il Giornale, also writing important revelations on the Ustica massacre, a report on Freemasonry and organized crime.
With independent investigations, he collaborates with Carabinieri and Guardia di Finanza in important investigations that conclude with the arrest of Camorra entrepreneurs or corrupt politicians.
In July 2018 he found the counter-information web media Gospa News focused on geopolitics, terrorism, Middle East, and military intelligence.
His articles were published on many international media and website as SouthFront, Reseau International, Sputnik Italia, United Nation Association Westminster, Global Research, Kolozeg and more…
His investigations was quoted also by The Gateway Pundit, Tasnim and others
He worked for many years for the magazine Art & Wine as an art critic and curator.
ATTENTION READERS
We See The World From All Sides and Want YOU To Be Fully Informed
In fact, intentional disinformation is a disgraceful scourge in media today. So to assuage any possible errant incorrect information posted herein, we strongly encourage you to seek corroboration from other non-VT sources before forming an educated opinion.
About VT
-
Policies & Disclosures
-
Comment Policy
Due to the nature of uncensored content posted by VT's fully independent international writers, VT cannot guarantee absolute validity. All content is owned by the author exclusively. Expressed opinions are NOT necessarily the views of VT, other authors, affiliates, advertisers, sponsors, partners, or technicians. Some content may be satirical in nature. All images are the full responsibility of the article author and NOT VT.