Watch FFWN above, click HERE for links
Didn't we just get rid of a president who spent four years saying completely insane things? Biden's claim that Putin is "a killer" who "doesn't have a soul" is at least at crazy as anything Trump ever said…maybe crazier, since Putin, unlike most folks, controls enough nuclear weapons to reduce the USA to radioactive rubble.
But wait…are we still allowed to notice Biden's derangement, or even criticize him at all? Matt Taibbi says the media has undergone a "transformation from phony objectivity to open one-party (pro-Biden) orthodoxy." Is Taibbi right? Or are you still allowed to bash Biden—if and only if you're a cretin pumping out low grade propaganda for Fox/Breitbart/EpochTimes…
Speaking of propaganda-pumping Breitbart cretins, Steve Bannon noticed that Joe Biden's eyes went all black during his State of the Onion speech…which made David Icke wonder whether Biden might be a bloodsucking reptilian space lizard. That would mean Biden's "soulless killer" trash talk is what Freud called "projection": a bloodsucking space lizard  accusing others of being bloodsucking space lizards..sort of like Semitic Supremacists accusing others of supremacism, or Zionists accusing Palestinians of trying to drive them into the sea.
Two big COVID research controversies broke out last week. First, one of the world's leading pro-vaccine experts, Geerte Vanden Bossche, wrote an open letter to the world warning that mass vaccinations during a pandemic are a recipe for "immune escape" and potential disaster. Neither Facebook's favorite fact-check, nor the #1 antivaxxer fact check, succeeded in debunking Vanden Bossche. Maybe we just need better debunkings. Or maybe Vanden Bossche is on to something. Stay tuned! As the standard academic research paper always concludes, "more research is necessary."
Next controversy: Genevieve Briand, a Johns Hopkins economist, released a working draft of her paper questioning the official excess death & COVID numbers. It's going to take time to go over her numbers and sources and figure out whether and why she's wrong.
The senior editor at Unz Review, like the Senior Editor here, thinks COVID is as least as bad as they're telling us, if not worse. Both senior eds have diagnosed COVID as a likely biowar strike by neocons. No wonder Google shadowbans most of my articles—my senior editors are conspiring to disclose the biggest and most damaging national security secret in history, with the possible exception of 9/11—which they're both also trying to disclose! I seem to be stuck writing for highly subversive, ultra-censored outlets. Maybe I should send my resume over to Fox or Breitbart and try to make a few bucks before I start collecting social security…
But will I live to collect that social security? Even if COVID, CIA, and Mossad don't get me, and I somehow live to a ripe old age, there may not be any young people around to pay federal social insurance taxes. Not only is the birthrate plummeting, but it may even be headed toward absolute zero. The good news is that Earth will be saved. The bad news is that there won't be anyone around to enjoy the one big planet-wide national park…except maybe a handful of alien hybrids hatched from test tubes and beamed down from saucers.
Will the alien hybrids do the same crazy stuff we do, like fabricating deepfakes of smoking, drinking naked cheerleaders? If they do, we will strive to keep you fully-informed by reporting it on False Flag Weekly News.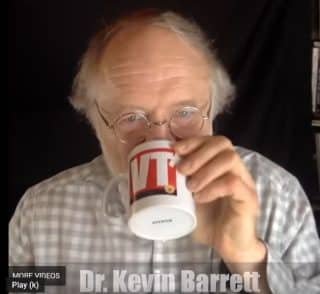 Dr. Kevin Barrett, a Ph.D. Arabist-Islamologist is one of America's best-known critics of the War on Terror.
He is the host of TRUTH JIHAD RADIO; a hard-driving weekly radio show funded by listener subscriptions at Substack and the weekly news roundup FALSE FLAG WEEKLY NEWS (FFWN).
He also has appeared many times on Fox, CNN, PBS, and other broadcast outlets, and has inspired feature stories and op-eds in the New York Times, the Christian Science Monitor, the Chicago Tribune, and other leading publications.
Dr. Barrett has taught at colleges and universities in San Francisco, Paris, and Wisconsin; where he ran for Congress in 2008. He currently works as a nonprofit organizer, author, and talk radio host.
ATTENTION READERS
We See The World From All Sides and Want YOU To Be Fully Informed
In fact, intentional disinformation is a disgraceful scourge in media today. So to assuage any possible errant incorrect information posted herein, we strongly encourage you to seek corroboration from other non-VT sources before forming an educated opinion.
About VT
-
Policies & Disclosures
-
Comment Policy
Due to the nature of uncensored content posted by VT's fully independent international writers, VT cannot guarantee absolute validity. All content is owned by the author exclusively. Expressed opinions are NOT necessarily the views of VT, other authors, affiliates, advertisers, sponsors, partners, or technicians. Some content may be satirical in nature. All images are the full responsibility of the article author and NOT VT.