Above is the YouTube-safe, VT-safe False Flag Weekly News. Watch the full uncensored "blasphemous" version, complete with links to the stories, HERE.
Presbyterian minister John Shuck and I committed blasphemy in our introduction to this week's False Flag Weekly News. If we had merely cursed God and His Prophets, spewed four-letter epithets for fornication and feces, urinated on sacred objects, and otherwise indulged in edgy Jewish comedy and avant-garde artistic expression, YouTube wouldn't have cared. But we did something worse…vastly worse. We blasphemed against the sacred vax, the Holy WHO, and the infallible Dr. Fauci.
YouTube has made it clear than any mention, no matter how objective or even critical, of experts who dissent from their notion of the "scientific consensus" about COVID constitutes heresy and is punishable by expulsion. So, not wishing to offend their religious sensibilities, John Shuck and I started the show by spewing out horrific heresies and bodacious blasphemies so awful that they would terrify Linda "your mother sews socks that smell" Blair's demonic alter ego into repenting and begging God's forgiveness. Then, after we had gotten all that out of our systems, we pushed the YouTube button. The result is the YouTube-safe version you can watch above.
In case you are too lazy to click HERE and watch the uncensored blasphemy, here is a transcript of my words…please don't tell the Inquisition:
"Welcome to FFWN…I'm Kevin Barrett with Presbyterian minister and radio host John Shuck… We haven't started broadcasting live on YouTube yet, so we are going to spend the first few minutes blaspheming against the Sacred Vaccines and the Holy WHO and the Infallible Dr. Fauci. I feel a Tourettes Syndrome fit coming on so I am going to have to start blaspheming! HEY PHIZER HEY MODERNA HEY J&J—DAGNABBIT, I DON'T WANT YOUR GOL DARNED FREAKING VACCINE!  GADZOOKS! YOU WANT ME TO TRUST THE MUGGLEHUMPING MAINSTREAM MEDICAL PARADIGM? ARE YOU  BAT-CORONAVIRUS-SHIT INSANE?!  HELL'S BELLS! ACCORDING TO THE 2004 META-STUDY DEATH BY MEDICINE DOCTORS WERE KILLING 783,936 PEOPLE per year, FAR MORE THAN HEART DISEASE, CANCER, AND THE OTHER LEADING CAUSES OF DEATH…INCLUDING COVID 19. SO DOCTORS KILL MORE PEOPLE THAN COVID, BIG PHARMA IS THE MOST CORRUPT INDUSTRY THIS SIDE OF THE GAMBINI CRIME SYNDICATE, AND YET…WE'RE SUPPOSED TO ACCEPT EVERYTHING THE HOLY WHO SAYS AS IF IT WERE SACRED SCRIPTURE? NO FREAKING WAY!!!  OK, THAT'S MY BIT OF BLASPHEMY. OVER TO YOU, JOHN."
Obviously YouTube cannot allow such things to be spoken of freely and openly in the digital equivalent of the public square. To do so would be to reinforce the idea of a Constitutionally-protected right to free speech, which of course is not just passé, but downright dangerous.
Speaking of free speech: Mark Zuckerberg recently reversed himself and is now allowing us to blaspheme against the natural origin story of COVID-19. But are we allowed to blaspheme against St. Zuckerberg himself? Roger Waters just did. What happened was, Zuck sent Waters a letter offering a magnificent wad of cash in return for the rights to "The Wall." (Apparently Zuck want to make "just another brick in the wall" the slogan for Facebook users!)
Zuckerberg wrote Waters: "We want to thank you for considering this project. We feel that the core sentiment of this song is still so prevalent and necessary today, which speaks to how timeless your work is, truly." Waters replied to the world: "You think, 'How did this little prick – who started off by saying, 'She is pretty, we'll give her a four out of five,' 'She's ugly, we'll give her a one' – how the fuck did he get any power in anything? And yet here he is, one of the most powerful idiots in the world."
Roger that. How did we allow a bunch of creepy little pricks who happen to be billionaire idiots become the new Inquisition, deciding what we can and can't say about COVID issues, including the sacred origin story that is no longer sacred?
It's way past torches and pitchforks time, folks.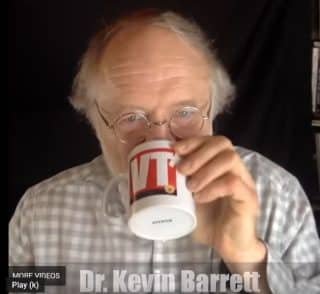 Dr. Kevin Barrett, a Ph.D. Arabist-Islamologist is one of America's best-known critics of the War on Terror.
He is the host of TRUTH JIHAD RADIO; a hard-driving weekly radio show funded by listener subscriptions at Substack and the weekly news roundup FALSE FLAG WEEKLY NEWS (FFWN).
He also has appeared many times on Fox, CNN, PBS, and other broadcast outlets, and has inspired feature stories and op-eds in the New York Times, the Christian Science Monitor, the Chicago Tribune, and other leading publications.
Dr. Barrett has taught at colleges and universities in San Francisco, Paris, and Wisconsin; where he ran for Congress in 2008. He currently works as a nonprofit organizer, author, and talk radio host.
ATTENTION READERS
We See The World From All Sides and Want YOU To Be Fully Informed
In fact, intentional disinformation is a disgraceful scourge in media today. So to assuage any possible errant incorrect information posted herein, we strongly encourage you to seek corroboration from other non-VT sources before forming an educated opinion.
About VT
-
Policies & Disclosures
-
Comment Policy
Due to the nature of uncensored content posted by VT's fully independent international writers, VT cannot guarantee absolute validity. All content is owned by the author exclusively. Expressed opinions are NOT necessarily the views of VT, other authors, affiliates, advertisers, sponsors, partners, or technicians. Some content may be satirical in nature. All images are the full responsibility of the article author and NOT VT.